Improve Your RV's Limited Bathroom Storage With One Easy Hack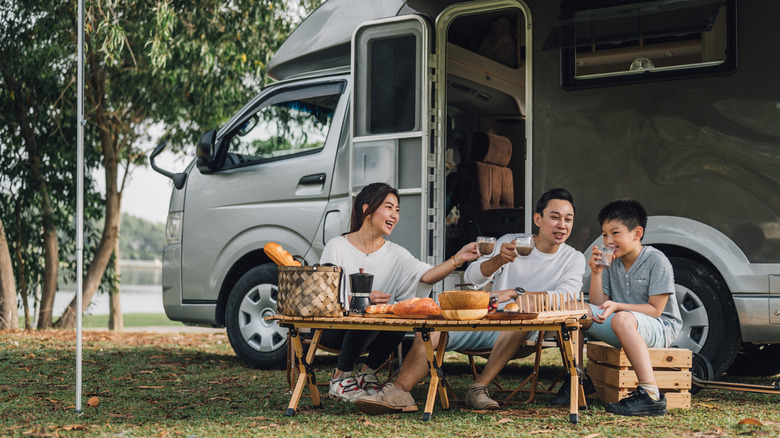 Simon2579/Getty Images
Summertime means road trips and camping. You plan to partake in both those things, so you gather up your belongings, stuffing clothing into suitcases, double checking for items like bug spray and sunscreen — packing everything from first aid kits to water coolers — and making sure you have all the essential toiletries before piling into the RV and hitting the road. Whether you're looking to stay at one of North America's top RV destinations, or somewhere more secluded, you're ready to make new summer memories. 
One problem that presents itself with every trip is a lack of space, especially in the bathroom. There's a shower, toilet, and sink all in your RV, which is great, but because the bathroom is so small, there's hardly room for storage. Whoever gets there first is the lucky one who gets to keep their toiletries in the bathroom rather than lug them back and forth like everyone else. What if we told you that there is a solution that'll create enough space for everyone's stuff? All you need is a shower rod, S-shaped shower hooks, a shower caddy, and a hangable organizer. This hack will help contribute to a successful RV Trip.
How to create more space
The Canadian family behind the RVCanucks' TikTok and YouTube channels uploaded a video explaining how to create more space in an RV bathroom. The tutorial starts with putting up a shower rod in the bathroom and, rather than adding a shower curtain, using S-hooks to connect shower caddies and organizers. This instantly creates more space. You can add as many caddies and organizers as you need, ensuring that everyone has room for their soaps, tubes of toothpaste, and all other toiletries. You can also leave some of the hooks empty and — as shown in the TikTok — only use them when you want to hang dry wet swimsuits or towels.
The comment section applauded the TikTok family's idea. One user mentioned how she uses shower rods to hold curtains in order to create more privacy in the RV's other rooms. "Thank you so much, I just bought an RV and this helped so much," another user commented on the video.
Extra RV storage tips and tricks
Andrei Armiagov/Shutterstock
As for other ways to save space in your RV bathroom, you have options. The first one includes buying a hanging shoe organizer and putting it on the bathroom door. This instantly creates another space to place toiletries and other bathroom essentials.
One more creative way to utilize wall space is to purchase a toothbrush holder and stick it to the wall. Next, you can buy command strips and hooks, and stick them to the wall as another place to hang towels or bags. If your wall space is already full with hanging organizers and caddies, don't worry — you can purchase a towel shelf and install it in the back of the shower. As for bathroom cabinet space, organization is key. You can get little bucket organizers and line your products up before placing them into the cabinet. This enables you to pull these often-used items out with ease — and without making a mess.
Whichever tips you choose to try, you'll be sure to have some extra space in the RV bathroom. These hacks take out the stress of trying to cram everything into a limited space while making the task at hand a little easier — and more organized.