Plan A Trip To This Small New England Town For Your Next Couples Trip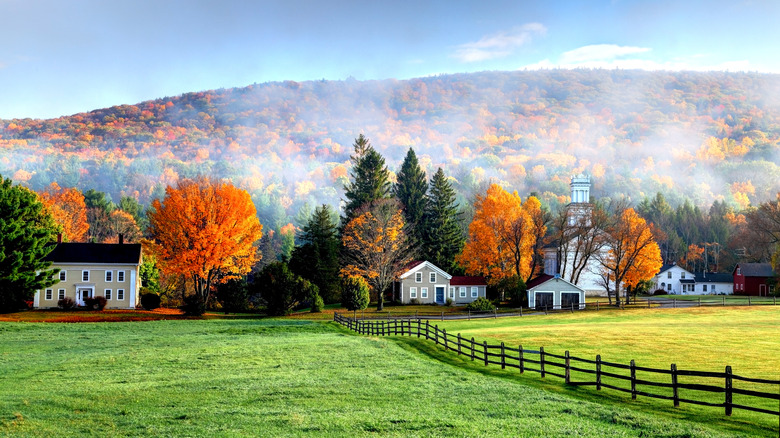 Denistangneyjr/Getty Images
If you and your special someone are looking for a romantic getaway without flying all the way to the most visited places in the world like Paris or Bora Bora, look no further than right here in the U.S. While there's no denying that the city of lights and tropical islands in the South Pacific are prime getaways for lovebirds, sometimes that small-town mountainous charm is just what the doctor ordered. Lenox, Massachusetts, in Berkshire County, is a stellar choice for those looking for an idyllic respite.
Lenox, which is conveniently located only two hours from Boston, three hours from New York City, and 45 minutes from Albany by car, is a small town with a population of around 5,000 people. For the most convenient way to arrive via air travel, you can either fly into Boston Logan International Airport or Albany International Airport. However, for a much more scenic route, you can take the Amtrak Berkshire Flyer, which rides from New York to Poughkeepsie to Albany to Pittsfield (where you'll want to get off to be near Lenox).
What makes Lenox romantic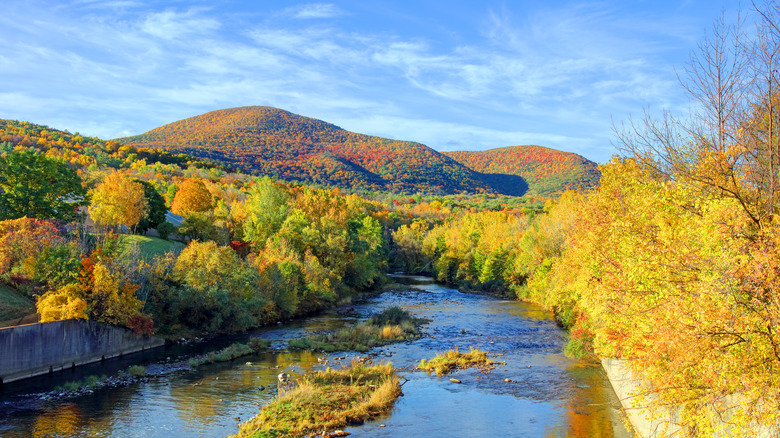 Denistangneyjr/Getty Images
Aside from the quiet respite that Lenox offers, there are several reasons it makes for a great romantic getaway. Its remote location is easily accessible thanks to the nearby cities like Albany, Boston, and New York City. The dreamy Berkshire mountains surround the town, creating visuals that produce a euphoric feeling for all travelers who choose to visit this quaint New England town.
Best of all, Lenox is home to one of the most enchanting all-inclusive resorts in the world. Miravel Berkshires Resort & Spa is a relaxing oasis of a hotel, and its only goal is to ensure you leave feeling a renewed sense of mental clarity and relaxation. They even offer a special "Couples Retreat" package, where itineraries can be customized based on your preferences. You and your partner can schedule relaxing activities such as workshops on mindfulness and gratitude, or even more physically-invigorating activities like kickboxing and cardio drumming.
When to visit Lenox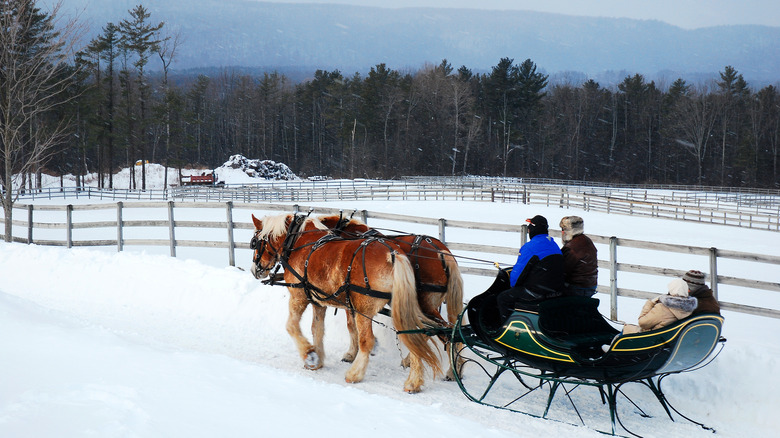 James Kirkikis/Shutterstock
Lenox can be visited year-round, but some seasons may be more enjoyable than others based on your personal preference. Winters can get quite frigid in this part of the country, but if you choose to visit during this time, especially in January and February, prices will be lower since it's the slow season. You can even partake in a sleigh ride in the nearby town of Stockbridge. The fall season provides some of the most stunning scenery in the Berkshires. The area is prone to exceptional fall foliage, and the Amtrak Berkshire Flyer is a great way to drive right through the picturesque surroundings.
In the summer, music lovers rejoice at Tanglewood, the summer home to the Boston Symphony Orchestra. Summer is also when the weather will be ideal for sun-lovers since July sees an average high of 79 degrees Fahrenheit. Springtime in Lenox is great for floral enthusiasts. Head to Pleasant Valley Wildlife Sanctuary for scenic strolls across seven miles of trails. Just make sure to bring a pair of binoculars and see how many types of birds you can spot.