Your Love For Online Shopping Might Just Help You Save On Your Next Flight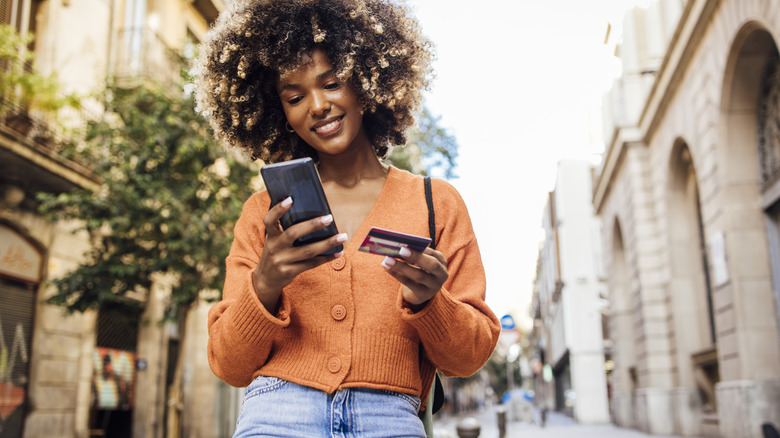 Rgstudio/Getty Images
Online shopping can sometimes feel like an endless cycle of spending money and peeking out the window at delivery vans, waiting for your latest purchase to arrive. But, what if your shopping habits offered more than just the pleasure of receiving and unpacking something new? You'll be happy to know that, besides the convenience of door-to-door deliveries, there's another sweet reward when you choose to shop online: the possibility of extra air miles.
Let's be honest: Wouldn't it be incredible to turn a regular shopping spree into a stepping stone for the vacation of your dreams? Far from a pipe dream, all you need to do is use participating airlines' online portals — like American Airlines' AAdvantage Shopping or United Airlines' MileagePlus Shopping — when browsing and buying at your favorite stores. And boom — you can receive an average of up to five air miles per dollar spent, with some stores offering a whopping 6,200 miles per dollar. Getting rewarded for spending money you already planned to spend? Now, that's a great deal.
Earning miles through online shopping portals
Asiavision/Getty Images
First, in order to reap the benefits of these bonus airline miles, you need to be enrolled in an airline miles program. These are free, and there's no limit to how many different ones you can join — so, when it comes to being a "frequent flyer" for different airlines, the sky is truly the limit. Once you become a member, you can start accumulating miles for every trip you take or every dollar you spend. These miles can then be traded in for free (or discounted) air tickets, hotel stays, car rentals, and more.
After you've become a member, you can also make use of the airline's shopping portal. Using airline shopping portals is relatively easy. Simply head to the airline-associated site of your choice, sign into your account, and start looking through participating stores for the best deals and offers to cash in. Every time you make a purchase connected with your frequent flyer number, the airline will credit the corresponding miles to your account. From Nike and Apple to Macy's and Home Depot, you can find a lot of popular stores you'd normally shop with on your own — all with the added benefit of racking up additional air miles for an upcoming trip. This tip is especially useful during busy shopping periods — like back-to-school or holiday shopping — when you plan to spend more than usual.
Turning miles into experiences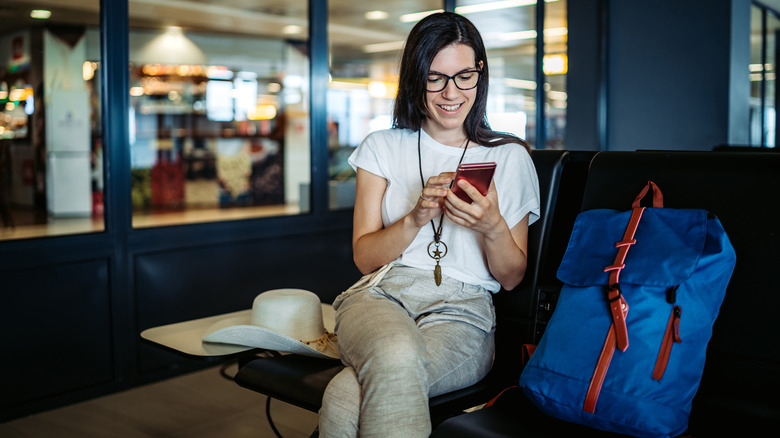 Urbazon/Getty Images
Want to make the rewards even better? Pair shopping through airline portals with mileage-linked credit cards, and you'll be in for a treat. On one hand, airline-specific cards — like the ones co-branded with American Airlines, Delta, or Southwest — offer miles for every dollar spent. These airline credit cards are especially great if you frequently use the same airline for your trips. Plus, some even come with added perks like no foreign transaction fees, free checked bags, first-class upgrades, and access to airport lounges. But the game-changer? Cards like Chase Ultimate Rewards. These types of programs let you earn points on all purchases with the option to transfer your points between different airline or hotel partners.
That said, when you combine the power of a travel reward card with an airline shopping portal, you're essentially double-dipping on mile earnings. For example, make a purchase through the AAdvantage Shopping portal using an American Airlines card, and you stack miles from both the portal and the card. So, next time you're planning on making a purchase, why not check out your favorite airline's catalog before taking the plunge? That way, every purchase, big or small, can push you closer to a memorable trip.