Plan Your Next Mountain Vacation At This Underrated Region Of Italy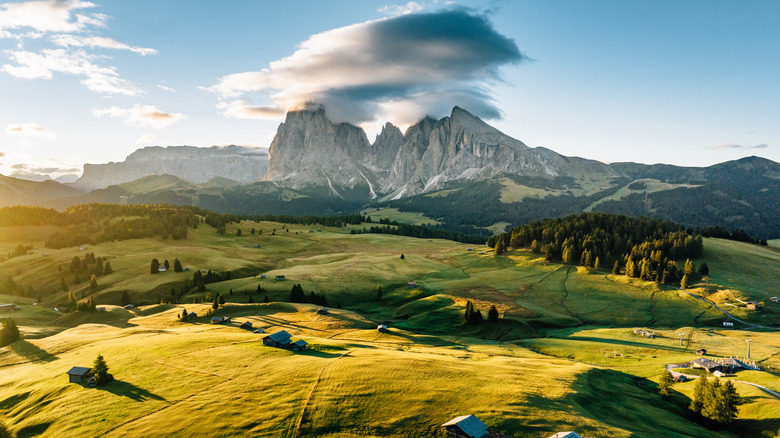 Filippobacci/Getty Images
The Italian Dolomites might often get overlooked by tourists for major cities like Rome and Florence, but Italian locals know to flock there at every chance they get. The Dolomites are located primarily in the Trentino-Alto Adige region of Italy, just south of the Austrian border. Because of their unique geographical location, you might feel some German influences when visiting particular towns, but don't get it twisted: You're still very much in Italy.
Trying to plan a trip to the region can feel overwhelming; there are plenty of towns and cities to choose from, and all of them offer something unique. You might be wondering which location has the best views of the Dolomites. Which town is easiest to get to if you don't feel like renting a car? (Spoiler alert: Traveling through the region without a car is possible, but difficult!) Where should you go if you want to go summer hiking? Well, let's start planning your trip to the Dolomites, beginning with Alpe di Siusi.
Alpe di Siusi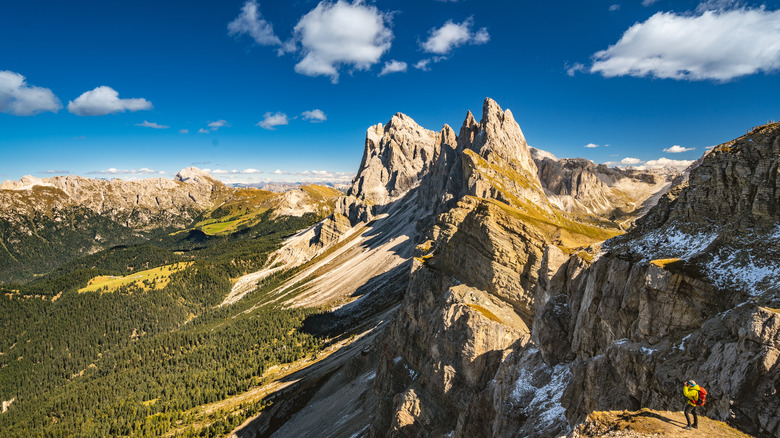 Amriphoto/Getty Images
One of the best destinations within Trentino-Alto Adige to spend your time at is Alpe di Siusi. Alpe di Siusi, which is accessible by public bus and shuttle bus for those without a car, is the largest alpine pasture in Europe, so it naturally comes with picturesque views. This destination is particularly spectacular for hiking, with top trails being Alpe di Siusi Meadows Circuit Trail and the Compaccio to Rifugio Bolzano to Rifugio Alpe di Tires.
Alpe di Siusi is also a prime option if you're interested in via ferrata. Via Ferrata, which translates from Italian to English as "iron path," is a kind of route on a mountain with iron and steel steps, cables, and different courses. It requires a great deal of climbing, sometimes zip-lining, and is generally safe due to gear included, which is usually carabiners, lanyards, a helmet, a harness, and gloves. One of the most popular via ferratas in Alpe di Siusi is Via Ferrata Maximillan, which takes approximately an hour and a half total.
Cavalese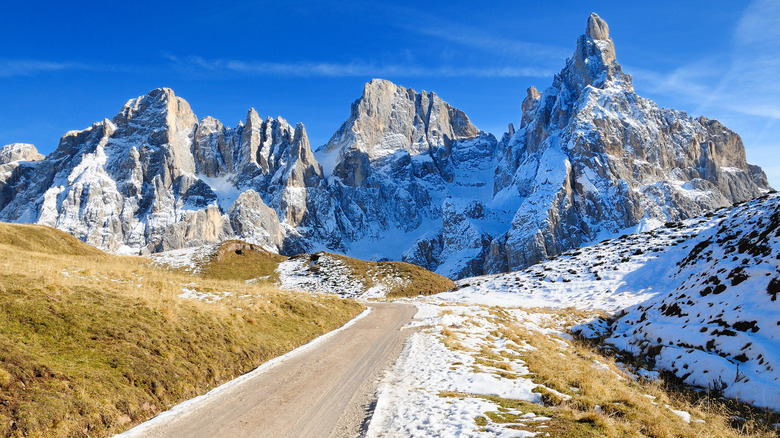 Frenk58/Getty Images
Another great option for a Trentino-Alto Adige destination is Cavalese. Located approximately one hour from the city of Trento by car, Cavalese provides a quiet escape in the Italian countryside. Cavalese is a great option as a wellness destination, especially if you choose to stay at La Roccia Wellness Hotel. Make sure to relax at the hotel's world-class spa (an amenity many forget to check before booking hotels) and to take a dip in the infinity pool which offers dramatic views of the Dolomites in the distance.
Cavalese is also a sports-lover's dream vacation. The town is well-known for its love of volleyball, and makes for a great winter skiing destination. Similarly to Alpe di Siusi, Cavalese offers a via ferrata at Laghi di Bombasel.
When in Cavalese, make sure to try some cuisine local to the region. Ingredients like mushrooms, potatoes, and cream, and meats like rabbit and speck, are commonly found on menus throughout town.