Check For One Luxurious Amenity Before Booking A Fancy Hotel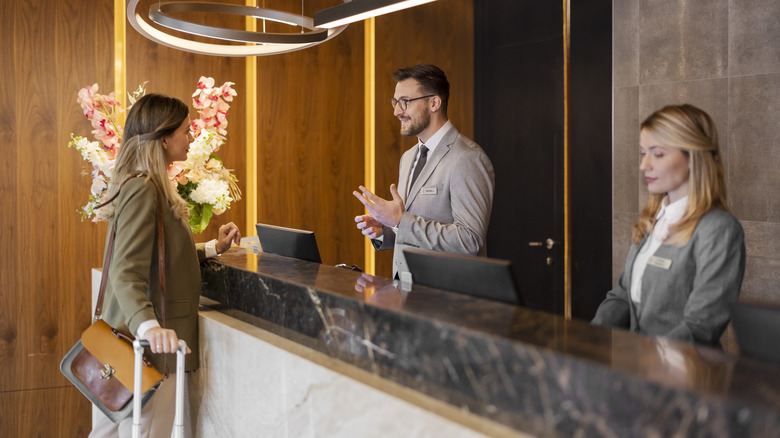 Pixelseffect/Getty Images
We all deserve to treat ourselves from time to time. While budget options exist anywhere in the world (even in places like the Maldives and New York City), sometimes splurging on a five-star resort is simply the only way to go. It can be easy to get starry-eyed by the pristine photos of five-star resorts when scrolling through your favorite booking site, like Booking.com or Hotels.com. But before you click "confirm booking," there's one amenity you should be checking for if you're paying top dollar for accommodation: spas. 
While most luxury resorts and five-star hotels will indeed have a spa, there are a few things you should double-check regarding what your stay includes. Some resorts and hotels are all-inclusive, but does this mean spa treatments are included? If spa services are not included, can guests at least access the spa's amenities like the pool and the hot tub? And how can guests access them, if so: for free or with a purchased day pass? Let's investigate to ensure you're getting your money's worth when booking some of the world's top-notch hotels.
The differences to look for in booking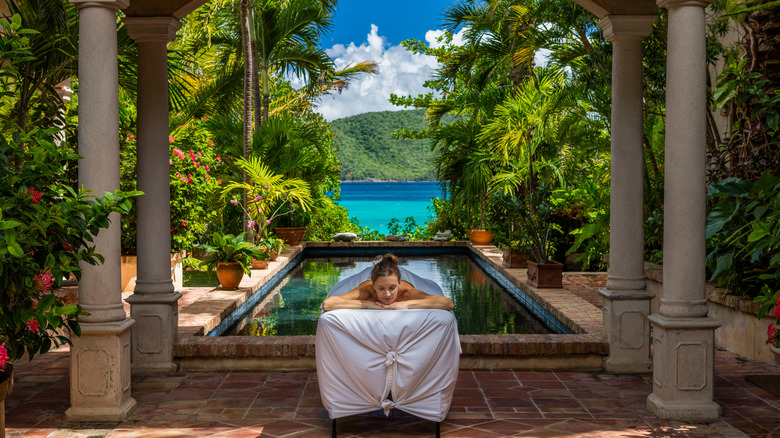 Christian Wheatley/Getty Images
As mentioned, most five-star resorts and luxury hotels will have a spa. However, before booking, you'll want to ensure that you actually have access to it. First, do not assume that the hotel has a spa, and make sure that one exists. Once that's taken care of, find out exactly what's included for you as a guest of the hotel. Do you have access to the spa's amenities, such as the pool, hot tub, sauna, and relaxation room, simply as a guest of the hotel, or do you need to book a spa service to access these amenities? 
If you're paying top dollar prices for five-star resorts and hotels, it goes without saying that having access to the spa's amenities would be appreciated. Aspirational hotel chains such as Four Seasons Hotels & Resorts and Mandarin Oriental offer all guests free access to spa amenities. Better yet, is a spa treatment included? While this is unlikely, never say never, and sometimes hotels run promotions that offer guests free spa services.
Day pass, all-inclusives, and other alternative options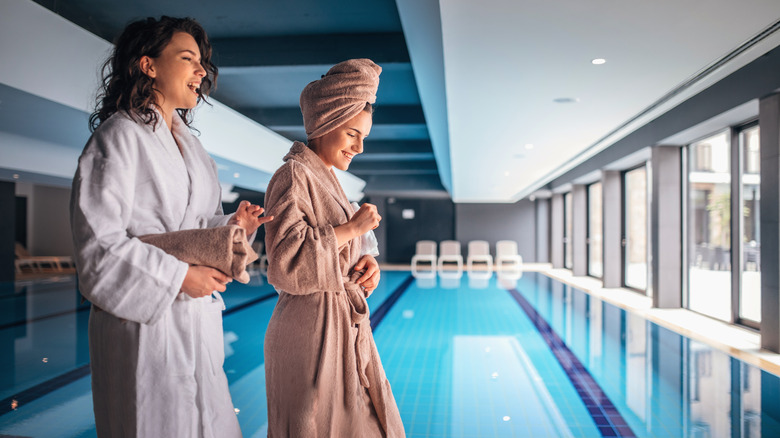 Zeljkosantrac/Getty Images
If you're concerned that you're not getting the best value for your money and want to make sure that your luxurious hotel includes some type of spa coverage, booking an all-inclusive wellness resort in dreamy places like Los Cabos or Punta Cana is a great option to consider. If you are primarily looking for a reviving and revitalizing getaway where spa and wellness are the primary goals you want to get out of your vacation, a wellness retreat that offers five-star accommodation might be worth the splurge.
Many hotels also offer day passes. Luxury properties such as St. Regis locations around the globe offer a day pass (though prices vary based on location). Some smaller boutique hotels, like Hotel Villa Elisa & Spa in Bordighera, Italy, offer guests one hour of free private time to take advantage of the spa's amenities. All in all, there are several ways to ensure you're getting the proper spa treatment you so rightfully deserve; it's simply up to you to look for what suits you best.