Visit This Underrated Midwest National Park For Incredible Waterfall Views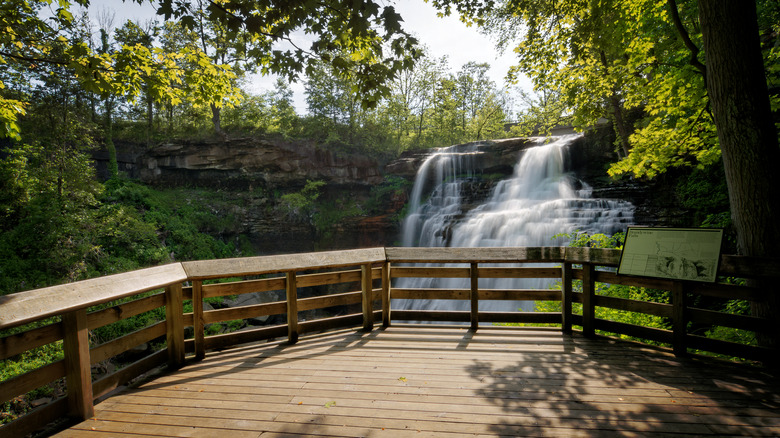 Mshake/Getty Images
The U.S. has plenty of national parks. We're talking 425 sites managed by the National Park System, 63 of which have the "national park" designation. So, it's understandable that visitors might only get to hear about the most famous national parks in the country, such as Yellowstone, Grand Canyon, Everglades, and Great Smoky Mountain, which are household names at this point.
If you've noticed, none of these are located in the Midwest. It's not that there aren't any national parks in the region — there are plenty of Midwest national parks. They just aren't well known; a case in point is Cuyahoga Valley National Park in Ohio. 
Cuyahoga was only declared a national park in 2000; compared to the lineup, it's still a bit new on the national parks scene, but it has been a recreational area since 1974. What's great about Cuyahoga is its proximity to Cleveland and Akron. "It's right in the middle of these two urban areas, and it just feels like a green island in the middle," Pamela Barnes, the park's PIO and community engagement supervisor, told USA Today. "It's 33,000 acres, 125 miles of trails, and something for everyone to do, so that may come as a bit of a surprise in a metropolitan area." 
So, you won't be out in the wilderness but still be able to enjoy the peace and beauty of the park's natural surroundings, especially its waterfalls and amazing views.
Cuyahoga's beautiful waterfalls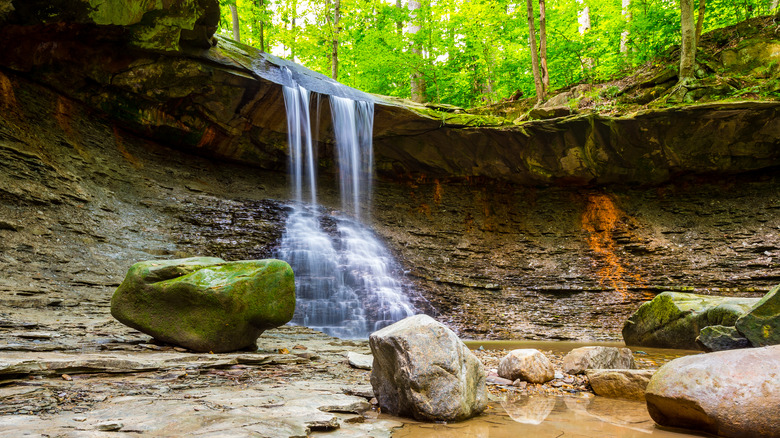 Chad Michael Butler/Shutterstock
Cuyahoga Valley National Park has over 100 waterfalls. Most of these are on the park's north side, including the most famous cascades. Brandywine Falls is the most popular of all and one of the reasons people come to Cuyahoga in the first place. At 60 feet, this fall, created by Brandywine Creek, is also the tallest in the park and one of the tallest in the state. Its cascading waters can appear like a bridal veil as it falls over shales and soft rocks. In autumn, the waterfall's gorge is a canvas of contrasting green hemlock and vibrant maple trees.
Another long waterfall, Bridal Veil Falls, can be found in Bedford Reservation. This waterfall, which drops 45 feet from Deerlick Creek, is a favorite spot for taking photos and is surrounded by hemlock and hardwood trees. Still in the Bedford Reservation, the seasonal Linda Falls forms a double fall when there is runoff but provides scenic views from both sides of a ravine. 
Meanwhile, Blue Hen Falls features a scenic hike before the 15-foot cascades appear into view. If you have time, try to find a rock to sit on and continue your appreciation of the natural marvel in peace and quiet. There are also small waterfalls, such as those found in Deer Lick Cave Area, which the Cleveland Metroparks manage.
Getting to Cuyahoga's waterfall viewing areas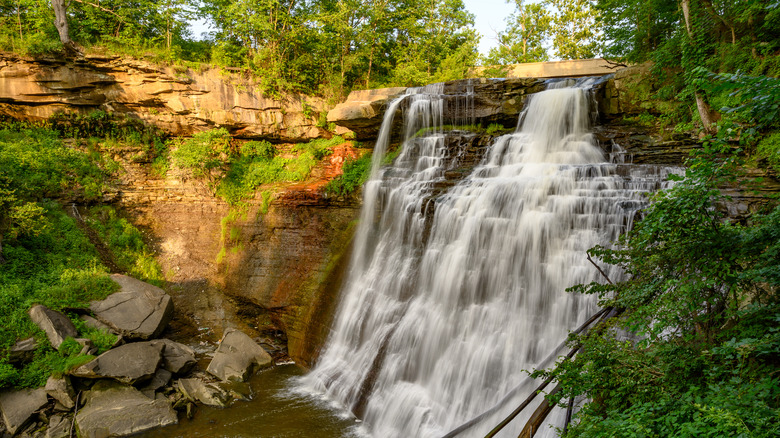 RN Photo Midwest/Shutterstock
Let's start with Brandywine Falls. The most famous falls of the park are also the easiest to reach — perhaps part of the reason for its popularity. "...[W]hat's great about it is it is accessible for anyone," Pamela Barnes informs USA Today. "It's just a short walk down a wooden boardwalk to a totally accessible viewing area."
To reach Bridal Veil Falls, you'll need to trek the dirt road along Deerlick Creek. Then, descend the wooden steps. The trail to this waterfall is popular with hikers, so you'll probably see some people walking along the trail. If you'd rather be alone or with fewer people, head to Blue Hen Falls. Cross the road from the Boston Mill Visitor Center's big park sign and find the blue blazes that mark the Buckeye Trail. This trail will lead up two ridges, down to a ravine before ascending a hill, and wind through the forest. Allot one to two hours to complete this trail. Alternatively, you could start at the Jaite Trailhead, but you'll have to walk a longer distance to the falls.
To view the Deer Lick Cave Area falls, the same blue blazes mark the trail from the parking lot, then down and up a ravine, where a small waterfall to the right awaits you. For Linda Falls, you'll need to follow the Sagamore Creek Trail, which brings you to the forest. When you reach the bottom of a gorge, head upstream; downstream, you'll find other waterfalls too.