The Best Budget-Friendly Beach In The Pacific Northwest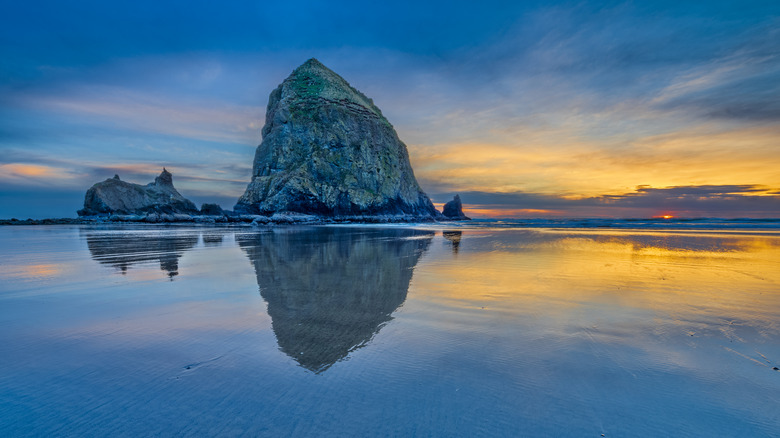 Don White/Getty Images
If you're driving along the Oregon coast, you'll eventually come across a sandy shoreline with picturesque sea stack formations and creature-filled tide pools. Here, you'll also find miles of hiking trails that weave through old-growth rainforests and a quaint beach town with parks and restaurants with plenty of character. We're talking about Cannon Beach, a place known for its almost unworldly seascape.
Located about 90 miles west of Portland, Cannon Beach is set right off the Pacific Coast Highway, offering visitors easy access to the small coastal town. But as beautiful and easily accessible as the popular beach may be, Cannon Beach is also an incredibly budget-friendly vacation destination on the West Coast.
While Cannon Beach has no shortage of upscale eateries, seaside resorts, and high-end galleries, there's also plenty to do that won't wash away your sand dollars. From the area's seemingly endless natural attractions to the free activities offered by the city itself, Cannon Beach is quite possibly the best budget-friendly beach in the Pacific Northwest. 
Explore Cannon Beach's natural wonders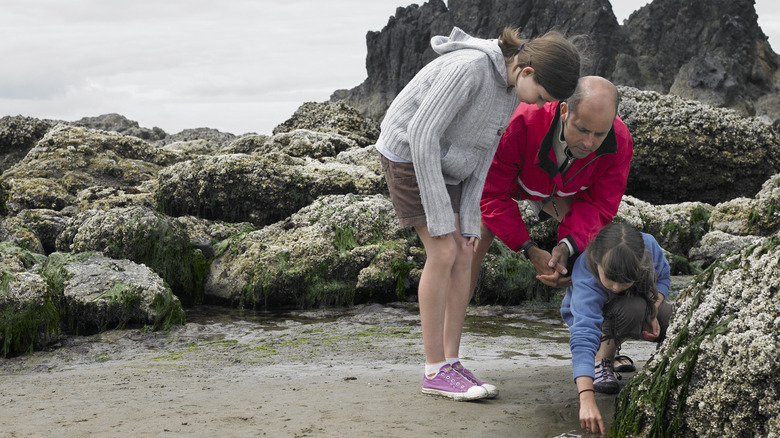 Siri Stafford/Getty Images
Cannon Beach offers visitors nearly four miles of pristine, sandy shoreline. As far as budget-friendly activities to do in the area, exploring the seashore should be at the top of every visitor's list. The two miles of beach between Ecola Creek, which is near the city's downtown area, and Tolovana Park features Haystack Rock, one of Oregon's most famous natural landmarks.
Haystack Rock is a 235-foot rock formation situated on a sandy expanse. The colorful tidepools located around Haystack Rock are one of Oregon's seven Marine Gardens, which are protected ecosystems found along the Oregon Coast. Along with spotting nesting puffins and other seabirds, you may also find sea anemones, starfish, sea urchins, hermit crabs, and other tidal sea life. In the summer months, volunteers are typically on-hand to answer any questions and to show visitors how to safely handle the sea creatures.
To further explore the area's natural splendor, you can also head north to visit Ecola State Park. Although there's a $5 day-use fee, the state park can offer visitors a full day of activities. Paved walkways provide panoramic views of the coastline, while miles of hiking trails also offer plenty of cliffside vantage points and wildlife viewing opportunities. For history and nature enthusiasts, an eight-mile segment of hiking trails in Ecola State Park is actually part of the Lewis and Clark National Historic Trail.
Experience the area's art and history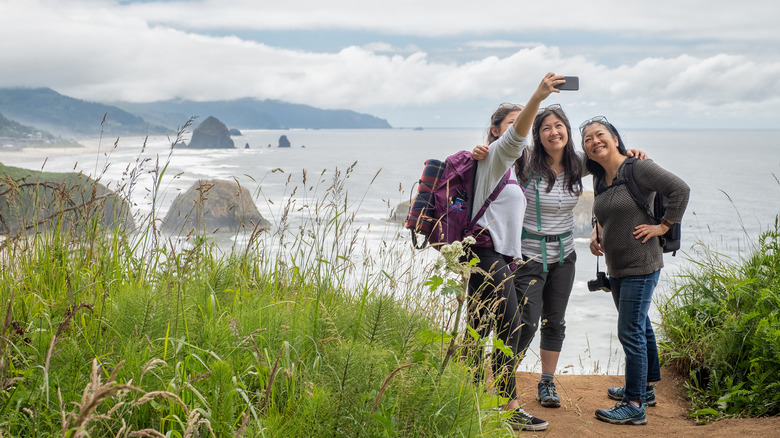 Pamelajoemcfarlane/Getty Images
Along with Cannon Beach's natural beauty, which is free for all to enjoy, the small coastal city also offers budget-minded visitors plenty to do in town. For example, City Park features a playground and hosts free weekly concerts. You can even rent tennis and pickleball equipment from the nearby Visitor Information Center to enjoy a quick game at no charge.
Cannon Beach is also known for its rich history and vibrant art scene. By grabbing a few pamphlets from the Visitor Information Center, you can take self-guided walking tours to learn more about the area's culture and history. A public art walking tour highlights installations created by Pacific Northwest artists, while the historical walking tour leads visitors to storied buildings found throughout town. History buffs may also enjoy the Cannon Beach History Center and Museum, which is free to explore.
In addition to its wealth of activities, Cannon Beach offers enough lodging and dining options to satisfy any budget. If you'd like to save on your next beach vacation, you may actually find the two-star boutique inn and the family-run restaurant in Cannon Beach more aligned with both your budget and the quaint atmosphere of the area. Sometimes budget options just happen to be beautiful anyway, especially when it comes to budget-friendly beach towns.