Solo Dining Is A Challenge In This Trendy European City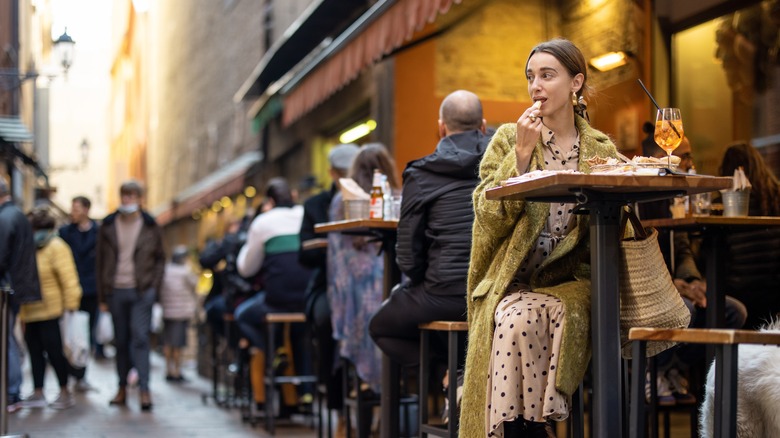 Lyubov Levitskaya/Shutterstock
When you think of Barcelona, you may think of the stunning architecture, exciting nightlife, historic sights, and food scene. All of these things and more make Barcelona a popular spot to visit. One common, picturesque sight are the many restaurant terraces. They're usually full of people from all over the world enjoying a meal. The tables nestled in between buildings makes for an inviting and energetic sight. However, there's one thing that's becoming less and less common in these spaces: solo diners.
If you're a solo traveler exploring Barcelona alone, or a local in who enjoys eating meals by yourself, or even just sipping on a cup of coffee or wine, you might find yourself pressed to find a restaurant that will accommodate you. More and more restaurants are turning away individual diners as they prioritize larger groups. This controversial ban has left many people, especially locals, upset and frustrated with the dining establishments.
No group, no table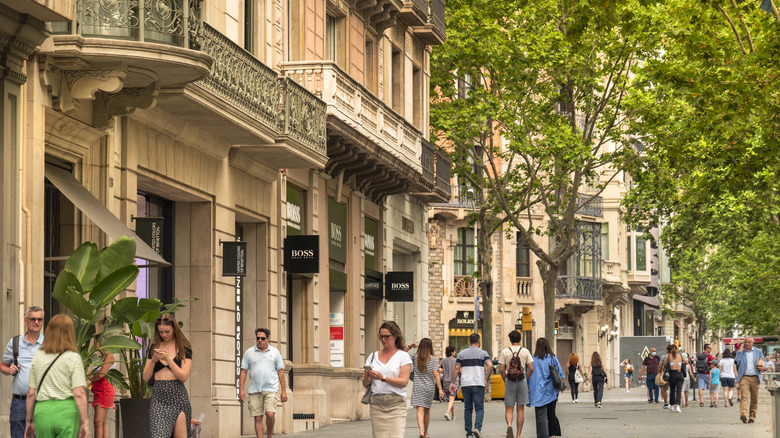 Pgiam/Getty Images
The ban is enforced only by the restaurants themselves; if they want to go against it and seat a single diner, they can. But most will not. This unofficial ban is mostly used in the touristy areas, like the Eixample neighborhood where many people visit since it's home to the famous Carrer de Blai, aka Tapas Street. "On the first terrace where I got a table, a waiter quickly arrived and told me that it was reserved. It was not," a solo diner told the Spanish publication El País. "As soon as I got up, a group of foreigners who were behind me sat down."
Like the diner above, people are being told that tables are reserved and they have no room, even when there aren't any reservations and the tables are empty. And it's not just those looking for a meal being turned away — people looking to have a pre-meal drink are also being told they can't be seated at these restaurants.
All about the money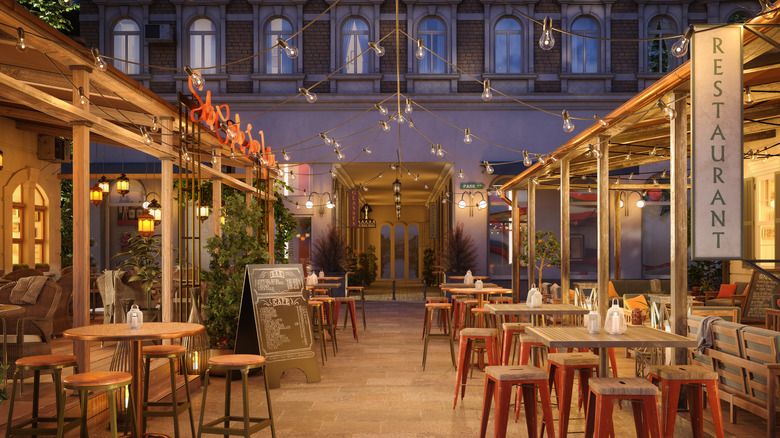 Bulgac/Getty Images
Restaurants are prioritizing groups of customers mostly for financial reasons. Groups spend more than individuals, and with the combination of rising rent prices and the lingering effects of the pandemic, restaurants are trying to get every penny, or in this case, euro, that they can.
For some restaurants though, it's not just the money that they're concerned about. It's also seems to be about appearance. "The last time I got very upset and told them that if it was a matter of money, I was willing to play their game. That if we were going to go into voracious capitalism, how much was the minimum that I had to pay to be able to sit on the terrace and have dinner," another customer told El País. "They told me that it was not because of that; I simply could not sit alone."
For now, to the dismay of many, the ban is in effect indefinitely. So if you're a solo traveler and foodie, Barcelona might not be for you.