Why Families Should Consider The Eixample District When Vacationing In Barcelona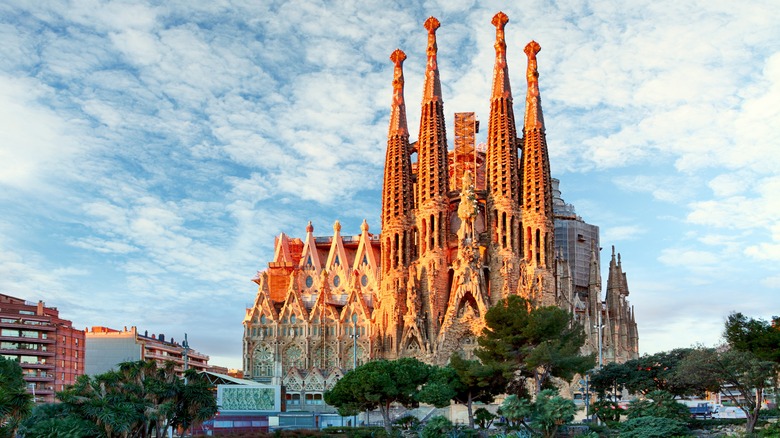 TTstudio/Shutterstock
Overlooking the Mediterranean Sea, Barcelona is renowned for its Spanish and Catalan cuisine, nightlife, beaches, Art Nouveau architecture, and avant-garde vibe. While a popular destination for solo travelers, backpackers, and international fun-seekers, Barcelona is also an ideal destination for vacationing families. The key to a successful and stress-free family vacation, however, may depend on choosing accommodations in the right neighborhood, or "barrio."
According to Barcelona Life, Barcelona encompasses 39 square miles with 10 administrative districts that are further divided into wonderfully diverse neighborhoods. In Barceloneta, you'll find plenty of beachfront restaurants and sun-burnt tourists reveling at Barcelona's most accessible beach. If you're looking for a quieter area, you can enjoy the exquisite, city-wide views from the hilltop Montjuic neighborhood, which overlooks the city and features plenty of museums, historic sites, and upscale eateries.
Really, no matter where you stay, Barcelona exudes a mix of urban excitement, Catalonian charm, and international appeal. However, when it comes to choosing the best family-friendly neighborhood, we've prioritized the easiest area to navigate that still offers plenty of family-friendly amenities and popular sightseeing landmarks.
The Gothic Quarter is awesome but ...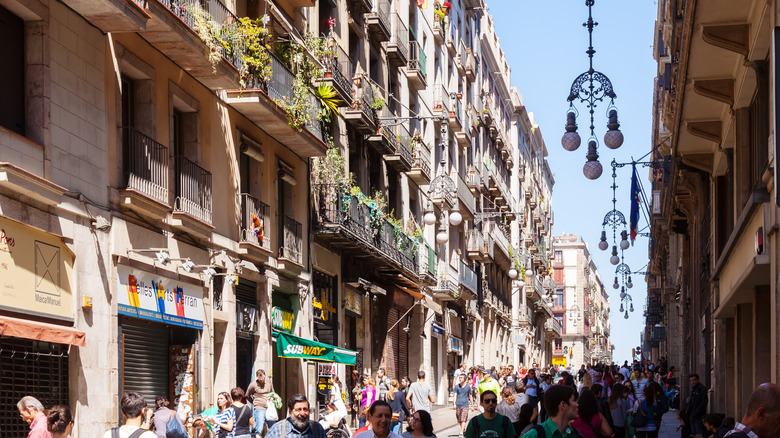 BearFotos/Shutterstock
Barcelona's neighborhoods are incredibly diverse, but let's initially separate Barcelona into the "old city" and the rest of Barcelona. The "old city" (or Old Town) includes the Gothic Quarter, which is incredibly beautiful, vibrant, historically resonating, and worth exploring. (Per Barcelona Life, most also consider the Born, Raval, and Barceloneta neighborhoods as part of Old Town.)
The Gothic Quarter is known for its cobblestone alleyways, mesmerizing architecture, boutique shops, hip cafés, and tapas-forward eateries. However, the Gothic Quarter and surrounding area also invites throngs of tourists and a pretty raucous nightlife.
If you don't mind late-night crowds and getting regularly lost in Old Town's labyrinth of alleyways, then the Gothic Quarter may be perfect. However, Old Town wouldn't be the easiest area to stay in for families, especially families with small children.
While a day excursion to the Gothic Quarter could be a great family adventure, the area's nightlife bustle with its small, echoing alleys may lead to a pretty sleep-deprived experience.
The Eixample District is ideal for families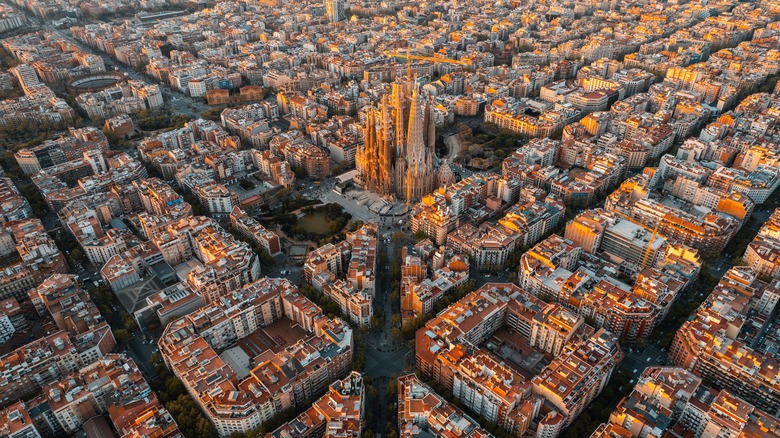 Vunav/Shutterstock
When the walls of Old Town came down in the mid-19th century, Barcelona began its outward expansion to create the Eixample district. This sprawling neighborhood is the ideal area to stay in for a family vacation. Characterized by its easy-to-navigate grid layout (i.e., no winding alleyways), the Eixample District seems to offer shops, restaurants, galleries, and green spaces on every block.
You'll also find Barcelona's world-famous modernist architecture in the Eixample District. While the city began its urban planning, Antoni Gaudí began creating his greatest architectural works. In the Eixample District, you'll find Gaudí's Casa Milà-La Pedrera and Casa Batlló, per Guiajando Barcelona. La Sagrada Familia, arguably Gaudí's greatest masterpiece, is also located in the neighborhood.
According to Forever Barcelona, the Eixample District is further divided into six distinct areas, which offer discerning families diverse accommodation options to fit their budget and atmospheric preferences. Regardless, by choosing to stay in the Eixample District for a family vacation, you can immerse in the charm of Barcelona without being submerged by the city.