The Best US Destination To Visit For Your Next Mountain Biking Adventure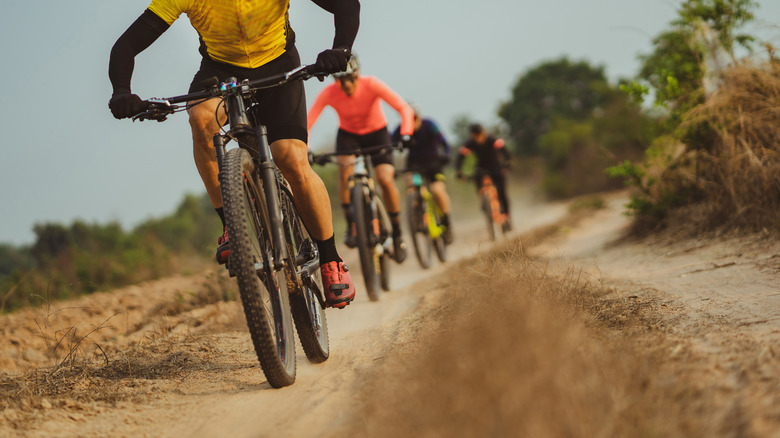 TORWAISTUDIO/ Shutterstock
One of the best ways to experience a new destination is on wheels. And that's especially true of mountain biking, which offers you the chance to see sights that might otherwise be inaccessible to you and to really experience the terrain of a place. Not only is this a great way to see the landscape, it's an incredibly fun hobby and a kick-butt workout. And without a doubt, one of the most exciting destinations for avid mountain bikers is Moab, Utah.
After mountain biking rose to popularity in the 1970s, this sport and daredevil pastime became one of Moab's main attractions. Located in Eastern Utah, close to the Colorado border, Moab offers a stunning landscape. With its iconic red-rock archways and a unique ecosystem of desert plants and animals, it is home to some of the most beautiful bike trails in the U.S. From the breathtaking views to the unparalleled trail challenges, it's no wonder Moab is considered a mountain biker's haven.
Where to go mountain biking in Moab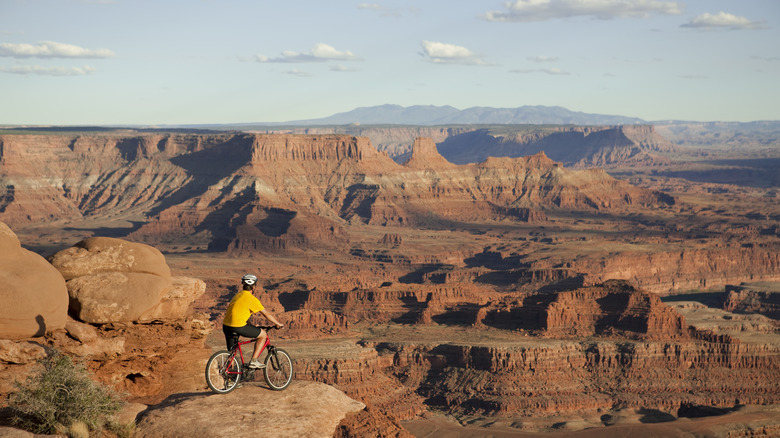 Sportstock/ Getty Images
If you're looking for a mountain biking adventure, there are few places that could beat Moab, Utah. The town was initially put on the map for mountain bikers because of its extremely difficult and advanced trails. Some of these original attractions are Porcupine Rim and the Slickrock Trail. However, in recent years, the city has made some more beginner- and intermediate-friendly routes for the vast range of mountain bikers visiting the city. In fact, they've installed an additional 150 miles of singletrack trails in the past decade.
Singletrack trails are bike paths intentionally paved for mountain bikes, allowing just enough space for the wheels of a single bike to pedal through it. If you want to find some singletrack trails that are a little more approachable, some of the most popular include the Lazy/EZ loop and Klonzo trail system (both of which are located just a short drive away). Because mountain biking is notoriously treacherous, you definitely want to select a trail that's on par with your experience level, otherwise you risk putting yourself in a dangerous situation
What to do when you aren't mountain biking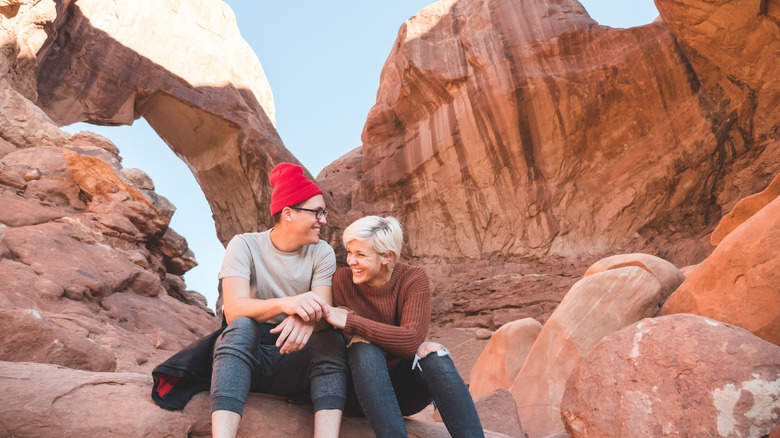 Fatcamera/ Getty Images
Once you've gotten your fill of mountain biking, you'll be pleased to find that the city of Moab offers an array of adventurous activities to fill your schedule with. With plenty of campsites, you can find a place to stay camping in the famous Arches National Park. Moab and surrounding areas also offer traditional hotel accommodations and vacation home rentals if you're looking for a slightly cushier stay.
While mountain biking is Moab's specialty, it's got a whole lot of other outdoor adventures to offer. Horseback riding, rock climbing, whitewater rafting, 4-wheeling, and zip-lining are just a few of the options you can add to your itinerary. Thankfully, with so much activity and exercise, the city of Moab has a quality selection of food establishments to replenish your energy. Meanwhile, no matter what activity you do, you'll be surrounded by one of the most amazing natural landscapes in the country.