These Two US States Have The Cheapest Flights On Average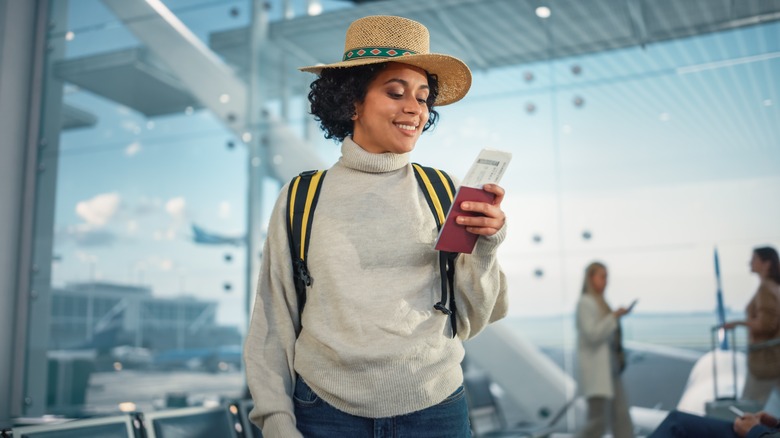 Gorodenkoff/Shutterstock
Flying isn't always cheap, even when you're just taking a domestic flight. Yet as summer travelers took to the skies in June 2023, the demand for air travel was up 12% compared to the previous year, per the U.S. Travel Association. Sometimes, it's just easier to hop on a plane than embark on a lengthy road trip where you're going to be paying for gas and tolls and putting mileage on your car. Likewise, boarding an Amtrak train, while cost-effective, can be even slower than driving, depending on where you're headed.
At the same time, the money-saving advice to book flights on a Tuesday may be outdated, and paying hundreds of dollars for a flight at once (versus more spread out expenses during a road trip) could create a psychological barrier. Fortunately, if you're making a return flight from two specific U.S. states, you're in luck. A 2022 study conducted by NetCredit found that New Jersey and Florida are the cheapest states to fly out of.
The study analyzed statistics from the Bureau of Transportation along with prices at over 140 airports that the FAA categorizes as hubs. New Jersey had the cheapest domestic flights, with tickets averaging $205.60. For perspective, that's less than half the cost of the average domestic flight out of West Virginia ($419.27). The study also found that Florida has five airports that rank among the 10 cheapest in the country.
New Jersey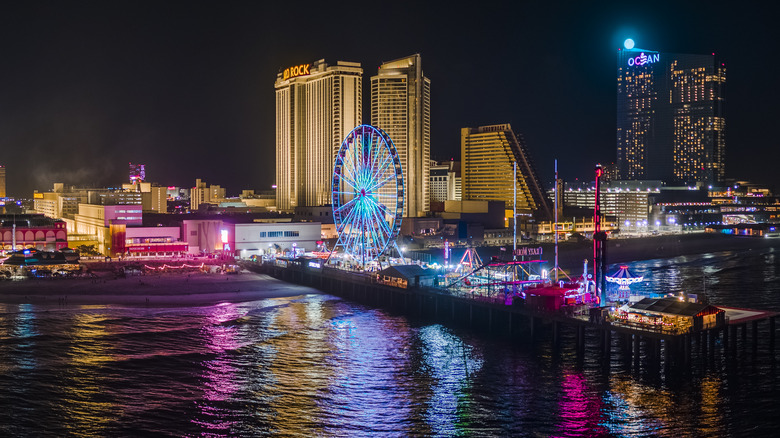 Alex Potemkin/Getty Images
New Jersey has both the cheapest domestic flights on average and the cheapest individual airport in the country, Atlantic City International Airport. You might lose money at the casinos, but you'll at least save money flying out thanks to the low-cost carrier Spirit Airlines. It's helped make Atlantic City's average ticket price a mere $109.43. Compare this with another prominent airport in the same state, Newark Liberty International Airport, which is more moderately priced at $301.78 for the average ticket.
If you've never thought about visiting New Jersey, there are local attractions worth seeing beyond just the boardwalk beaches along the Jersey Shore. History buffs can visit the Hindenberg airship crash site in Lakehurst or the Battleship New Jersey Museum and Memorial in Camden. At the Thomas Edison National Historical Park in West Orange, visitors can tour the lab of the infamous inventor of the lightbulb and movie camera.
Speaking of movies, Leonardo, N.J., is home to Quick Stop Groceries, the real-life convenience store where Kevin Smith shot his indie breakthrough film, "Clerks." New Jersey also holds the Pine Barrens, made famous in "The Sopranos." You can also book bus tours of the show's other filming locations, such as Holsten's, the Bloomfield restaurant where Tony Soprano eats at the end of the polarizing series finale. These tours cross over into New York, which you can do yourself on a New Jersey vacation, or just admire the views of the Manhattan skyline from Liberty State Park in Jersey City.
Florida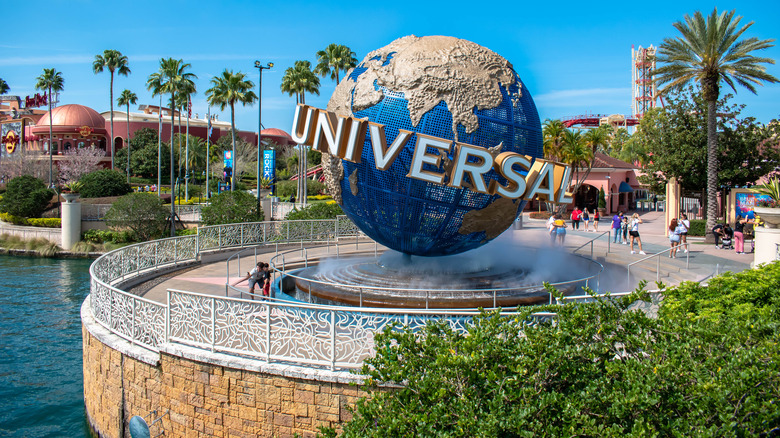 VIAVAL TOURS/Shutterstock
Two of the five Florida airports that rank among the 10 cheapest in NetCredit's study are located in and around the Orlando area. Orlando Sandford International Airport (SFB) and Orlando International Airport (MCO) came in at #2 and #9, with average ticket prices of $118.79 and $213.18, respectively. These airports will put you in the heart of Central Florida's theme parks. Universal Orlando, SeaWorld, and Disney World are all within driving distance.
With an average ticket price of $130.77, St. Pete–Clearwater International Airport ranks as the nation's third cheapest — and it's just over an hour's drive from Disney. Along the way, you can hit up another major theme park in Tampa, Busch Gardens, or forget about theme parks altogether and visit the National Historic Landmark District of Ybor City instead. If you're in the mood for history and have rented a car, another option is to take a day trip from Tampa or Orlando to America's oldest city, St. Augustine.
Showing up at #5 and #8, Punta Gorda Airport ($142.48) and Fort Lauderdale-Hollywood International Airport ($207.55) are the two remaining Florida airports that rank among the cheapest on average. The latter is only a 30-minute drive from Miami; and from there, it's not that much farther to Everglades National Park.
There are other travel expenses to think about besides airfare, of course, but when you're planning a trip with the cheapest airports nationwide as your starting point, Florida and New Jersey both have much to offer.