The Best Boardwalk Beaches You'll Find At The Jersey Shore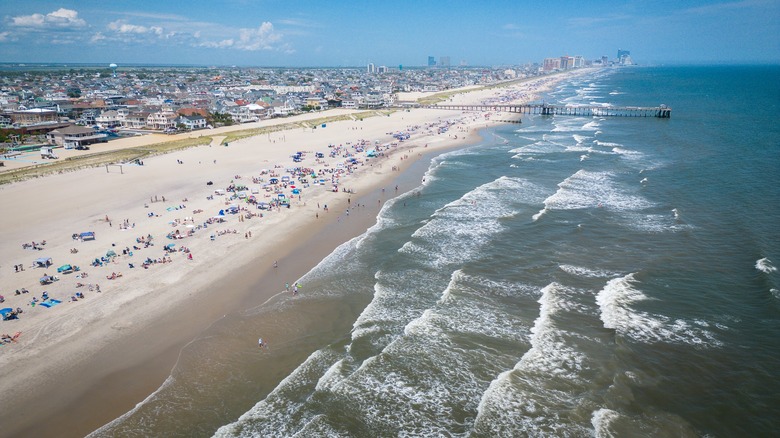 FotosForTheFuture/Shutterstock
Few places are as synonymous with summer quite like the Jersey Shore. A reliable travel destination for millions of people along the American East Coast, each town on the Garden State's shore is a worthy vacation hotspot for some reason or another. For certain cities, the appeal might lie in dazzling casinos or fun-filled amusement parks and water parks overlooking the Atlantic. In the case of smaller towns, it might be the plethora of quaint shops and restaurants less than a block away from the beach. No matter the community, though, the Jersey Shore remains most well-known for its miles of decade-old wooden boardwalks — a regional staple that made New Jersey's shoreline famous in the first place.
With no end to the attractions you can find there, you're virtually guaranteed to have a great time at whatever coastal community you choose to visit along New Jersey's coast. However, it's no secret that – like any beachside state – some of New Jersey's shore towns might appeal to a more specific kind of traveler. For example, if you're looking for a busy boardwalk bursting with arcade games and carnival rides, you're better off at Point Pleasant. In contrast, if you're interested in simply unwinding with a carefree day in the sun with minimal noise or distractions, Spring Lake or Lavallette is the town for you.
From sleepy beach villages to more touristy cities famous for their exciting night lives, here is a useful guide to some of the Jersey Shore's best boardwalk beaches.
11. Spring Lake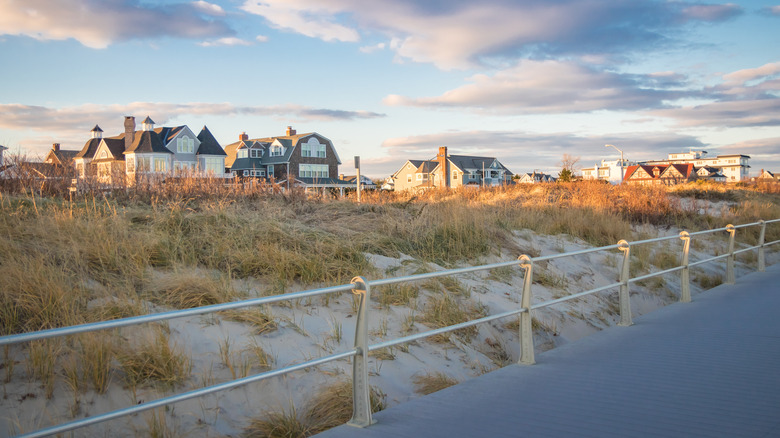 Benjamin Clapp/Shutterstock
Compared to the glamor and glitz of most other entries on this list, Spring Lake is a quiet alternative for anyone looking to steer clear of the large crowds that swamp most New Jersey beaches. While some may unfairly describe the town as boring for that reason, Spring Lake is great for anyone looking for a more peaceful trip to the beach, free from the roving neon lights of Point Pleasant's piers or the splendid casinos of Atlantic City.
Chock full of cozy bed and breakfasts, Spring Lake feels more like a turn-of-the-century fishing village in Cape Cod than it does anything else. The houses are all magnificently eloquent (a characteristic you'll find common with many New Jersey beaches), with the main streets stocked with mom-and-pop stores you can spend hours shopping in. In front of its two-mile-long boardwalk are sugar-white beaches with short distances to the water, making any place you decide to lounge about scenic, comfortable, and highly accessible. If you're worried about what food to pack for your day in the sun, Spring Lake has you covered. Some restaurants in the area, like Dune Donuts and Bagels, will bring your meals right to you on the beach if you call ahead or order online.
Admittedly, Spring Lake's boardwalk is fairly sparsely decorated, having little to any shops, gaming booths, or rides along its length. Still, walking, biking, or jogging along its wooden planks makes for some awe-inspiring views, especially if you're at the beach for either sunrise or sunset.
10. Lavallette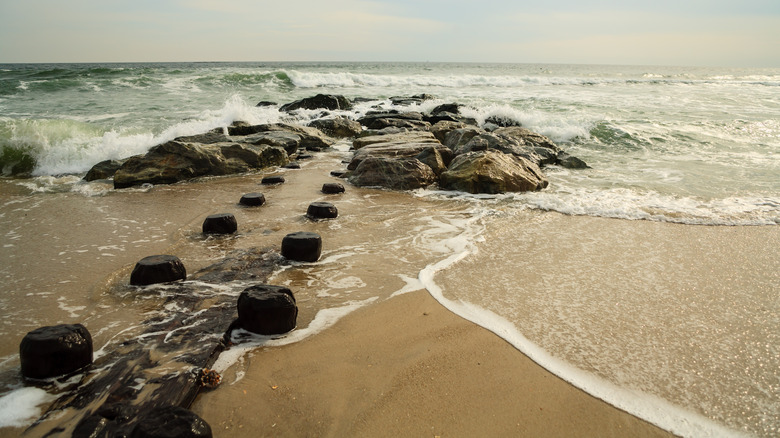 Royal Flush/Shutterstock
A relatively short drive from Point Pleasant and Seaside Heights, Lavallette is a fairly small coastal town most people tend to overlook on the drive to Seaside. As a result, this tiny haven is a suitable choice for anyone hoping to avoid large crowds, with Lavallette's beaches small yet incredibly quaint. Like Spring Lake, it's also breathtakingly beautiful in its basic layout, each block boasting tons of elegant beach houses and smaller independent stores. Should you choose to stop and take in the sites around town, you'll find yourself pleasantly surprised by the assortment of things to do. 
The town's boardwalk itself is fairly small and is mostly frequented by runners, joggers, and walkers rather than people looking for games to play or rides to venture on. But if you look around, you'll notice tons of recreational activities capable of holding your interest, most especially in terms of unique dining options. Of particular note is the mouthwateringly delicious Crab's Claw Inn, as well as the popular Music Man Singing Ice Cream Shoppe, an ice cream parlor where the employees sing to you as they prepare your refreshing summer treats.
If Point Pleasant or Seaside Heights proves a little too crowded, Lavallette is your best next-stop destination, owing to its low crowds and quiet atmosphere. On the off chance the town's beaches are on the busier side, Lavallette also has plenty of nearby bays to escape to instead, with adjoining docks perfect for fishing or crabbing.
9. Avon-by-the-Sea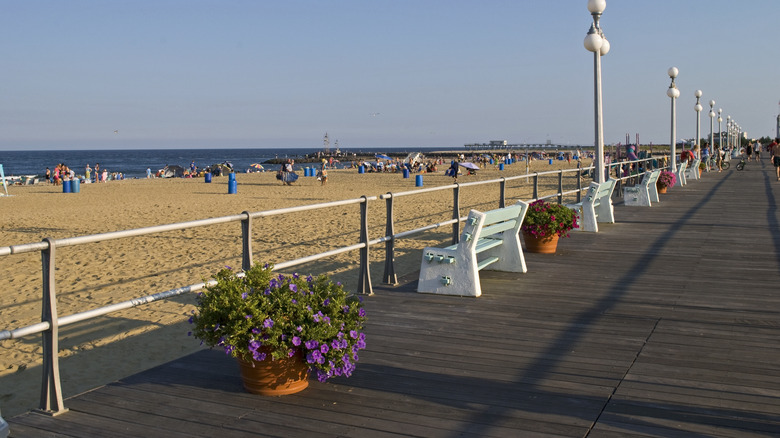 Andrew F. Kazmierski/Shutterstock
In case its regal-sounding name didn't give it away, Avon-by-the-Sea is a wonderful hidden gem found in New Jersey's Monmouth County. Decidedly less tourist-heavy than its counterpart beaches in Atlantic City or Asbury Park, walking on Avon-by-the-Sea's boardwalk feels like stepping back in time. Between the Victorian homes lining the town's streets and the larger beaches (ensuring you'll find a spot away from large crowds), there's a homely environment to Avon-by-the-Sea not unlike Lavallette.
Walking around Avon-by-the-Sea, you'll instantly notice the town's lovingly-dated architecture, with many of its stores, restaurants, and buildings found along the boardwalk invoking an early 1900s presentation. Such is Avon-by-the-Sea's biggest draw, as well as its high volume of smaller shops and delicious restaurants. For fresh seafood or sushi, you can dine in at Klein's Fish Market, looking over a local river as you gorge on California rolls and gourmet oysters. For more casual walk-up dining, there's the rustic bistro Cavé Bistro. Or if you just want to sit back and enjoy some bar food, check out local hotspots like D'Arcy's Tavern or Kelly's Tavern.
Avon-by-the-Sea is also an excellent spot for any avid fishing enthusiasts out there, the town having several fishing charter companies and whale-watching tours that sail out of the area. Thrill-seeking travelers might also be interested in parasailing or more approachable banana boat rides through companies like Belmar Parasail. For late-night entertainment, you should also check out The Columns, a seasonal restaurant and nightclub beloved for its live music acts.
8. Belmar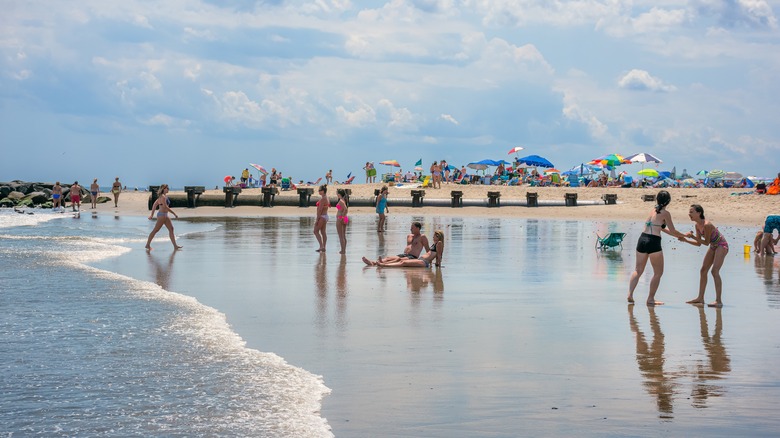 Andrew F. Kazmierski/Shutterstock
The fact that Belmar is as crowded as it is during the summer season should be ample proof of how great a beach it really is. With picturesque views found along the coast, it's great for sightseers looking for immaculate sunsets over the Atlantic. It's also home to an incredibly well-maintained beach, habitually cleared of any waste left behind by previous visitors (also, smoking is strictly prohibited anywhere on the beach).
Should you venture to Belmar with younger children, you'll see a lot of playgrounds throughout town made to entertain playful toddlers. For those looking for a more active trip, Belmar also has beaches specifically designated for boogie boarding, surfing, and kayaking. The town even has a local summer camp that gives youths the opportunity to learn how to properly surf. For older beach visitors, there are also a lot of volleyball courts set up around town that vacationers are free to play at.
Describing themselves as the "cleanest and healthiest beach environment" in the Garden State, Belmar is one of the safest beaches you can visit anywhere in New Jersey. With a boardwalk made of composite materials, you're unable to even get a splinter as you walk along the town's boardwalks! If you're keen on seeing most of the main sites, you can always follow along to Belmar's Treasure Trail, a self-guided tour that contains over 50 stops. For a peaceful meal, be sure to dine in at any one of the restaurants found in Downtown Belmar.
7. Seaside Heights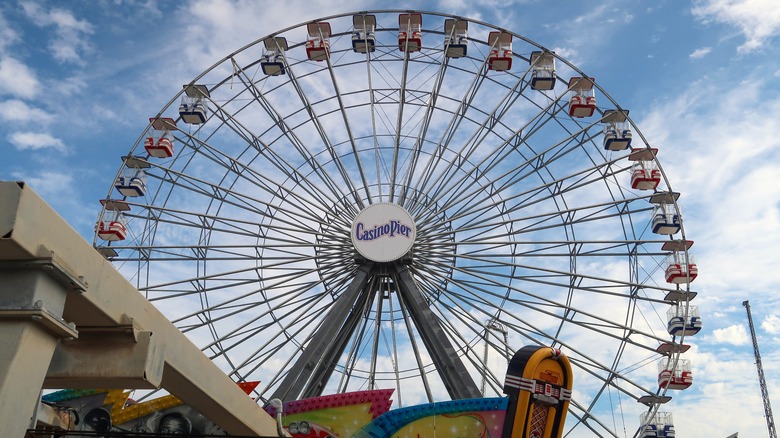 John Arehart/Shutterstock
Perhaps more well-known as the setting for the uber-popular TV series, "Jersey Shore," the actual, non-MTV version of Seaside Heights you can visit today is far more peaceful than people might expect. Located within easy driving distance of Lavallette and Point Pleasant, Seaside's biggest flaw is its larger crowds, mainly due to its great beaches, fantastic restaurants, and array of fun things to do around town.
For those interested in an authentic boardwalk experience, Seaside Heights' Casino Pier is an absolute must-see, as is its nearby sister attraction, Funland Pier. Both piers extend out into the Atlantic around 300 feet, with each boasting classic amusement park attractions like roller coasters, bumper cars, and carousels. Heading away from the water, you can stop by other fantastic entertainment options, putting 18 holes at Barnacle Bill's Amusements mini-golf course or barreling through water slides at Breakwater Beach Waterpark. If the beach isn't your thing, you can also stop by Seaside Speedway Go-Karts for an afternoon of high-speed thrills, or collect a healthy dose of saltwater taffy, fudge, and other candies at Berkeley Sweet Shop.
Of course, as you might expect if you've ever seen "Jersey Shore," Seaside Heights can also be a great place for those seeking bars or lively restaurants, many of which are frequented by locals and tend to be on the less touristy side. These include popular Seaside staples like the Beachcomber, Klee's, and Jimbo's, the latter of which has a wonderful retro '50s aesthetic appealing to diners of all ages.
6. Long Branch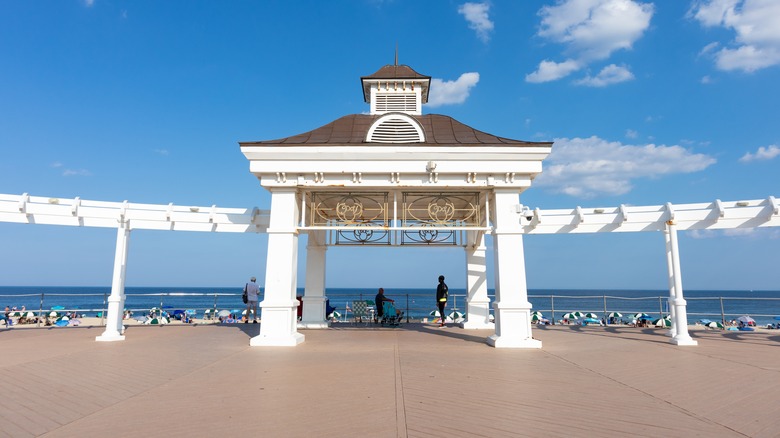 James Andrews1/Shutterstock
If Long Branch is good enough for a president, it stands to reason its good enough for most travelers, right? The go-to vacation spot frequented by seven different U.S. presidents (hence the aptly-named Seven Presidents Oceanfront Park in the area), Long Branch is just as idyllic today as it was in the latter half of the 19th century and the early 20th century.
In many ways, Long Branch has a similar feel to Avon-by-the-Sea, with its turn-of-the-century-inspired boardwalk and the abundant number of Victorian houses. The main difference that separates Long Branch from Avon-by-the-Sea, though, is the decidedly larger array of things to do in Long Branch. As an example, you can easily while away a significant chunk of time wandering Long Branch's Pier Village. Surrounded by old-fashioned motel buildings, Pier Village is known for its excellent restaurants and shops, all within easy walking distance of one another. If you show up in the summer, there's also a good chance your visit will coincide with a special event, like an outdoor musical concert, right in the Village's center courtyard.
Given its unique architectural presentation, simply walking along the town's boardwalk is probably the best thing you can do in Long Branch. Aside from that, you can drive out to nearby Monmouth Park(a horse-racing track that first opened its doors in 1870), or challenge yourself to an escape room at Escape the Puzzle. Before leaving, we suggest ending your day with a scenic meal overlooking the ocean at Rooney's Oceanfront Restaurant.
5. Point Pleasant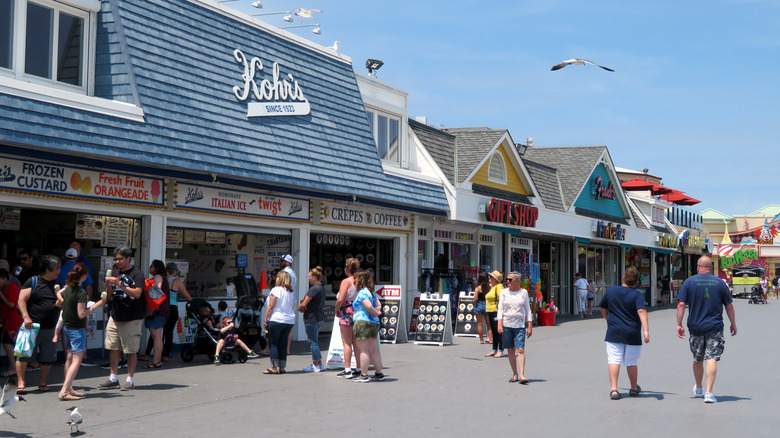 Bruce Alan Bennett/Shutterstock
Just north of Lavallette and Seaside Heights, Point Pleasant is a bustling seaside town where you'll never find yourself without something to do. While the beach itself is worthy of praise, the boardwalk is the main reason to single out Point Pleasant. Home to New Jersey's famed Jenkinson's Boardwalk, Point Pleasant might have the most noteworthy selection of recreational activities out of any New Jersey town on this list. On Jenkinson's Boardwalk, there's a full-fledged amusement park brimming with dozens of attractions, from staple boardwalk games like the ring toss and frog bog to bumper cars and rollercoasters.
Unlike other boardwalk beaches on this list, the amenities found at Jenkinson's don't stop there. More unique features on the boardwalk are a mini-golf course, a large funhouse, and batting cages for anyone interested in improving their swing. There's also a somewhat challenging ropes course nearby, along with an aquarium that houses exotic residents like seals, sharks, and penguins. If you're feeling brave, you can even take on the Octopus Challenge at Hoffman's Ice Cream: eight hearty scoops of homemade ice cream sprinkled with eight toppings that you must eat in a total of eight minutes.
Open well into the night, Jenkinson's is a great place to visit during the day and later on when the sun sets. That being said, with the fun continuing nonstop at virtually all hours, there's always a crowd to be found at Point Pleasant, especially during the peak summer season.
4. Wildwood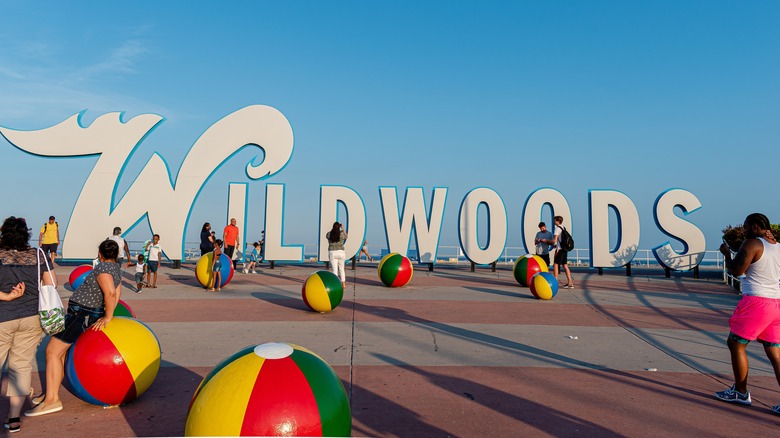 All Eyes Photography/Shutterstock
If you've ever been to Wildwood before, you probably recognize that it's seen better days in the past. But if you're looking for a true Jersey Shore experience, it doesn't get any more authentic than Wildwood. Frequented by locals and tourists alike, Wildwood has everything that's become synonymous with the Shore itself, from the lengthy boardwalk to the literal dozens of games you can find on the piers.
With how many things you can find there, it's almost hard to know where to start when it comes to listing the things you're free to do in Wildwood. Of course, you won't be disappointed by the town's boardwalk, which stretches on for two and a half miles and features endless carnival games, amusement attractions, and food stands. More unique locations within Wildwood include Morey's Piers, a long-standing park that allows visitors to hop aboard go-karts, roller coasters, and log flumes.
For more niche activities, you can head over to Flying Hatchets to hurl axes at in-door targets, or catch the annual "Monsters on the Beach" monster truck race that takes place on Wildwood's beaches. For breakfast, you can even book a reservation at Breakfast in the Sky and dine with your party on top of a Ferris wheel! Should you need a place to stay after a day of eating, sunbathing, and swimming, you can always stay at a historic hotel like the Caribbean Motel, a retro '50s motel lauded for its pop-style architecture that was entered into the National Register of Historic Places in 2011.
3. Ocean City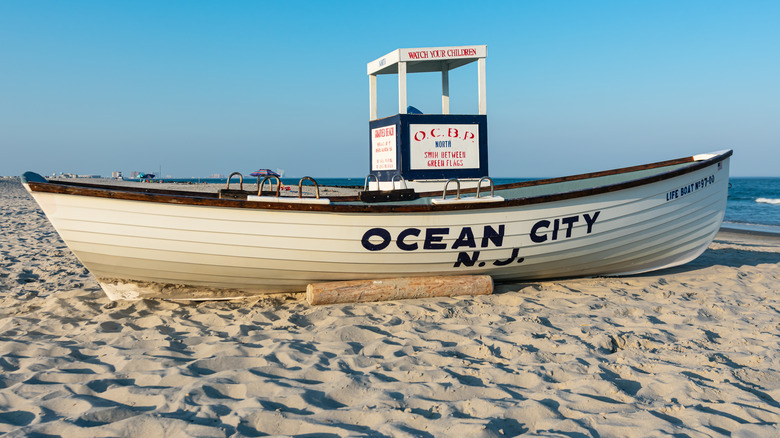 Andrew Pilecki/Shutterstock
Not to be confused with its similarly-named counterpart in Maryland, New Jersey's Ocean City is the perfect compromise if your vacation group is torn between the hustle bustle of Atlantic City and quieter towns like Spring Lake. With one foot in the past and another lunging towards the future, Ocean City is divided between luxurious turn-of-the-century beach houses and more modern amenities. Evidence of this fact can be found no further than the town's restoration projects, namely the refurbishment of its sprawling two and a half mile-long boardwalk. If that weren't enough, the town is also planning to launch an ambitious multi-million dollar restoration of its beaches, making it not only a great summer town today, but a vacation spot to look out for in the future. It's also worth pointing out that Ocean City's beaches are strictly alcohol-free, making it a fantastic place for families of all ages to come visit.
Known for its wider-than-average boardwalks (wholly beneficial for riding bikes along the coast!), Ocean City has a ton of activities worthy of merit. First and foremost, everyone who ventures to Ocean City is obligated to stop by Gillian's Wonderland Pier, a fan-favorite amusement park that has been in operation since 1929. Alternatively, you'll find another standout amusement park in the form of Playland's Castaway Cove, a park that certainly gives Gillian's a run for its money as the best in Ocean City. If you're looking to cool down, you can also drop into the OC Waterpark for an afternoon of sopping-wet fun. 
2. Asbury Park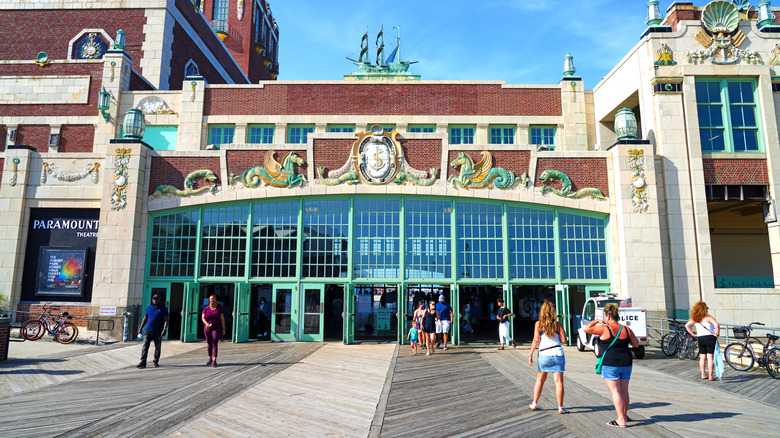 EQRoy/Shutterstock
As with Ocean City, Asbury Park is a happy compromise for those who want a lazy day on the beach and anyone looking for nonstop entertainment options. Listed as the second-best beach in the world by Money and one of the best in the U.S. by Thrillist, Asbury Park's high esteem among vacationers isn't something to be taken lightly. Between its gorgeous beaches and four-mile-long boardwalk, there's no question you'll have a truly memorable time here.
Most of Asbury Park's noteworthy attractions are conveniently located on the city's famous boardwalk. For example, there's music venues like the famous Stone Pony, where New Jersey natives Bruce Springsteen and Jon Bon Jovi got their starts (among many others). Other places of interest would be the Asbury Park Convention Hall, a respected exhibition center dating back to 1930 that's now reserved for sporting events, concerts, and other events of public interest. For avid arcade visitors, there's also the highly lauded Silverball Pinball Museum, populated by pinball machines from as far back as the 1930s.
With how many venues there are in Asbury Park, it's almost guaranteed that some special event will be happening on any given weekend during the summer. If concerts aren't your thing, there are also plenty of other places to visit around town, including the Paranormal Books & Curiosities shop and its adjoining Paranormal Museum. You might even book a ghost tour through the shop, hearing all kinds of eerie local legends as you're guided through town.
1. Atlantic City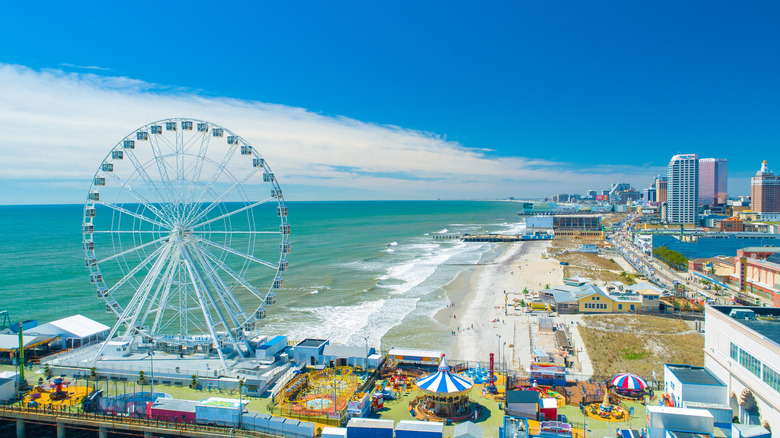 Mia2you/Shutterstock
Perhaps the most famous of New Jersey's coastal cities, there is no shortage of things capable of fulfilling your vacation fantasies than in Atlantic City. A popular vacation resort area for a reason, you can spend a significant amount of time in A.C. and still find things to do in the self-proclaimed "World's Famous Playground." Naturally, the first thing that probably jumps to people's minds is the assortment of casino hotels and resorts, each more opulent than the last. However, there's plenty more to Atlantic City than just slot machines and gambling.
As the world's first and longest boardwalk, you better believe Atlantic City's boardwalk surpasses the quality of virtually every other town's boardwalk on this list. Brimming with arcade games, shops, and restaurants galore, A.C.'s boardwalk runs on for an unparalleled 5 miles. In case you get a little short-winded trying to traverse the entire length of the boardwalk, you can venture into some of the hotels lining the beach, most of which house in-door shopping areas, marketplaces, and dining locations as well.
Specific points of interest along Atlantic City's boardwalk is the famous Steel Pier, an amusement park pier that first opened in 1898. For shopping purposes, a trip to the ritzy Playground Pier or the more affordable outdoor Tanger Outlets can make for a pleasant afternoon. If you time your trip to A.C. right, you can catch a musical performance or live comedy show at any one of the city's illustrious hotels after your day in the sun has officially wrapped.