The Unexpected Selfie Ban You'll Encounter While Visiting This South Asian Nation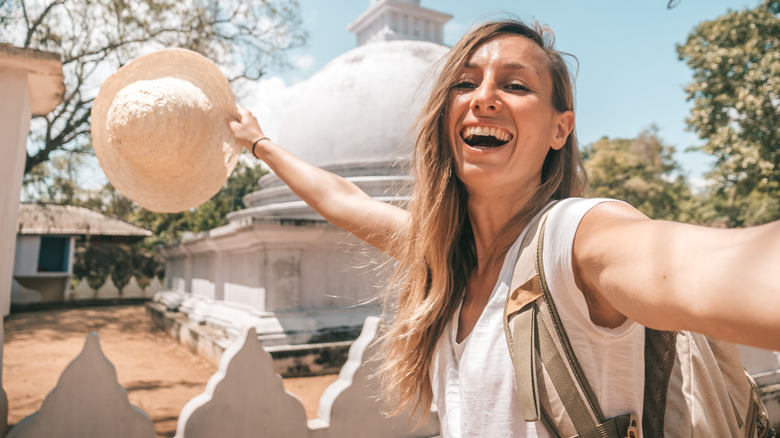 Mystockimages/Getty Images
Located in the Indian Ocean, near the southern coast of India, the small nation of Sri Lanka offers tourists a chance to frolic on dreamy beaches or experience outdoor adventures such as diving or hiking in the jungle. However, Sri Lanka also has deep cultural and religious ties to Buddhism. According to Oxford Bibliographies, Buddhism has been a mainstay in Sri Lanka since the 3rd century BCE, and a 2012 census (via the U.S. Department of State ) found that over 70% of the country's population is Buddhist. Unsurprisingly, one of the country's most prominent tourist destinations is its various Buddhist temples.
While taking photos is a must for any vacation, you should proceed with caution in a Sri Lankan Buddhist temple and note that there are other ways to remember trips. Visitors should never take a photo with their back away from the Buddha and should refrain from touching the statue. Sri Lanka is a conservative country and does not take kindly to anything that could be interpreted as sacrilegious. So much so that the United Kingdom's government warns visitors against taking any photos with Buddha statues. In 2012, a group of French tourists learned the hard way what happens when you break this rule.
The French tourists avoided jail time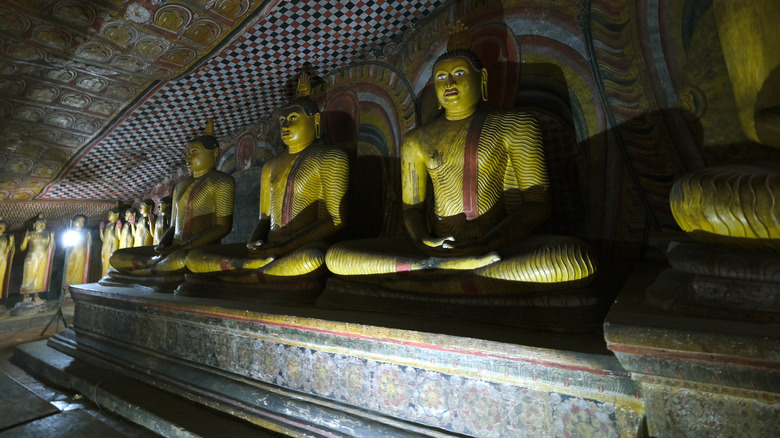 Yuriko Nakao/Getty Images
The three unnamed French tourists, consisting of two women and one man, were at a Buddhist temple when they took photos of themselves kissing and posing with a Buddha statue. Trouble arose when the group went to print their photos at a photo lab. The owner of this business, Prasanna Gamage, saw the pictures and took action. Speaking to the AFP (via Yahoo News Singapore), he said, "I am also a Buddhist, and I was very hurt when I saw what was in the pictures." Gamage added, "That is why I refused to print them and called the police." The three were subsequently arrested.
Per Yahoo News Singapore, Sri Lankan spokesman Udaya Gammanpila told the AFP, "Sri Lankans consider this statue to be sacred. They desecrated it. This is uncivilized behavior." The three were taken to court, convicted, and received a sentence of six months in prison with hard labor. Nevertheless, the group did not spend time in a cell as they were also handed a suspended five-year jail sentence. They did, however, have to pay an $11 fine.
Needless to say, Sri Lanka does not play around when it comes to religious artifacts. In 2010, singer Akon was prohibited from entering or performing in Sri Lanka because the music video for his song "Sexy Chick" featured a Buddha statue in the background.
A tourist was sent to prison in Sri Lanka for her Buddha tattoo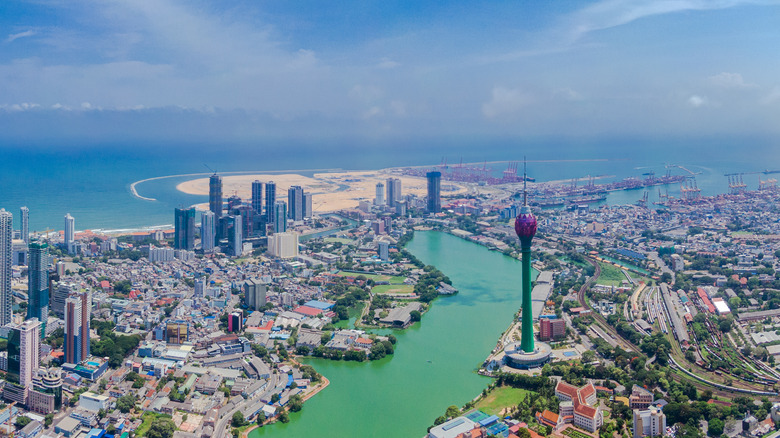 Rakhitha_w/Shutterstock
If you visit a Buddhist Temple in Sri Lanka and want to avoid cultural mishaps, there are rules to follow. For example, all individuals visiting a temple are required to cover their knees and shoulders. Moreover, they must be barefoot and hatless. If you want to take photos, Natural Habitat Adventures suggests you ask if you can do so before proceeding. But if you happen to have a Buddha tattoo, you might want to stay away from Sri Lanka altogether. In 2014, Naomi Coleman, a British nurse with a Buddha tattoo on her right arm, was arrested shortly after landing in the city of Colombo.
The BBC states that the authorities said they did this because Coleman was "hurting others' religious feelings." In an interview with the publication, Coleman said that although she tried to explain that she was Buddhist, she was nonetheless taken to court. Coleman would then be imprisoned before being deported back to the UK because of the tattoo. Per The Straits Times, Coleman told the AFP that her brief time in prison was harrowing. In 2017, The Independent reported that the Sri Lankan Supreme Court awarded Coleman £4,000 (over $5,000 in 2023) for her ordeal.