If You Love Cheese, This Korean Theme Park Is A Must-Visit
Brie. Gouda. Cheddar. In South Korea, there's a place to celebrate all things cheese. The Imsil Cheese Theme Park opened in 2004 and is situated on over 30 acres. The theme park is in the North Jeolla Province, which has a unique history. In the mid-1960s, a priest from Belgium, who was concerned about economic opportunities for people in the area, started making cheese out of milk from two goats he was gifted. With a small loan and cheesemaking lessons in France, he morphed his personal cheese business into an empire. The area is now ripe (pun intended) with cheese manufacturing, and cheese is one of the country's most beloved foods today. 
The theme park is a three-hour train or bus ride from Seoul or a 15-minute ride from Jeonju. Those arriving by rail can take a 10-minute walk from the Imsil station to the park. It's open Tuesday through Sunday, 10 a.m.-8 p.m. Attracting over 200,000 visitors annually, you won't be alone at this theme park as you indulge in fun and rides — and cheese.
What to do at the park
With architecture inspired by a Swiss village, the Imsil Cheese Theme Park features quirky photo ops with oversized wedges and wheels of cheese situated in a rural landscape. After getting your Instagram-worthy pics, you can learn all there is to know about cheese through exhibits and a research center. Cheese-making classes (and pizza-making lessons) are available for kids and adults for a hands-on experience. You can also check out the milk-processing factory or explore the science lab where they experiment with different ways of making cheese. 
The Cheese Playland is a great place for kids to work off energy, and there's an area to see live goats. If your travel plans bring you to the park in October, you can take part in the annual cheese festival. Adorned with millions of flowers, the cheese festival showcases cheese and cheese products from the area for sale while guests explore the park.
A cheese-inspired foodie journey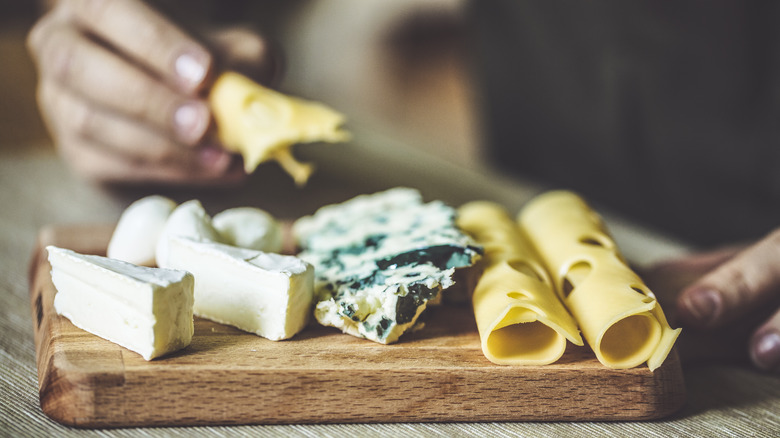 Eva-katalin/Getty Images
Bring an appetite for this savory day trip. You don't have to be a turophile (yup, cheese lovers have an official name!) to enjoy the Imsil Cheese Theme Park, though it definitely helps. If you take part in classes, you can get a sampling of cheese on your food tourism experience. While you wait for your hard work to be packaged up, you can snack on some delicious, salty string cheese. If you opt for the popular pizza-making class, they'll even box your pie up hot for you. Weather permitting, you can picnic outside with your self-made dairy delights. 
Adults can also sample a variety of cheeses paired with wine at the cheese aging room. And there are on-site restaurants, including the Cheese Palace, housed in a family-friendly casual environment. 
While a spot dedicated to all things cheese may not be a typical travel destination, it's the ideal itinerary add-on if you're up for something on the foodie path.