Simple Tips For Avoiding Crowds At Europe's Most Popular Tourist Spots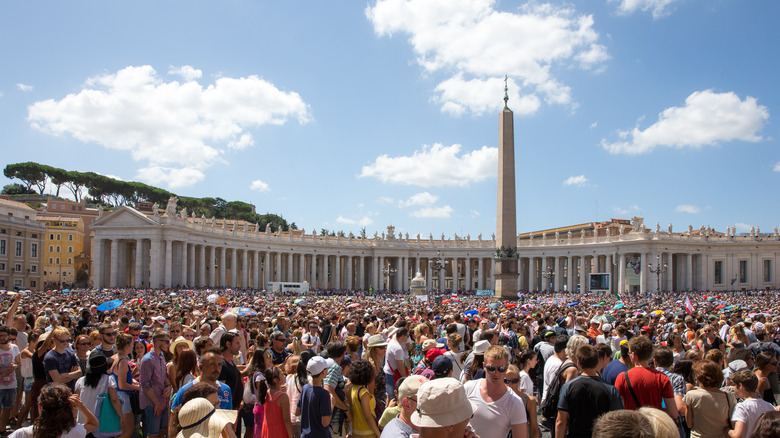 James.Pintar/Shutterstock
You've taken the flight to Rome, put on your most fabulous outfit, and are ready to finally visit the sublime Sistine Chapel. Except, when you arrive, there's a three-hour long line. Along with you, nearly 7 million people visit the Vatican Museums annually. A staggering half a billion international tourists arrive in Europe every year. Iconic sites like the Eiffel Tower, Colosseum, and Acropolis attract people from all over the world. Navigating through crowds of tourists can often detract from the immersive experience one hopes for. Luckily, there are ways to avoid that.
First, choose your travel dates wisely. The shoulder season for Europe, which typically occurs in spring (April to mid-June) and autumn (September to October), is an optimal time to travel. The weather is pleasant, attractions are less crowded, and often, accommodations are more affordable. It's the perfect balance between the peak and off-peak seasons. Traveling to Europe in the summer would be unwise — expect sweltering heat, stampedes of sightseers, and jacked-up prices. Europeans travel extensively within their continent, especially during the summer break and school holidays.
If you truly want to avoid crowds, consider traveling during the off-peak winter months. While the weather may be chillier and some attractions may have shorter operating hours, the serene atmosphere and uncrowded streets offer a unique charm. Being aware of these different dates can help you sidestep the international and local sightseeing rushes. As you explore the undisturbed canals of Venice, you may even wonder, "Where are all the tourists?"
Maximize moments with timed tickets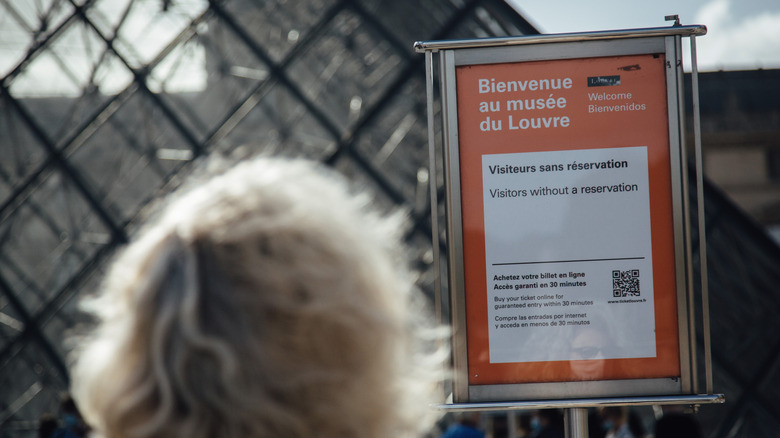 Bloomberg/Getty Images
Popular spots tend to be busiest in the middle of the day. If you arrive early in the morning, you'll enjoy fewer crowds and also capture the picture-perfect golden light –- a photographer's dream. Some destinations, like Venice or Santorini, become overwhelmed with day-trippers. By staying overnight, you'll experience the tranquil beauty of early mornings and evenings when most tourists are gone, have extra exploration time, and also contribute more to the local economy.
Some attractions have extended hours — for example, the Vatican Museums, which would usually have hour-long lines during the day, are open on Friday and Saturday nights until 10:30 p.m. and 8:00 p.m., respectively. The ambiance during these later times is a magically different and private experience. Note that certain attractions are busier on specific days. For instance, many European museums are closed on Mondays, making Tuesdays unexpectedly busy.
Many attractions offer online tickets in advance. This not only secures your spot, but also allows you to bypass the regular ticket queues. Note that some places require advance bookings — not just a few days, but months in advance, depending on the season. Think the Louvre, Uffizi Gallery, Pompeii archaeological sites, and other in-demand destinations. Some places actually mandate reservations, as they no longer sell onsite tickets. This includes the Anne Frank House and Van Gogh Museum. If it's in your budget, consider upgrading to fast-track or skip-the-line tickets, which might be more expensive but can save hours of waiting.
Unlocking Europe's lesser-known gems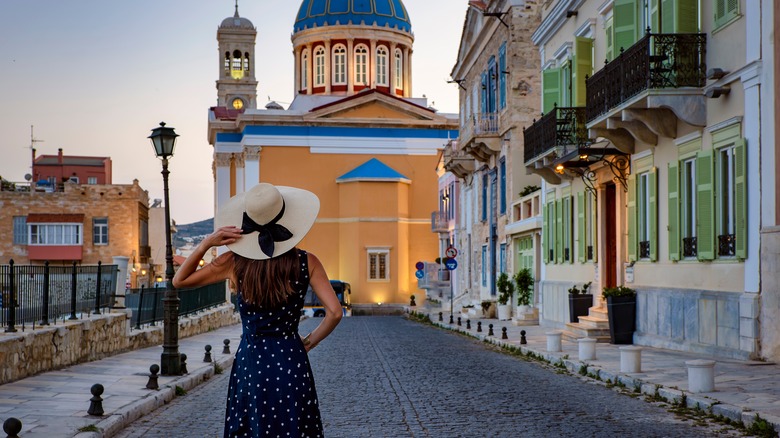 Sven Hansche/Shutterstock
While the major landmarks are undoubtedly impressive, many lesser-known treasures are awaiting discovery. Instead of visiting the overcrowded Louvre in Paris, consider the Musée de l'Orangerie or Musée Rodin. In Rome, venture beyond the Colosseum and explore the ancient ruins in Ostia Antica. There is so much more to Europe than checking off every top sightseeing list. Sometimes going off the beaten path makes for an even better adventure. Smaller crowds, less expensive, less hectic — thank us later. 
Tourist buses often drop large groups at attractions simultaneously. By using public transport or walking, you can avoid these influxes and also discover hidden gems along the way. Walking through European cities offers intimate glimpses into local life. With that said, if you are on a tight schedule, a specialized guided tour may actually help you avoid crowds and get more from your experience — if you choose the right one. Look into unique options, such as visiting the lesser-known Greek islands of Syros, Milos, and Naxos, or hiking up Montserrat at sunrise with a guide before crowds spoil the view. 
Traveling through Europe and absorbing its rich history and culture is a dream for many. And while popular tourist spots are renowned for a reason, overwhelming crowds can dampen the journey. By implementing these simple tips, you can navigate Europe's sights with ease, savoring each moment without feeling rushed or stifled. Remember, travel is as much about the experience as it is about the destination.