Avoid Making This Common Mistake When Booking A Hotel Stay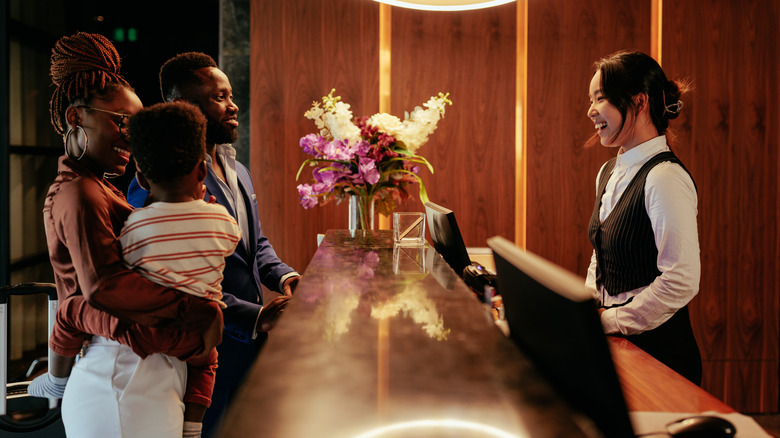 Dimensions/Getty Images
You're getting ready to go on a trip, you've chosen the destination and even purchased the airfare. Now, all you need to do is book a hotel and plan the itinerary. You have ideas of what you want to do, so creating a schedule should be a breeze; it's the hotel part that poses a challenge. How can you save on your hotel room? Maybe you found a great deal on a travel website, or the hotel itself is running a promotion with enticing rates. You want to snag the offer immediately. Before you do, however, pause to read the fine print, it could make all the difference in saving you cash.
The price listed on websites and promotional emails might not tell the full story. Oftentimes, the rates advertised are only part of the total hotel charges, so it's important to be mindful of this when booking. The last thing you want to happen is to think you're saving big only to have extra fees and charges chip away at those savings.
Often overlooked factors and fees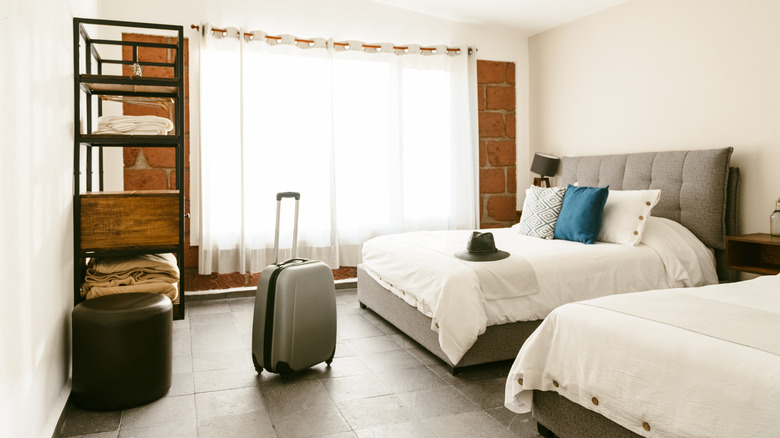 Ferrantraite/Getty Images
When you're browsing online for a hotel, don't forget to factor in tax and fees in addition to the advertised rate. Read the fine print or call the hotel before booking to get a more accurate number of what you'll be paying as the total cost. For example, do they charge a resort fee or a Wi-Fi fee? Is parking extra?
After you have the total costs, ask the hotel if they put a hold on your card and how much it will be. A credit card hold is exactly what it sounds like: there's a hold of a certain amount of money — the specific amount depends on the hotel, but it's usually between $50 and $200 but can be more— on your credit card that the hotel reserves for the duration of your stay. Because of this hold, you won't have access to those funds. You're not charged, and you will get your money back, but these holds can throw a wrench in your travel plans if you're not aware of them, especially if you're traveling on a budget. Hotels do this as a way of ensuring they will get their money in case you cause any damage to their property. If you leave the hotel room intact, you'll get your full amount back a couple of days after you check out.
Keeping an eye on the refund policy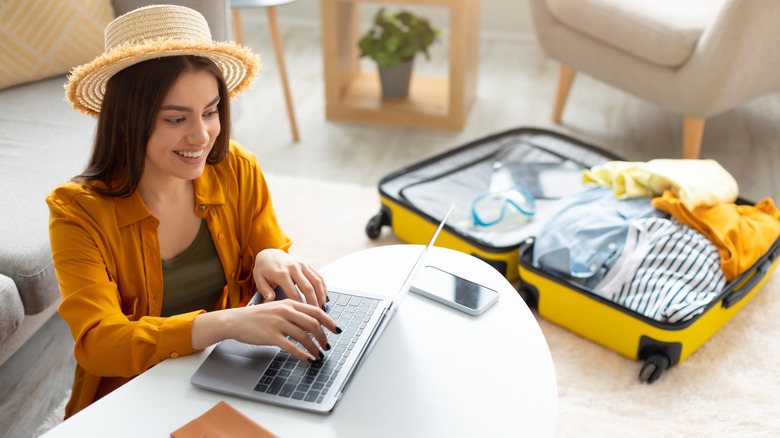 Prostock-studio/Shutterstock
When you're booking a hotel, don't forget to review the refund policy, especially if you're using a third-party site to book. Often, these sites advertise great rates but they're nonrefundable. If you're okay with that, make sure you double check the date and location before you submit everything. You don't want to be stuck in a position where you accidentally book for the day after you arrive, or at the wrong location. If you're feeling confident that you'll be able to fulfill your stay, go ahead and book, but if you want the certainty of a refund in case something comes up, you're better off booking directly through the hotel and confirming with them.
As you consider hotels, also consider all of their fees, taxes, credit card holds, parking fees, and other associated costs to get an accurate picture of what you'll actually need to pay. This can make a large difference and just might save you from booking with one place with a great nightly rate but exorbitant fees.