Why Calling A Hotel Before Booking Online Can Unlock Big Savings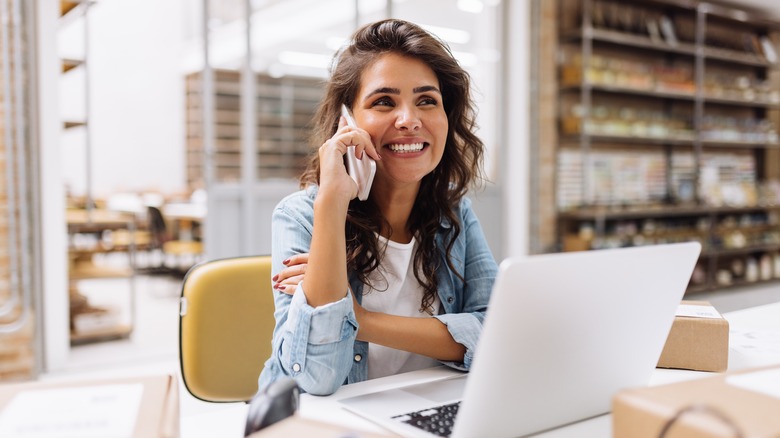 JLco Julia Amaral/Shutterstock
When you're looking for entertainment, researching on the run, or navigating new roads, there's a good chance you reach for your smartphone. These devices have become an integral part of daily life. It's estimated that around 6.65 billion people across the planet own a smartphone including about 85% of adults in the U.S.
The average smartphone user in the U.S. spends over five hours on their device daily, and the majority of that time isn't dedicated to traditional phone calls. Instead, 90% of those smartphone hours see users engaging with apps. In an age where text culture dominates and digital communication is the norm, a simple phone call can seem almost antiquated, particularly when it comes to travel planning.
People typically turn to online services first when looking to book trips. Digitally conditioned minds find scouring websites for deals and discounts comfortable and convenient. However, when it comes to booking a hotel, taking a more traditional approach could lead to some exciting savings.
It might feel old-fashioned, but calling works, especially when you ask to speak with a manager. Skipping the hotel's central reservation hub is key to great savings because it puts you directly in touch with someone who can often access better deals than a reservationist. Hotel managers have unique flexibility when it comes to offering discounted rates on rooms that go beyond those a reservation center is allowed to allocate to guests. To benefit from these savings, you'll have to willingly dial the number and have a conversation.
Call to negotiate and ask about perks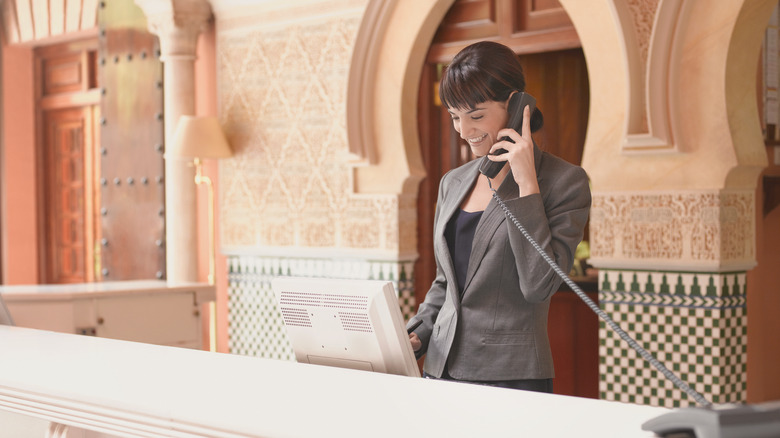 Robert Daly/Getty Images
These days, the price of a hotel room for a single night can certainly be steep. Spending a lot on accommodations isn't extra appealing to those who are looking to travel on a tight budget. Currently, the average nightly price to book a hotel room in the U.S. is $212, according to Money.
The good news is that pairing your online hotel search with a phone call to the hotel could help you reduce the overall price. Once you know the online room rate being offered, you have a valid platform for negotiating a better price with the hotel manager. It's important to never be pushy, but politely asking if they can offer a better rate can potentially earn you great savings. Having prices of competitive surrounding hotels handy gives you even more leverage in negotiating a room at a better price over the phone.
Even if you aren't successful in landing a lower price-per-night on a specific hotel room through your conversation with a manager, there's a chance you could enjoy savings in the way of added perks. Timing is everything and your effort to call in might just inspire a generous manager to offer to upgrade your stay in place of an adjusted room rate. These benefits could also come in the form of free breakfast options or reduced costs on parking.
Enjoy customized care with a call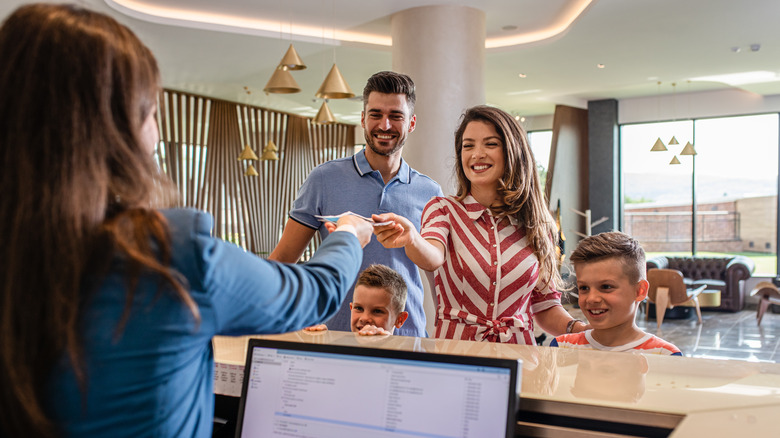 Zoran Zeremski/Shutterstock
Calling a hotel directly to book a room can save you money over booking online through opportunities to discuss authenticity with hotel staff. An online listing isn't always what it seems and photos can be deceiving. Speaking with someone about what's actually available can be refreshingly insightful.
When you're looking to make your money go further, be sure to book over the phone to verify the dimensions of a hotel room that might look larger in marketing photos than it is in reality. Calling is also an effective route to clearing up any confusion around fees and cancellation policies that might not be clearly outlined online. Asking these questions over the phone can save you from receiving a bill that's ultimately higher than expected.
Because hotel staff typically live in the city they work, a call-in reservation is an opportunity to gain some other money-saving insights. Along with asking about reduced room rates, feel free to ask about budget-friendly opportunities to take advantage of while you're in the area. Locals know best and the personalized advice and approach to service might be something you find you prefer when booking hotels going forward.
Calling to book a hotel ensures you know exactly what you're paying for. It also means access to better prices than you're likely seeing online. While it might not be the most obvious route to booking your stay in such a digital age, it's one that promises to be worth your while.