Avoid Making This One Packing Mistake That Could Ruin Your Cruise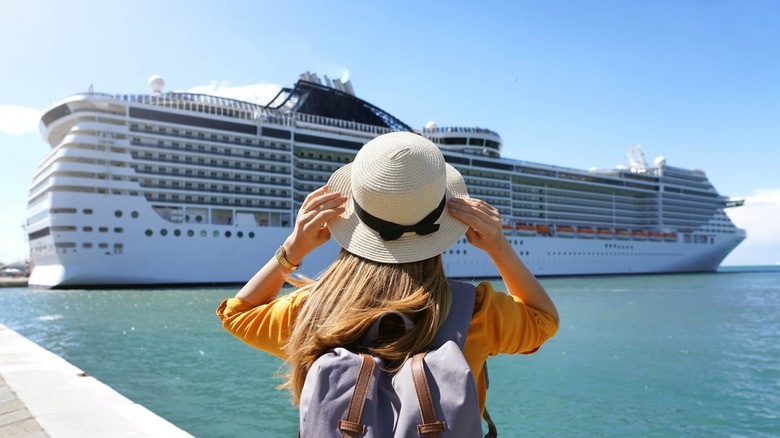 Zigres/Shutterstock
We all know that pre-planning can make travel go as smoothly as possible. And even if you can't regulate everything — like the weather — you can control what you pack. But different destinations have different requirements, and you must understand these before setting off to maximize your experience. For one, preparing for your cruise vacation requires some forethought. From figuring out where you can go without a passport to choosing the right cruise room, the list goes on. However, out of all the pre-planning and preparation involved, one thing stands out among the rest: make sure you check the weather forecast. But sometimes, we let preconceived notions influence our decision to check the weather app before traveling. 
Here's the thing, though: weather can be deceiving. Caribbean destinations aren't always sunny — especially if you're traveling during hurricane season. Alternatively, places like Norway — known for its icy fjords — can surprise you with bright and sunny days. Lastly, let's not forget that cities like Ushuaia reach freezing temperatures at night, even in the middle of "summer" — which actually turns out to be winter in the Southern Hemisphere. All of which goes to say: never assume and always be prepared. Otherwise, you might spend precious onshore afternoons hunting down a fleece jacket or sun hat you didn't think you'd need. 
When in doubt, use the apps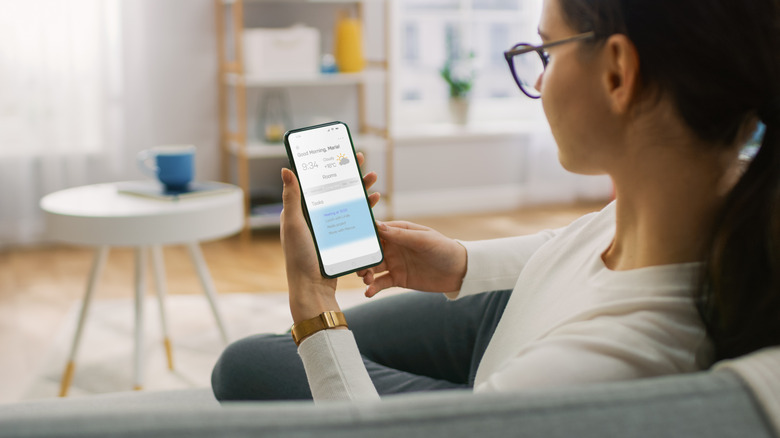 Gorodenkoff/Shutterstock
Sure, even the best meteorologist's forecast doesn't always pan out — but that doesn't make it any less valuable. Nowadays, most traditional weather apps are constantly updated and can be a great predictor of what's happening in the sky and how that'll affect the conditions at sea — and vice versa. For example, The Weather Channel and AccuWeather are solid choices for getting a general idea of the weather at various destinations.
Alternatively, the WeatherBug app — available for both Android and iOS users, as well as online — focuses on weather data that can be extremely helpful for planning outdoor activities in locations around the world. The app typically includes everything from humidity levels to average wind speeds, UV index, pollen count, and air quality, and it even has a handy lighting map. This means that whether you're planning a day at the beach, a portside shopping spree, or simply want to know the best time for a deck party, you'll have access to detailed information at your fingertips to help you plan accordingly.
Cruising with confidence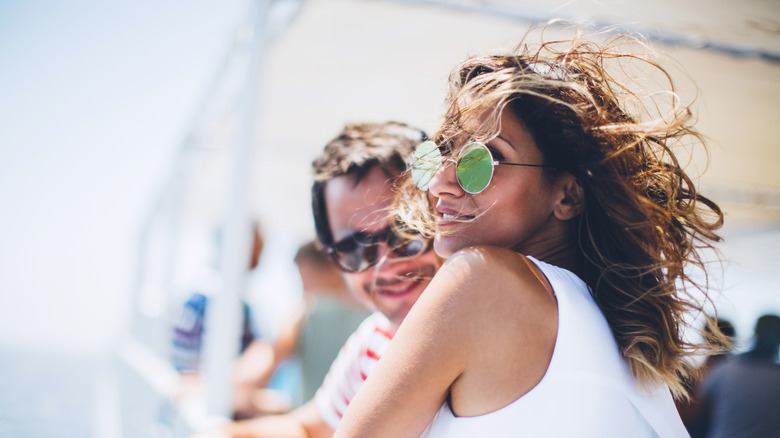 Pekic/Getty Images
With all of this in mind, it's also important to note that the weather on land can be quite different from what you'll experience at sea. Ocean breezes, open waters, and the ship's movement can change how you perceive temperature and weather conditions. Luckily, there's an app to help you prep for that, too. Designed for the unique climatic conditions of cruising, Cruise Outlook allows users to search for their specific cruise line and departure date to get tailored weather insights for their voyage.
Although the free version is informative but basic — it offers an eight-day forecast, current ship location, a live ship camera, and details about other ships in port — the app's premium subscription is brimming with even more content. From a comprehensive overview of your journey with a 16-day weather forecast to more specific details like hourly forecasts with UV index, weather charts, and local times at all ports. There are also specific weather reports for days at sea, and it's well worth the price at just $7 for four months of unlimited access.
Ultimately, knowing what to expect when boarding a cruise in terms of weather and the appropriate attire can help ease trip anxiety and better prepare you for a comfortable, stress-free journey. After all, being at sea can easily be the perfect getaway — especially once you can leave all your worries at the dock.