Repurpose This Kitchen Staple To Create The Perfect Road Trip Lap Desk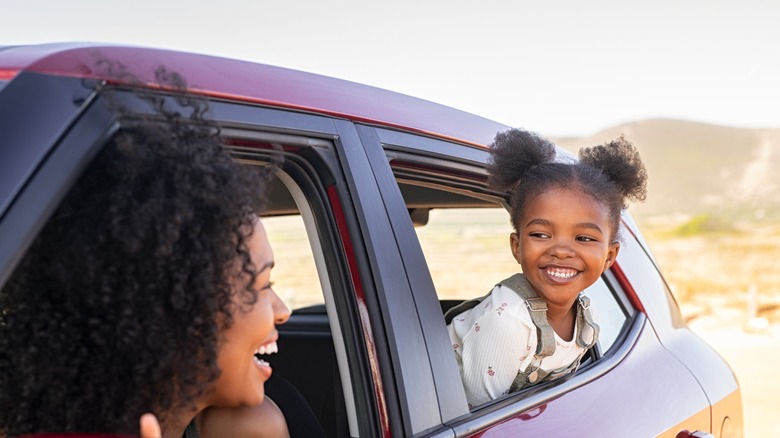 Ground Picture/Shutterstock
We've all been there: The road trip playlist has run out of songs, the highway "I spy" game has gotten old, and everyone in the car is starting to wonder, "Are we there yet?" Long road trips can often grow dull, even when there are still miles ahead. Keeping busy with a lap desk can be one easy fix. For kids, a portable desk acts as a space for drawing, putting together puzzles, or propping up a tablet loaded with their favorite shows. It can also make for a perfect on-the-go snack table. For adults (excluding the driver, of course), a lap desk can act as a makeshift workspace or flat surface for writing or completing crosswords.
You could go to a store and grab enough lap desks for the whole family, but they're often clunky and take up precious storage space in your car — plus, buying a few can easily set you back $100 or more. Otherwise, you can make your own DIY lap desk by getting creative with items you already own, and there's no better place to look than your kitchen. All you need is a clean cookie baking sheet to get started.
Bring cookie baking sheets on your next road trip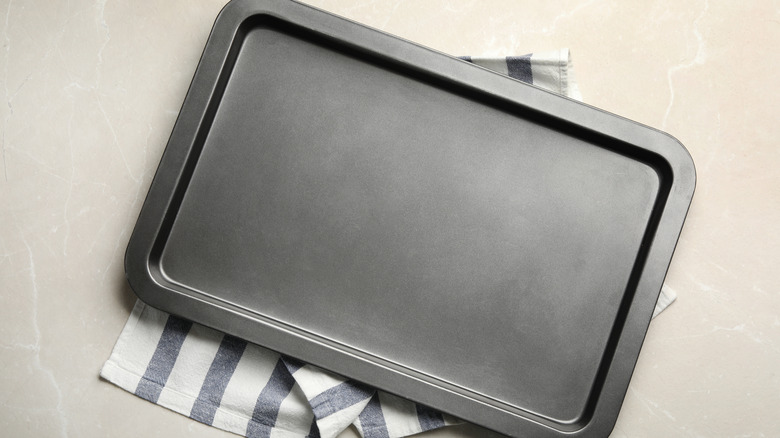 New Africa/Shutterstock
A cookie baking sheet facing up (so that the rim is up) makes for a quick and easy alternative to store-bought lap desks, and it's just the perfect size for coloring books, laptops, and travel games — or for keeping your car mess-free while eating on-the-road meals. If you have a large family in tow, pack at least a few so everyone can have their own. When the sheets aren't in use, stack them and place them under the seat or in your trunk.
If your cookie sheets feel too basic, upgrade them with a few simple tweaks. First, many lap desks come with cushioning on the bottom to keep your legs comfy and to help raise the surface. You can get the same effect with a throw pillow or folded blanket placed under your cookie baking sheet.
If your kids — or even you — are into customizing, and you're okay with no longer using the cookie sheets in the oven, consider outfitting the DIY desks with stickers, washi tape, and other decorative touches. Just be aware that they may not stay put if you wash the sheets with soap and water later. For a more temporary solution, use magnets to spruce up metal cookie sheets. Magnets in a variety of shapes, stuck to the surface of the baking sheet, can be a fun distraction during long car rides.