The Genius Way To Fit Extra Storage Into Your Car For Road Trips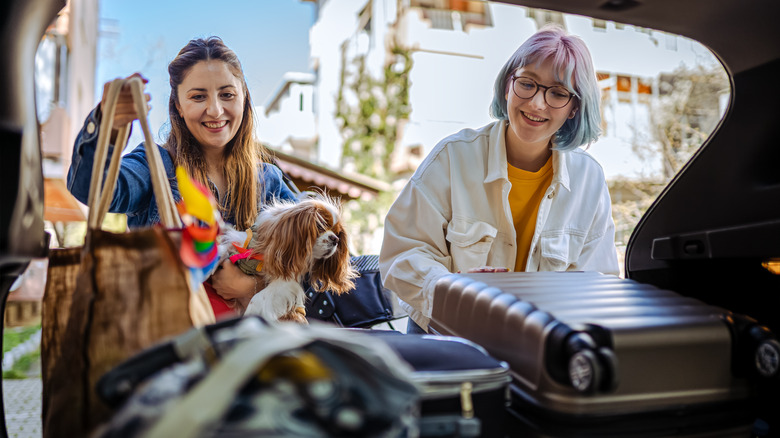 Kemal Yildirim/Getty Images
Picture this: the wind in your hair, an open road in front of you, and your favorite music humming through the speakers. The sense of freedom that a road trip gives you is truly incomparable. But road trips, especially the long-haul ones, come with a considerable challenge — packing up your car. And, like a high-stakes game of Jenga, trying to fit everything you need into the trunk without watching it crumble can leave you sweaty and overwhelmed.
Luckily, TikTok user @virginiahlane has found a solution to all your packing woes: an overhead cargo compartment. Your secret weapon for creating additional storage in your car, this nifty netted contraption attaches to the inside roof and handles a surprisingly broad range of items. From snug blankets to fluffy pillows, extra sweaters you'll want within arm's reach, and even those essential road trip snacks, the overhead cargo compartment can take care of it all.
So whether you're gearing up for a summer road trip along the coast, packing up the family for a cross-country adventure, or even planning a big move to a new city, this storage hack can simplify your travels.
It's all about maximizing your space
The overhead cargo compartment offers some brilliant advantages. First, it ensures your vision remains unblocked — a vital safety aspect no matter where you're headed. By storing your essentials above your eye line, you won't have to worry about the piles of items stacked high on your passenger seat obstructing your view and causing potential distractions. This means you can concentrate more on the journey ahead with added peace of mind.
Moreover, the beauty of an overhead cargo compartment is that it doesn't just offer extra storage — it also helps optimize the existing space in your car. By storing items above your head, you free up valuable floor space — transforming your interior from a jumbled mess into a comfortable haven — and keep your car mess-free. Now, instead of clutter, there's room for your passengers to stretch their legs, tuck in for a nap, and even let any furry companions sprawl out.
But the advantages of keeping your car organized during a road trip go beyond physical comfort — they also significantly enhance your safety and overall travel experience. And with almost 9% of all fatal car accidents in the United States happening due to distracted driving, keeping a sense of order and tidiness inside the car will relieve you of any anxiety about misplaced items, an unexpected avalanche of belongings toppling forward, or accidental spills. This, in turn, will create a safer, more pleasant environment for everyone on board.
Other road trip hacks for more efficient travel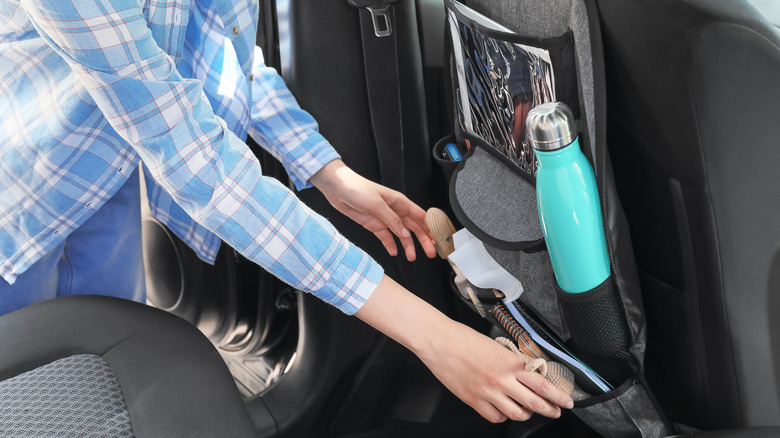 Pixel-Shot/Shutterstock
Along with the overhead cargo compartment, there are many more space-saving hacks for your road trip that will make life easier for everyone involved. For instance, take the back seat organizer. These clever devices are designed to hang on the back of your seat and have multiple pockets for smaller items — such as maps, snacks, water bottles, and even electronic gadgets. That said, backseat organizers are ideal for passengers who need a little more entertainment while onboard but don't necessarily want to dig through backpacks or suitcases to access them.
Another great tip is to make the most of collapsible bins or trunk organizers. Ideal for storing food, utensils, or even small camping gear, these bins can help you keep track of everything you need when you need them. And, when not in use, most of them can easily be folded flat so they don't take up any unnecessary space. It's a win-win!
In the end, a road trip is all about creating unforgettable memories, not having to worry about storage. And with a little creativity and quick thinking, you can spend less time fretting about packing and more time enjoying the journey. So go ahead, hit the road with confidence — and let the adventure begin.