Find Free Tours And Attractions With These Helpful Tools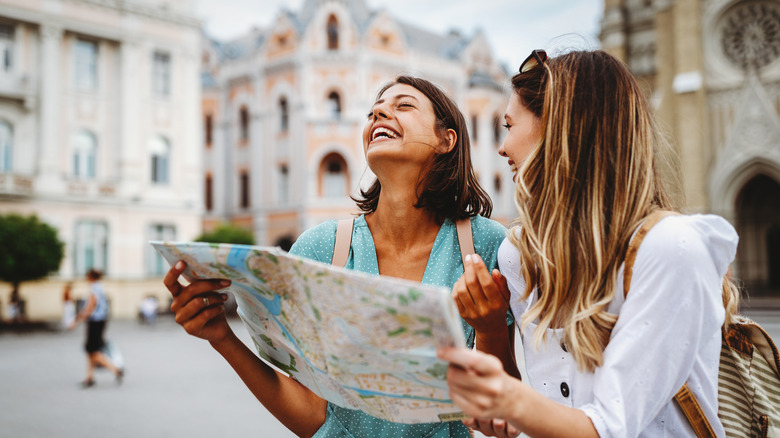 NDAB Creativity/Shutterstock
We're all about traveling on a dime, and if you can get parts of your trip for free, even better. Sourcing out free events, tours, and attractions is a wonderful way to save money and do some offbeat things while you're on a trip. Budget traveling is a brilliant way to see the world without breaking the bank, and there are countless ways to make a trip happen even for the thrifty traveler. There are some incredible East Coast beach towns to visit if you're on a budget. Or consider the increasingly popular and budget-friendly "Nearcation" travel trend, a vacation idea that involves taking day trips around your area so that you don't have to pay big bucks for a hotel.
Once you've arrived at your destination, another great way to save money is to get a city tourist card. These cards can give you discounted rates at famous attractions in the city, and give you special access to popular venues. There are other brilliant ways to save while traveling, and GuruWalk is high on our list.
Take advantage of GuruWalk for free tour guides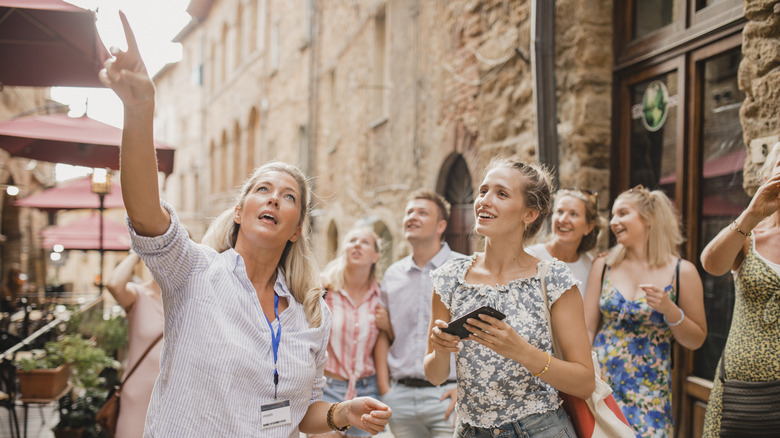 Solstock/Getty Images
You don't have to pay big money to fully immerse yourself in a new city. Tour guides can be costly, but thankfully, there's GuruWalk, a website that connects tourists with free travel guides. You can search by city, and the website is loaded with tour guides in cities all over Europe and Asia, including Russia, as well as Africa, North America, and South America. So chances are, if you're in a relatively large city, you'll be able to find a guide. The guides run on tips, so it's requested that if you have a positive experience, you give your guide a gratuity at the end of the walk. Heck, if you live in a city that's somewhat popular, you can even become a Guru Guide.
What makes the website so appealing is that you can seek out a general introduction to the new city, but you can also search for specific tours. For example, there's a tour that gives travelers the inside scoop on the birds of El Retiro Park in Madrid. Or check out a night tour in Bruges that offers secret stories and old legends of the city. Frankly, it sounds like a great way to get an insider's view of a foreign place.
Search for all of the free things to do in your destination city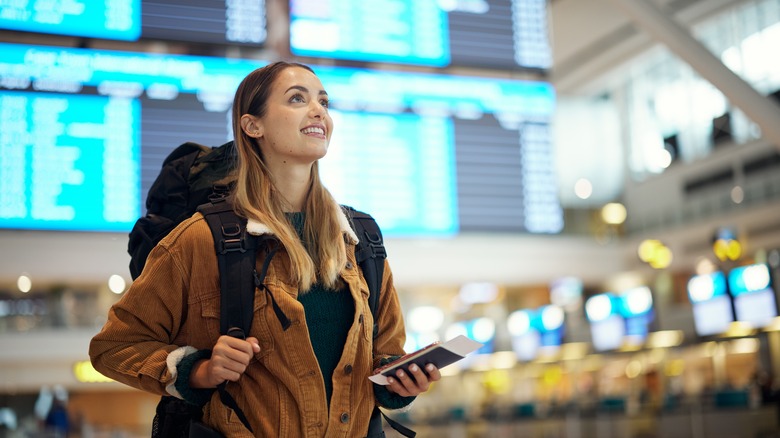 PeopleImages.com - Yuri A/Shutterstock
It's always helpful to do a cursory search about your travel destination beforehand to find all of the free or affordable sites on your trip. The website TimeOut offers amazing lists of activities happening in major cities around the world. They have an inventory of hundreds of cities, complete with free or very economical activities. Another tool we're obsessed with is Urbs, a travel app that offers audio travel guides, as well as the chance to plan your own route in your destination cities. The app also helps you book tickets to various venues and will notify you before you arrive whether or not you need a ticket to enter.
One other way to travel cheaply is to seek out parks in famous cities as well as cemeteries. For example, Père Lachaise in Paris is a beautiful historical site that is free to everyone. Famous libraries are also a fun way to explore major landmarks without shelling out a bunch of cash. Find a river and take a river walk. These areas tend to offer a wonderful experience of the city. There are so many ways to discover a new place without spending hardly anything. And frankly, you might even have a better time.