The Best Babymoon European Destinations Perfect For Your Pre-Baby Vacation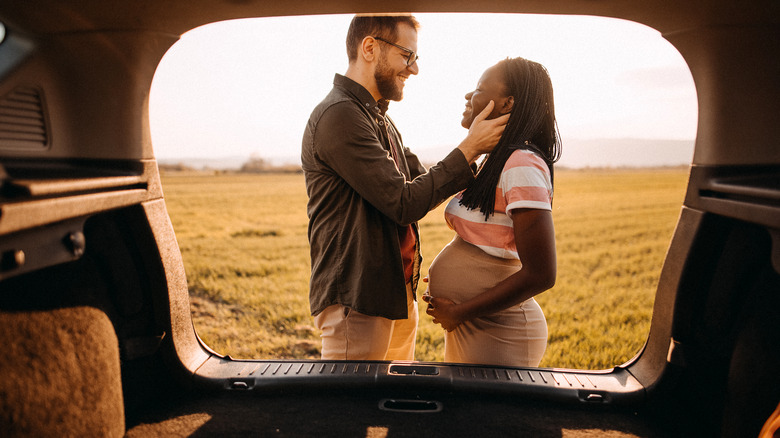 Stefanikolic/Getty Images
Growing a human is a lot of work, and that's without the anxiety a family may feel over soon adding a little one into the mix. Since your life is about to get a lot more hectic, you may want to take some time to travel before the baby comes, and a babymoon is a great excuse to head to Europe — you've just got to know where to go first.
The second trimester is probably the ideal time to take a babymoon. The riskiest part of your pregnancy is over, while the discomfort that the third trimester brings likely won't have set in yet. Of course, you absolutely need to consult your OB/GYN before heading overseas or traveling far from your doctor. As long as your pregnancy is not risky, you should be cleared to travel while pregnant. Just follow your body's lead and don't push it past its new limits. But if you feel good, then these European destinations are perfect for a mid-pregnancy babymoon.
Valencia, Spain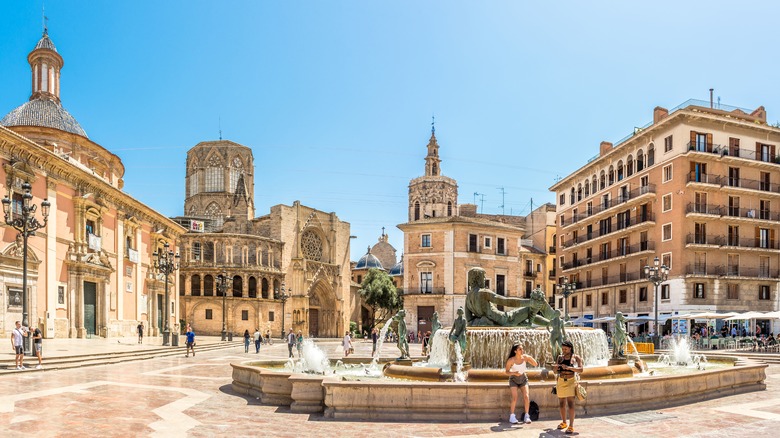 milosk50/Shutterstock
Spain has something for every kind of traveler, including gorgeous beaches and coastlines, history-rich cities, and an abundance of culture. The coastal city of Valencia doesn't leave much to be desired, as everything from its grandiose buildings and design to the everyday markets and wide range of museums will leave visitors in a real state of shock — and we mean that in the best way possible.
Valencia is a great babymoon destination for a pre-baby vacation, no matter your beliefs. However, if you're of the Catholic faith, you may want to take part in the city's traditions for expecting mothers. The Valencia Cathedral, one of the most prominent Gothic landmarks in the city, provides mothers-to-be with a candle and prayer instructions to begin the tradition. Pregnant women then take nine laps around the cathedral with a lit candle, reciting a prayer before and after at a Virgin Mary statue. The candle is then saved and relit when labor starts in hopes of bringing on the safe delivery of a healthy baby.
While the devout may consider an international flight just for this, Valencia has a lot more going for it in the way of ushering in a pregnancy of peace. Babymoons are relatively popular here, and spas like Spa Bahía del Duque offer full pregnancy packages for just the occasion. Coming to this Spanish destination can mean some serious self-care.
Sorrento, Italy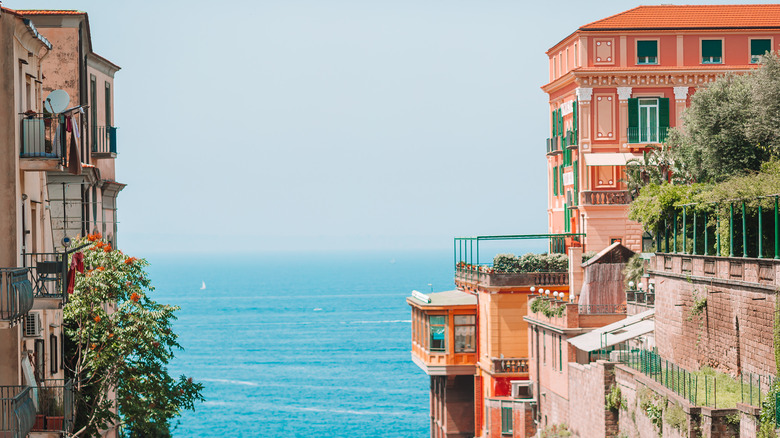 TravnikovStudio/Shutterstock
Italy, much like Spain, comes with surreal coastlines and rich culture, but the history here is genuinely hard to beat. You can stay in gorgeous Sorrento, surrounded by picturesque ocean views, and then pop over to Rome, where history is quite literally under every footfall. Italy's train system makes it quite possible to visit practically any of the country's cities with ease. With a brief stay in Rome, you'll be able to visit numerous iconic landmarks like the Colosseum and the Pantheon.
For parents-to-be who want to start their own family traditions and obtain their own family heirlooms to pass down, Italy is ideal, and visiting while you're pregnant could make the gesture even more sentimental. There are various vendors in Sorrento who carry handmade and carefully crafted jewelry, such as intricate red coral cameos, as well as pieces made from Italian gold, which could last for generations.
When you're not on the hunt for treasure, Sorrento offers a very relaxed atmosphere with plenty to see if you're feeling like taking an adventure. While the ocean and mountain views from your hotel may entice you to stay in, you can see the bluest waters of your life by venturing out to the famed Blue Grotto.
Baden-Baden, Germany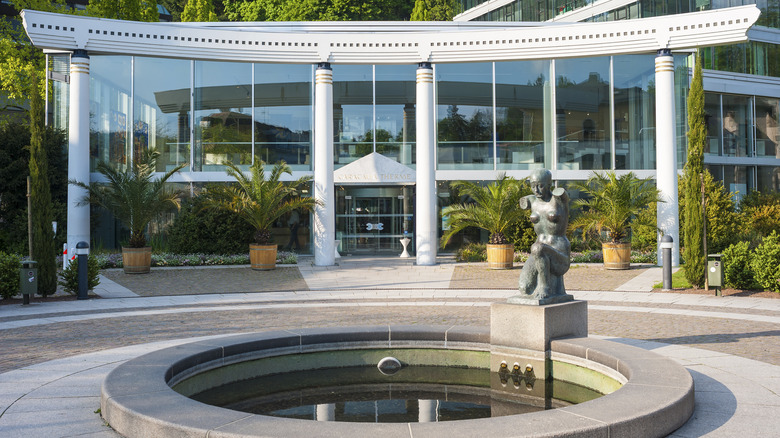 Jwackenhut/Getty Images
One of the absolute best things to do when pregnant is to get a spa treatment. Whether it's a massage, facial, or a complete package of services, there's nothing quite like getting some self-care while growing an entire human. While you don't need to go all the way to Germany to treat yourself, if you can, you should! Baden-Baden is one of the best spa towns in Europe, and its thermal baths will have you melting into a whole different person.
Caracalla and Friedrichsbad are both popular spas in Baden-Baden, and both offer thermal bath options. Friedrichsbad is a more classic experience, reminiscent of ancient Roman baths, while Caracalla gives off a more modern feel of luxury.
Baden-Baden's thermal baths are generally safe for healthy pregnancies, but only for a limited time. Even if you are showing and it's pretty obvious you are pregnant, you will want to disclose to your spa and the person administering your treatment that you are pregnant. While most places should specifically ask, there are certain herbs and treatments that are not safe for pregnant women. And, just so you know, "pregnant" in German is "schwanger."
Paris, France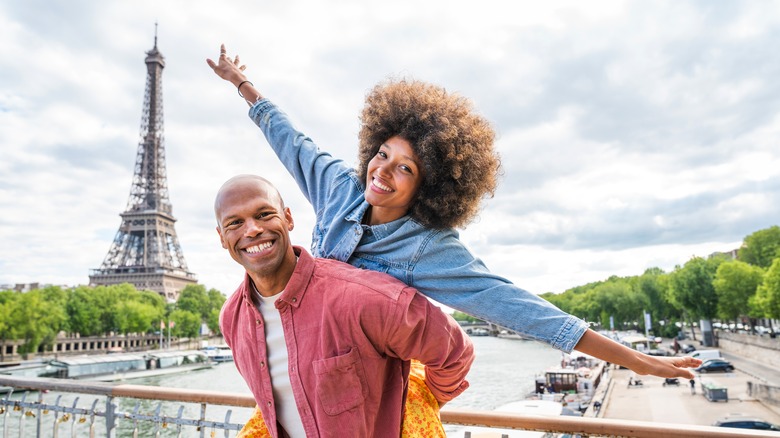 oneinchpunch/Shutterstock
This one is for the babymooners who never got their honeymoon. Paris is the city of love, and it's the perfect place to connect with your partner before your family officially becomes a bit bigger. With the city's many shops, cafes, and restaurants, every night of your vacation can be date night.
You've probably seen Paris from the comfort of your own home, thanks to films and TV shows, but seeing world-famous landmarks and experiencing French culture in person is something else entirely. The Eiffel Tower, of course, is pretty much a must-see for first-timers, but don't feel as though you need to go inside the actual tower to get the tourist-in-France experience. There are plenty of places to go that offer sweeping Paris views, which will probably be more romantic than sharing a tight space with other tourists in the tower.
To make the most of a romantic babymoon, you may want to splurge on staying at one of the grand hotels in Paris. A great Parisian view is obviously a must, but comfort is just as important, especially when your body is working extra hard to grow your baby. Rooms in the Hôtel Le Walt offer views of the Eiffel Tower, and the art-themed rooms showcase Louvre-inspired artwork. After some exploring, experiencing Paris from the comfort of a luxurious hotel room may be just what the doctor ordered.
Brussels, Belgium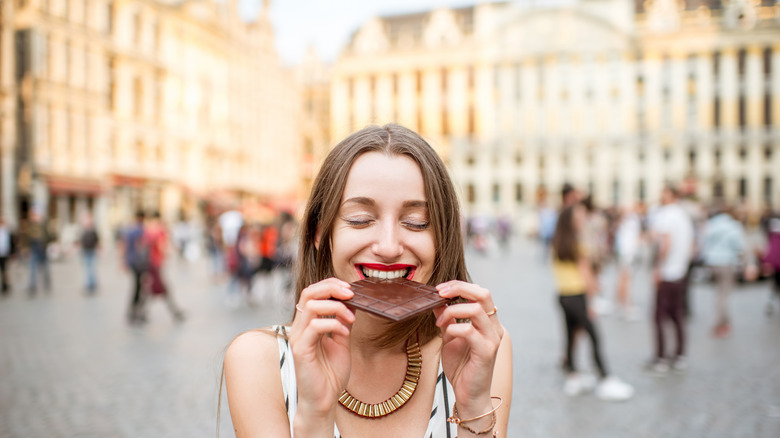 Rosshelen/Getty Images
Craving chocolate? The majority of pregnant people go through a cravings phase, and chocolate is commonly involved. This is probably a good thing, as chocolate can help stave off high blood pressure and preeclampsia. Brussels is the perfect place to satisfy any cocoa-related desires. Belgian chocolate is world-renowned, and Godiva is one of the most recognizable brands in the country. However, Belgium is much more than big-name chocolate. The country is packed with smaller and lesser-known chocolate shops as well. You'll even find some chocolate-themed hotels that take Belgium's love for chocolate to the next level.
Even if chocolate isn't on your dream menu, Brussels has plenty of adventures to offer the expecting traveler. Besides visiting obvious attractions like La Grand-Place and Manneken Pis, which is the city's iconic peeing baby statue, Brussels is an excellent city for art lovers. Consider taking a mural walk along the Comic Book Route, which pays tribute to comic book characters of all different styles. Even if you don't recognize any of the characters or designs, the murals could make for great inspiration if you're planning on decorating a nursery. 
Santorini, Greece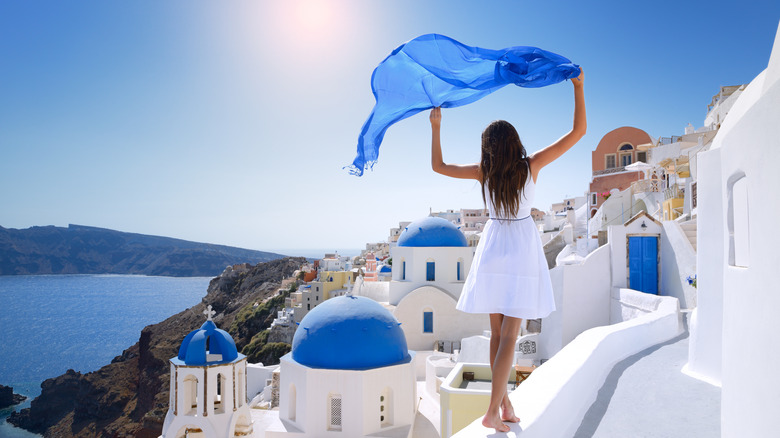 4fr/Getty Images
There are few cities in the world as recognizable as Santorini, thanks to its crispy white and blue buildings. The striking buildings have been plastered over postcards and other memorabilia. The island is often associated with luxury and exotic vacations, and Santorini remains one of the most visited Greek islands.
As an island, Santorini boasts plenty of beaches, and the sea perfectly complements those prominent blue domes. Taking a beach day here can go a few different ways, depending on where you decide to go. Perissa features some pretty cool black lava sand and is great for a typical beach experience, while Red Beach has a rocky shoreline that offers gorgeous views of the vibrant red cliffside. 
Along with offering a relaxing and luxurious vacation, Santorini can also serve as the ideal backdrop for sharing your news. Those expecting a boy have one of the best built-in gender announcements to ever pop up on their friends' Facebook feeds. Who needs balloons or smash cakes when you're surrounded by the blue domes and the waters of Santorini?
Iceland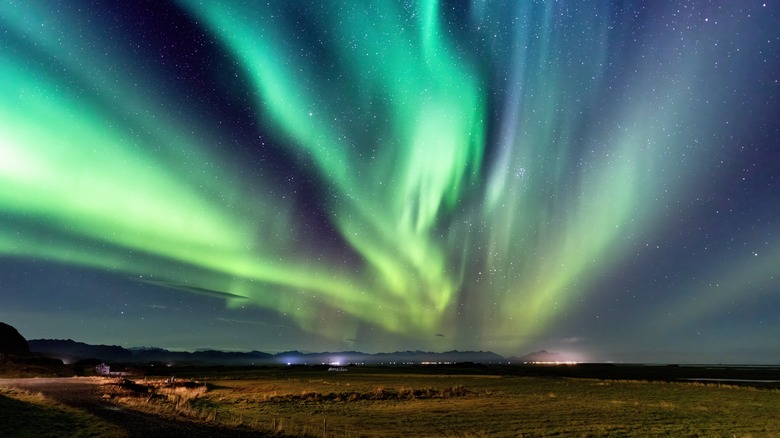 Jane Rix/Shutterstock
Iceland is an outdoor adventurer's dream, and those who are used to exploring the outdoors can and should continue while pregnant. Taking a trip to Iceland could be a great way to sneak in one last hiking adventure before the baby comes. Soon, the only thing you'll be climbing is a mountain of diapers.
There are hikes and natural points of interest all over the country — actually, you could argue that all of Iceland is a natural wonder. No matter where you go, though, you're likely to have a prime view of the northern lights, especially if you're visiting between September and April. The northern lights in Iceland are so beautiful you may shed a tear or two.
You can also enjoy the outdoors of Iceland without exerting yourself too much, and the Blue Lagoon is a popular way to do so. The thermal pools are said to have healing capabilities and could be a great way to unwind. However, when pregnant, you should limit your time submerged in the pools. The blue, opaque waters could make for some stellar maternity pictures. 
Budapest, Hungary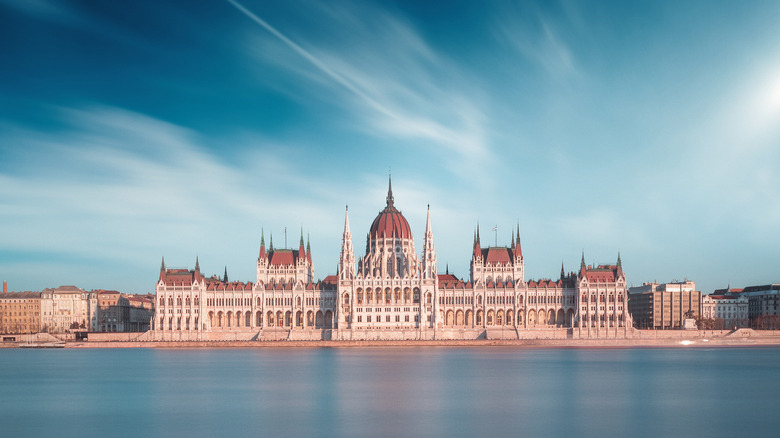 Mammuth/Getty Images
Hungary often gets overlooked by international travelers, but it really shouldn't. Not only is the country packed with history and amazing architecture, but Budapest has a great vibe while being one of the most affordable European cities for budget travelers. If your babymoon budget is on the lighter side, you can book a trip here and still have quite an epic vacation.
Although a destination that's pretty kind to your wallet, Budapest is a majestic place. The architecture will make you feel as though you have traveled back in time, as a lot of the buildings found here are amazing examples of Baroque and Art Nouveau styles. Many of the buildings have also been incredibly well-maintained, and a cruise down the Danube River is an awesome way to see the architectural beauty of the Hungarian capital. If you are looking for one final escape before the baby arrives, but need to watch your baby-pending budget, exploring Budapest certainly fits the bill.
Copenhagen, Denmark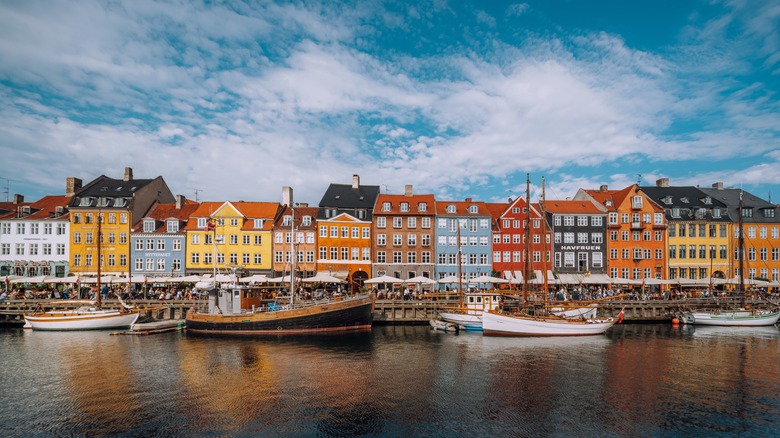 Pol.Albarran/Shutterstock
Denmark is just chef's kiss when it comes to supporting women and families, so it only makes sense that the country would be in the cards for a babymoon. You can travel to this Scandinavian country comfortably without much worry for your safety and well-being. The country's health care system is great, but you should absolutely purchase travel health insurance before traveling to any foreign country while pregnant.
Since Denmark is one of the best countries in the world for raising children, you could use a trip here to reduce any mother-to-be angst. Walking through Copenhagen, you can simply observe how families interact here. Although every country rears children a little differently, there is something Denmark is doing undeniably well. 
Copenhagen offers a simple experience in a city setting, and although it is the capital of Denmark, it's still very walkable. Taking a babymoon here not only allows you to prepare for parenthood on a new level; you can also just exist in a country that's constantly rated as one of the world's happiest places.
Paphos, Cyprus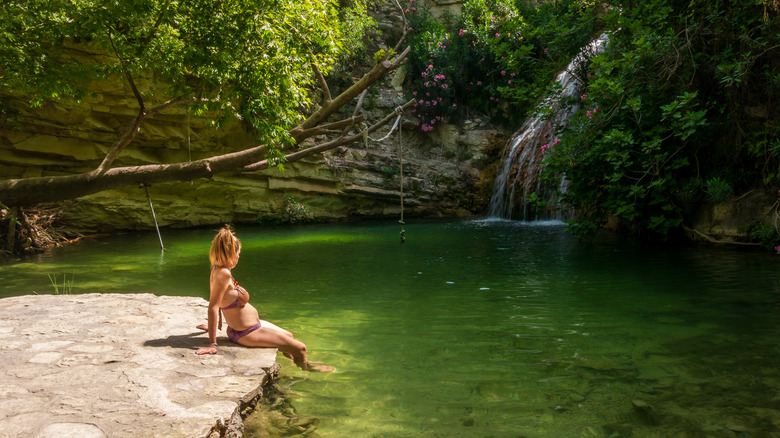 Edgar Machado/Shutterstock
While Cyprus is technically an Asian country, it is considered by many to belong to Europe, at least culturally. That being the case, we don't feel bad including it here — and it should be included. Whether in Asia or Europe, it's a great place to visit before the arrival of the new babe! The whole island country can be explored easily through either public or private transport. For reference, the entire country is smaller than the state of Connecticut.
Even as small as it is, there is plenty to do and see in Cyprus. Paphos, for one, is a city rich in both history and beauty. This coastal city is impressive at first glance, but once you see the details of the ancient ruins and walk among the time-worn cliffsides, Paphos becomes an even more amazing destination. Once upon a time, Paphos was a worshiping place for the goddess Aphrodite, which makes it the perfect place for those who may be feeling insecure in their changing body, especially since the goddess of love and beauty was also the goddess of fertility.
Isle of Arran, Scotland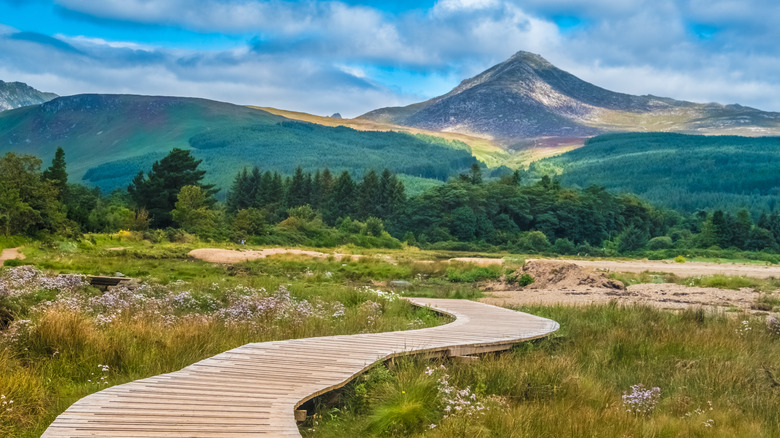 LouieLea/Shutterstock
When considering where to babymoon, you may want to surround yourself with the tranquility of nature in a land far, far away. Scotland's vast green lands are perfect for deescalating from any stress you may've encountered during your pregnancy.
Taking this idea of taking respite in Mother Earth, you may want to consider spending your days outdoors while in Scotland — or, at least, outdoors adjacent. Glamping is a great way to combine the comforts of the modern world with a passion for camping out in nature, and the Isle of Arran is pretty perfect for such a venture. With mountain peaks, coastlines, forests, and views encompassing all of the above, the island off of the coast of mainland Scotland is gorgeous and practically an escape within an escape.
And, if you've dreamed of staying in a wooden pod on an alpaca farm in Scotland, well that niche dream is a reality at Balmichael Glamping. Spending your second trimester amongst the alpacas while watching the sun rise and set over the dramatic landscapes is next to heaven. 
Dublin, Ireland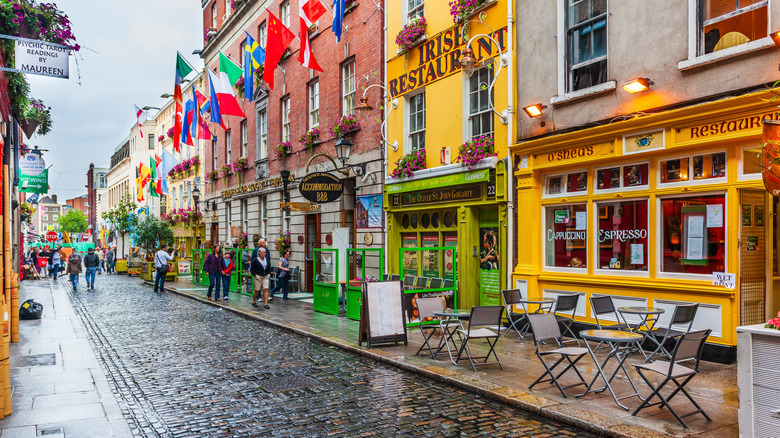 SCStock/Shutterstock
Ireland makes for a bucket list vacation, but the awesome thing about the island country is that it's easy to explore by car. This makes Dublin the perfect hub for babymooners who want to see the capital and almost anywhere else in Ireland. When you're traveling pregnant, it's good to be around plenty of resources, which is another reason to make Dublin your hub when traversing Ireland.
Taking day trips to a majority of Ireland's towns and attractions from Dublin is a breeze. You may consider visiting Waterford, where you can get some of the most desirable crystals in the world, before reveling in the natural splendor of the Cliffs of Moher. You'll recognize the cliffs from a number of films like "The Princess Bride" and "Harry Potter and the Half-Blood Prince." 
While Dublin is known for their penchant for beer and spirits, this doesn't mix well with a pregnancy. However, if you're coming with a partner, you may want to throw them a bone and hit a whiskey bar or pub for an authentic Irish experience. However, the Emerald Isle is much more than their love of spirits, and getting lost — hopefully, not literally — among Ireland's green hills and rocky coastlines can make for quite the fairytale babymoon.