Think Twice Before Posting Photos Of Your Trip While You're Still Away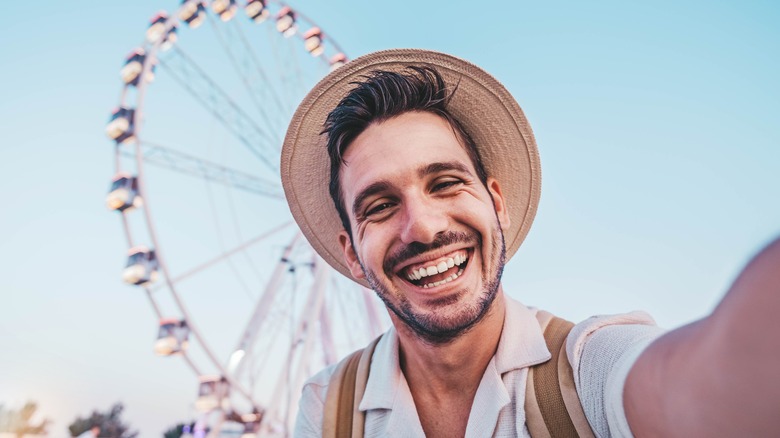 DavideAngelini/Shutterstock
You know how that old saying goes, "pics or it didn't happen." This older meme encourages social media users to upload photos of ordinary and extraordinary moments that occur in their lives, typically on Instagram or Facebook. With the average vacation costing Americans $1,919 a week (per person!) in 2023, per Pacaso, photos are an affordable souvenir. And in this day and age, flaunting vacations and outings on social media as they happen is encouraged. However, this is not necessarily a good idea. Marty P. Kamden, CMO of NordVPN, explained why to Luxury Travel Advisor.
According to Kamden, "Each time a social media user announces that they are in the Caribbean with the family, it's a signal that their home is empty." Kamden added, "Or when a user says they are leaving town, there might be a wide audience reading that." Simply put, this could lead to your home being burglarized by someone who saw you weren't in town.
Moreover, experts suggest you also refrain from posting about your impending travel plans on social media or provide vacation updates to prevent a burglary at your home. Besides this, posting photos can also be a breach of safety for you or anyone else you're with.
Here's when your photos should go live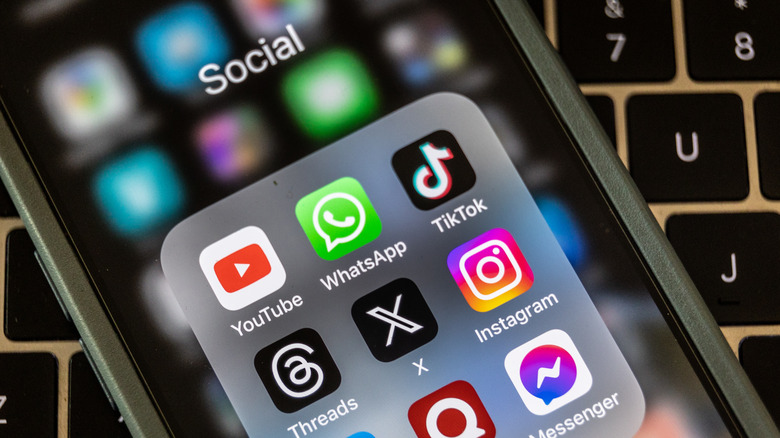 Matt Cardy/Getty Images
Posting vacation photos and other information on social media can reveal your exact location to someone who may want to cause harm. In October 2016, reality superstar Kim Kardashian was violently robbed in Paris, France, during Fashion Week. In an interview with Vice, one of the thieves, Yunis Abbas, revealed that he organized the burglary using Kardashian's social media postings. After this harrowing experience, Kardashian stated at Thye New York Times' DealBook Conference that she makes sure that her posts go up after she's left a location. Although this is an intense example, Kardashian makes a good case.
So when should your vacation photos hit the 'gram? Adam Beckett, from the insurance company Aviva, suggested, "The best time to post holiday pictures to social media is when you're back home. If you really can't wait to share, then at least make sure you're only posting to a closed circle of trusted friends and family."
With this in mind, you should ensure that your social media's privacy settings are on to prevent strangers from seeing photos or updates of your vacation. If you're vacationing with someone else, ask them not to tag you in photos and vice versa until you are home. Take into account that there are other ways to remember your trip besides photos, and if, for any reason, you're worried about burglaries happening while you're gone, consider purchasing renter's insurance.
Never post a photo of your boarding pass either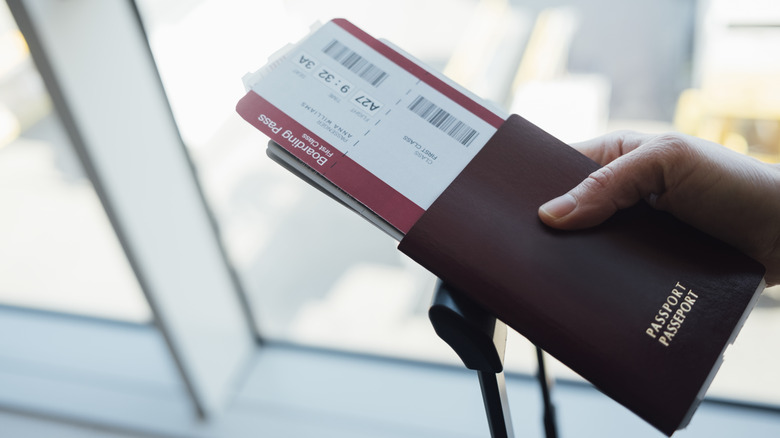 Freshsplash/Getty Images
Like vacation photos, forget showing off your boarding pass online before and after your trip. If you do, it can pose a significant cybersecurity risk because your boarding pass has your Passenger Name Record ( PNR). Cybersecurity expert Amir Sachs told Travel + Leisure that this could lead hackers to learn your personal information, which can be used for nefarious reasons. Another cybersecurity expert, Josh Amishav, explained further, telling the publication, "Your frequent flier number, name, and PNR are valuable for identity theft, enabling fraud like opening credit card accounts or making unauthorized purchases."
He added, "Hackers can employ social engineering techniques, pretending to be airline representatives to trick you into revealing more personal data. They can also create targeted phishing attempts using your boarding pass info, leading to clicking on malicious links or sharing sensitive data."
Amir Tarighat, CEO of cybersecurity firm Agency, told USA Today that if you fall victim to this, contact your airline for help. That said, the one thing you always take a photo of before your travels is your suitcase. If your suitcase gets damaged or lost on your way to your destination, a picture can prove this, and you could receive compensation.