The Unexpected Perk To Getting Rained On At Disney World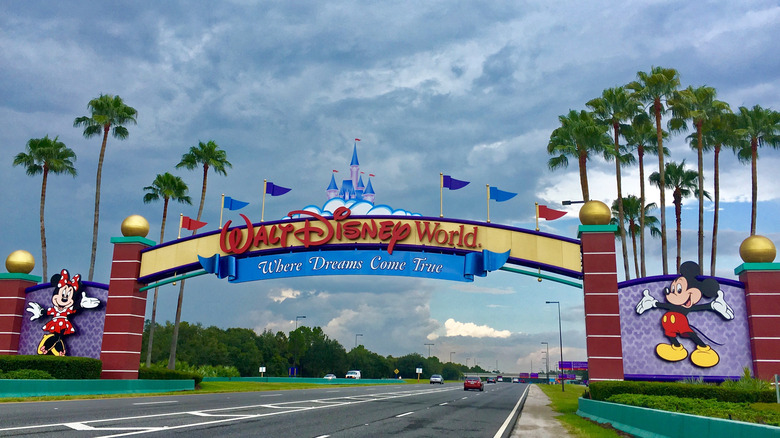 Jerome LABOUYRIE/Shutterstock
Orlando, Florida, is known for its year-round warm climate and many theme parks, including the iconic Walt Disney World Resort. While most visitors bask in the sunshine as they stroll Main Street, hop on and off rollercoasters, and visit their favorite life-size characters, tropical rainstorms do indeed occur — even in the Sunshine State. But don't let a little wetness stop you and your family from enjoying the magical world of Disney.
Disney World is easy to navigate in the rain. The good news is that storms never last too long, and sometimes a little rain can be the perfect solution to beat the Florida heat. It helps to come prepared, especially if visiting in the rainy season, which is June through October. Check the weather before arriving. If rain is possible, pack a lightweight raincoat or poncho that easily folds into a backpack. Wear lightweight clothes that dry quickly, and maybe bring a few waterproof sandwich bags to protect phones and wallets. With a bit of preparation, every visitor can enjoy a rainy afternoon at Disney World. And for those that stick out the rain, there are quite a few unexpected perks! One surefire way to get shorter waits for rides at Disney World is to go on a rainy day.
The benefits of getting caught in the rain at Disney World
While a rainy day at Disney World might not be everyone's cup of tea, there are perks to braving the parks in incremental weather. As many people will flee indoors, lines tend to lessen. Race from ride to ride and maximize the amount of time spent on popular attractions without the long waits. The smaller crowds will make it easier to dart around the parks, so take advantage of the quiet. When the sun reappears, the park will inevitably get busier again. And it's not just shorter lines for everyone's favorite roller coasters and popular rides that benefit visitors. A less crowded park means guests have a better chance of meeting and taking photos with their favorite Disney characters.
Another benefit of getting caught in the rain at Disney World is that a rainy day is the only time to see the Rainy Day Cavalcade. While the cavalcade is shorter than the regularly scheduled famous parade, it's unique, and the only time to see it is in the rain. Favorite characters show up in fun rainy-day gear and make their way down Main Street as fans cheer them on!
How to navigate Disney World in the rain
Check the weather before choosing a theme park. If rain is on the horizon, pick a theme park accordingly. Some are better than others for wet weather. As long as there's no lightning, families can embrace the wet and spend the day at one of Disney's water parks, like Disney's Typhoon Lagoon Water Park. What's a little rain if you're already wet? A few more good rainy-day park options are Disney's Hollywood Studios and Disney's Magic Kingdom. Both have a fair amount of indoor attractions, which are easy to find if a rainstorm pops up unexpectedly. Alternatively, parks like Disney's Animal Kingdom are not ideal in the rain. Many of the attractions are outdoors and may close in poor weather.
For families that do get caught in the rain, use the time wisely. Go shopping indoors for fun souvenirs, take a nice leisurely lunch inside, take advantage of shorter lines and fewer crowds, and run to the front of the line for popular rides. A little rain doesn't have to put a damper on the day at Disney World. In fact, it might just make it better!