What To Do At Disney World If You Don't Want To Go Out On A Rainy Day
When you've planned your Walt Disney World trip months in advance, it can be disappointing to have the weather literally rain on your parade. The cancellation of parades and shows and shutting down of outdoor rides doesn't have to be such a buzzkill, though, when you know how to maximize your time outside Disney World's theme parks. Presuming you want to visit all four parks (not to mention the other two water parks), it might be good to leave some downtime in your vacation, anyway, so you're not running yourself ragged trying to do four or more days in a row of walking around the parks at full tilt.
If your time at Disney World is limited to just a few days, that's one thing. There are certainly any number of indoor rides and shopping and dining venues within the parks where you can escape the rain. But when you have a cushion of extra time — say, a week at the resort — and you encounter rain, you might find yourself in a position where you'd rather retreat to your hotel or explore some other indoor activities outside the parks. It's helpful to know what to do, so here are some recommendations to occupy your time when you want to avoid the rain at Disney World.
Take advantage of the hotel facilities
Even if you're not a guest at a Disney World hotel, you can still eat at the restaurants there. Some of the nicer restaurants and ones that do character dining might require a reservation, but if you keep your eyes peeled in the My Disney Experience app, you'll sometimes see sudden openings as people do last-minute cancellations. Guests can now cancel their reservations at most Disney World restaurants as little as two hours in advance without incurring any charges (per The Disney Food Blog). For quick-service restaurants, doing a walk-in should be fine, so if you want to grab a bite to eat at the Wilderness Lodge, then marvel at the massive totem poles in its lobby, go for it.
Even in the rain, riding the monorail or taking other forms of transportation around to different hotels, soaking up the unique ambiance they each have, can be its own sort of adventure at Disney World. There's also a long list of hotels where they have arcades that are open to the public that kids might enjoy.
If you're staying at one of the hotels, many of them — even value hotels like the All-Star Movies Resort — now have interactive smart TVs where you can watch on-demand movies, stream Disney+ content, or watch Disney-owned channels like ABC, ESPN, and the Disney Channel. Some hotels also have a spa or health club where you can get a massage or use the fitness equipment.
Head for Disney Springs or a water park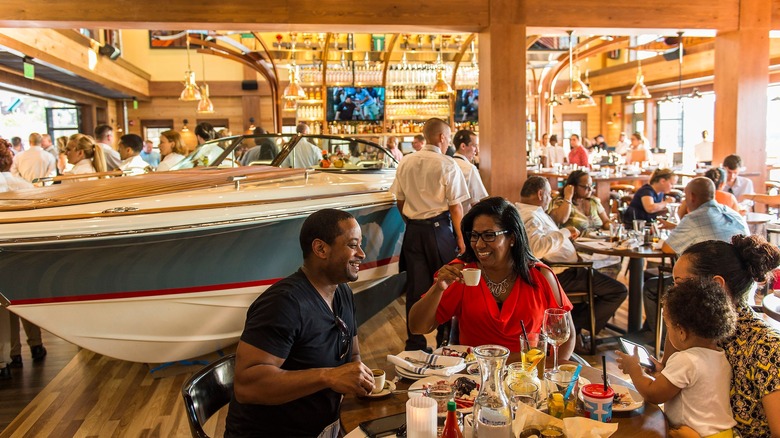 Matt Stroshane/Disney
For souvenir hunters and foodies, the Disney Springs complex also has a great variety of options to keep you busy shopping or dining in the rain. This includes a dine-in movie theater with 24 screens, operated by AMC, and themed restaurants like The Boathouse (see above) or T-REX, where you can chow down among animatronic dinosaurs of the kind you'd once see on the old Universe of Energy ride at Epcot. Adults can grab a drink at one of the bars or lounges in Disney Springs, and if they're not sold out already, you'll also find live music venues there like the House of Blues.
Finally, although it might seem counter-intuitive to head for a water park in the rain, Undercover Tourist notes that Disney World's two water parks, Typhoon Lagoon and Blizzard Beach, are usually still open unless there's lightning or a severe thunderstorm bearing down on them. Afternoon showers are a common summertime occurrence in Florida, so if it's only drizzling or it's raining off and on and you're already wet, you might as well embrace the water and head for one of those two parks.
Basically, if you've got time to spare, there's no shortage of options for what you might do in the rain at Disney World, outside its four theme parks. In rain or shine, consider exploring the resort to its fullest to get the most out of your Florida vacation experience.