Use These Tips For Shorter Waits For Rides At Disney World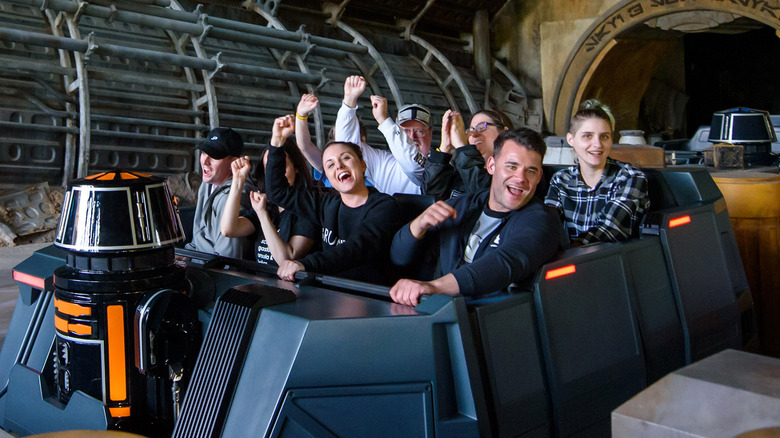 Todd Anderson/Walt Disney World
Did you know that you spend 82% of your time standing in line waiting at Disney World for your turn to ride an attraction ? According to a study by FinanceBuzz, you're waiting an average of 36 minutes for a Disney World ride that's only eight minutes long. Among the four parks at Disney World, Hollywood Studios has the longest wait time per attraction at 41 minutes, while Epcot has the shortest wait time at 26 minutes. The park's newest ride, Star Wars: Rise of the Resistance, has the longest average wait time at 127 minutes — or more than 2 hours! — for a ride that's only 18 minutes long. This is a far cry from Carousel of Progress' average wait time of five minutes for a ride that's about 21 minutes long.
Such a long wait for a short ride may or may not be worth it, depending on who you ask. Factor in the price of admission at an average of $138 per ticket and you'll most probably lean towards "not worth it for a pricey ticket." Thankfully, there is another way. If you plan strategically, you'll be able to shorten your waiting time at any Disney World ride. You can dig deeper in your pockets to pay for shorter wait times or you can cut your waiting times for free — It's up to you.
Arrive earlier or stay later
Matt Stroshane/Walt Disney World
Most experts agree that it's absolutely necessary that you arrive at Disney World before the parks open. The recommendation is to come an hour before opening so you can be among the first in line for rides. Once the park opens, this plan Disney panelist vouches that turning left at the park entrance and elsewhere always works for her. Meanwhile, Magic Guides advises checking the theme park map and picking out a popular attraction that's located toward the back.
Another good tip is to check wait times on the My Disney Experience app. Check the wait times for rides and attractions near you and head there immediately when you see an opening. Don't pick a ride that's far from where you are, as crisscrossing the park just to get there isn't efficient at all.
If you're not a morning person or you failed to arrive early in the parks, don't fret. Stay later instead. Getting in line before the park closes usually means shorter wait times as most people head out to go home. "Regardless of the time the parks close, you will not be asked to leave any attraction as long as you are already in line," a plan Disney panelist said.
Tips when getting in line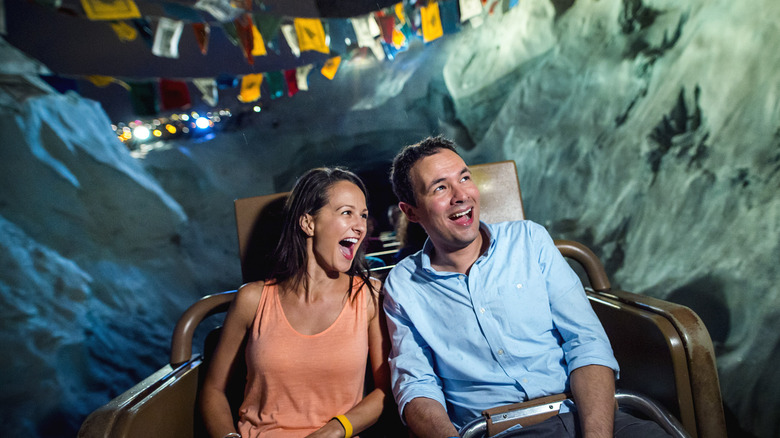 Chloe Rice/Walt Disney World
Regardless of whether you arrived early to the park, you can significantly shorten your wait times when you use the single-rider line. This is a separate line from the regular standby line and the Disney Genie+ line. If you get in line here, you'll be added to a group that still needs additional people to fill a ride's seat. Single-rider lines are currently available for Test Track in Epcot, Rock 'n' Roller Coaster in Hollywood Studios, and Expedition Everest in Animal Kingdom.
For parents with small children, there's the rider-switch line. One parent gets in line while the other babysits the children. Once the first parent has gone on the ride, they can switch roles so the other parent can go on the ride. You're basically lining up for the ride once, and this service can be used for up to three people. You can check which attractions offer the rider-switch service here.
The best times to get in line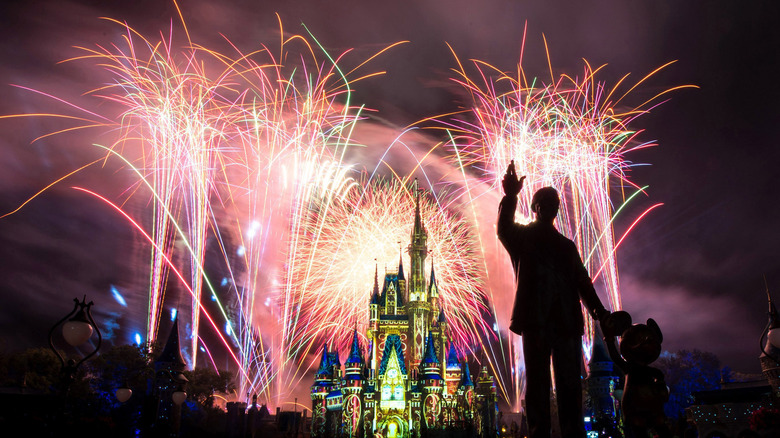 DISNEY
Disney parades and evening fireworks are fun to watch and are therefore always a crowd-drawer. So, fewer people are waiting in line for rides and attractions when these events are happening. "The lines, you'll watch them drop," theme park content creator David Vaughn told The Washington Post. This means it's the best time to get in line while most people are busy appreciating colorful parades and spectacular fireworks. Vaughn says this tip is best applied for rides in Magic Kingdom and Fantasyland.
You can also avoid long lines when you time your meals right. Consider making a breakfast reservation at one of the in-park restaurants so you can enter the park before it opens to other park-goers. You can skip the entrance rush and be first in line for the most popular rides as soon as you're done eating. For instance, get the Safari Donald Duck character breakfast at Tusker House in Animal Kingdom to beat the crowds lining up for Flight of Passage.
Lunch is another good time to wait in shorter lines. As Disney World visitors are eating their meals from around 11:30 a.m. to about 1:30 p.m., you can get in line for rides and attractions. This means eating your lunch before or after this time. Just remember that noon is the hottest time of the day and being in line under the scorching sun — still a possibility — won't be comfortable.
Pay for shorter waits on popular rides and attractions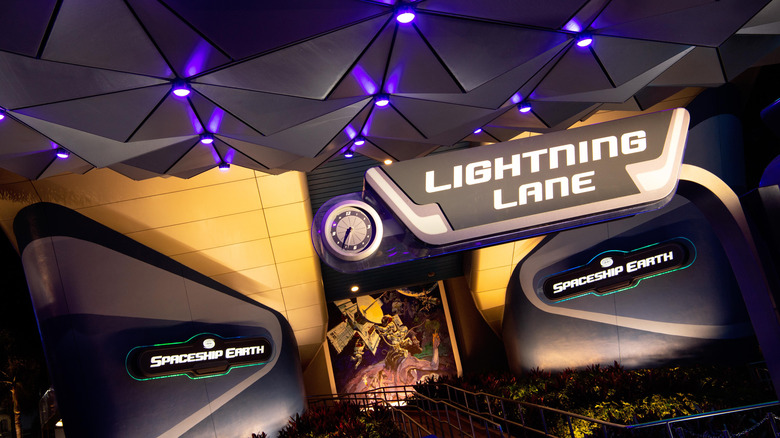 Kent Phillips/Walt Disney World
Genie+, Disney's official line-skipping tool, grants access to Lighting Lanes, the FastPass+ replacement that allows you to skip the line or wait in shorter lines as soon as you enter the park. You can only use Lightning Lanes one at a time, and prices vary by day. Websites that track its pricing, such as Thrill Data, report Genie+ costs anywhere between $15 and $29 per person, per day. Still, it's worth considering. "For as complicated as it is and for as costly as it is, it's still worth it to use," Conor Brown, owner and head tour guide of Magical Park Tours, told The Washington Post.
Separate from the Lightning Lanes included in Genie+, there are also Individual Lightning Lanes that are exclusive for the most popular rides and attractions: Seven Dwarfs Mine Train in Magic Kingdom, Guardians of the Galaxy: Cosmic Rewind in Epcot, Star Wars: Rise of the Resistance in Hollywood Studios, and Avatar Flight of Passage in Animal Kingdom. You pay a la carte for these.
You can also purchase a ticket to Disney World's After Hours, a late-night event that lasts for three hours after park closing time. Tickets are limited so shorter wait times for rides and attractions, including Millennium Falcon: Smuggler's Run, Star Wars: Rise of the Resistance, and Slinky Dog Dash, are almost guaranteed. After Hours happens on select nights from January 4 to April 19, 2023. Ticket price varies by date, with WDW Magic reporting tickets cost between $129 and $149 as of this article's publication.
Stay in a Disney hotel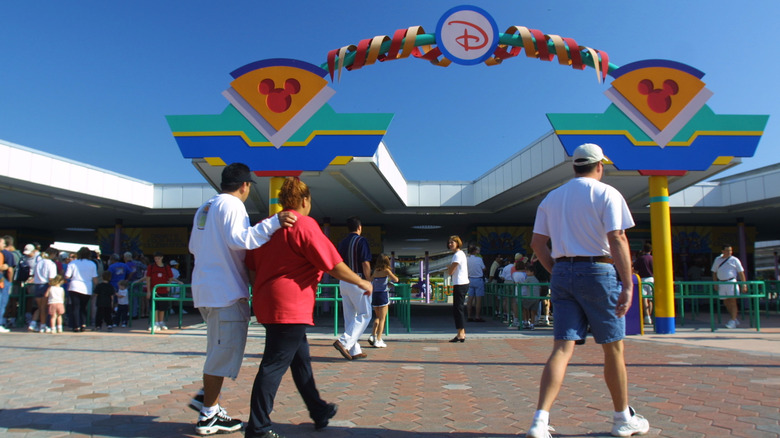 Joe Raedle/Getty Images
Booking a room at a Disney Resort hotel might be costly but it does come with some valuable perks. This includes daily park entry 30 minutes ahead of the other visitors. Not only will you get a head start, you'll also enter Disney World parks through a separate path that's exclusive for those staying in your hotel.
In addition, if you're staying at a Disney Deluxe Resort hotel, a Disney Deluxe Villa Resort hotel, Swan Hotel, Dolphin Hotel, Swan Reserve, or Shades of Green, you can take advantage of extended evening hours. This happens every Monday at Epcot and every Wednesday at Magic Kingdom. With extended evening hours, you can still request to join the virtual queue for Guardians of the Galaxy: Cosmic Rewind at 6 p.m. Extended evening hours typically last for two hours, so you'll have ample time to enjoy select rides and attractions that are still open with fewer or no crowds.