This Amusement Park Is A Must-Visit For Car Lovers
Ladies and gentlemen, start your engines! Europe has a theme park specifically for car lovers and thrill seekers. PortAventura is a multi-park destination located in the Costa Daurada area of Spain, one hour from Barcelona. With three distinct theme parks, the resort comprises PortAventura Park, Caribe Aquatic Park, and Ferrari Land. Ferrari Land is PortAventura's newest park, which opened on April 7, 2017. According to PortAventura, Ferrari Land is "a theme park, unique in Europe, where you can enjoy a thrilling experience with the whole family and discover all the secrets behind the legendary Italian brand and its creator, Enzo Ferrari."
Visitors to Ferrari Land can choose from over 15 attractions, including an F1 driving simulator, a rollercoaster, and several kid-friendly racing rides. In addition to rides, there are several shops and restaurants with themed merchandise and food. For guests who want to take in a performance, an acrobatic show featuring dancing, acrobatics, and basketball feats is offered almost every day.
Ferrari Land attractions everyone will love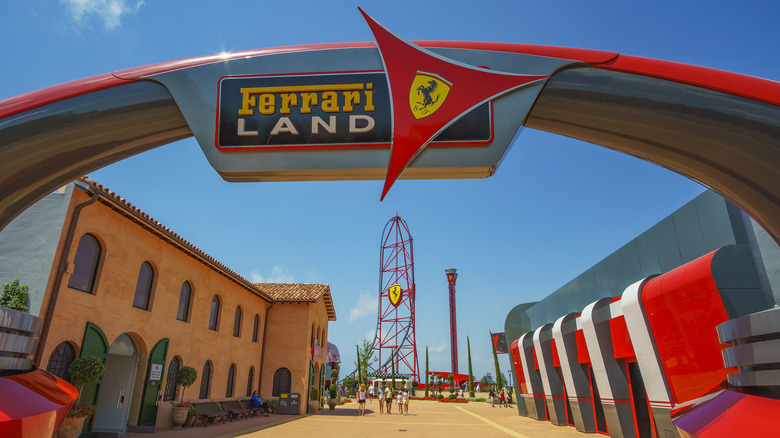 Pit Stock/Shutterstock
Like many amusement parks, Ferrari Land was built with families in mind. Though most will be familiar with the brand's racing heritage, the theme park does not just consist of car racing attractions. In fact, the only true racing attraction is the Maranello Grand Race ride that allows drivers to race each other while maneuvering on a pre-designated track. Racing Legends and Pole Position Challenge are the two F1 experiences, but they are simulator rides instead of actual race cars. Racing Legends allows groups to ride together to experience a simulated race, while Pole Position Challenge allows one driver to take the wheel against other competitors. Pole Position Challenge requires an extra fee to play.
Other thrill rides include two roller coasters and three drop-style rides that range from kid-friendly to free-fall exhilaration. Families with young children will not feel left out of Ferrari Land when they visit, as several attractions are specifically for smaller kids. These attractions include a playground area called Kids Podium, a spinning flying ride (similar to Dumbo the Flying Elephant at Disney Parks), and two rides that rotate in a small circle and mimic racing.
Adults will love Ferrari Land, too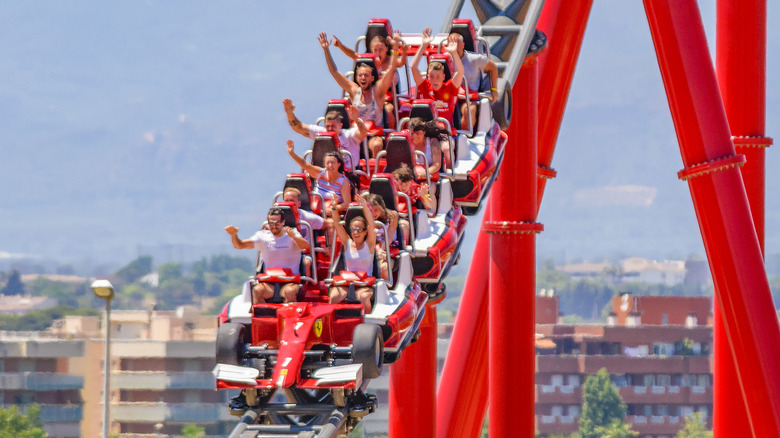 Pit Stock/Shutterstock
Lest you think Ferrari Land is just for kids, there is plenty to do for adults as well. The Ferrari Gallery may not appeal to those looking for high-speed thrills, but it does contain an interesting history of the company, as well as interactive components. Visitors can view real Ferrari racing vehicles from years past and interact with digital devices that display several models of Ferrari vehicles. Older children and adults will enjoy the roller coaster Red Force, which reaches a speed of over 110 miles per hour in less than 5 seconds while also climbing to a height of over 365 feet.
You can make the most of a visit to Ferrari Land by purchasing a combination ticket that allows entrance into both PortAventura Park and Ferrari Land. One-day Ferrari Land tickets are inexpensive (about $21) compared to U.S. theme parks like Disney World (over $100). One-day, multi-park tickets to both Spanish theme parks are a steal (about $61). If you are planning a trip to Spain and you love amusement parks and cars, make sure PortAventura and Ferrari Land are on your to-do list.