Best Pet-Friendly Campgrounds Across The US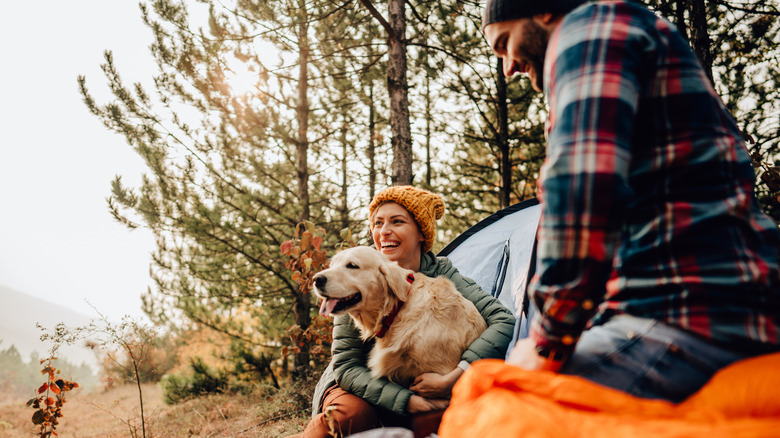 Aleksandarnakic/Getty Images
For anyone who loves spending time outdoors, there's nothing quite like sparking up a campfire and enjoying an evening under the stars or bunking down with the gentle sound of crickets and cicadas to lull you to sleep. And when your best friend is a furry little tail-wagger, the only thing that's better is having that cute little boopersnoot by your side as you break out the s'mores.
Camping can be just as exciting for our furry family members as it is for us, allowing them to explore new ground and experience new sights and sounds. For our canine companions, a stroll through the woods can serve up a smorgasbord of olfactory delights. Whether they're splashing through a stream or beach or making new friends in a dog park, there's an adventure around every turn from sea to shining sea to purple mountain's majesty. And fortunately, there are plenty of campgrounds that value our pets as much as we do. If you've been dreaming of pawprints in the sand as much as we have, hang onto your leash as we break down the best pet-friendly campgrounds in the United States.
4 Paws Kingdom Campground in Rutherfordton, North Carolina
Few places in the United States are more picturesque than the Blue Ridge Mountains, the relatively low section of the Appalachians known for its hazy indigo appearance in the right light. From wildflowers to waterfalls, the region abounds with natural wonders for you and your pup to explore. And perfectly situated within their foothills is the 4 Paws Kingdom Campground, a pup-friendly campground where dogs are more than just an afterthought — they're the main point. The only caveat? 4 Paws is for human guests over the age of 18.
When your canine pal needs to stretch their legs, 4 Paws offers several roomy off-leash dog park options, including a playground for small dogs, a big yard, and a private escape. All of their dog parks are completely enclosed by a four-foot fence. The agility park provides pups with places to jump, weave, and work on their skills and drills, and 4 Paws features hiking trails for when you're ready to get out and explore nature. After all that work, your canine pal can go for a dip in the campground's private swimming pond. As far as amenities, 4 Paws offers RV hookups with power, cable, and free WiFi. Upon request, there are also a handful of sites with fenced yards available. For guests without an RV, the campground also rents cabins, premium cabins, as well as yurts that sleep up to four dogs.
Lake George RV Park in Lake George, New York
Located in New York's peaceful Adirondack region, Lake George RV Park is a 120-acre, family-friendly camping retreat located just a short drive from Lake George Village. Lake George RV Park boasts all of the makings of a dreamy family camping experience — nightly bonfires, loads of recreational activities, and beautiful campsites. Here, you'll find just about every type of recreation you could imagine — basketball, volleyball, tennis, shuffleboard, horseshoes, bocce, pool, an onsite movie theater, fitness center, arcades, and pickleball court. There's even an indoor heated pool to relax in after exploring the wilderness with your best friend.
And Lake George didn't leave Fido out. The park's canine zone, Charlie's Bark Park, offers a two-acre, off-leash dog park featuring both small and large dog areas. There's plenty of comfortable seating for you to kick back on as your doggo plays, and there's even a dog spray fountain and a large synthetic turf area. Need a treat? Stop by the pet treat vending area. The park even offers agility equipment to get those tails wagging! When it's time to wash away the dirt and grime from all of your outdoor adventures, you can take advantage of the park's indoor grooming station. If you're traveling in your RV, the park features sites with power, WiFi, water, septic, picnic tables, and a fire ring. The park also offers several rental units for pet owners with up to two dogs or cats in their party.
Rovers RV Park in Waldport, Oregon
Long-term travelers with pets in their party will find a haven at Rovers RV Park. Pet people themselves, the park's owners set out to create a space for pet owners on the road to experience Oregon's beauty without having to leave their best friends behind. Rovers is an intimate RV park with 22 large (30 feet wide) sites with full hookups and plenty of room for parking, as well as 12 smaller RV sites with water/electric hookups only. Park amenities include high-speed Internet, a laundry facility, a communal green space, and a fire pit.
If you're looking for a place to spend some time getting close to nature, there's no better spot for pet owners. Popular pastimes at Rovers allow guests to experience the beauty of the Pacific Northwest. You can spend your time beachcombing, whale watching, fishing, crabbing, agate hunting, kayaking, and birdwatching — Alsea Bay is an Audubon Society-designated "Important Bird Area." Hang out long enough, and you're likely to see harbor seals and ducks or catch a glimpse of the elk herd that lives in the area. The park features an off-leash dog area, and there are places for dogs to splash around in the river. Nearby, you'll find plenty of places to hike, outlet malls and flea markets to shop at, and sand dunes for off-roading. Rovers RV Park is for long-term camping only (30 days or longer) with applications renewable on a monthly basis. 
Sagadahoc Bay Campground in Georgetown, Maine
If you're in the mood for oceanside camping, grab your fur buddy and head to Maine for some of the best pet-friendly camping in the country at Sagadahoc Bay Campground. Sagadahoc Bay's claim to fame is its 1200 feet of oceanfront camping with direct access to the water. As long as you've got your pet's vaccination records handy, every one of the campground's site reservations includes camping for up to four humans and two pets. But don't worry if you've got extra pets or people in tow — for a straightforward fee of $7 per pet or human, they'll make room. Don't have an RV? No worries. Sagadahoc Bay Campground also offers cabins for up to four people and one dog.
With all of that water, Sagadahoc Bay guests will find plenty of activities to fill the time. Clamming, boating, fishing, and lawn games are all popular pastimes, and when you're ready to take a load off, the campground offers cooked lobster deliveries. If you enjoy shopping, you'll find plenty of antiques and collectibles at the local flea market. There's also an outlet mall nearby. If you're traveling with a boat, Sagadahoc Bay's waterfront campsites are close enough to walk directly to the ocean, and when you arrive at your RV campsite, you may pull up to awesome views of the Seguin Island Light, a George Washington-commissioned lighthouse. The waterfront RV sites provide room for a 16-foot pop-up trailer or a 45-foot bus.
Sun Retreats Texas Hill Country in New Braunfels, Texas
Located close to San Antonio, New Braunfels is a historic Texas town that's packed with attractions like the massive Schlitterbahn New Braunfels Waterpark and Animal World & Snake Farm Zoo. If you're planning to stay in the area, Sun Retreats Texas Hill Country is an expansive RV park situated on 32 acres and located just a short half-hour drive from San Antonio. The park features more than 100 vacation rentals and 250 roomy RV sites.
Sun Retreats Texas Hill Country features loads of amenities like an arcade, playground, and indoor heated swimming pool. There's also a sand volleyball pit, library, fitness center, pool room, hot tub, and sauna. They even have a handful of lawn games, including corn hole and a giant Connect 4 board. If you enjoy kicking back around the campfire under the stars, raised campfires are also permitted.
And the best part? Pets are welcome at all Sun Retreats Texas Hill Country RV sites. The campground even has a few cottage rentals singled out for pet owners and their furry family members. After a long-distance road trip with your pets, the campground features more than one fenced-in dog park for both pets and people to stretch their legs and catch some rays. There's even a shaded seating area for you to kick back in while your tail-waggers get in their steps.
Gulf State Park in Lake Shelby, Alabama
With two miles of beaches, Gulf State Park is a perfect destination if you're in the mood for sun and surf. Situated on Lake Shelby near the Gulf of Mexico, a 900-acre freshwater lake, and surrounded by palmetto forest and longleaf pines, the 496-site park features 20 lakeside cabins, full hook-up RV sites with paved camping pads, and tent camping sites.
For nature lovers, Gulf State Park is a paradise featuring nine ecosystems and a host of wildlife species — creatures like otters, beavers, bobcats, coyotes, and even alligators abound. Around the park, you'll find 28 miles of trails accessible by bike or on foot. Canoeing and kayaking are popular activities here, and the lake is full of fish like catfish and speckled trout. The park is also a popular site for geocaching. There's even a beach pavilion to kick back at and a butterfly garden to explore. Pets and their families will enjoy exploring Gulf State Park's Dog Pond, a dog park found at the Lake Shelby Picnic Area. Visitors will find two sides to the dog park, but both sides offer water access, allowing dogs plenty of room to splash around and play. The park also features fenced areas for both small and large dogs.
Sun Outdoors Rocky Mountains in Granby, Colorado
Right around the corner from Rocky Mountain National Park and Lake Granby, Sun Outdoors Rocky Mountains is a pet-friendly campground with plenty to keep you and your pet busy while you're there. The campground offers a ridiculous amount of amenities — think yoga on the lawn with a Rocky Mountain backdrop, poolside or hot tub relaxation, and even a bowling alley. They've even got a wellness center. Whether your preferred way to see the mountains is by ATV, mountain bike, horseback, or foot, they've got you covered. Fishing, white water rafting, kayaking, and paddleboarding are also popular activities. If you're visiting during the snowy months, Sun Outdoors is conveniently close to Winter Park Adventure Park and Skiing, Granby Ranch Ski Resort, and plenty of snowmobile tours. And if you're into stargazing, there are few better places on earth than the Rocky Mountains. While you're there, be sure to pan for gold in the campground's gem mining sluice.
The resort allows guests to bring leashed pets — up to three per RV or tent site or two per vacation rental. There are even a couple of dog parks to take advantage of while you're there. If you're thinking of renting a cabin, the campground's Arrowhead Studio rentals accommodate pets and as many as four human companions. Amenities include WiFi, a kitchenette, and a fire pit.
Lost River Valley Campground in New Hampshire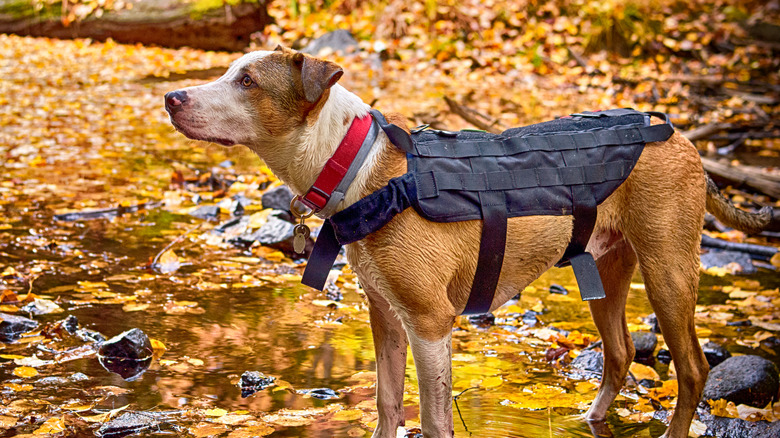 Mountinez/Getty Images
Nestled in the lush forest of New Hampshire's White Mountains between two mountain streams, Walter Brook and the Lost River, at the site of an old lumber mill, Lost River is a picturesque campground where you and your furbaby can enjoy the best of what New England has to offer. The campground's extensive list of pastimes includes volleyball, badminton, tennis, horseshoes, basketball, a swimming beach, as well as paddleboat and kayak rentals. If you enjoy fishing, you can't beat trout fishing in one of the nearby mountain streams.
The campground features 198 stunning campsites, which offer mountain views, forested privacy, or brookfront serenity. Along with its RV sites, they also offer tent camping inside shady, wooded campsites. Although the campground does offer a handful of pet-free cabins, most sites and cabins permit up to two pets. While there isn't a dedicated dog park onsite, dogs can enjoy exploring the area as long as they're kept on a leash. While you're there, be sure to check out the old lumber mill, a turn-of-the-century mill with an authentic water wheel.
Riverside Campground & Cabins in Big Sur, California
If you're in the market for a dramatic landscape and breathtaking sunsets, camping or glamping in Big Sur, California should be on your travel bucket list. And if your trip just wouldn't be the same without your favorite tail-wagger, Riverside Campground & Cabins is happy to serve. An intimate campground with only 34 sites for tents and RVs and 12 cabins available for rent, Riverside's claim to fame is that its campsites sit adjacent to the river and underneath a canopy of ancient redwoods. Campers can hike nearby trails or try to spot dolphins and whales when exploring the nearby beach. The campground is also just 22 miles south of Carmel-By-The Sea.
One of the highlights of a visit to Riverside is getting in a little lazy river time. You can rent innertubes if floating is more your speed, but you're also welcome to swim in the river. From November through February, campers can also enjoy catch-and-release fishing. Each campsite features a fire pit and picnic table, and all RV sites come with water and power hookups. Every Riverside campsite and all but one cabin are pet-friendly. Guests are allowed to bring up to two pets per site, although they are encouraged to call if they have more and discuss whether accommodations can be made.
Wakeda Campground in New Hampshire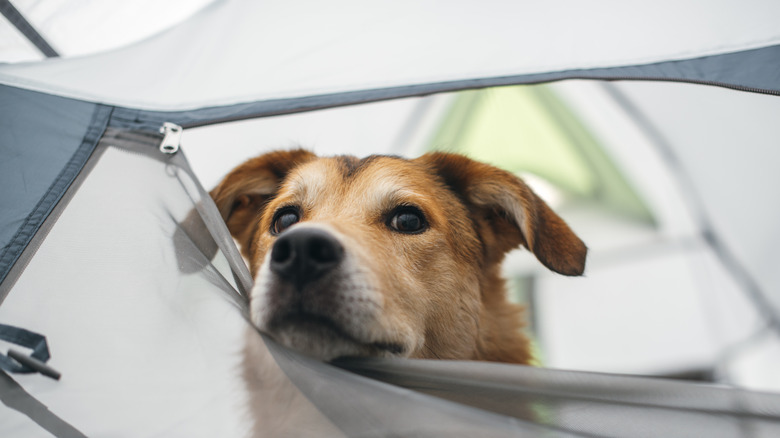 Pawzi/Getty Images
The dream of Wakeda began in 1946 with newlyweds Lucille "Jimmie" and Charlie Savage, who spent their early years on Wakeda Farm producing honey and building a working sawmill that's still in use today. In 1965, they decided to transform their love nest into Wakeda Campground and open it up for other families to enjoy. Guests can camp in one of more than 400 sites including rustic tent sites, RV sites, and pull-throughs. Dogs that are calm, well-behaved, and up-to-date on their shots are welcome at Wakeda. Located near Wakeda's Trading Post, the campground has a dog park available so doggos can spend some time running around off of their leashes.
The ultimate old-fashioned camping experience, Wakeda has horseshoes, a half-court basketball court, an 18-hole mini golf course, and a fully equipped playground for guests to enjoy. At the Trading Post, guests can kick back in Wakeda's reading and lounge area with a book picked up on a loaner from their lending library. They'll also find giant Connect 4 and Jenga games, as well as a collection of puzzles and board games to borrow. On summer mornings, guests can check out the coffee and donut shop, and there's a "Make Your Own Sundae" bar open every Saturday night.
Fort Wilderness at Walt Disney World in Florida
Disney's Fort Wilderness Resort is more than just a place to stay while you're in town for Walt Disney World. For many fans, it's a destination all unto itself with its own cult following, especially among seasoned RV campers. It's easy to feel like Snow White herself when you're camped out in the middle of a cypress and pine forest where it's not unusual to see rabbits, deer, ducks, and even armadillos. As one of Disney's premiere resorts, yet one of Disney World's cheapest accommodations, there's so much to do that you could plan a full vacation without ever leaving the campground, and this enchanting woodland haven also happens to be notoriously pet-friendly.
As it can get awfully hot in Florida, pets aren't permitted in tent sites or pop-up campers. But up to two dogs are welcome to stay in climate-controlled RVs and cabins for a small fee. Visit Waggin' Trails, the park's off-leash dog park, or explore the campground's dog-friendly trails with your doggo on an eight-foot or shorter leash. Fort Wilderness also offers Best Friends Pet Care, a day and night kennel care service, so guests can spend a day at Disney World or get into one of the campground's many diversions like archery, canoeing, or horseback riding. As far as pet kennels go, it really doesn't get much swankier than Best Friends, with add-on perks that include doggy ice cream, bedtime stories, holiday meals, and "bark-fest in bed."