Best Places To Kayak And Paddle-Board In Tennessee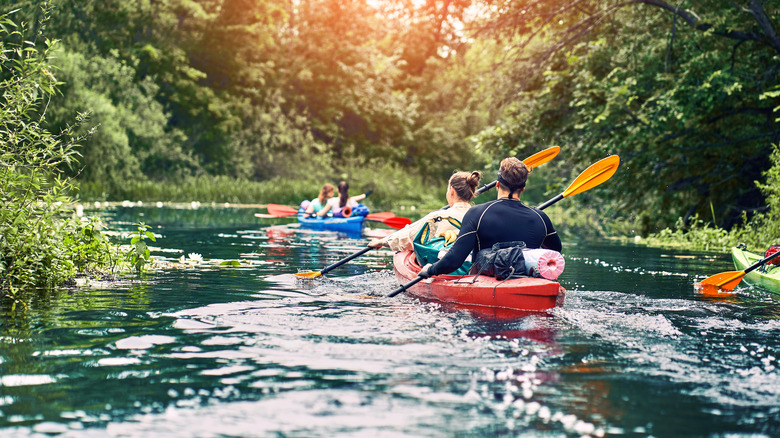 Sergei Domashenko/Shutterstock
A landlocked state that is wide and shaped a little like a jagged-edged iceberg, Tennessee might not seem like a paddler's dream world. And yet, this territory, home to expanses of natural beauty like the vast Great Smoky Mountains National Park, or the more intimate Chimneys State Natural Area, still has a wealth of choices for anyone looking to hit the water. There are more than 1,000 lakes in Tennessee, and an excess of 60,000 miles of rivers and streams, meaning that the options for kayaking and stand-up paddle-boarding are enough to keep even the most eager water rats grinning ad infinitum. 
From placid, kid-friendly lakes that are ideal for excursions with the entire family, to more thrilling, and dangerous waterways better suited to experienced kayakers, the variety of adventures is impressive. And visitors need not bring their own equipment to enjoy the liquid delights — outfitters and tour operators offer rentals and guided tours so that they can experience the charms either on their own schedule or with a group of like-minded adventurers. Here are some of the places worth checking out on your next trip to the Volunteer State.
Barren Fork River
For newcomers to kayaking, the first few excursions on the water can be a little unnerving. There's the awkward movements you'll need to make to physically slide into the kayak, and then the manipulation required with the paddle to push oneself off from a stagnant position. And then you'll need to learn to control your paddle stroke so that the vessel goes straight or turns as required. Thankfully, the rides along this still waterway are perfect for newbies. This is a river that feeds the Collins River and is located about halfway between Nashville and Chattanooga. 
The Barren Fork winds its way to the town of McMinnville, and extends in total along 23 miles, flowing in an easterly direction. A ride along the river here, which is calm enough for kayaking and paddle-boarding, will pass through beautifully forested riverbanks and can be organized by outfitters like Smooth Rapids, a camping and RV site that also takes adventurers out on the water.
Buffalo River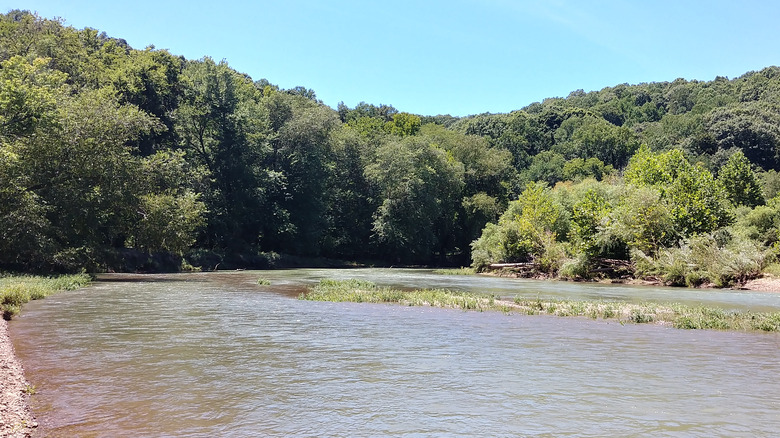 dansif/Shutterstock
Southwest of Nashville, this long, snaking river twists and turns for what seems like an eternity before entering into the larger Duck River. It's a stunning stretch of water, traveling for 125 miles through the state, and is home to a huge variety of fish and other wildlife both within and along its banks. Its serpentine route offers paddlers some amazing scenery along the way and is popular with water adventurers because parts of the river allow for kayaking all year round.
In the upper part of the river, in the south of the state, camping site Crazy Horse has a number of opportunities for visitors wanting to explore the river here, with kayaks and canoes for rent. Launches are from private land and include an eight-mile trip, expected to last about four hours, that is ideal for families and takes in pretty rocky landscapes. Or, there's also the longer 10-mile option, which sidles alongside a waterfall en route.
Collins River
Located in the heart of the state, and connecting to other rivers within Tennessee, this river promises travelers fine, peaceful pastoral landscapes that only help to cement the memorable aspect of a paddle here. The kayaking is calm and perfect for beginners, with outfitters like Mad Musky Water Sports Rentals providing kayaks for visitors to take out on the water. Choices vary between the 8-foot and 10-foot long kayaks, both designed to carry one passenger, and rental periods of up to five hours (costing a very reasonable $32).
More seasoned kayakers can also bring their own vessels, and Mad Musky is able to arrange shuttles to transport paddlers back to where they need to go. The outfitter also offers tubing for those visitors looking for a more leisurely ride down the river (the tubes even have drink holders, so you can toast your good fortune along the way).
Cumberland River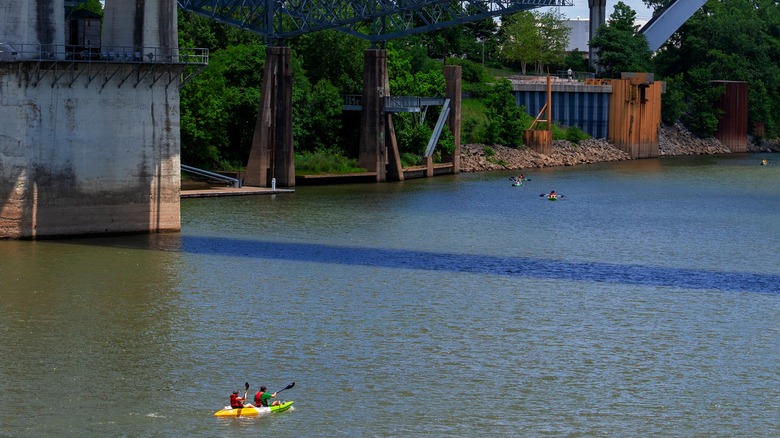 DWBMedias/Shutterstock
While the image of kayaking often conjures up images of a light, brightly colored vessel shadowing a rugged coastline, or slicing through tight waterways with forests rising up either side, taking a kayak excursion on the Cumberland River can offer visitors an entirely different experience. It's true that this river extends through other parts of the state, but as it travels through Tennessee, it cuts through the center of Nashville, which means that visitors have the opportunity to take to the water for some cool urban exploration. As an aside, it's also a great waterway for some stand-up paddle-boarding. 
Based in Nashville, River Queen Voyages offers single and double kayak rentals, and also puts together kayak scavenger hunts in the heart of the city. Among its set routes, the Skyline tour takes in the city's architecture along a three-mile route that terminates in the heart of downtown Nashville, lasting about 90 minutes on the water.
Douglas Lake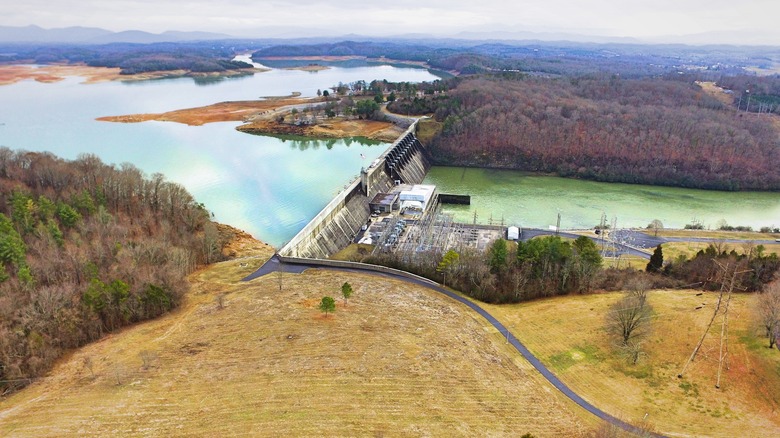 John H. Sims/Shutterstock
Kayaking is most enjoyable when it allows the riders the freedom to wander off a set route and explore parts of a waterway that aren't readily accessible any other way other than from the water. The thrill of discovery is one of the greatest lures to this huge reservoir that has plenty of nooks and crannies where you can let your kayak, paddle board, and mind wander. 
The lake was constructed using a dam downriver over one year during the Second World War. Now, there's 550 miles of shore all around, meaning there is always something new to see here. With water that supplies both a calm environment and a dose of waves, the reservoir is also a treasure trove for birdwatchers, with the top part of the lake especially rich with avian activity in the summer — expect to see egrets, herons, pelicans, and storks that are drawn by the rich feeding opportunities in the muddy lakeside environment.
Duck River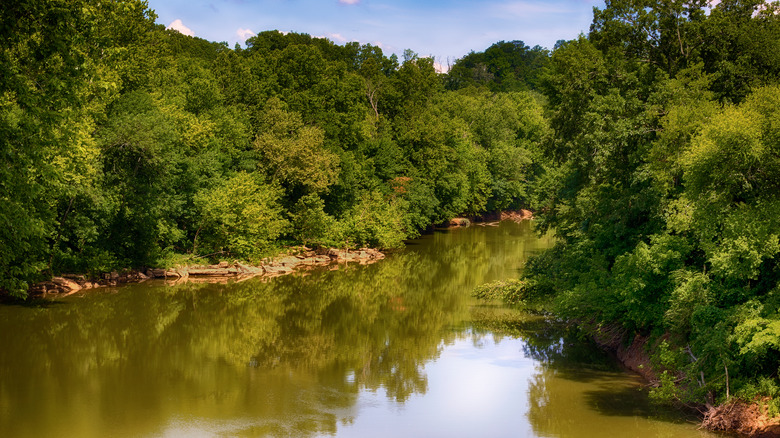 Dee Browning/Shutterstock
A waterfowl that is instantly recognizable for its distinctive, comical quack, the duck isn't a creature known for its brawn or stature. Yet this river named for the animal is a true heavyweight in the state, stretching across 284 miles within its borders, making it notable as the longest river that is completely inside Tennessee. Throughout its journey, the river morphs, with some areas with deep pools, others where the waters jostle and tumble, and sections where the shore opens to caves, waterfalls, rolling farms, state parks, and residential tracts. 
Some sections are pleasingly calm, making them suitable for kayaking by first-timers and families. The outfitter Higher Pursuits, based in Columbia, takes riders out on a five-mile stretch of the river that is tame and filled with natural appeal, without the interruptions of urban sprawl, riverside housing, and obvious signs of humankind's imprint on the planet.
Harpeth River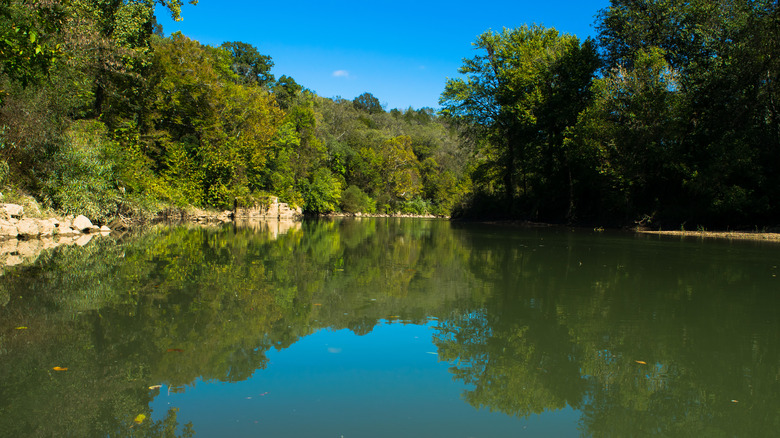 TheTennesseeAdventurer/Shutterstock
The beauty of this river is its ease of access to the largest city in Tennessee — the Harpeth River is only a 30-minute drive west of Nashville, meaning visitors of the city can easily come here for a side excursion to their city escapades. Visitors can bring their own kayak or choose to get a rental from outfitters like Tip-A-Canoe, a small local business that first began operations in 1972, and that continues to be a family-owned company that has great knowledge of the river. It also has some great tips for paddlers to make sure the trip takes place without any hitches. 
Despite the company's name, the rides here are calm and easy, riding along a waterway that stretches for more than 100 miles between Eagleville and into the Cumberland River close to Ashland City, with highlights such as hardwood forests, farms, and picturesque rocky bluffs visible along the way.
Lower Hatchie National Wildlife Refuge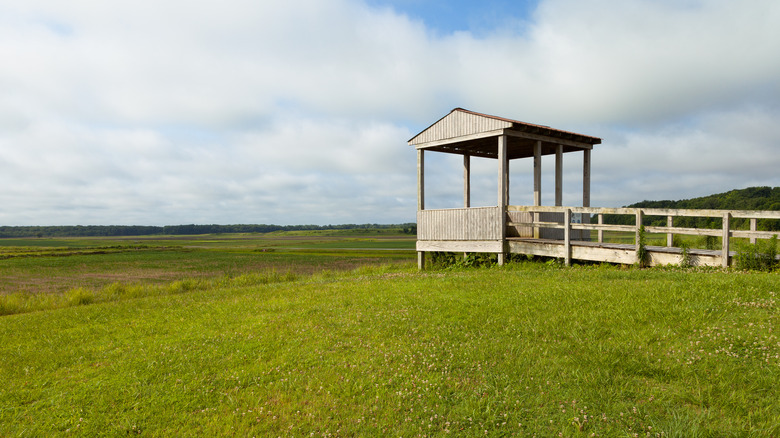 Melinda Fawver/Shutterstock
To the west of the Hatchie National Wildlife Refuge, and almost due north of Memphis, this slash of wilderness spreads across the lower part of the Hatchie River, at the point where it unites with the Mississippi River. Come here for a chance to experience true tranquility, either from towers that allow you to look over vast fields where wildlife roams, or on a kayak. Even newcomers to paddling will enjoy the calm conditions here, with the chance to skim across bodies of water with names like Champion Lake or Sunk Lake. 
With no set agendas or tried-and-tested routes, a kayaking excursion here is very much done at your own pace, making it rewarding for that very reason, and allowing visitors to really connect with the surroundings without watching the clock. The reserve itself was first opened in 1980 and comprises forests, rolling land, and waterways that are teeming with fish.
Hiwassee River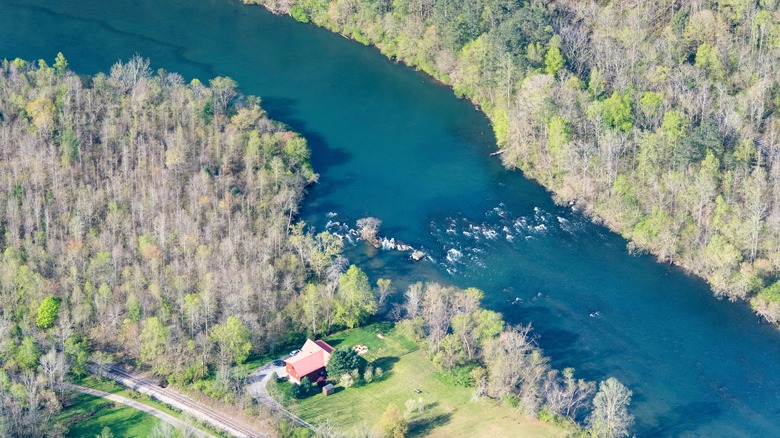 Danita Delimont/Shutterstock
One of the great bonuses of this 55-mile river, which winds through the Cherokee National Forest during part of its journey, is the variety in water conditions along the way, making it a fabulous waterway for paddlers of varying experiences. The lower reaches of the river, extending from North Mouse Creek to the intersection with the Tennessee River and passing through the town of Charleston, are pleasantly sedate, ideal for stand-up paddle-boarding and kayakers that are still getting to grip with the mechanics of slicing through the water. 
The water is generally calm in the middle section also, but moves with a little more gusto, so maintaining control of the kayak's course is of greater significance. The water conditions are a boon for fish like trout and bluegill — and the fishermen that prize them. For adrenaline junkies, the upper part of the river is where to paddle, with some churning Class III rapids on offer as the river meanders through the mountainous areas of Cherokee National Forest. Anticipate plenty of greenery to see along the way, whichever part of the river you visit.
Nickajack Lake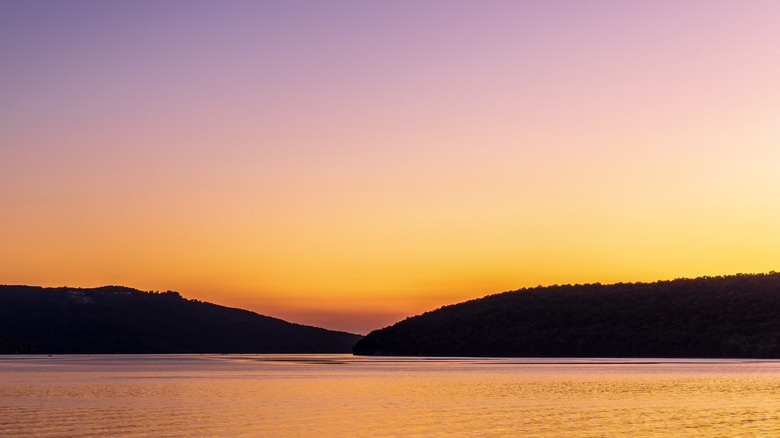 Justin Wright/Shutterstock
A bending, slender reservoir that looks like a long slithering snake, and created by the opening of a dam, this calm body of water is ideal for kayakers and stand-up paddle-boarders alike. It actually stretches between two dams — Nickjack Dam and Chickamauga Dam — filling an expanse of 46 miles between them and in parts reaching into the heart of Chattanooga. It's a pretty destination as it winds through the countryside west of Chattanooga, and also affords handsome vistas of the Tennessee River Gorge. 
Perhaps its greatest claim to fame is the chance to see a bat cave here. The Nickajack Cave Wildlife Refuge may be a modern-day tourist attraction, but in years past was frequented by Native Americans as well as soldiers during the Civil War. These days, during the season of April to October, it is the site where swarms of gray bats, an endangered species, leave the cave as the sun sets to hunt and feed. You can join a tour with outfitters like Chattanooga Guided Adventures which encompasses a paddle on the lake before gently approaching the cave entrance for the unforgettable sight — and sound — of thousands of bats flapping out in search of their daily sustenance.
Norris Lake
Located an easy drive from Knoxville, this lake is hugely appealing not only for its calm, welcoming conditions, but also for its incredibly attractive water temperatures — it's warm in the summer, perfect for swimming, but that also means that if you fall in during paddle-boarding or kayaking, it won't be a shock to the system. It's a jaggedly shaped body of water, curling, twisting, almost sculptural in its shape, and this allows for tons of little hidden areas perfect for exploration. 
Expect to encounter much natural beauty here, with Chuck Swan State Forest extending along large swaths of its northern shore, and Big Ridge State Park sitting by a chunk of its southern edge. Norris Paddling Adventures is an operator with deep knowledge of the lake, and it let visitors examine the waters here on their own, with single and tandem kayaks, stand-up paddle boards, and even hydro-bikes offered for rent.
Obed River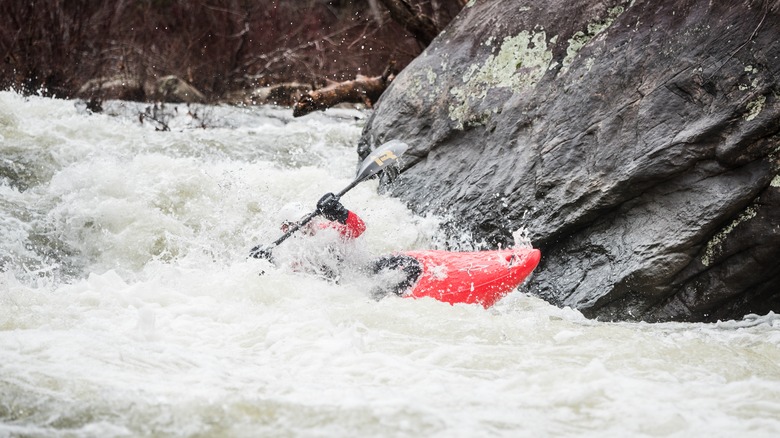 Travis J. Camp/Shutterstock
If you are a novice kayaker, your interaction with this river west of Knoxville is likely to be restricted to pining and admiration from afar. This is definitely a river for the brave and technically adept, with raging whitewater that powers along the river's route, drawing in pro kayakers from near and far. There are bridges and stops where can you look at the river, but for kayakers on it, the thrill is much more immediate, and of course, laced with pitfalls. 
The currents are strong, and hazards throughout include complexes of rocks just under the water, fallen tree branches and logs that create a trap known as a sieve, swirling water vertices that can leave your kayak stuck, and the lethal effects of the actual water temperature — it's cold all year round, something that can sap any kayaker's energy with surprising efficiency. There are also waves and ripples that have no problem knocking kayakers upside down. And yet, despite all the obstacles, this river excites travelers in seek of adventure year in and year-out.
Ocoee River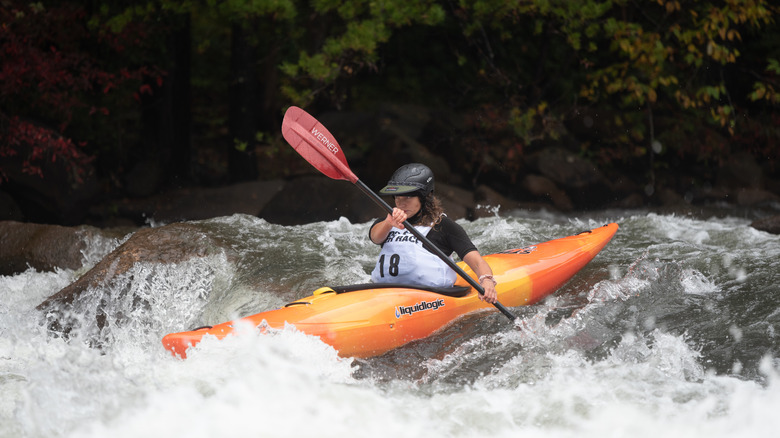 Travis J. Camp/Shutterstock
In the southern part of the state, northeast of Chattanooga, this river is a one-stop shop for kayakers of all levels, thanks to the operation of a dam that produces varying water environments along the way. The river eventually flows into Parksville Lake, and the nearer it gets to its terminus, the more tranquil the conditions. In the early stages of the river, on the upper and middle sections, the river is a roiling, churning beast that is primed for adrenaline junkies, and, as such, requires kayakers to keep their wits about them when tackling the Class III and Class IV rapids. To get a sense of the skill required for the upper part of the river, where mountains are all around, consider this — the 1996 Olympic Games held the whitewater kayaking events here! 
While the middle segment is also a workout, the conditions are a little more manageable, with five miles of non-stop whitewater action. Finally, by Parksville Lake, the river is more serene, ideal for novice kayakers and paddle-boarders.
Old Hickory Lake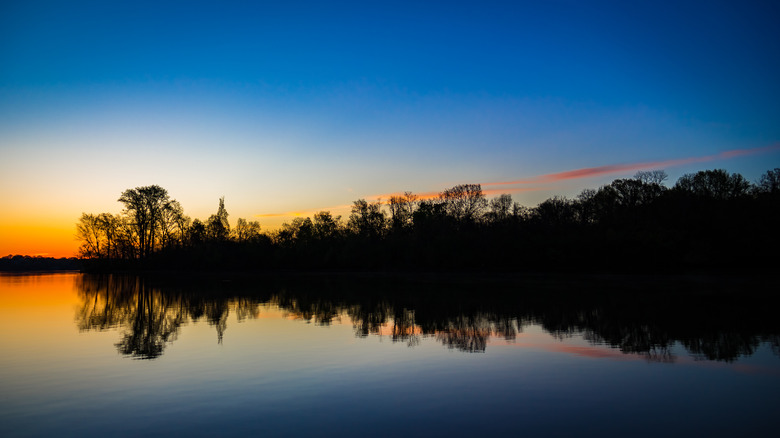 RichardBarrow/Shutterstock
Another serpentine lake in Tennessee situated a short distance northeast of Nashville, Old Hickory Lake is a fine option for kayaking and stand-up paddle-boarding. Its proximity to the capital of the state makes it a perfect choice for an easy day trip from the city. The waterway extends over more than 20,000 acres, is owned and run by the U.S. Army Corps of Engineers, and was created by a dam that was finished in 1954. It's a gorgeous expanse of water, with many public access points around its shores, and commercial boat launches also located at various points. 
Numerous outfitters rent kayaks around the reservoir, with operators like Gallatin Kayak Rentals supplying drop-off, pick-up, and a vessel for four hours for $25. While the calm conditions ensure that even new paddlers will feel comfortable — even those on stand-up paddle boards — there are also companies that can offer instruction on the finer points of the back and front stroke.
Parksville Lake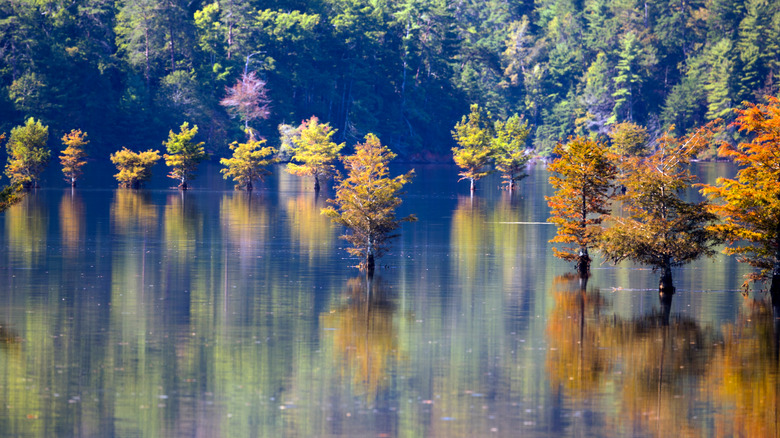 Paul Oppenheim/Shutterstock
Also known as Lake Ocoee, this body of water was created by the building of a dam, and its scenic beauty and calm surface make it a great playground for all types of water sports. It first came into existence in 1911, constructed by the Tennessee Rural Electric Company, and its longevity has made it the oldest lake located in the Cherokee National Forest. Now, its scope extends 1,930 acres, and looking up along its banks, visitors will marvel at the hills rising, covered in dense forest. 
While some parts of the lake draw jet skiers that enjoy ripping through the tranquil waters at full throttle, kayaking and paddle-boarding are equally suited to the placid settings that produce peaceful panoramas. Perhaps the finest time to visit is during fall when the green slopes mutate to be set ablaze with vibrant fall colors, creating a tableau that only helps to amplify the majestic setting.
Percy Priest Lake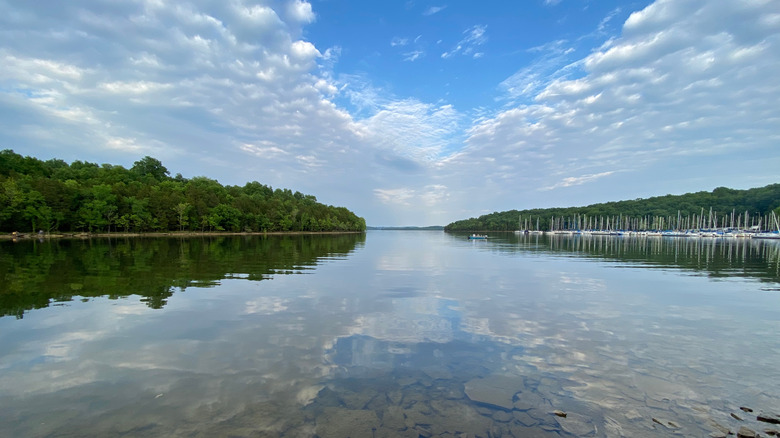 Ram Kompella/Shutterstock
Another fabulous day-trip escape from Nashville, located about a 15-minute drive to the east of the city, this lake is named for a former Congressman. James Percy Priest was a teacher and also a journalist before winning a vote to be a member of Congress, where he served from 1940-1956. The dam, named the J. Percy Priest Dam, was built by the U.S. Army Corp of Engineers and opened for operation in 1968. This 42-mile lake was created by the dam's wake. Today, the water's 14,000 acres attracts not just kayakers and stand-up paddle-boarders, but also locals and visitors that come to swim, sail, jet ski, and fish around the lake and its shores. 
There are a number of drop-in points around the lake, among them Hamilton Creek. Here, a dock allows for easy entry into the water, and the conditions are extremely calm, making this place a breeze for novices. For a longer excursion in the water, a trip from Hamilton Creek out to Bear Island, in the north-central part of the lake, is a solid workout and a chance to truly immerse yourself in the aquatic environment.
Watauga Lake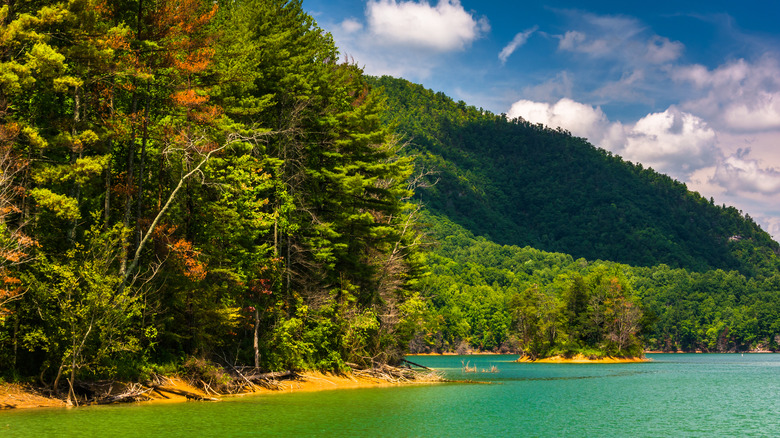 Jon Bilous/Shutterstock
The options here are plentiful at this lake in the Appalachian Mountains and Cherokee National Forest. A dam completed at the end of 1948 created this reservoir, and today it's the highest-situated such body of water in the state, topping out more than 1,900 feet above sea level. The surroundings are striking — hills, forests, and rural splendor — and since getting to the lake requires driving along meandering mountain roads, there's a distinct lake of commercialism here. This makes the destination extra special for adventurers that take the time and effort to journey out here to float along its 16 miles of length or skim around the 105 miles of shore. 
For visitors to the state without their own equipment, Watauga Kayak can arrange trips on the lake, with guides and instruction part of the deal. The lake is easy to maneuver on a kayak, but for a more exciting foray on the water, the outfitter sends kayakers out to the nearby Watauga River, where Class II rapids await to inject a bit more oomph into the expedition.