How To Make The Most Of Long Ride Lines At Disney World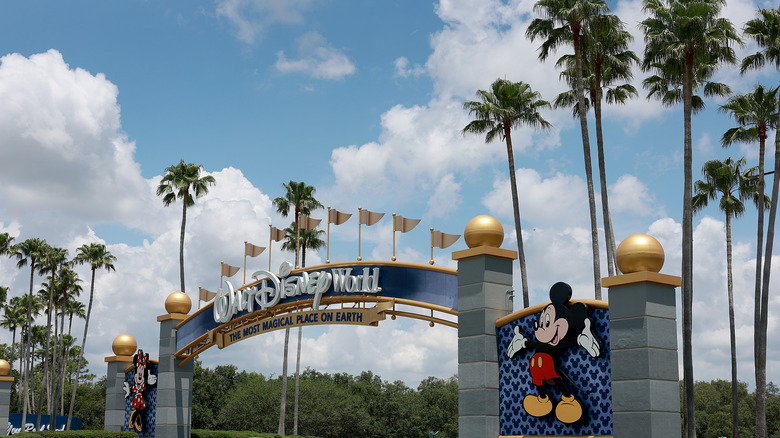 Joe Raedle/Getty Images
Walt Disney World rides are notorious for insanely long wait times. But, not all rides are created equal, and wait times vary from ride to ride. You might have to wait just five minutes to get on the Carousel of Progress, or you could wait for your turn to ride Star Wars: Rise of the Resistance for a little over two hours, per a report from FinanceBuzz.
Even the same ride might have you wait longer during peak season. For instance, those who'd like to get a seat on the Seven Dwarfs Mine Train at Fantasyland might need to wait 74 minutes on average, but they could stand in line for as long as three hours during peak season, according to Theme Park Center.
Obviously, no one likes waiting in line, so you'll most likely be following our tips for shorter waits for rides at Disney World. But, if you really have no choice but to become an addition to the string of people, then you might as well make the most of it. If you have no idea how, we'll give you some pointers.
Become a Disney expert
Disney is big on storytelling, so your experience with a ride starts before you get on it. Disney Imagineering integrated features, such as props or animatronics that come alive with entertaining sounds and visual effects, liven up the queue areas of some of the park's rides. Whether providing the backstory or just adding a dash of fun, it can make you anticipate the ride even more. You can find these interactive queues at The Haunted Mansion, Dumbo, Big Thunder Mountain Railroad, Pirates of the Caribbean (pictured), and many more.
If you're a detail freak, you might enjoy scoping out the themed queue areas or have fun finding some Hidden Mickeys while you inch your way to the front of the line. You can even make a game out of this — why not make it a competition to list all the Hidden Mickeys you can find, and the winner gets a reward? Another Dole Whip sounds good right now.
Take care of things
The idea of a long wait can seem frustrating, but if you look at it from another angle, it's also a good time to tend to many things. For one, you can use the down time to munch on a snack and fuel up for the upcoming ride if you're in the outdoor portion of the queue. (Disney World does not allow eating indoors, whether inside an attraction or the indoor parts of ride lines.)
If you have kids and they're no longer entertained by the themed queue area or they've gotten tired of looking for Hidden Mickeys, try playing I-Spy. If those games no longer work, it might be time to bring out their devices, toys, books, or other play things that can distract them. If you're with a little one, you could use this time to put them to sleep in their stroller for some down time. Or, take advantage of this time to map out your next ride or activity, take pictures or review those you've taken earlier, apply sunscreen, or strike up a conversation. Who knows? A potential lifelong friend might be among those in line.