Your Guide To Disney World's Genie+
Your wish is Genie's command. Genie+, that is. In 2021, Walt Disney World introduced a new service called Genie+ to help guests navigate their vacation. Want to skip the line at Space Mountain? Interested in downloading that priceless photo of your family screaming on Expedition Everest? Genie+ can do all that and then some.
Using Genie+ can be a learning curve, though, especially since it's a new system. If memories from your last visit to Walt Disney World include language like "E-Tickets" or even "FastPasses," things have changed. Not to worry, though, because we've got you covered for all things Genie+. In this guide, we'll provide an overview of Genie+, its many features, and its handful of challenges — and share how to use it to your best advantage, all based on firsthand experience.
Let's address a few housekeeping items before we dive in. First, Disney continually tweaks the specific logistics of Genie+. Since its launch, the big ideas behind Genie+ have remained the same, but Disney frequently adjusts pricing and procedures. At the time of this writing, the information below is correct, but the minutiae of the service are subject to change. Additionally, here we're specifically talking about Walt Disney World in Florida. While Disneyland in California offers its own version of Genie+, they differ in their details. Ready to go? Whether you're a beginner or need a refresh, let's rub the lamp get started with your guide to Genie+ at Walt Disney World!
The basics
First things first: there's Genie, and then there's Genie+. Genie is a complimentary service that Walt Disney World guests can use to help plan their day(s) in the parks. The free version of Genie is most helpful if you're not familiar with the parks and don't know where to begin. For example, if you tell Genie you love "Toy Story," the service might tell you where to find "Toy Story" experiences and perhaps suggest an ideal time to hop in line. The complimentary version of Genie does not make any reservations for its suggestions — it simply gives pointers on what you might like.
Genie+ is an upcharge version of the service (read: costs money) that guests can use to obtain Lightning Lanes, download ride photos, and unlock augmented reality filters, among other perks. We'll get into each of these specific benefits later.
The first step to using Genie and Genie+ is to download My Disney Experience, the official Disney World app. Beyond Genie and Genie+, you can also use My Disney Experience to make dining reservations, check wait times for rides, and even unlock your hotel room.
The big draw: Lightning Lanes
The main selling point of Genie+ is being able to reserve Lightning Lanes, formerly known as FastPasses. A Lightning Lane allows guests to skip the standby line for a shorter wait on most Walt Disney World attractions. For example, on a recent visit, the standby line for "Rock 'n Roller Coaster starring Aerosmith" was 70 minutes. With a Lightning Lane, our party waited around seven minutes instead.
Genie+ is your gateway to reserving Lightning Lanes, making the service hugely advantageous to those looking to maximize their time. Having a Lightning Lane doesn't necessarily mean you won't wait at all, but your wait will be significantly shorter than the regular line. Occasionally, though, you might just find yourself walking directly onto a ride with your Lightning Lane access, with the only wait being the time it took to walk from the entrance to the end of the queue.
How to purchase Genie+ and how to select Lightning Lanes
Genie+ cannot be bought ahead of time. You can technically purchase it starting at midnight on the day you're using it, but there's no need to do that. You can just as easily buy it first thing when you wake up — or at any other point during the day, for that matter, but "early bird gets the worm" is definitely the name of the game.
We recommend buying Genie+ prior to 7 a.m. to take full advantage of your purchase. Why? Because beginning at 7 a.m., guests can reserve their first Lightning Lane! The earlier you start selecting Lightning Lanes, the more total rides you'll be able to experience with a shorter wait. (We'll talk strategy in just a sec.)
To purchase Genie+, open the My Disney Experience app, look on the home screen for the "Disney Genie+ Service" banner, and tap "Purchase." To select a Lightning Lane, tap the three lines in the bottom right corner of the app, then tap "Tip Board." When the Tip Board loads, scroll through the list of attractions and select "Book Experience" for the attraction you'd like. When your return window arrives, approach the attraction's Lightning Lane entrance, scan your park ticket (or you can use a MagicBand if you have one) against the Cast Member's Mickey-shaped machine, and you'll zoom through the queue at "Lightning" speed. Ka-chow!
How often you can get Lightning Lanes
Disney estimates guests are able to reserve two to three Lightning Lanes per day. During a recent vacation at EPCOT, our crew was right on the money and wound up using three Lightning Lanes. At Magic Kingdom, we made it through eight! Your mileage may vary — and depends on your strategy. Maybe you're content skipping one or two lines, and you leave it at that. Or you might want to attempt to get as many Lightning Lanes as possible. Neither style is right or wrong.
You can reserve another Lightning Lane every two hours, or after using your next Lightning Lane, whichever is first for you. (If you select your first Lightning Lane at 7 a.m. when they go live, this two-hour rule goes into effect once the park opens. In that case, you can select your second Lightning Lane two hours after park opening time, or after using your first Lightning Lane, whatever is first.) Unfortunately, you can't choose a specific return time for your Lightning Lane. You take what Genie+ gives you, based on its earliest availability. If you prefer a return time for later in the day, you'll need to keep checking back until that window opens.
Don't stress about doing the math every two hours as you go along. At the top of the Tip Board in the app, you can find a helpful reminder that tells you the exact time at which you can select your next Lightning Lane.
The cost of Genie+
The pricing of Genie+ varies day to day, and there's no way to know the actual price until the day you use it. This unfortunately makes budgeting a bit cumbersome. If you plan to use Genie+, allot some wiggle room in your budget, depending on its price on the day(s) you visit.
Thankfully, a handful of unofficial websites not affiliated with Disney — like Thrill Data, for example — track the Genie+ pricing daily. Since the launch of the service's variable pricing, Genie+ has cost between $15 and $29 per person, per day. Busier times of the year, like holiday weeks, sway on the higher end while less-crowded days run cheaper.
While it's a bummer not to know exactly how much to expect to spend on Genie+ prior to your vacation, this factor should get easier to predict with time. Variable pricing was only introduced in October 2022, so at the time of this writing, we're still in the first round of the calendar. In future years, you'll be able to generally predict an estimate based on whatever price Genie+ cost on that same week in years prior. For now, though, it's unfortunately a surprise each morning.
Lightning Lanes beyond Genie+
A small number of attractions offer Lightning Lanes but are not included with Genie+. Their Lightning Lane access must be purchased individually. While there's no a formal name for this type of attraction, most unofficial resources use the lingo of "Individual Lightning Lanes." You may also see verbiage like "à la carte" used to describe these.You purchase Individual Lightning Lanes the same way you choose your others. Their availability will populate on the Tip Board alongside all the other attractions. (See list of eligible attractions below.)
There are three big differences for Individual Lightning Lanes (besides costing additional money). Firstly, they don't "count" as part of your Genie+ timetable. They don't affect the timing of when you're able to select your other Lightning Lanes as part of Genie+. The reverse is also true: you can purchase an Individual Lightning Lane for an eligible attraction even if you don't buy Genie+ that day. Secondly, you can choose your exact return time for an Individual Lightning Lane, pending its availability. This autonomy isn't offered for Lightning Lanes under Genie+.
Lastly, guests staying at a Disney resort can purchase Individual Lightning Lanes beginning at 7 a.m., while other guests must wait until the official park opening time (at which point, sometimes they've sold out). This differs from all the other Lightning Lanes included in Genie+. No matter where they're staying, guests can purchase Genie+ and start selecting other Lightning Lanes not in the à la carte category beginning at 7 a.m.
Attractions in the à la carte Lightning Lane category
The lineup changes occasionally, but Disney promises it will never have more than two attractions at each park offered as an Individual Lightning Lane selection. There have been some attractions that Disney previously offered as à la carte selections that later changed to be included with Genie+, and vice versa.
Generally speaking, you can count on the à la carte options being whichever rides are the newest. At the time of this writing, the attractions not included with Genie+, but purchasable with an Individual Lightning Lane, are: Seven Dwarfs Mine Train at Magic Kingdom, Guardians of the Galaxy: Cosmic Rewind at EPCOT, Star Wars: Rise of the Resistance at Disney's Hollywood Studios, and Avatar Flight of Passage at Disney's Animal Kingdom.
Disney recently announced that when the TRON Lightcycle / Run ride opens at Magic Kingdom on April 4, 2023, it will have an à la carte Lightning Lane. Meaning, TRON Lightcycle / Run will not be included with Genie+. If you wish to skip the wait, you must purchase an Individual Lightning Lane. Alternatively, you can reserve a spot in line via the Virtual Queue (see below).
On-ride photo downloads
While Genie+ is primarily known for Lightning Lane access, it comes with other features too. In the near future, guests who purchase Genie+ will receive digital downloads of their on-ride photos. The hilarious capture you weren't expecting when a blinding light flashed in your face on Space Mountain? The amazing photo of your terrified face when Rock 'n Roller Coaster launched at 60 mph? They'll all be available for you to download at no extra cost, included with your daily purchase of Genie+.
This is a huge change that could make the cost of Genie+ much more "worth it" for many guests. When you consider that one individual photo download costs $16.95, in this sense Genie+ basically pays for itself on some days when its price is on the lower end.
It's worth noting this perk is for photos taken on attractions only. It doesn't include pictures snapped at the various photo-op locations throughout the parks, nor does it include photos from character greetings. (While we're on the subject, Disney sells an all-inclusive photo package called Memory Maker, separate from Genie+, available for $69 for one day or $199 for your whole trip.) A roll-out date for ride photos being included with Genie+ is yet to be announced. In January 2023, Disney said the benefit would begin "in the next few months" and that "an exact launch date will be announced at a later time."
Learn about park history from Imagineers with audio tales
An often-overlooked feature of Genie+ is its collection of audio tales. When touring the parks, Genie+ can track your location and share history about your surroundings, fun facts about the attractions nearby, and details you might miss throughout the area's design.
These aren't second-rate urban legends, either. App developers curated the audio tales from the "Imagineering Field Guide" book series. Disney published these official print volumes in the mid-2000s as companions to each of the theme parks, sharing backstage stories straight from the Imagineers, the artists who create Disney's parks and attractions.
An audio companion to this series is a great way to repurpose the superb stories from the books, and a fun perk of Genie+ that many guests don't even realize they have. It's an excellent way to pass time while standing in line — or while waiting for your family if you opted out of riding!
AR selfie filters
Guests can use Genie+ to take selfies with augmented reality filters (think Snapchat). When taking a photo using your phone's front-facing camera, magical additions will fill the screen. Some of the AR filters can be used anywhere within Walt Disney World, like one in which Mickey Mouse appears to look over your shoulder. Another filter makes it seem as though you're enjoying a Mickey ice cream bar.
Other filters are specific to your exact location, including an especially cool selfie you can only take when you're in front of Cinderella Castle. The filter instructs the user to "find the castle," and when they do, they can make the majestic building look as it did at various points throughout its history. Want a photo that looks like you're on-site in the early '70s while the castle is still under construction? You got it. Want to go back in time to 1996 and get a selfie with the infamous "birthday cake castle" from Magic Kingdom's 25th anniversary? Say no more! The AR filters might not be the reason to buy Genie+, but they're fun and worth playing around with if you already have access to Genie+.
Tips for using Genie+
Time for tips! First, link everyone in your party through the My Disney Experience app before your vacation starts. The person managing Genie+ needs to be "friends" with everyone, even the kids' avatars or anyone else who doesn't have a Disney account. If you're the only person in your group with a Disney account and you purchased all tickets through your profile, everyone should, in theory, be good to go — but it doesn't hurt to double-check your "Family & Friends List." We'd also recommend removing anyone on your friend list from a previous trip who's linked to you but isn't traveling with you this time.
This next tip might seem like a no-brainer, but it threw us a curve ball nonetheless. Make sure your credit card information is already saved to your profile in My Disney Experience. We assumed our card info was still stored from a previous trip, but it wasn't, and had to scramble when it came time to purchase Genie+.
Additionally, some popular attractions may run out of Lightning Lanes earlier in the day. WDWWait on Twitter (an unofficial account not affiliated with Disney) tracks daily data that may give you an idea of what to select as your first Lightning Lane, depending on your family's priorities. Similarly, Disney Tourist Blog (also unofficial) offers extensive Lightning Lane recommendations. Much of these decisions will still be subjective to your family's preferences, but solid data might help sway your choices or boost your confidence.
Virtual queues
Ok, so Virtual Queues aren't part of Genie+, but they're worth mentioning as a related topic. Certain attractions don't offer a standby line. Even if you're willing to stand in a line no matter the wait, you cannot stroll up the attraction and hop in line. You need a free Virtual Queue reservation. You still wait in a line upon arrival, you just reserve your arrival time.
Currently, there's only one attraction with a Virtual Queue. It's Guardians of the Galaxy: Cosmic Rewind at EPCOT. When TRON Lightcycle / Run opens at Magic Kingdom on April 4, 2023, it will use Virtual Queue. This could mean Cosmic Rewind might offer a standby line once TRON opens, but only time will tell. (As an alternative to using Virtual Queue, for Cosmic Rewind and for TRON, you can purchase an à la carte Lightning Lane, not part of Genie+.)
Virtual Queue slots drop twice, at 7 a.m. and 1 p.m. on the day of your park visit, in the My Disney Experience app. When you reserve your place, the Virtual Queue will assign you a boarding group and an estimated callback time, which may fluctuate. On a recent vacation, we reserved our Virtual Queue spot for Cosmic Rewind at 7 a.m. and received boarding group #63, with an estimated callback time of 3 p.m. As the morning continued, the callback time moved earlier and earlier, ultimately calling our boarding group at 12:14 p.m. Once we arrived, we waited about an hour.
Cast members are here to help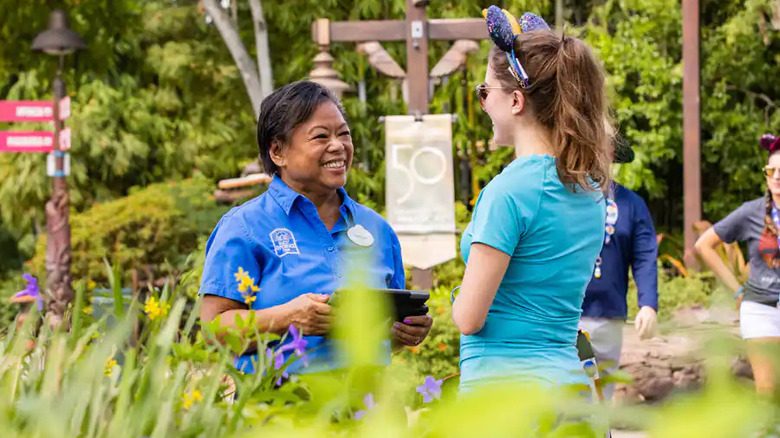 Disney Parks
Overwhelmed? Good news: since Genie+ is new, every guest is still a rookie and learning right alongside you, including us. Disney also continually makes adjustments in hopes of making Genie+ easier to use. (Tip: peep the publishing date of any online planning articles or videos you peruse, just to make sure their info is current.)
Now let's fast-forward to the big vacation. You've planned, you've prepped, it's 7 a.m. on the day of your park visit, and... uh-oh. Something went wrong! Not to worry. If you're staying at a Disney resort and you run into Genie+ challenges, cast members at the concierge desk are happy to help. If it's later in the day and you're inside a theme park, look for any blue umbrella designating a guest experience station, with CMs similarly ready to assist. We've used both the front desk and the handy dandy umbrella stations, and CMs in both cases patiently helped us solve our issues and explained the solution to help us avoid making the same mistake again.
Remember, though, Cast Members' "magic" can only go so far. They can help you navigate Genie+, but in most cases they can't provide more Lightning Lanes for a sold-out attraction, even if the supply went quickly, your app crashed, or fill in the blank with any unforeseen nightmare scenario. Be kind to front-line employees who, we promise, are doing everything in their power to make your vacation the best it can be.
Is Genie+ worth it?
Is Genie+ worth the price and the stress? The answer is... it depends. If your visit to Walt Disney World is a once-in-a-lifetime vacation and/or you don't want to wait in lines all day, then yes, Genie+ is worth it. You'll need to know how to use the My Disney Experience app, but once you understand the basics, we've found learning Genie+ in real time during your trip is easier than expected.
If you visit Walt Disney World frequently and/or don't mind waiting in lines, the choice of purchasing Genie+ might be up for debate. If you were going to purchase ride photos anyway, you might as well purchase Genie+ and think of the Lightning Lanes as an added bonus, once that benefit comes into play later this year. Or, you might choose to go day by day, using Genie+ on some days of your trip but not on others.
On the best Genie+ day we've ever had, we breezed through eight Lightning Lanes without any problems, saving hours of time that would have been spent standing in lines. On the worst Genie+ day we've ever had, we failed to retrieve our preferred Lightning Lane before they sold out and had to wait in the long standby line instead. The effectiveness and ease of Genie+ is unfortunately difficult to predict. While it's kind of a bummer that planning a Disney vacation requires so much "studying," once you get the hang of Genie+, you'll become a pro.