The Genius TikTok Packing Hack That Will Keep Your Kids' Suitcase Mess-Free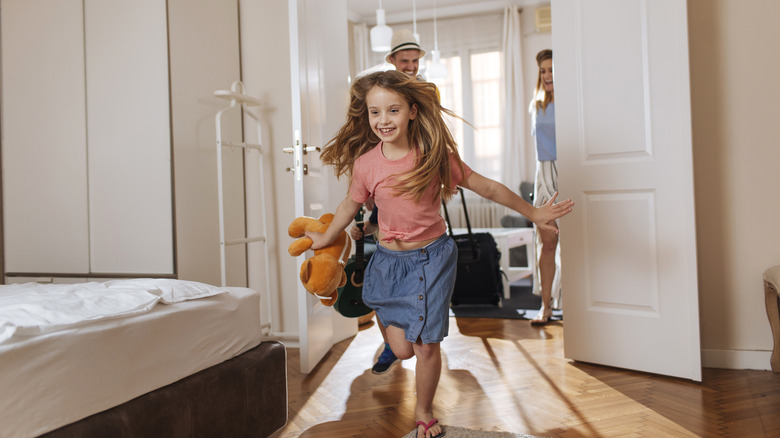 Mihailomilovanovic/Getty Images
Sometimes the internet is a wasteland of nonsense, and sometimes it delivers in a major way. It sure did when Stephanie Joplin, known on TikTok as @betterwithchardonnay, shared a packing hack that promises to keep kids' suitcases organized and tidy throughout a trip. Traveling with kids or infants is no joke. Adults get stressed out on trips, so imagine how much more intense the experience can be for kids. Traveling with children is also hard on the parents, who not only need to pack and tow their own gear, but also be on top of everything that the kids need, too.
Anything that makes travel easier on parents is crucial. That's why we offer luggage hacks to make traveling with your toddler easier or tips about flying with a stroller. Every little hack helps! This is why Joplin's packing tip will make your entire trip that much easier — including planning the dreaded morning outfits.
All you need is an over-the-door shoe organizer
This viral TikTok packing hack ensures your suitcase stays organized, and all it requires is an over-the-door shoe organizer. Stephanie Joplin talks about the marvel of this tip on TikTok and how it worked for her when she was getting ready for a trip with her two kids. To start, simply purchase a cheap, over-the-door shoe organizer. Since it's advantageous to be able to see into each compartment, opt for a clear one if you can find it. All you have to do is lay out an outfit per day for your kids. This includes a top, bottoms, and underwear. Lay each item on top of the other, roll them up, and slide the outfit into a compartment. Since shoe organizers typically have around 24 compartments, you can use one organizer for two kids, or use the extra compartments to hold things like socks, extra underwear, swimsuits, or toiletries. 
Once the shoe organizer is packed with clothes, roll it up, and put it in your suitcase. When you arrive at your destination, just take it out and hang it over a door. This trick doesn't just make your suitcase tidy — it also makes it easy for kids to grab an outfit each morning, making getting dressed a piece of cake.
Some things to consider with the over-the-door shoe organizer
This packing hack works amazingly well, especially for toddlers and kids because their clothing is small. The slots are only large enough to hold shoes, so the outfits' volume needs to be small. Because of this, the hack tends to work best with destinations that have warm and relatively consistent weather. In Stephanie Joplin's video, she was rolling a pair of kid's shorts, a shirt, and underwear — all items that take up less space. If you're traveling somewhere with unpredictable weather, you'll need to account for bulkier items like long pants, sweaters, and jackets. You might need to pack these separately, while the rest of the outfit fits into the shoe organizer.
The good people of TikTok chimed in with other suggestions in the comments section. One person wrote that they love to pack a few garbage bags, so that they can fill these with dirty laundry, and easily dump out the dirty clothes upon returning home to do laundry. Another person suggested removable labels for the shoe slots, especially if the organizer is holding clothing for two kids. This way, there's no confusion.
Some people joked that they wished this worked for adults, and frankly, we do too! The concept could potentially work if you use an over-the-door organizer with extra wide pockets. Like with the kids' hack, you'd have to pack bulkier items separately, but it's a brilliant idea.