Flying With A Stroller? Here's What You Need To Know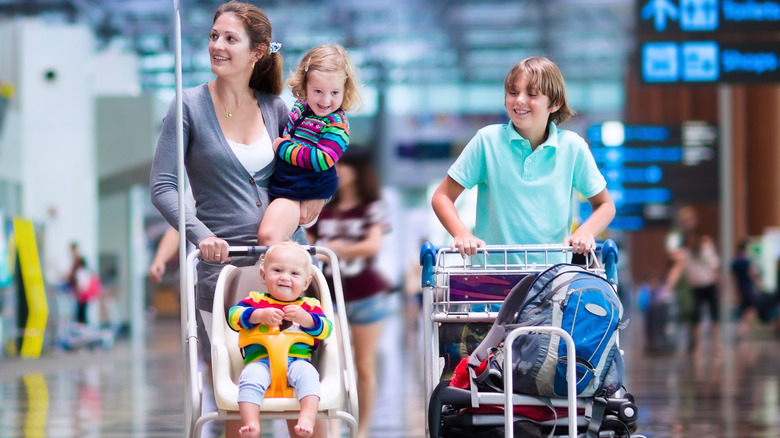 FamVeld/Shutterstock
Traveling with young children will always have its challenges, especially when you're bringing them — and their stroller — on a flight. But a stroller is handy at many points in your travels. You can use it at the airport to navigate through crowds, wait in line, or just hang out before boarding your flight. And having a stroller you and your child is familiar with when you reach your destination will comfort your kid and be easier for you to use.
Although flying with a baby and stroller in tow can be confusing and anxiety-inducing, especially for first-timers, many parents consider it a rite of passage. In general, parents advise that researching ahead of time and preparing for the flight are key, as knowing what to expect can make the trip less intimidating. With that in mind, here are all the important details you need to know to make flying with a stroller less stressful and hassle-free.
Your airline's stroller policy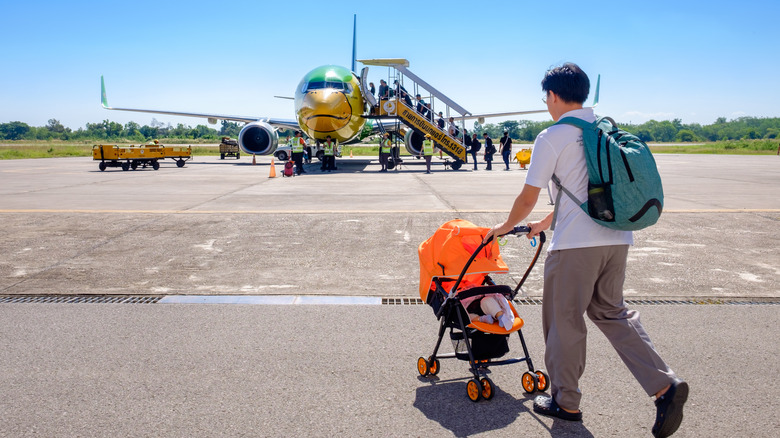 Yaoinlove/Shutterstock
You can generally bring a stroller on board your flight in three ways. You can check it with your luggage, you can bring it on board as part of your carry-on and store it in the overhead compartment, or you can gate check it. Gate check allows you to use the stroller while you're still in the airport and turn it over to the crew only upon boarding so it can be loaded onto the plane. Note that you'll need a gate tag for this, which you should ask for at the gate once you've made it through security. Don't wait until boarding when the attendants might be too busy to entertain your request.
Most airlines allow you to check in or gate check a stroller for free, usually in addition to your regular baggage allotment. However, they have to meet the airline's requirements. For instance, you might be allowed to carry-on your stroller if it's within the airline's size or weight requirements. Meanwhile, large or heavy strollers will most probably be checked in.
Your safest option is to look up your airline's stroller policy on their websites or call them to be sure. It's important to always double-check with your airline before your flight as these policies can change anytime.
Getting through security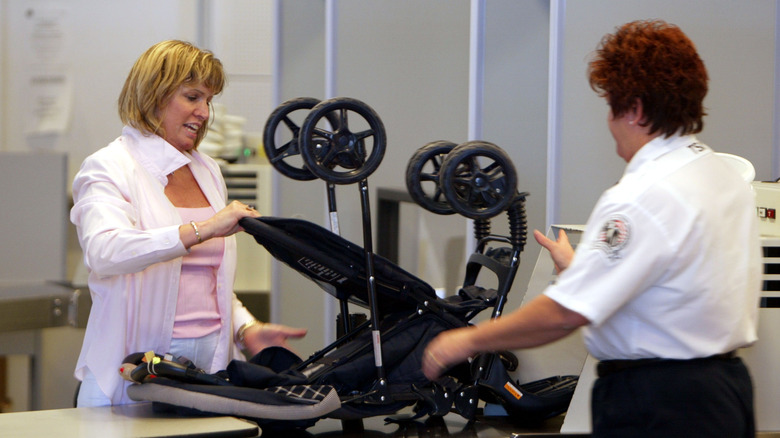 Joe Raedle/Getty Images
When going through the airport's security screening checkpoint, expect your stroller to be screened by the TSA. The TSA officer will have your stroller, along with car or booster seats, baby carriers, and backpacks, go through the X-ray machine. Fold the stroller and store any loose items, such as toys, securing straps, and other detachable elements, in the stroller's pockets or basket or place them in a carry-on bag. If not, you can also put these items in a tub and return them to the stroller after screening.
If your stroller is too big to go through the X-ray machine, the TSA officer might do a physical or visual inspection instead. This is usually the case for strollers that aren't foldable. Meanwhile, your child can go through the security checkpoint with you. You can leave their shoes, hats, or light jackets on during screening if they're 12 years and under. If you're unsure what to do, ask the TSA officer for guidance.
Protecting your stroller during the flight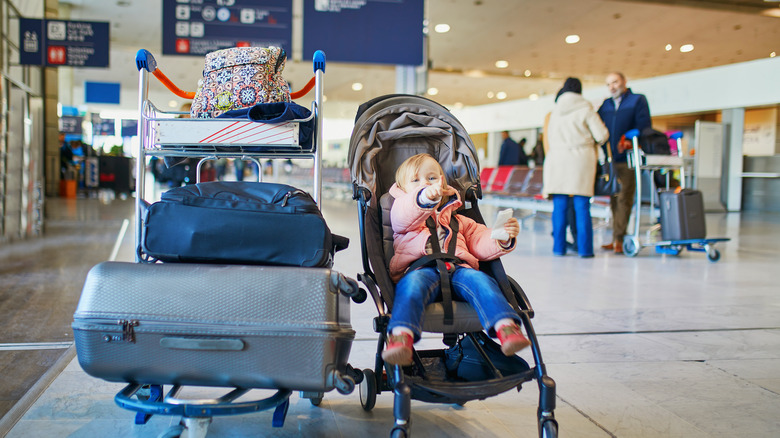 Ekaterina Pokrovsky/Shutterstock
Whether you check in or gate check your stroller, remember to ensure it is protected from dirt or damage. TripSavvy recommends requesting a plastic bag from your ticketing agent, while others suggest getting a stroller travel bag. Both will protect your stroller from getting soiled, while a stroller travel bag or other durable waterproof protective case will help lessen the possibility of your stroller getting scratched.
If you can, try to get a padded stroller bag for more protection from damage. Baby Can Travel suggests covering the handle with bubble wrap to protect the foam and using zip ties to keep the stroller closed throughout the flight. Airline crew who might be unfamiliar with your stroller will have a hard time folding it back and an unfolded stroller is prone to dents and other damages.
As during the security screening, remember to also remove any items that might get lost or damaged during your stroller's stay in the plane's luggage hold. This includes your kid's toys, pacifier, the stroller's securing straps, any other detachable item or article that might be yanked or torn off. And don't forget to take a picture of your stroller before the flight as evidence should you need to ask the airline for repair or reimbursement for damage.
Claiming your stroller upon arrival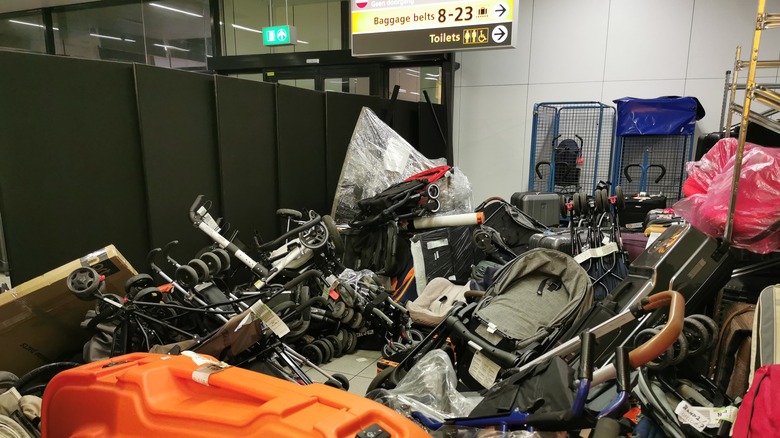 Fery Iswandy/Shutterstock
Once you've landed at your destination, you should know exactly where to find your stroller. Nothing is more stressful than hunting for your stroller with a child in tow. Check online or call the airline to determine where to retrieve your checked luggage. Typically, you'll find it in the baggage claim area or in the oversized luggage area if it's a large stroller.
And although you might find it a bit redundant, having a baby carrier on hand while you're searching for your stroller could make your life easier. Even when you don't expect or hope to use it in the airport, it will come in handy when looking for your stroller takes longer than you expect.
If you have a connecting flight, the best approach would be to gate check your stroller or have it as carry-on. When you carry-on your stroller (check airline requirements), you can use it right after disembarking from the plane. When you gate check, you'll receive your stroller at the jet bridge.
In the event of damage or loss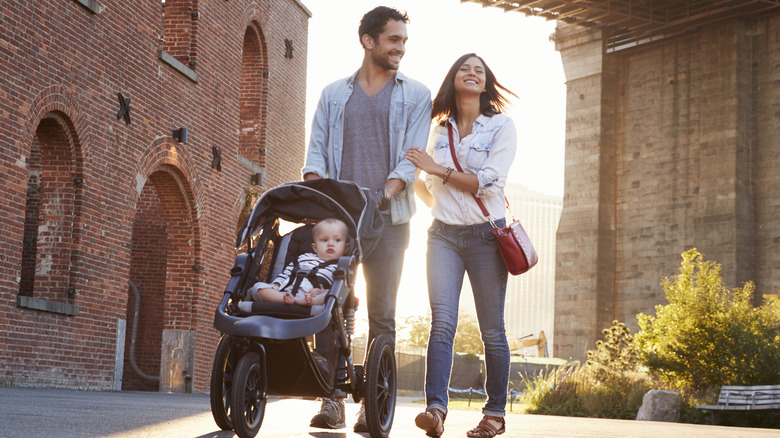 Monkeybusinessimages/Getty Images
While your plans might be fool-proof and airtight, life has a way of messing it up, so it's always a good idea to have a backup plan for when your initial plan doesn't work out. Case in point is when your stroller gets lost or damaged in a way that it has become unusable. In these cases, having an alternate plan will help you deal with the unexpected situation.
Your alternate plan might include getting a replacement at your destination. Find out before your trip where you can get a cheap durable stroller locally and how much it might cost you. Stroller rentals— another good option — can deliver a clean and high-quality stroller to the airport, your hotel, or other location you choose.
Of course, don't neglect to ask the airline's help in tracking your lost stroller or informing them about your damaged stroller and following their policies and procedures regarding the claim of any repair or reimbursement. Keep any receipts, such as for a new stroller or a rental one, in case you need to have these costs reimbursed.