How Much Should You Expect To Pay For Food When Visiting Universal Orlando?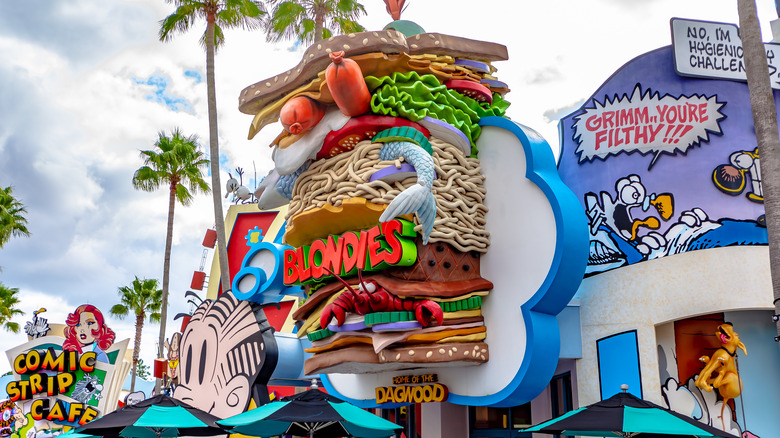 Chansak Joe/Shutterstock
Planning a Universal Orlando vacation isn't cheap. From purchasing tickets to finding accommodation, paying for parking, and snagging some movie-themed souvenirs, things can quickly begin to add up. Nowadays, buying Universal Orlando tickets can set you back anywhere from $108 for a single-park ticket to over $300 for a 2-day, 3-park combo per person.
With this in mind, it's no surprise that you might be looking for extra ways to scale back and stay within your budget. How, what, and where you eat can be a great place to start! Just like its rides and attractions, the dining experience at Universal Studios is designed to immerse visitors in their favorite films and shows. From themed restaurants to specialty snacks and drinks that you won't find anywhere else, there's an undeniable allure to each meal — and it can come with a hefty price tag.
However, despite the seemingly unavoidable costs, plenty of alternatives won't break the bank. From finding the best spots to get your grub to considering food options outside the park and planning your meals, you can save big without feeling like you're missing out.
Enjoying the food at Universal Orlando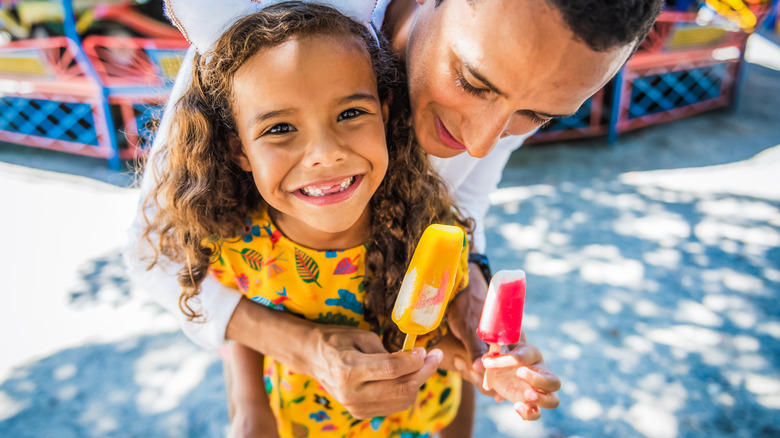 Daniloandjus/Getty Images
One of the best ways to save money and still try the food inside the park is to choose quick-service restaurants over full-service dining. Simply put, quick service spots operate like fast food chains and don't require reservations. Cheaper, family-friendly, and equally delicious, they're a great way to save on lunch and dinner with entrees like cheeseburgers, beef stews, hot dogs, and ribs ranging between $10 and $25 per person.
Alternatively, using a AAA card to book your trip could be your ticket to even more savings. Whether discounted tickets or an additional 10% off at participating restaurants and shops inside the parks or along Universal CityWalk, becoming a AAA member is a great way for Universal Orlando visitors to stay within budget.
Investing in a refillable souvenir drink cup or a popcorn bucket can be a great way to beat hunger throughout the day and save a pretty penny for on-the-go snacking and drinking. Priced at $17.99, the souvenir cup allows unlimited refills from the Coca-Cola freestyle stations. If you already own a cup from a previous visit, you can pay an additional fee of $10.99 to use the refill stations. Meanwhile, a popcorn bucket will set you back $12.29 and guarantees popcorn refills for just $2.19 a pop throughout the day.
There are plenty of ways to cut back costs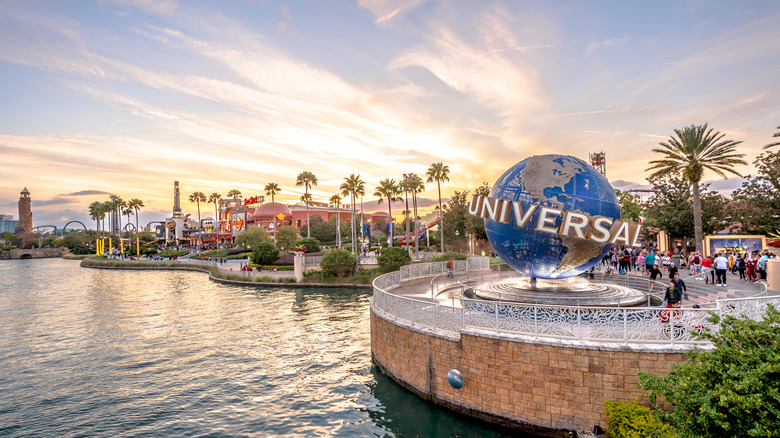 Chansak Joe/Shutterstock
Beyond the theme park's dining options, additional cost-saving opportunities exist. For starters, kick off your day with a hearty breakfast at your hotel. Most Universal Orlando Resort Hotels offer a complimentary spread, including staples like oatmeal, fruit, bread, and eggs. These carb-heavy and protein-rich meals can boost energy and keep you feeling full for longer, which means you'll have less of a craving for mid-morning snacks.
Additionally, Universal Orlando also allows guests to bring their own snacks and water bottles into the park. However, keep in mind that hard-sided coolers, picnic chairs, alcoholic beverages, and food that needs to be heated or refrigerated aren't permitted. That said, you can pack some energy bars, fruits, or trail mix to curb hunger between meals and rides. 
Lastly, remember to stay hydrated! Drinking plenty of water isn't just important for your health, especially in the Florida heat, but it'll also help keep your hunger at bay when it's too soon for another meal. Nevertheless, even as you strive to save, remember that it's just as important to make room for some self-indulgence — this is a vacation, after all!