The Top-Ranked US State For Your Next Camping Adventure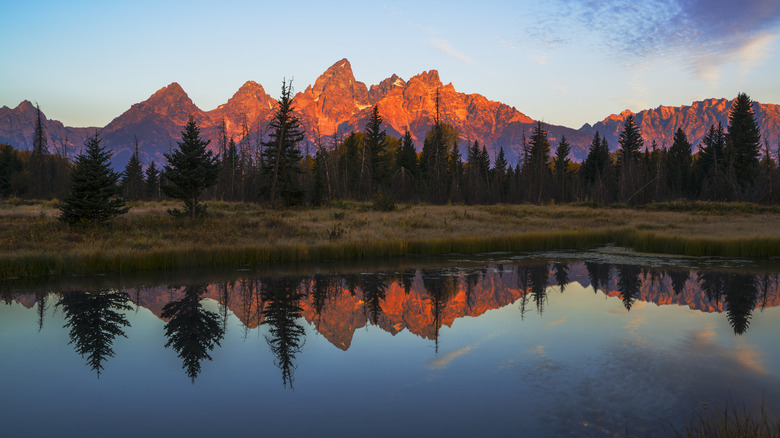 Vkbhat/Getty Images
The U.S. is a haven for campers from all walks of life. And every outdoor enthusiast has their favorite campsite, whether they're beach camping on the West Coast or pitching a tent in the starkly beautiful desert wonderlands in Arizona. But if you're seeking the ultimate camping destination for your next adventure, hold onto your cowboy hats: It's none other than the wild and wonderful state of Wyoming! Travel website Adventures on the Rock ranks the Cowboy State as the best place in the U.S. for camping.
Most of us know Wyoming for Yellowstone National Park and nearby Grand Teton National Park, but there's so much more to discover in this vast state. With an area of about 98,000 square miles and a population of just around 580,000, there's plenty of space for adventurous — and not-so-adventurous — campers to spread out and enjoy the wilderness. And campsites here are diverse, ranging from fully-managed RV parks with amenities to dispersed camping on Bureau of Land Management (BLM) land. So where do you go? And when?
Wyoming: a camping-friendly state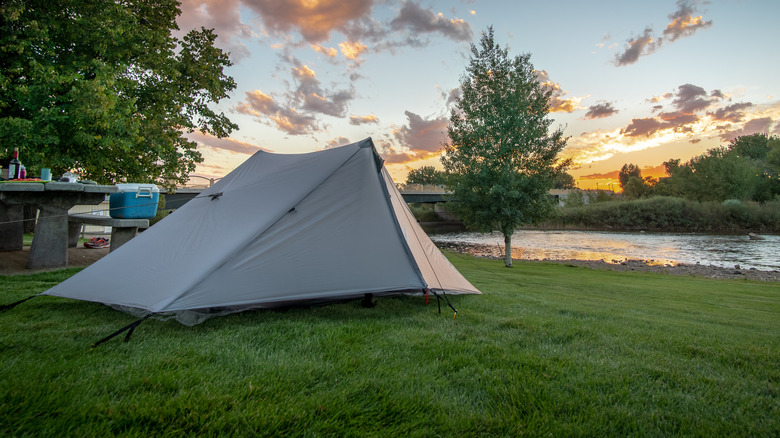 Scott Biales DitchTheMap/Shutterstock
Camping is the quintessential way to immerse yourself in the great outdoors, and Wyoming delivers an unforgettable experience. The state boasts the third-highest total acreage of national parks, state parks, and campgrounds in the U.S., according to Lawn Love Lawn Care. This makes it an incredible state to explore. Additionally, Wyoming has the most RV parks, plus a range of affordable campsites, per Adventures on the Rock.
Vast swathes of lightly populated Wyoming are BLM land, and large chunks of the state are managed by the U.S. Department of Agriculture Forest Service. Other than that, there are the state's seven national parks, as well as numerous national historic and natural landmarks. Agencies such as the BLM, Forest Service, and National Park Service (NPS) provide both developed campgrounds and allow dispersed camping at very reasonable prices — the latter usually for free. So where should you camp in Wyoming?
Developed campgrounds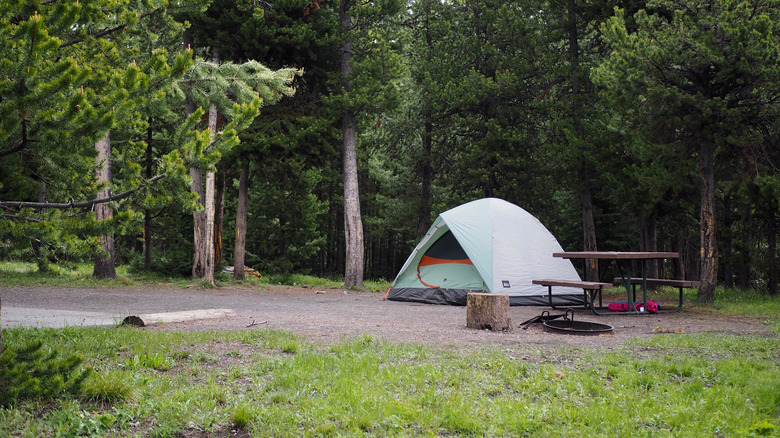 Nat Thanapohn/Shutterstock
If you're just starting out on your camping journey, are traveling with little ones, or simply enjoy more creature comforts (flush toilets, hello!), you may want to choose a developed campground. Facilities at these campgrounds vary widely, so you should always check what you're getting before you book.
Certain NPS-managed campgrounds in Wyoming offer not only flush toilets but hot showers, electrical hookups, and even dump stations, too. Five out of five for comfort. The same goes for many BLM-managed campgrounds, though again, research carefully beforehand to see what you'll get. Forest Service campgrounds have either flushable or vault toilets and potable water but no showers or water hookups.
In addition, there are many privately managed campgrounds and RV sites in Wyoming offering a range of facilities. If you need a full hookup, a pet-friendly campground, or stable internet access, a privately run site is more likely to offer you these things.
Dispersed and backcountry camping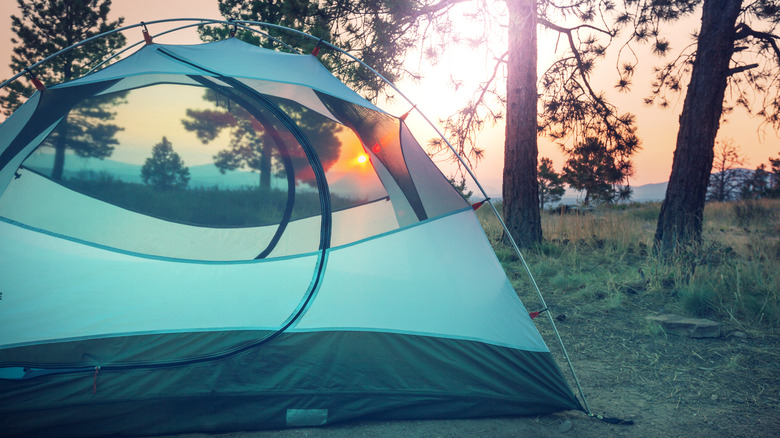 Galyna Andrushko/Shutterstock
If you want to get in touch with your wilder side, try dispersed camping. Dispersed camping means no facilities: no drinking water, no toilets, nothing. You get to choose where to pitch your tent or park your RV (following local regulations), and you need to be self-sufficient for the whole time you're there. Backcountry camping is a form of dispersed camping; if you can only walk into a site, you're probably in the backcountry.
Depending on the area, you may need a permit or even a reservation for dispersed camping. You can camp for free on most BLM and Forest Service land, though always check before you set up and obey time limits. You should stick to established roads and try to camp in areas that have been used before — do not drive over plant and animal habitats. And of course, be respectful when sharing a campsite by practicing the 7 Principles of Leave No Trace. These include packing out your trash, disposing of human waste correctly, and minimizing the impact you have on the land in various ways.
Where to go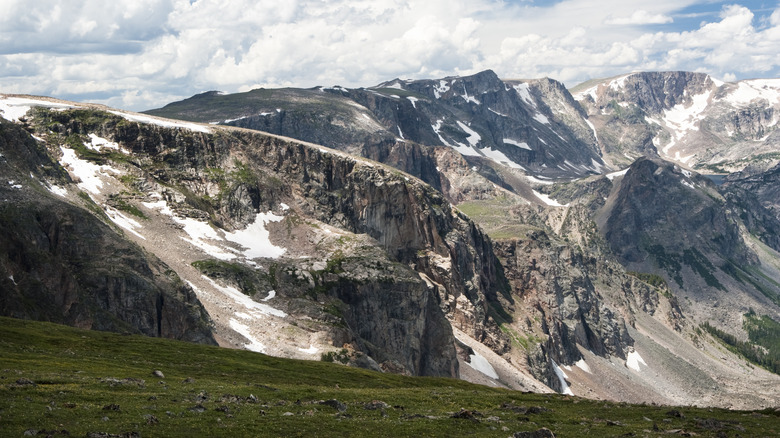 Photosbyjim/Getty Images
The landscapes in Wyoming are as diverse as they come. You can enjoy the jagged peaks of the Tetons and the Wind River Range, Yellowstone's bubbling springs, and the southeastern High Plains all in the same state.
Wyoming is also home to the third-highest number of hiking trails in the U.S. per capita, according to Adventures on the Rock. Hugely rewarding but strenuous hikes like the Lost Twin Lakes trail in the Cloud Peak Wilderness and the Cirque of the Towers trail in the Wind River Range rub alongside family-friendly walks like the Red Beds trail near Devil's Tower. There are campsites near or on all of these trails.
The question of where to camp is hard to answer. In the stunning Beartooth Plateau in the north of the state, you can camp next to glaciers and alpine meadows beneath rugged peaks at the highly-rated Beartooth Lake Campground for just $15 per night for a single unit. In Yellowstone, campers love Norris Campground, while Jenny Lake Campground in the Tetons gets multiple shout-outs. All of these sites have limits to the amount of time you can stay — often 14 to 16 days. Wherever you want to go, you'll find a place to pitch your tent.
When to go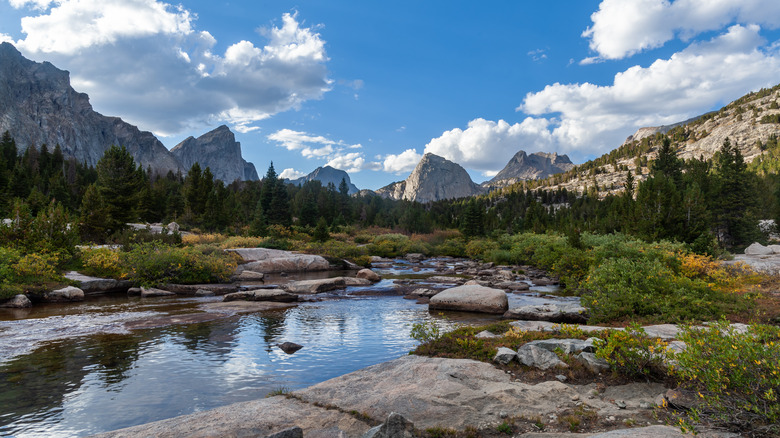 Peter Silverman Photo/Shutterstock
Summer is usually the best time to experience camping in Wyoming. The summer season runs from June to August, with July being the warmest month. The average temperature in July is about 72 degrees Fahrenheit, providing perfect weather for spending your days outside. July also sees the most daylight hours.
However, the summer months bring the crowds, so if you're planning a trip then, consider camping away from the hotspots of Yellowstone and Grand Teton. Summer is the perfect time to discover dispersed camping in other areas of Wyoming. Otherwise, think about visiting in September. The weather remains relatively warm, the crowds go home, and wildlife watching gets even better, according to Lonely Planet.
Many campgrounds close during the winter months. In Yellowstone, just one campground — Mammoth — is open year-round, while the others tend to close in September or October, opening again in May. Winter camping in Wyoming is not for the faint of heart with temperatures plunging to average lows of 30 degrees Fahrenheit.