Best West Coast Spots For Beach Camping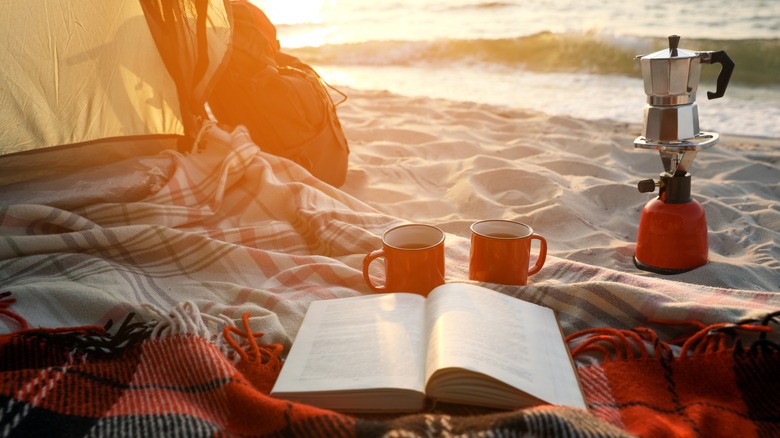 New Africa/Shutterstock
The West Coast is known as a haven for nature and beach lovers alike, which is why it's also a fantastic place to combine the two and spend a night camping on the beach. However, despite the seemingly endless miles of coastline, it's not a free-for-all when it comes to recreation and the sandy shores. There are quite a few places that allow camping on or near the beach, but you'll need to plan carefully and well ahead of time as spots are limited and reservations often fill up fast.
From the beaches of Olympic National Park in Washington State to the Oregon coast and central California, numerous state parks and nature reserves have a place to set up camp for a night or two or more! Below are the top 10 beach (or near beach) camping options on the West Coast. Some are drive-ins that let you set up your tent right there, while others require a hike, whether that be a short jaunt from the parking lot or a longer trek with all your gear. So consider your preferences and abilities when choosing a site and let's start browsing our options.
Second Beach, Washington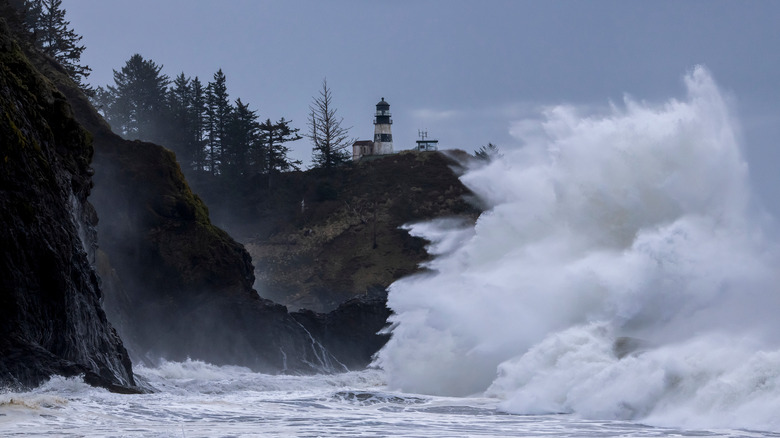 Dene' Miles/Shutterstock
On the coast of Washington, a few miles from Forks (aka "Twilight" Town), is some of the best beach camping in the state. The shores of Second Beach are the stuff of a nature-lover's dreams — bald eagles, seals, and numerous birds can be spotted on this craggy stretch of coast that's set against the rainforest. To find a spot to set up camp, you'll need to hike at least part of the 0.7-mile trail, luckily it's mostly flat. You'll need to purchase a Wilderness Permit ahead of time online before camping, as you can no longer purchase one at the trailhead or self-register. Also, note that the summer months between May 15 and October 15 fill up quite quickly. If you want to guarantee a campsite between those dates, make sure to register online as soon as permits open for the season.
To reach Second Beach from Seattle, you have a few options. You can take the ferry from downtown to Bremerton and then drive north on Highway 3 for about 25 miles before joining the 101 all the way to the coast. Alternatively, you can skip the boat (if wait lines are too long) and drive around Puget Sound to the peninsula via Tacoma/Olympia and then follow either I-5/Highway 8 southeast towards Aberdeen before looping north on the 101 to the coast or head north on the 16 before joining Highway 3 near Silverdale.
Cape Lookout, Oregon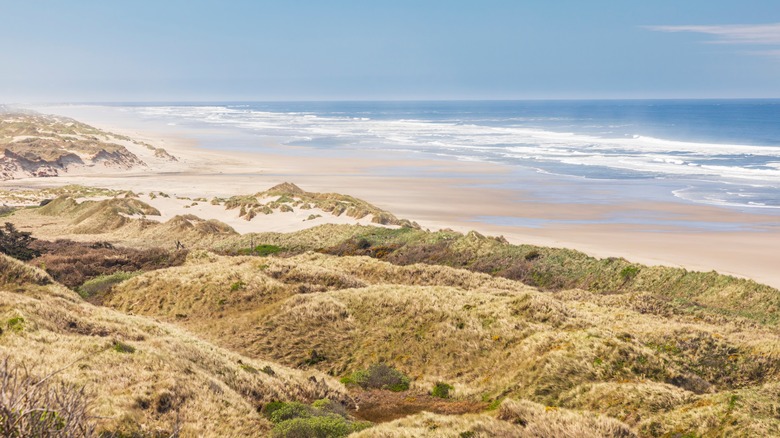 Danita Delimont/Shutterstock
Not far from Tillamook is Cape Lookout State Park, home to a 5-mile hike and camping facilities. The sites don't have ocean views, as a cobblestone retaining wall is in place to help combat erosion. But don't worry, you won't be far from the beach! The sandy shores are just a short walk away, but make sure to keep your eyes on the ground as the cobblestones that make up the barrier can be slippery, so mind your step. This is one of the most well-equipped beach camping spots, as showers and flush toilets are available. Water is also onsite. It's also a dog-friendly campground, but pups must be leashed unless at the off-leash part of the beach north of the camping area. In addition to tent spots, the site has hook-up spots for trailers, 13 dog-friendly yurts, and six cabins, half of which allow pets.
If you're arriving from Tillamook (or nearby), just take Highway 131 east and then south, you should arrive at the campground in just under 20 minutes. From Portland, drive east an hour and a half on Highway 26 and 6. And no matter which route you opt for, the drive itself will have amazing scenery as you'll pass waterfalls, evergreen trees, and the ocean while en route. You can usually reserve a place around six months in advance online and it's recommended to do so as Cape Lookout is one of the most popular beach-side camping sites on the coast.
Rialto Beach, Washington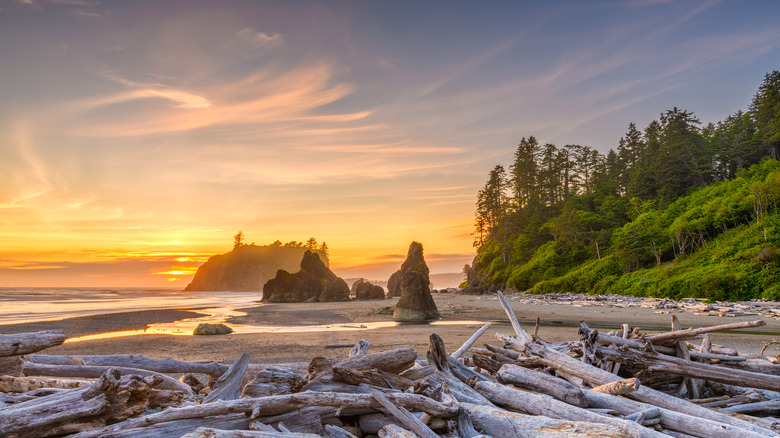 Sean Pavone/Getty Images
Rialto Beach is one of the most beautiful destinations on Washington's coast and even better, you're able to camp right on the beach. Although it does require a bit of a walk, roughly 0.5 miles from the parking lot along the sand. You can set up camp once you pass Ellen Creek, just a bit before Hole-in-the-Wall (a famous through cave you've probably seen on Instagram). Rialto is also one of the few beaches of Olympic National Park where dogs are allowed, so if you want to bring a four-legged friend, don't hesitate. Just note no drinking water is available here, so make sure to bring enough. There are also no toilet facilities.
A wilderness backcountry permit is required to camp at North Coast and Hole-in-the-Wall, so make sure to obtain one online before setting off. You'll be able to print the pass yourself at home, but note that reservations for the summer season, May 15 through October 15 only open a month before on April 15, at 7:00 a.m. EST. So, if you want to beach camp at Rialto during these months, be prepared to book early! Alternatively, if all the beach spots have been snatched up, you can camp at Mora Campground, three miles away. Just note it is also on a first-come, first-serve basis. Rialto Beach is as far west as you can go in Washington and Olympic National Park, just follow signs from Port Angeles or Forks.
Black Sands Beach, California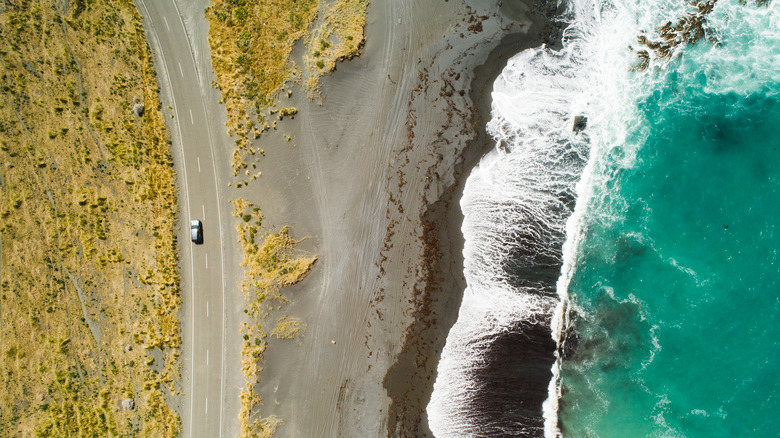 Nazar_ab/Getty Images
California's Lost Coast Trail is 25.5 miles along a pristine coastline from Matthole to Shelter Cove's Black Sands Beach, where sandy shores meet crashing Pacific waves. Named for the lack of development (a rarity in the Golden State) along beaches north of San Francisco and south of Eureka, this is a must for any nature-lover on the West Coast! There aren't drive-in camping spots, so don't choose this option if you're not up to backpack. Due to this, you'll need to be prepared to bring all necessary equipment including water, and to dig your own toilet locations. You can hike along the ocean for hours and camp in designated spots, just avoid private property, which will be marked by signs.
The unique black sand beaches set against the nearby mountains make for breathtaking scenery, although it's not the friendliest area. The Pacific Coast Highway does not pass through this area due to the difficult landscape, thus the drive from San Francisco, Eureka, LA, or Sacramento takes longer than you'd assume looking at a map. Budget at least four hours from Northern California cities and the better part of the day from SoCal. Most days you'll be treated to wildlife spotting that could include elephant seals, sea lions, eagles, deer, and more. And don't forget to purchase your backcountry permit ahead of time, as you won't be able to do so upon arrival. Additionally, don't forget to check tide forecasts, as available beaches to hike can change drastically.
Gold Bluffs Beach, Prairie Creek Redwoods State Park, California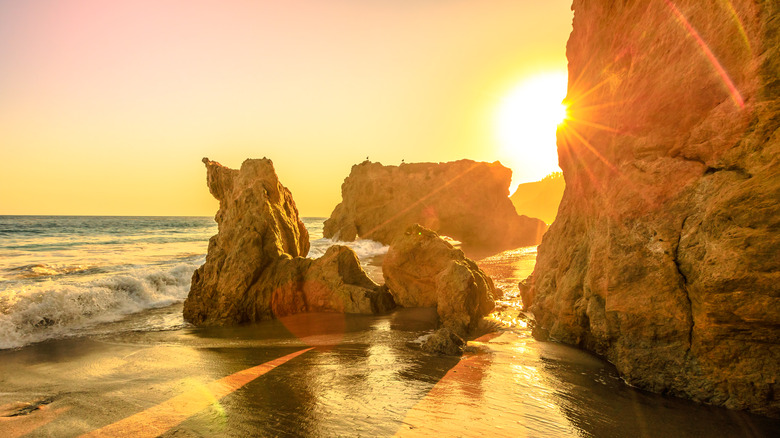 Benny Marty/Shutterstock
About an hour north of Eureka is Prairie Creek Redwoods State Park, which houses nearly 50% of California's redwood trees. The real star though is Gold Bluffs Beach, named for the golden sand on the 10-mile stretch where it sits. The best part is you can camp right on the dunes and have a beautiful view of the pristine Californian coast. Wake up to the sound of crashing ocean and jagged cliffs along the beach. If you have additional time, you can explore more of the park and walk among the giant redwoods. And if you're really lucky, you might just spot the Roosevelt Elk who graze this protected area!
You can bring your dog to camp on the beach, just be aware they, unfortunately, aren't welcome on any park trails. Also, the facilities are limited as there is no water available or sewage facilities at the campgrounds. You don't usually need a permit to camp, but California State and National Parks will require a permit from May 1 to September 30 to reduce visitor volume. The park and grounds are relatively easy to reach and there are cabins if you don't want to stay in a tent. From San Francisco, just take the 101 north for about five hours, from Eureka you'll have a shorter drive, but both are scenic!
Montaña de Oro State Park, California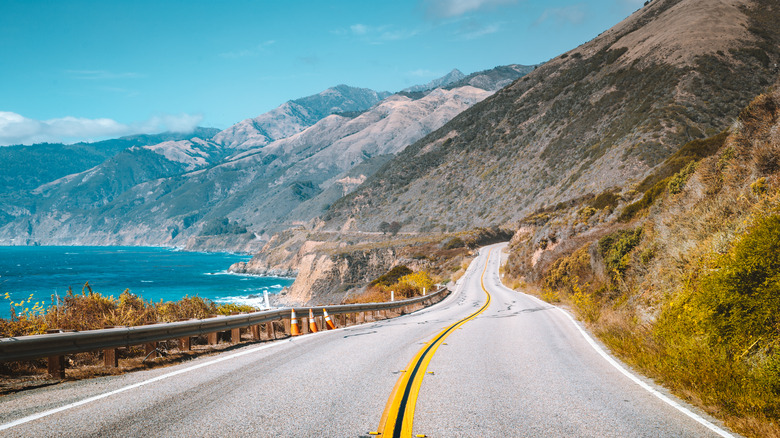 canadastock/Shutterstock
The Central Coast of California is quite a special place and home to a varied coastline that includes sandy beaches, rugged cliffs, sweeping plains, and hills above. The best place to truly appreciate the nature of the area is Montaña de Oro State Park, one of the state's largest parks, where you can camp right across from the beach. Islay Creek Campground is the closest to the ocean, there are 50 camping sites in the warm months and 25 in the winter. These are mostly drive-in car camping spots, all of which have picnic tables, fire rings, water, and toilets nearby. There are also a handful of primitive campsites which require backpacking with all your gear.
If you want a different type of experience, you can opt for one of the Environmental Campsites a bit farther away. All of these are hike-ins, anywhere from a few hundred yards to a half mile. There is no water available at these and pit toilets only. Campfires are not permitted at any of the campgrounds that must be backpacked. Dogs are allowed at campsites but not on trails or beaches, except for Spooner's Beach. Reservations are highly recommended, especially between June and August. You can make a reservation up to six months ahead of time online. The park is just under a four-hour drive south on the 101 from San Francisco and three hours north on the same highway from LA.
Carlsbad State Park, California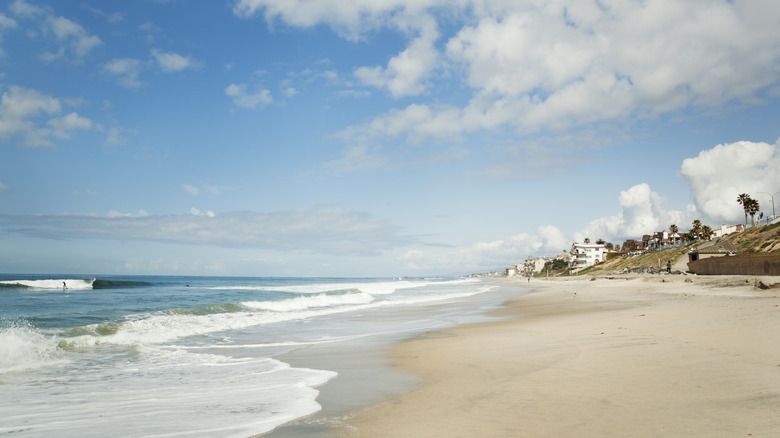 Yinyang/Getty Images
Named one of the area's best beaches, Carlsbad State Park is the stuff of SoCal dreams. Set up camp on a bluff directly above one of the area's most beautiful beaches and fall asleep to the sound of crashing Pacific waves. The park has campsites at the South Carlsbad State Beach, with fire pits, toilets, water, and even hot showers available. The park even has a small shop called "The Camp Store" where necessities like firewood and drinks may be purchased. It also serves pizza and alcohol should you want a fancier "camping" experience. During your stay, you can take advantage of numerous activities at the beach, where surfing, fishing, and beach sports like volleyball are all regular occurrences.
Dogs are allowed at the campground, but unfortunately not on the beach, and they must be kept on a leash at all times. Like many California beaches, you can reserve here up to six months in advance. As this is one of the state's most popular campsites, it is recommended to do so early. The park is accessible off of I-5, just under 100 miles south of LA, a drive that should take about an hour and a half without traffic. So, realistically two hours or more unless you have amazing luck on SoCal roads regarding congestion.
San Juan Islands, Washington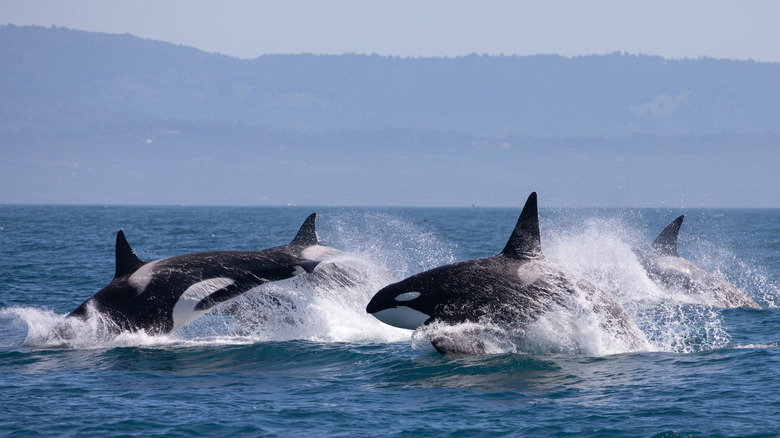 Tory Kallman/Shutterstock
The most beautiful islands in Washington are home to numerous seaside camping and glamping spots, depending on the type of traveler and camper you consider yourself. Each island offers a different experience, so choose according to what is important to you and your camp group. San Juan, the main island, has beautiful grounds on the west side of the island available at the San Juan County Park. Enjoy amazing views of the Haro Strait and the Strait of Juan de Fuca and even Vancouver Island. From May to September, you'll want to book in advance, from November to March the sites are first-come, first-serve. Water, toilets, picnic tables, and grills are available at all sites here. 
Alternatively, you can opt to camp at Lopez Island where campsites all offer stunning views of the water and neighboring islands. The most accessible is the Spencer Spit State Park, where you can drive right to one of the 37 campsites, all complete with water and nearby toilets. Up the island, Odlin County Park also has campgrounds available, with water and toilets as well. Note for both sites on Lopez, reservations are recommended in the summer and if you opt to visit in the off-season, the water may be shut off and staffing limited. Finally, Orcas Island has beautiful views of Mount Constitution, and the best place to camp here is Moran State Park. The park has numerous campsites on the shores of Cascade Lake, with views of the surrounding ocean and islands.
Beverly State Beach, Oregon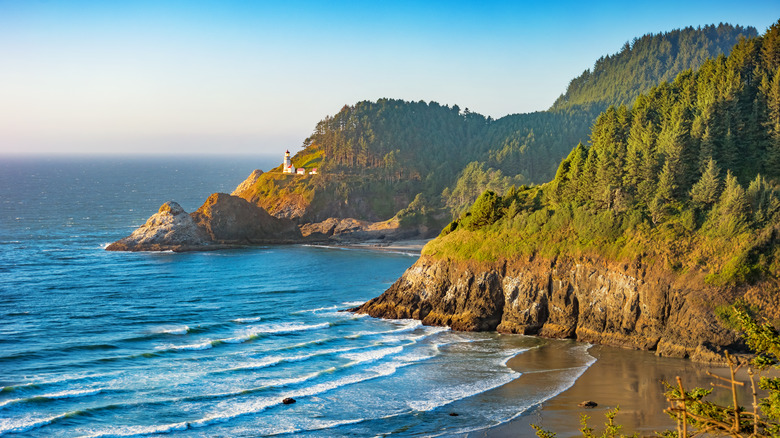 Benedek/Getty Images
Not far from Newport, on Oregon's famous coast is one of the most magical campgrounds in Oregon, Beverly State Beach. The campsites are right on those iconic Pacific Northwest dunes, with the ocean crashing in the background to lull you to sleep each night. As one of the state's largest campgrounds, the beach park is home to around 300 campsites and even a few yurts for those of you looking for a less rustic experience. There are even hot showers and water available. You'll be close to sandy shores, amazing hiking trails, and wildlife such as whales, otters, and whatever you come across in tidepools.
While a decent size, you'll still need to be prepared to reserve six to twelve months in advance, as slots do still fill up quickly. If you plan to visit in the summer, it's recommended to get your spot closer to a year ahead of time. Beverly State Beach Park is located right off Highway 101, just north of Newport and south of Lincoln City. If you're arriving from Portland, it's just over a two-hour drive via I-5 and Highway 18 and the 101.
Channel Islands National Park, California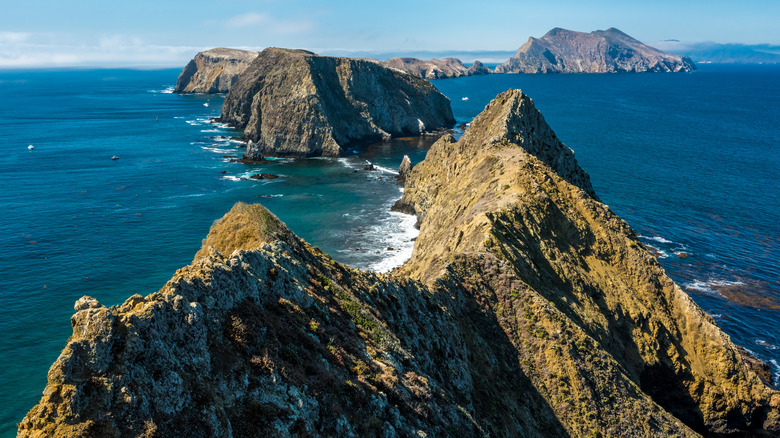 Kellyvandellen/Getty Images
These islands off the coast across from Santa Barbara and Ventura are true gems for all types of nature lovers. And if you're looking to camp, you're in luck. The national park only includes five of the eight islands, but there is one campground on each of the five; Santa Barbara, Santa Cruz, San Miguel, Santa Rosa, and Anacapa all have sites accessible from the ferry terminals. Santa Cruz and Santa Rosa also have backcountry camping, but you'll need to secure a permit beforehand. Note that all islands are car-free, so whatever you bring with you will need to be prepared to carry.
The islands are only accessible by (passenger-only) park boats, so you'll need to plan ahead. All visitors will need to be prepared for variable conditions upon landing, some islands require a small boat for the final stretch, often followed by a short climb up a ladder to the pier. The hour-long journeys to Anacapa and Santa Cruz run year-round services, but not every day of the week in the low season. The three-hour trip to Santa Rosa and four-hour ride to San Miguel are serviced from April through early November, with variable schedules from month to month. Finally, Santa Barbara, a three-hour trip has transportation from the spring through the fall. Remember that reservations on the islands are required if you wish to camp (although no fee is currently charged for day visits). You can do so up to six months in advance.