What To Know About Airbnb Cleaning Fees Before Your Stay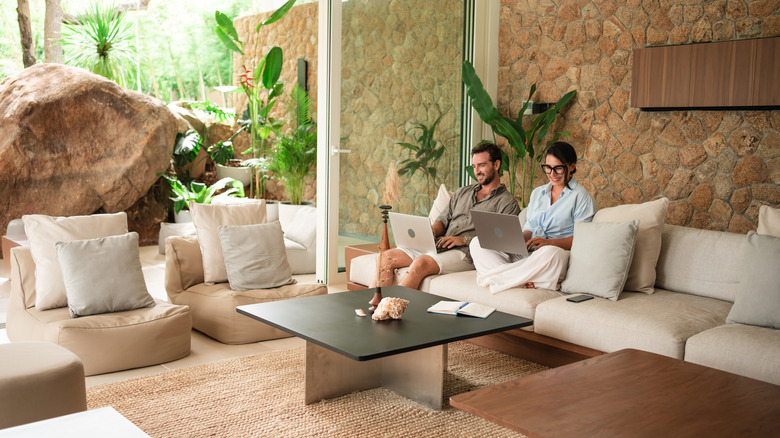 Johnce/Getty Images
Airbnb rentals offer guests short-term or long-term stays in homes and condos all over the world. The platform is fairly simple, as it allows you to plug in your desired location, dates and length of stay, and number of guests. Various filters let you customize price range, property type, amenities, and more. Yet, when it comes to the Airbnb model, there are some curveballs that anyone booking should be aware of.
When selecting your Airbnb, you'll notice that a one-time cleaning fee is added to the grand total of the nightly rate. This allows rentals to be cleaned in between guest stays. As Airbnb's site states, the price is decided by the host, rather than the company. Because of that, there can be a lot of unpredictability and variation. Your grand total may have skyrocketed due to just the cleaning fee itself! There's no doubt that this loophole can be tricky to navigate. So, here's what else you need to know about Airbnb cleaning fees.
Cleaning fees can vary greatly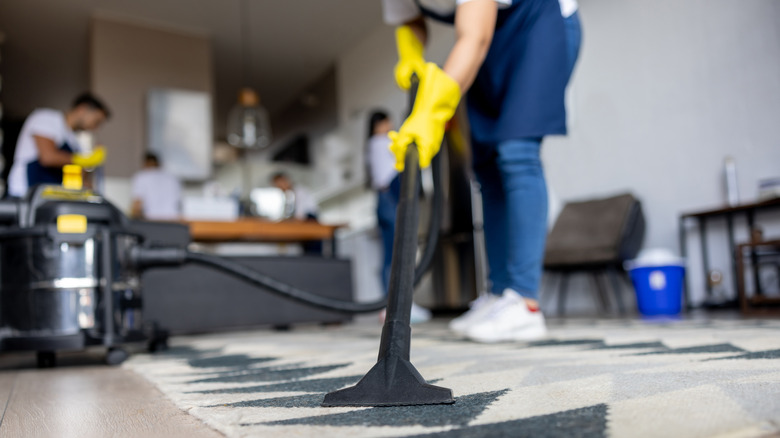 Hispanolistic/Getty Images
According to a 2022 study by NerdWallet, the median cost for an Airbnb cleaning fee was $75. The analysis also found a link between the base rate and cleaning fee. In other words, a pricier night will typically correlate to a more expensive cleaning fee. Yet, some places with a higher base rate can charge little to nothing for cleaning. The research concluded that 14% of the listings didn't have any cleaning fee and 34% of them set one that was 20-29.9% of the room cost.
As cleaning fees can significantly raise the price of a stay, it's important to compare your options. For example, numerous properties in Edinburgh, Scotland set a nightly rate of $85 (for a one-week stay). While one property set a $67 cleaning fee, another place didn't charge at all for cleaning. Keep in mind that service fees can also cause the overall price to rise drastically. However, being flexible with your Airbnb stay can help reduce the overall cost. In some cases, hosts provide discounts for weekly or monthly stays. So, explore several possibilities before reserving your spot.
Airbnb has made changes with cleaning fees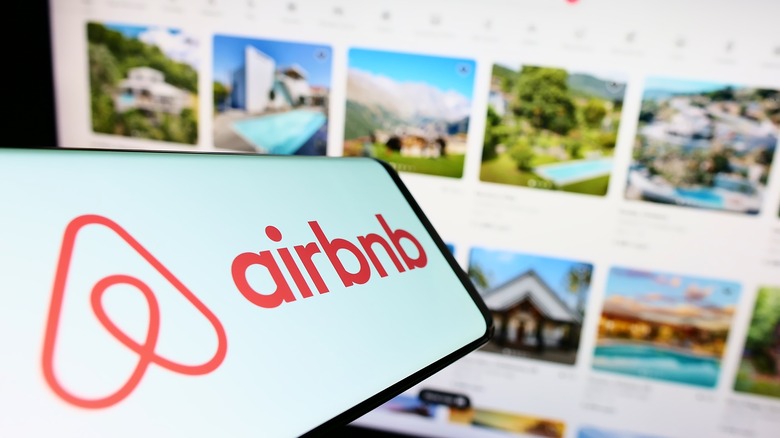 T. Schneider/Shutterstock
Good news! As reported by The Oregonian in December 2022, Airbnb took some major steps to make improvements with cleaning fees. These included providing more transparency for guests and offering incentives for hosts to lower them or get rid of them entirely. In December, Airbnb created a search option that shows results for all fees, rather than just the nightly rate. In November, the company changed its search algorithm so that listings were organized by total prices, as opposed to just arranging by nightly rate. In a statement (via The New York Times), the company said, "This means that for similar listings in the same area, those with the highest quality and best total prices will rank higher in search results." This could encourage hosts to reduce or scrap cleaning fees.
Another new policy focuses on "reasonable" cleaning requests before guests leave. Any simple task that supports safety, health, and energy standards is expected. This includes taking out the trash and turning off the lights. Yet, duties like taking sheets off the bed and handling the laundry are considered unreasonable. These checkout requests must be displayed to guests before they book their stay. All in all, Airbnb is making a stronger effort to satisfy guests and hosts in regards to cleaning fees.