15 Places In Las Vegas Where You're Most Likely To Spot Celebrities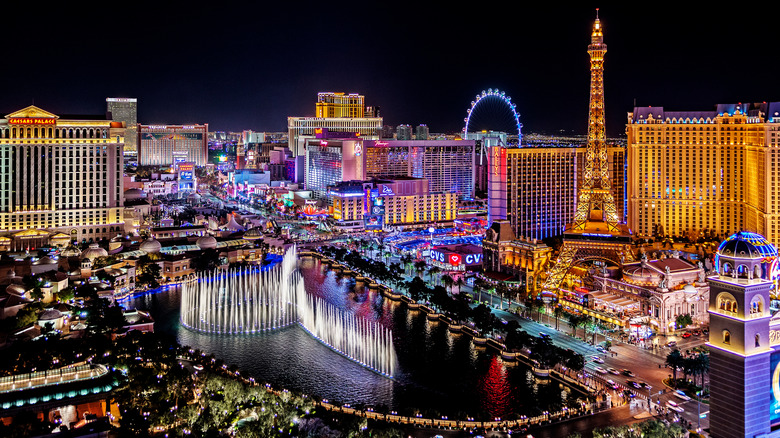 randy andy/Shutterstock
As far as unique destinations go, Las Vegas is one of the most eccentric cities in the world. Even though it's relatively accessible to the everyday man, Vegas is also the chosen home of a number of celebrities who share the same kind of eclectic personality of the city itself. Nicolas Cage, Mike Tyson, and Criss Angel are among the many world-famous celebrities that call Sin City home. Travelers who find themselves here may have an increased chance of catching sight of these familiar faces, but plenty of other celebrities have Vegas on their radar for a fun-filled evening or vacation. Of course, you'll also see plenty of Elvis around the city – is that an impersonator or the king himself living his best post-death life? We'll let you be the judge.
Before we dig into some of the more prevalent spots to come across the A and B listers, it's important to talk about ethics and privacy when it comes to celebrities. Remember when visiting Vegas that celebrity sightings are more common here than in most other cities, but it's still something of an unspoken rule that if you see a star running around living their daily lives, you more or less should leave them to their own devices. No one wants their Starbucks run interrupted by giddy fans – at least let them have their coffee first!
Gordon Ramsay Steak
Celebrities, like any of us, love great food and there's arguably no one better in the game than Gordon Ramsay. The famous chef has a total of six restaurants in Las Vegas and his upscale steak house Gordon Ramsay Steak is frequented by celebrities looking to have a nice sit-down meal.
The celebrated bar and restaurant does have a private dining room, so it's very possible that some stars, especially if having a get-together, will be hidden away from the main dining area. Even so, you may find yourself seated next to a celebrity couple in the main dining room. Though there doesn't seem to be a large waitlist for reservations, it is recommended you make one ahead of time if you're planning on indulging in a Gordon Ramsay-crafted steak.
It's important to note that while the menu is certainly up to his standards, Gordon Ramsay isn't actually the one taking the heat in the kitchen, and chances of seeing the chef are slim. Even without the lack of the explosive TV personality's colorful language, a dinner here pretty much guarantees an epic experience for your mouth and the possibility of spotting one of your favorite celebrities sure sweetens the deal.
The Cromwell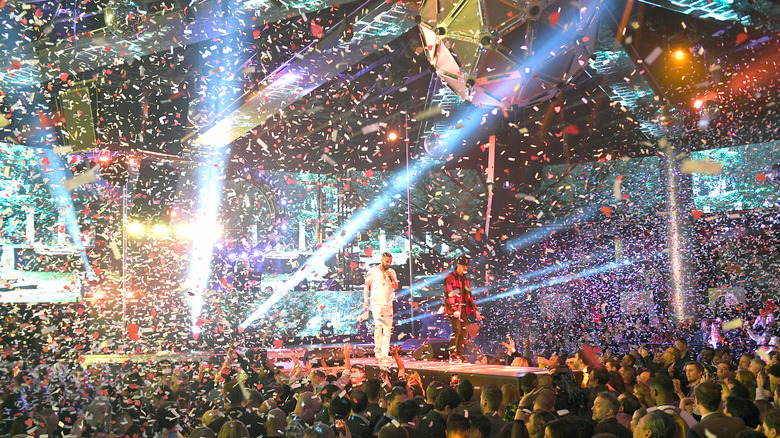 Bryan Steffy/Getty Images
The latest and hottest clubs are, of course, going to attract the celebrities that like to party, and Drai's Beachclub and Nightclub on the rooftop deck of The Cromwell offers the best of both worlds in that it is a nightclub but also has a poolside area that is open during the day. Drai's Nightclub regularly plays host to some of the biggest rappers and DJs on their stage, so it makes sense that other celebrities would be drawn.
The club is a big attraction for hip-hop fans and artists, attracting people like Nikki Minaj, who has been seen at Drai's frequently. Comedian, actor, and businessman Kevin Hart has also been spotted having a good time at this Vegas club.
The rooftop party spot isn't just a hot place to catch sight of a star. The Cromwell hotel also hosts plenty of guests who book a room in anticipation of partying up top. The rooms are lavish with more colorful designs than most upscale hotels, a style that reflects the big personalities that stay there. The Cromwell casino also includes a sports book lounge, which certainly doesn't hurt its appeal for sports fans and gamblers alike.
Palms Casino Resort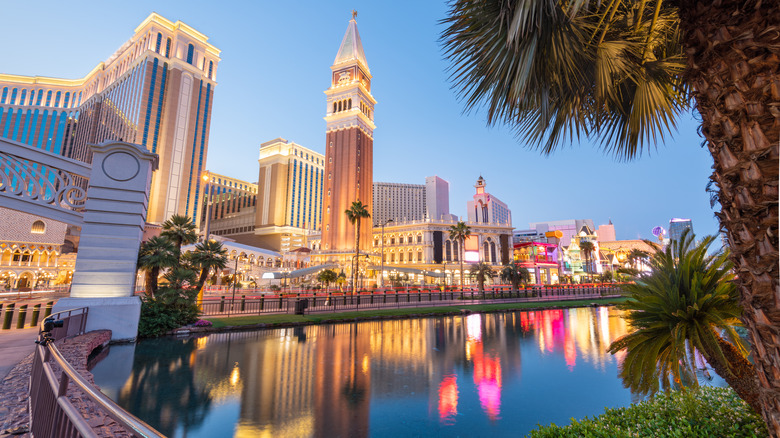 Sean Pavone/Shutterstock
The Palms Casino Resort has quite the unique history when it comes to being in the limelight, and celebrities have certainly been taking notice and patronizing the establishment for a while. Stars like Eminem and Jessica Simpson even lived at the resort at one time. Now the Palms has new ownership and quite a bit has changed, but it still remains a place where you can run into a celebrity or two.
The Palms is known for its unique extravagant suites that are perfect for small celebrity gatherings. The Kingpin Suite in particular catches the eye of many a celebrity, like Pete Davidson, as the hotel room comes with one defining feature typically reserved for entire buildings. The suite comes furnished with two full bowling lanes, a private bar, and a DJ booth. Alternatively, the Hardwood Suite contains a full basketball court and professional locker room with two stories of living space, a private bar, and a whiskey room.
Both suites naturally come with a whopping price tag, practically making them exclusive to big-name guests. If you're staying at the Palms, though, you may have a run-in with one of the suites' temporary residents.
Aria Resort and Casino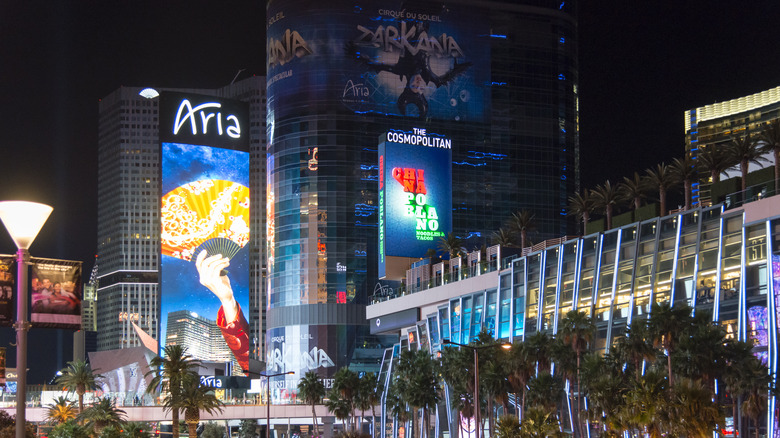 Tobiasjo/Getty Images
Located in the heart of Las Vegas on the neon strip, ARIA Resort and Casino seemingly has everything needed for entertainment in Sin City, including both a day and night club. Considering the massive scale of the resort, which includes over a dozen food and beverage outlets, a spa, and spacious clubs, the chances of being in the right place at the right time as a celebrity may seem less than plausible, but we can narrow their regular haunts down a bit.
ARIA has been a place of respite for classic names in Hollywood, like George Clooney, as well as younger names in pop culture, like reality TV star and model Kendall Jenner. A good place to spot them is CATCH, a popular celebrity restaurant within the resort that not only serves top-tier sushi, but steak and other seafood as well.
The Jewel Nightclub is another top spot to run into celebrities within ARIA, but spotting a big name will likely be the last thing on your mind once you're a part of the huge parties that take place there. Great music, flashing lights and lasers, and plenty of crowded dancing make for a great time — Drake and Kourtney Kardashian apparently think so, because they have been seen at the club frequently.
The Bellagio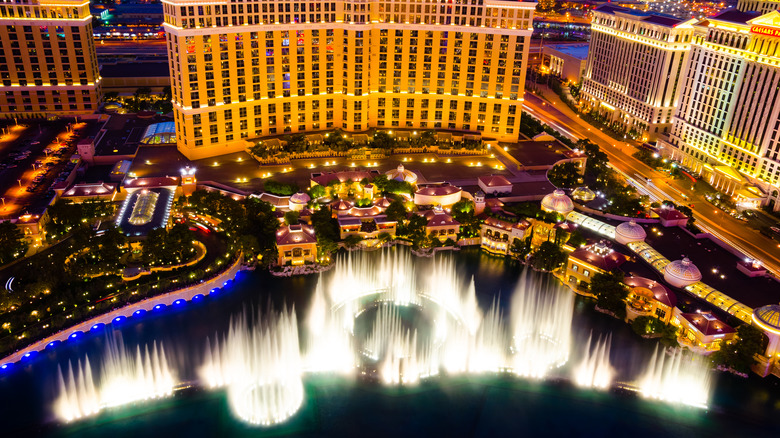 Photoquest7/Getty Images
Ah, the Bellagio! Chances are, you're familiar with the resort even if you've never stepped foot in Vegas. The hotel and casino is practically the centerpiece of the strip and has been featured in plenty of cult classic films and TV shows, including "Ocean's Eleven," where Brad Pitt and George Clooney ultimately rob it. The fountain has also been featured in pop culture, making it a recognizable Vegas landmark — have you even visited Vegas if you've never perfectly timed a photo to the fountain's epic water shows?
Widely thought to be one of the most luxurious and upscale establishments in Las Vegas, the Bellagio is an obvious choice for the rich and famous as well as those who want to live like an A-lister while in Sin City. Not only does the resort feature a popular hotel and casino, but the regularly scheduled live entertainment is almost unmatched. Cirque du Soleil shows are regularly found at the resort and there are plenty of private lounges that big names make use of.
The popularity of the Bellagio along with its many attractions that bring in visitors from all over the world make it a little less likely that Vegas residents or frequent flyers would hang out here regularly, but you still may get lucky and see a familiar face during your fun-filled time here. Hanging out at The Mayfair Supper Club, the Bellagio's upscale dinner lounge, may up your chances of being in the vicinity of a star.
Caesar's Palace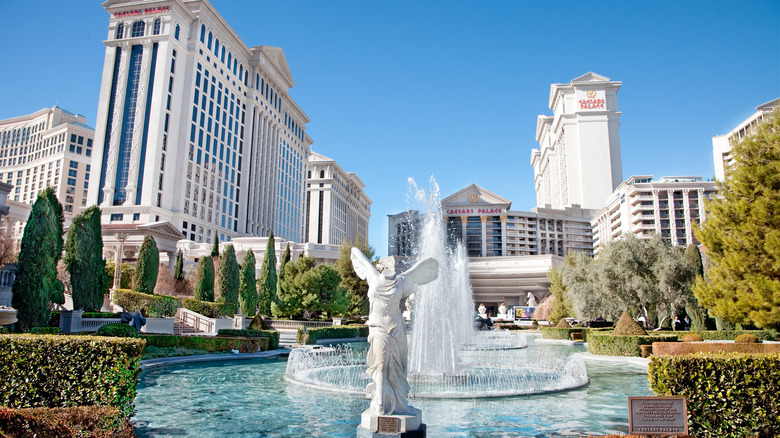 Cybernesco/Getty Images
Caesar's Palace is one of the most well known hotels and casinos in Sin City and has been the location of many film and TV sets for projects like "The Hangover," "Iron Man," and "Rocky III." The stars don't just visit the resort on set, though, as Caesar's Palace is as popular a hangout for the rich and famous as it is for visitors of the great city of Vegas.
Vegas resident and master of eccentricism Nicolas Cage frequents Caesar's Palace and you probably have a better chance of seeing him somewhere on the premises than anywhere else in the city – unless you have the lowdown on his private residence, which we would really not recommend unless you happen to know the man personally. The "Unbearable Weight of Massive Talent" star and inspiration has been known to frequent the Forum Shops either at one of its restaurants or exploring the shops. Cage also is known to take on roles that have him filming in his home city, so it's safe to say that he loves Sin City and he's actually the perfect celebrity to take on symbol status for the eclectic destination.
A Little White Wedding Chapel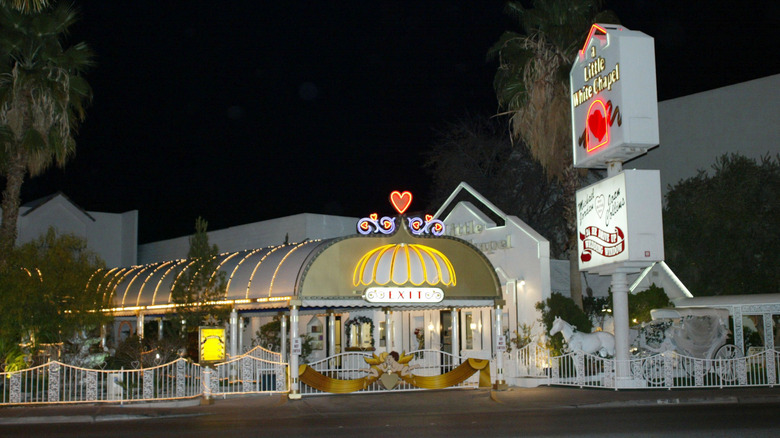 Frederick M. Brown/Getty Images
If you're headed to Vegas to tie the knot and are hoping to not only share a wedding venue with a celebrity but also possibly spot a famous pair getting hitched, choosing A Little White Wedding Chapel will likely give you the best chances of it. While not all celebrity couples who have gotten married have done so at the chapel, quite a few have –- including the on-screen iconic couple from "Friends."
One of the most notable celebrity weddings that have taken place there was decades in the making – Jennifer Lopez and Ben Affleck finally said 'I do" at the little Vegas chapel after rekindling their iconic relationship, almost exactly 20 years after initially getting engaged in the early 2000s. Frank Sinatra and Mia Farrow are also among the famous couples married there, as well as Bruce Willis and Demi Moore.
The chapel is a major Las Vegas destination for weddings and they have varying packages that can even include an Elvis impersonator. While there is no guarantee of seeing any celebrities other than The King, stranger things have happened than an A-lister popping in for a ceremony.
Harry Reid International Airport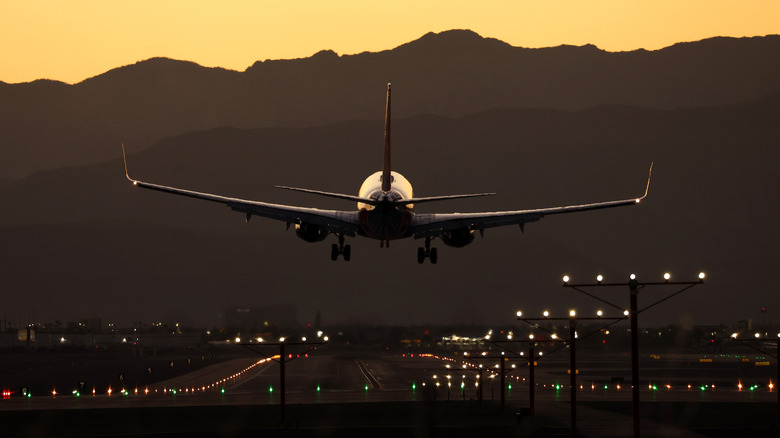 Justin Sullivan/Getty Images
Unless splurging for a private jet, celebrities have to go through security and wait around the airport just like all us normies. It only makes sense that you'd have an increased possibility of running into a celebrity at Las Vegas' main airport – you may even be able to catch one of the city's many resident celebrities here if they're on their way out.
In fact, it appears as though the airport is getting even more business in recent years, with 2022 breaking records for the number of people passing through. Sure, the vast majority of these people are your typical tourist coming in from far less exciting destinations than Vegas, but there are bound to be some celebrities thrown into the mix as well.
Now, there are some celebrities who opt for a more luxurious, private experience when flying. Even if a high-baller traveler does decide to take a more private flight, there is a remaining chance they come through Harry Reid. Everyone has to get to Vegas somehow, so keep an eye out when you are traversing through the airport upon your arrival to Sin City.
The Mirage/Hard Rock Hotel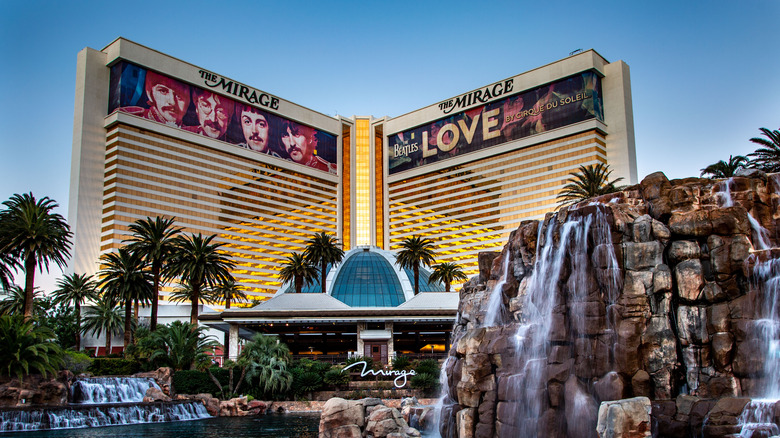 George Rose/Getty Images
The Mirage has been an important part of the Las Vegas strip for over 30 years and quite a lot of celebrities have passed through its doors. The hotel is still a mainstay on the strip and draws in big names, but things are about to get a little more rock n' roll there as Hard Rock recently acquired and is rebranding the building. A lot of big names that come and go to and from Vegas are performers, as Sin City is an entertainment city and provides for its own. It only makes sense that an upscale resort dedicated to music and the arts is a popular destination for people in the industry.
The Hard Rock name itself has celebrity status, with over 50 years of history in the entertainment industry and locations all over the world. Their recent acquisition of The Mirage is vastly important to the Vegas strip, as their plans to remodel the hotel into a giant glass guitar will alter the appearance of the strip in a way it hasn't been changed in quite some time.
As the hotel continues to change there will certainly be curious travelers who want a peek at everything new and shiny happening there. While celebrities certainly already are drawn to the Mirage, once the massive guitar goes up they are likely to flock there to experience the new attraction.
The Cosmopolitan
The Cosmopolitan Resort is one of Las Vegas' most luxurious and elegantly chic hotel destinations, and with its branding portraying it as a more sexy option in Vegas, it appeals to younger patrons including some pretty well known names. The attractive resort also draws in some of the most styled and modernly iconic women in pop culture, like Kim Kardashian and Beyoncé.
STK Steakhouse is located within the Cosmopolitan and is a favorite of the rich and famous, and for great reason. Travelers set on sharing space with stars might as well eat well while doing it, and the steakhouse has a menu that exudes luxury with oysters and king crabs as well as different cuts of steak. The opulence of the menu is matched by the restaurant's decor, which is modernly eclectic and a sight to behold. Every sense is challenged and catered to here, leading to an experience that is sought after time and time again – no wonder big names James frequent the establishment.
Wynn Las Vegas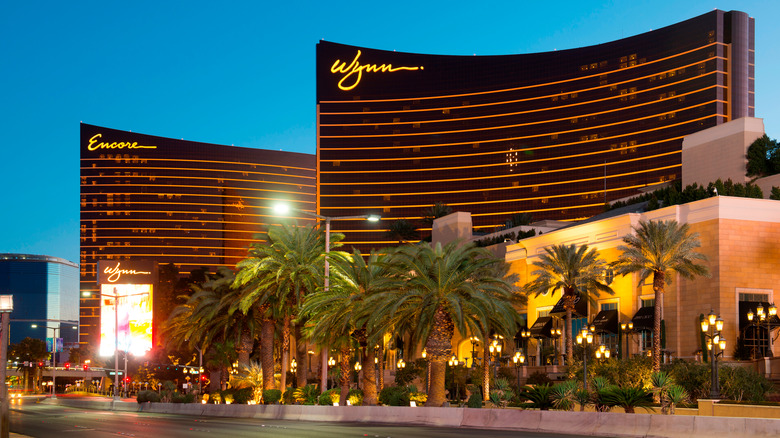 Wangkun Jia/Shutterstock
There are plenty of party spots in Las Vegas that seem to attract celebrities from all industries, and the Wynn has a pretty spectacular one. The hotel's Encore Beach Club is open both during the day and night and has an attached night club that many celebrities have patronized, Michael Phelps, Michael B. Jordan, and Benny Blanco have all been seen partying there.
If celebrities are going hard in the club at night, they're doing the same on the green during the day. The Wynn's golf course is another attraction that seemingly appeals to celebrities and the likes of Justin Timberlake and Travis Kelce. It's not just recent days that the rich and famous have found the Wynn's golf course to be a desirable destination, though, as the Rat Pack reportedly played on the course in their heyday.
The Wynn Resort, like many others on the strip, also consists of a hotel and casino that naturally see some use from those big names that take advantage of the resort's other amenities. With so much entertainment and accommodations available in one place, an entire Vegas trip can take place without ever leaving the Wynn, which may be just how celebrity guests like it.
MGM Grand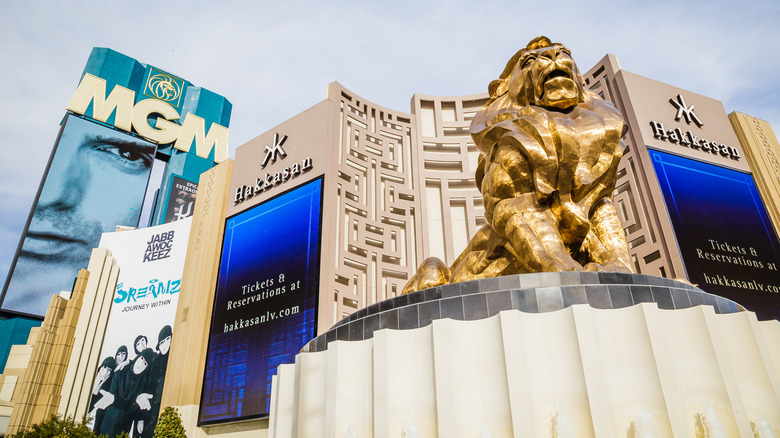 Jean-luc Ichard/Getty Images
MGM Resorts is a major player when it comes to Vegas, as the company owns a huge chunk of the luxury spaces in the city and on the strip. MGM Grand is undoubtedly the company's largest single hotel and, in fact, the largest in the world. Celebrities are known to do it up big, so of course, MGM Grand is very much on their radar for not only a good time but a grand one.
Hakkasan Nightclub is one of the biggest reasons the stars flock to MGM Grand. The nightclub follows the resort's brand in going big and being the best at what it does, as it has been voted either the very best or one of the best in a number of long-time revered publications like Rolling Stone and Playboy.
MGM Grand is also home to three restaurants, each by renowned chefs, and a number of live entertainment shows. Like anyone on vacation, celebrities hone in on great food and exciting spectacles, making staying and playing at the resort a no-brainer.
Shadow Creek Golf Course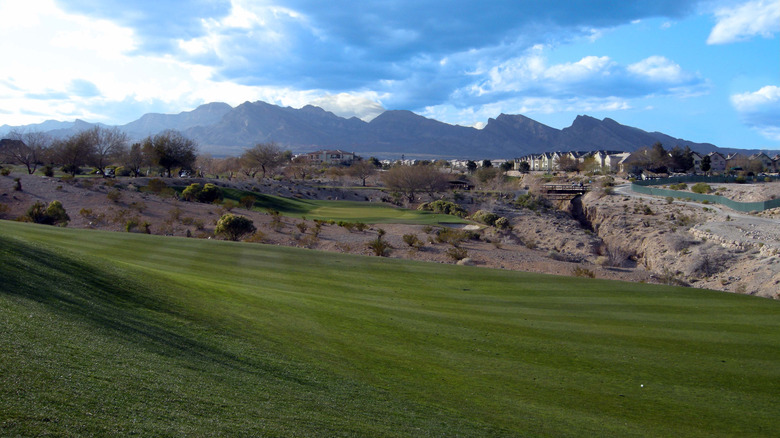 Raylorxp2/Getty Images
Owned by MGM Resorts but located a good half hour north of the hotel, Shadow Creek Golf Course is one of the preferred courses of big-name celebrities. Golfing here allows them to get off of the Strip while still receiving the same kind of luxury accommodations they would be used to if staying at MGM Grand.
The course is apparently a good one because professional golfers have come from all around to play on the green. Not only do the pro golfers come, but celebrities who've got a mean swing show up to golf a bit as well. The only real catch, though, is that only guests of MGM Grand are able to take part in playing at Shadow Creek Golf Course. While the resort is certainly not all-inclusive with the golf course actually costing a pretty penny to play, the exclusivity of both the course and the other businesses under MGM Resorts gives the establishments even more of a high-class feel.
The Venetian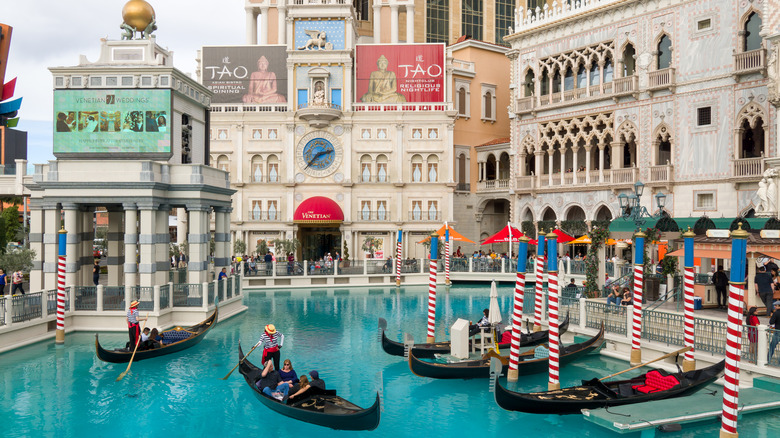 Wolterk/Getty Images
Not only is the Venetian a luxury hotel, but it's a huge resort that provides basically anything a guest would need for a top-tier vacation. Celebrities come in all forms and, just like an everyday person, not all of the rich and famous enjoy a late-night partying. While the Venetian certainly does offer a nightclub that draws in some big names, the resort's shopping district The Grand Canal Shoppes is fit for any who follow a grand lifestyle.
TAO, the Venetian's own nightclub, is a very popular scene for celebrities and anyone who wants to be in the middle of the Las Vegas nightlife scene. The club features 10 thousand square feet of party space with three bars and private areas that celebrities make good use of. The Grand Canal Shoppes are a completely different vibe but are no less elaborate in their design or lavish. In fact, you won't find much else like it anywhere unless you consider what's left of ancient Venice in Italy – the shopping mall and canal exude opulence and we don't blame any famous person for shopping surrounded by all the eye candy here.
Madame Tussauds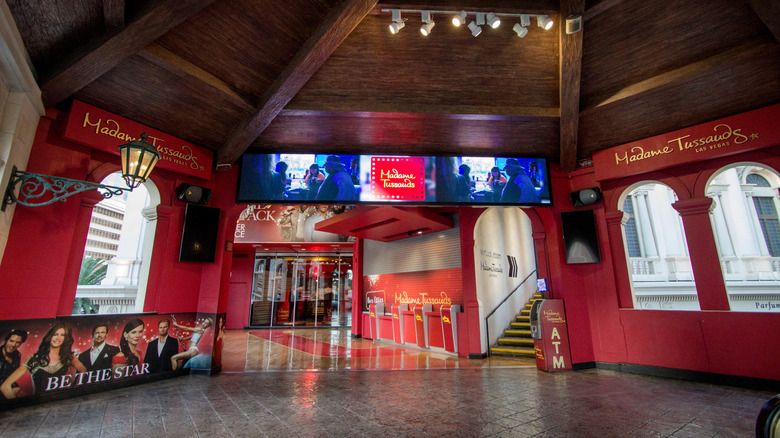 Ehrlif/Getty Images
No, we aren't trying to be funny here – well, maybe just a little bit. Madame Tussauds is home to quite a lot of celebrities if you're counting their wax Doppelgängers, that is. However, celebrities do tend to visit the sculpture of their like-ness at least once. The unveiling of wax figures can be a special time for a star who was chosen to be represented by the world-famous chain of wax museums.
Madame Tussauds has locations in some of the biggest destinations in the world, all with varying celebrity wax figures in residence. When it comes to Vegas, though, you can view Miley Cyrus with her wrecking ball, Tupac, Elvis Presley, and a frequent visitor of Sin City, Drake.
If staring at a still life of a real person creeps you out, how do you feel about the still lives of fictional people? Madame Tussaud's is home to a Marvel exhibit where you can see your favorite superheroes in the flesh — well, in the wax at least. Besides ComicCon, it may be your best chance at seeing Captain America or Spider-Man on full-scale.