12 Unique Places To Get Married In Las Vegas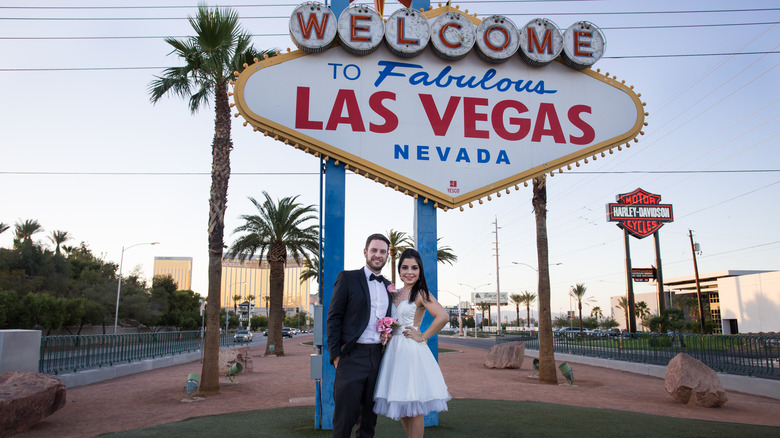 Victoria Ditkovsky/Shutterstock
For a place widely known as Sin City, Las Vegas has been the beginning of many a union. In fact, apart from gambling, tying the knot is one of the most popular things to do in Vegas. Thousands of weddings happen in the city every month with people traveling from all over just to get hitched Vegas style, and there is nowhere else that does a wedding quite like the famous desert destination. From Elvis impersonators and wildly themed chapels to beautiful, luxurious weddings on the strip, Las Vegas is an unforgettable and extraordinary place to get married.
Whether you are getting married on a whim or have planned on tying the knot in Vegas since the very beginning of a long engagement, Sin City has the perfect venue for you and your betrothed. With so many options to choose from, it can be hard to narrow down just the place that fits your dream wedding — so we've compiled a list of venues that range from eccentric to opulent — seriously, the possibilities for getting married at unique places in Las Vegas are endless.
Viva Las Vegas Chapel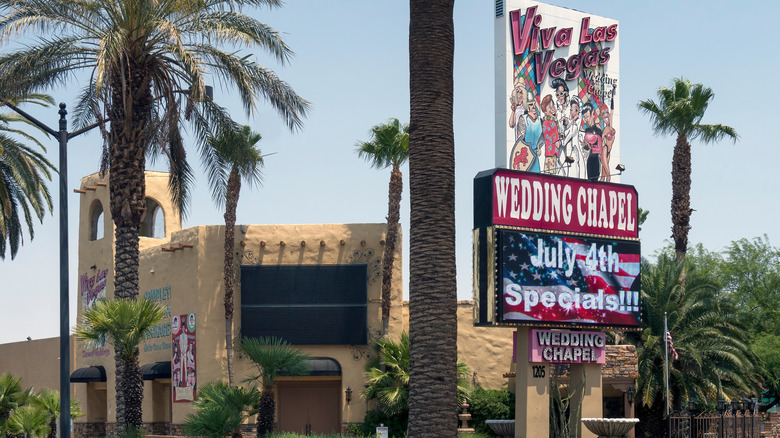 Chris Lawrence Travel/Shutterstock
We're starting the list off strong with one of the most stereotypical Las Vegas ways you can possibly get married. Viva Las Vegas Chapel offers a wide range of options when it comes to planning your Vegas wedding, including some pretty wild themes. You, of course, can have an Elvis impersonator marry you and your partner, but there are also options that will have you saying "I do" in space or among the undead — at least, that's what it'll seem like when everyone is decked out in costumes. If you want an even bigger entrance to the altar, the venue will lend you a Harley to ride through the chapel doors and down the aisle.
Viva Las Vegas Chapel has been operating and marrying excited couples for more than 20 years and has hundreds of stellar Google reviews dating back the last few years, so it appears as though they have not lost their touch over the decades. The wedding venue offers five different chapel options, including a '50s style diner for a retro themed wedding. Couples can also take it off location for a destination wedding either at the iconic Las Vegas sign or the Valley of Fire — don't worry, though, Elvis can still officiate!
Bellagio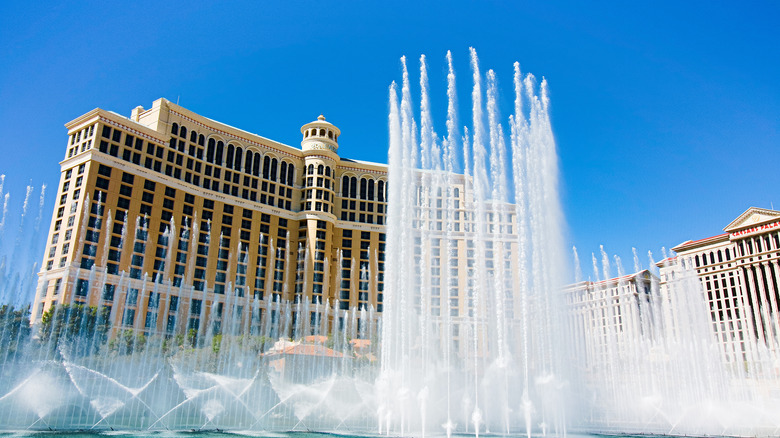 Usa-Pyon/Shutterstock
If you want a beautiful, traditional wedding without much planning on your end, the Bellagio is a great place to get married. One of the popular hotels and casinos on the strip, you'll probably recognize the Bellagio even if you've never visited Vegas, as it is featured in many films and is the location of some pretty iconic movie moments. As far as weddings go, the Bellagio offers a gorgeous atmosphere for photos, which is included in their wedding packages and will serve as a forever reminder of your big day in Vegas. Taking photos in front of Bellagio's recognizable fountain will forever connect your big day to film history and show everyone how luxurious your wedding was.
For couples who want to combine their wedding and honeymoon, the Bellagio offers wedding packages that include a couple nights in one of their spacious rooms along with celebratory champagne and chocolate. If you do end up leaving your room during your stay, there is plenty to do at the Bellagio between its casino, live shows, and gorgeous botanical gardens.
Another perk of the Bellagio is that you don't need to worry much about lowering your guest list for a destination wedding. While there is room for either 40 or 100 guests depending on where in the Bellagio you decide to get married, all of the hotel's wedding packages come with a live stream of your wedding, so absolutely no one needs to be excluded on your big day.
Chapel in the Clouds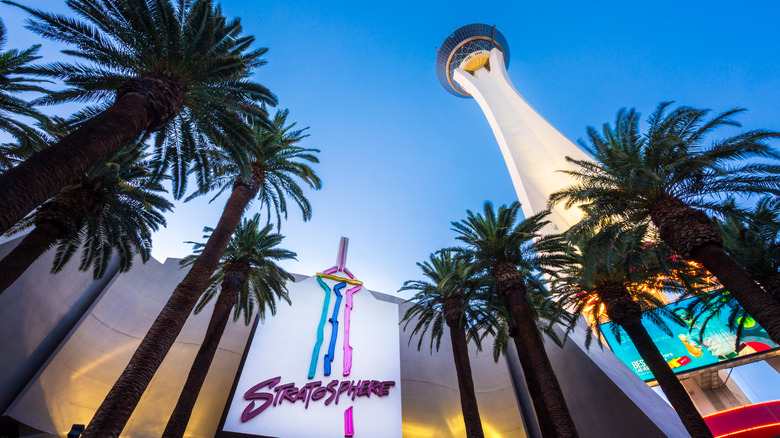 Toms Auzins/Shutterstock
If you're not afraid of heights and want a stellar view of Vegas and the strip during your ceremony, getting married at the top of the Stratosphere could be just the thing to make your big day perfect. You can choose to get married in the indoor observation deck, which provides a little more shelter from the staggering height, or outdoors where the view from over 800 feet in the air. If that isn't high enough, though, couples may choose to exchange their vows on floor 112's balcony.
For the real thrill seekers who want more adrenaline running through their veins than what is provided from getting married in the first place, the STRAT delivers with their Leap of Faith add-on. When added to their applicable wedding packages, the Leap of Faith allows the bride, groom, or both to SkyJump into the ceremony. While certainly not for the faint of heart, it will create an event everyone in attendance will surely remember.
If you already have wedding plans in the city, the Stratosphere offers high in the sky accommodations for a classy Las Vegas bachelor party destination, reception, rehearsal dinner, or bachelorette parties as well. From big events to small, intimate ceremonies, the STRAT has you covered as a beautiful and — literally — elevated venue.
Graceland Wedding Chapel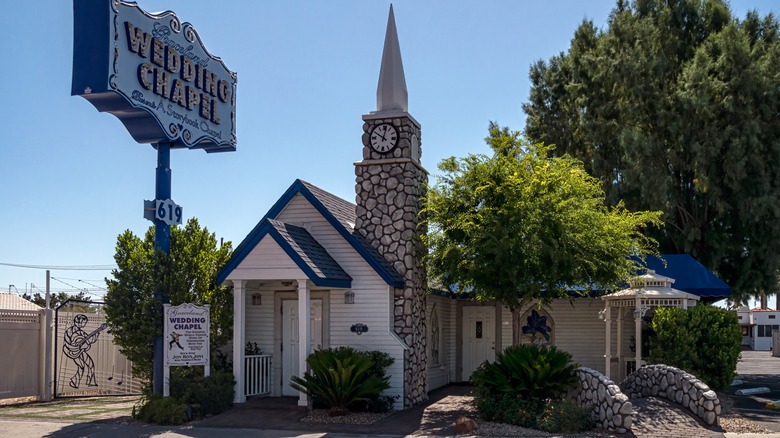 Chris Lawrence Travel/Shutterstock
Graceland Wedding Chapel is one of the oldest chapels in Las Vegas and has contributed to wedding culture in the city by allegedly being the originator of the Elvis impersonator wedding. The little chapel has been on the Vegas strip and conducting weddings for more than 80 years and has been the site of hundreds of thousands of weddings. Graceland Wedding Chapel has lured in its fair share of celebrity brides and grooms as well, like Bon Jovi and Rob Zombie. While the list of celebrity weddings here doesn't include Elvis himself, he did visit the little chapel and inspired their love and emulation of The King.
Couples who choose Graceland Wedding Chapel can opt for either a traditional wedding or an Elvis-themed wedding. However, the little chapel pulls out all the stops for ceremonies officiated by Elvis! In addition to offering numerous attire options for Elvis to wear, the Famous Dueling Elvis Package includes two impersonators who represent different stages of the icon's career.
While a Vegas wedding is relatively affordable at Graceland Wedding Chapel, if you are looking to cut costs further and don't mind sharing the stage they offer group weddings. This means you'll be getting married alongside one or more couples you are friends with — or you could go full Vegas and invite a newly befriended couple to get married with you!
The Neon Museum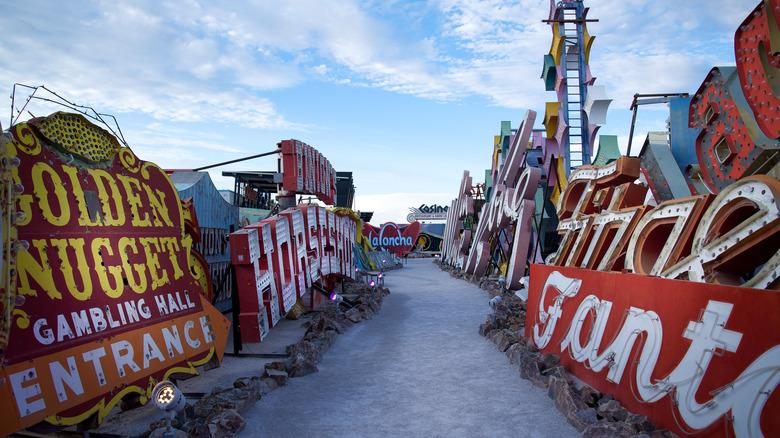 Smeerjewegproducties/Shutterstock
If you're looking for a wedding venue that screams Vegas without the feel of a spontaneous, heavily themed ceremony, then the Neon Museum is worth looking into. Sprawled with hundreds of both working and unrestored signs, their Neon Boneyard provides a gritty and beautiful setting for a Las Vegas wedding.
Though no photographer is provided in their wedding package, you will absolutely want to splurge and hire your own if you choose to have your wedding here. A professional, talented photographer specifically skilled in weddings could get some great shots that capture how perfectly the contrasting elements of the rugged feeling of the boneyard mix with the timelessness of wedding attire.
The unique museum offers an environment that would be perfect for elopements, as being surrounded by old, huge neon signs with the one you love dressed to the nines creates such a surreal experience. If you're looking for a bigger ceremony, though, the museum can accommodate 50 of your closest friends and family members — and a boneyard wedding will surely be an exhibition anyone in attendance won't likely forget.
The High Roller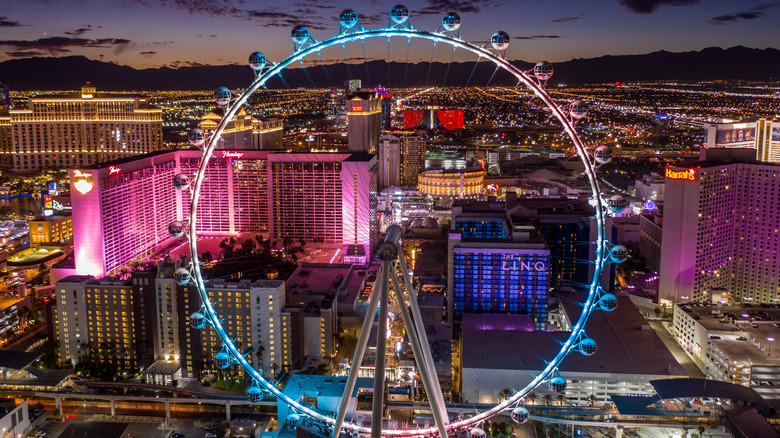 A Desert Dweller/Shutterstock
Ferris wheels are one of the most romantic carnival rides, and Vegas has the largest one in North America. The Linq's High Roller is taller even than the London Eye, and you can get married at the very top of it. Unlike your typical carnival Ferris wheel, though, the High Roller is an observation wheel and can hold around 40 people in just one unit. This makes it uniquely suited to offer the romance of a ferris wheel while also being spacious enough to allow for a wedding party and some carefully selected guests to witness the union between you and your betrothed.
The High Roller reaches more than 500 feet in the air and provides a stellar view of the strip and the surrounding area of Vegas. If your dream wedding includes an impactful view from all sides, the observation pods on the High Roller have a 360-degree view and your ceremony will have a slightly ever-changing, full eye lens of the city. In addition to a view that doesn't quit, wedding packages on the observation wheel have add-ons that range from fresh flower arrangements and videography to an Elvis impersonator.
About 30 minutes after entering your observation pod you'll be exiting newlyweds, ready to take on the next stage of your life together. First, though, you can head inside The Linq for either your reception or to start your new life off by testing Lady Luck in the hotel's casino!
In a helicopter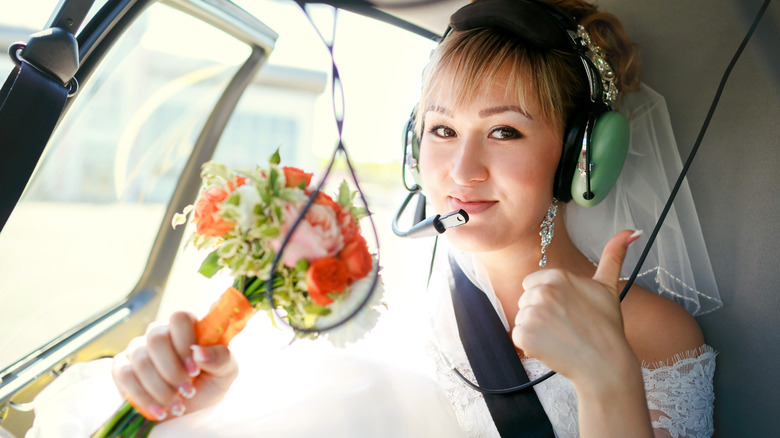 Mainagashev/Shutterstock
Helicopter tours are relatively common in Las Vegas, especially since the Grand Canyon isn't far from the city. The majority of the people who book are just interested in the transportation and glorious views. If you want to seal the deal and get married while flying over the Vegas strip, though, it's entirely possible with Maverick Helicopters.
Exchanging vows over the strip is best left for the night when you can admire the illuminated neon lights. If you prefer a daytime wedding and are set on marrying your true love on a helicopter, you can choose to fly over some of Las Vegas' surrounding attractions, like Red Rock Canyon and the Valley of Fire.
While flying over Vegas with your other half is certainly a romantic and memorable experience, there is a very particular perk to taking a helicopter out to Red Rock Canyon or the Valley of Fire. Whereas both destinations are absolutely gorgeous at any spot, Maverick Helicopters is able to get you up on a private highland that overlooks the entire landscape. If you are able to have your wedding out near the red rocks, there's no more stylish way to do it than via helicopter.
At a Denny's or Taco Bell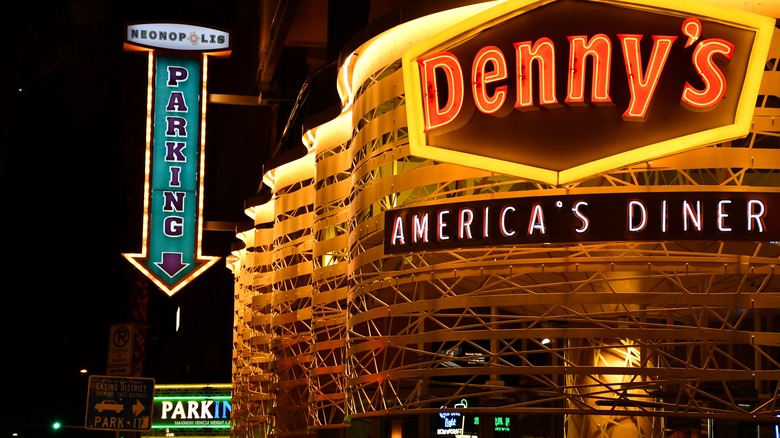 Anne Czichos/Shutterstock
A fast food restaurant isn't at the top of many people's list for romance, but the flagship Taco Bell in Las Vegas is actually a pretty popular place to get married — and their weddings are almost as fast as their food. Just 30 minutes in the Taco Bell chapel is all it takes for a wedding and reception, so wedding parties arrive ready to jump right into it. If a sauce packet bouquet and a Cinnabon Delights cake sounds like heaven, then you'll fit right in with all the couples who have said "I do" at Taco Bell.
Getting married at the Denny's in downtown Las Vegas is a simple, yet niche experience as you really wouldn't expect the national breakfast franchise to come with a chapel. For couples who want an affordable Vegas wedding that comes with breakfast, a pancake puppies cake, and an interesting story, Denny's is a great option — especially for breakfast enthusiasts. Bonus points if you like champagne with your breakfast, because the newlywed couple will get a bottle to celebrate!
The Mob Museum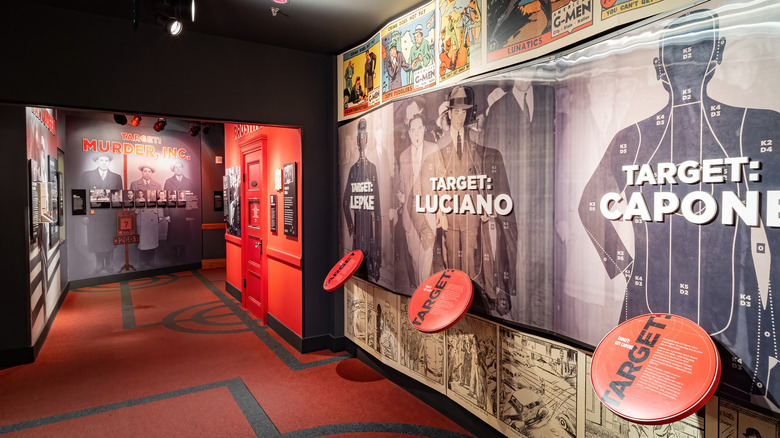 Kit Leong/Shutterstock
Museums may not be what you envision when you think of a trip to Vegas or even your dream wedding venue, but Las Vegas' eccentric and unique nature applies to its museums as well — and you shouldn't count them (and their quirky nature) out for a potential wedding ceremony. The Mob Museum is one such place. It is dedicated to the history of crime and its lasting effects on culture — and for crime family history buffs it may be just the place to get married.
The Mob Museum has found a home in the historic and restored federal courthouse, which makes it a fitting place to make your marriage official. They offer a range of wedding packages with classy, timeless themes that align with the relic and time periods focused on in the museum itself. If the idea of a vintage wedding lights up your world, then the Mob Museum is where to do it. Not only do they make the old courtroom look gorgeous no matter what type of wedding you are planning, but the museum also offers its underground speakeasy as a venue option.
Where a lot of unique wedding places in Vegas involve quick ceremonies with even quicker receptions, the Mob Museum offers an alternative, more leisurely experience. Weddings here not only give wedding parties around three hours to get married and party, but also open the museum to the guests as an option to explore during the celebrations.
Dry Lake Bed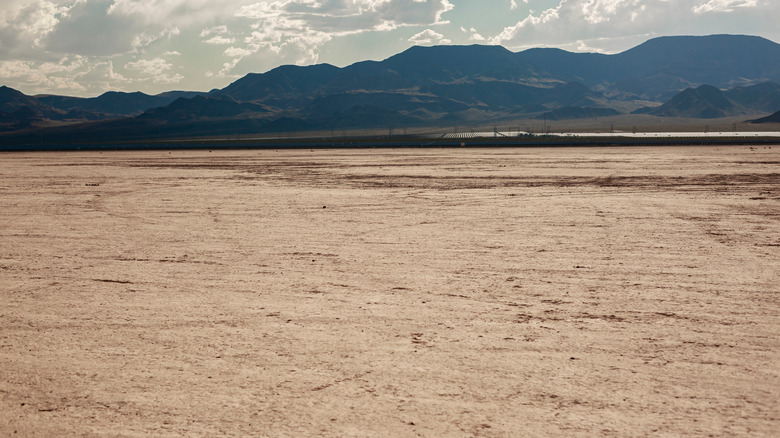 LKPhotoLove/Shutterstock
When you picture a Las Vegas wedding, Elvis impersonators and neon light may come to mind, but there are actually some pretty spectacular views and nature parks on the outskirts of the city. One such place is Dry Lake Bed, and it makes for a gorgeous place to elope with your love. Exchanging vows here in a private ceremony will make it seem as though you and your partner are the only people on Earth — well, and your officiant of course.
If, on the other hand, you do want to include your friends and family in the gorgeous landscape that is Dry Lake Bed while you and your chosen life partner exchange vows and begin what is hopefully a long and happy union, you certainly can. Up to 50 guests can join you in the desert – and while it can get pretty hot under the scorching sun, the resulting photos and isolated moments together will be well worth it.
Though all you need to bring with you are the rings and the clothes on your backs, wedding packages at Dry Lake Bed are fully customizable. Colorful smoke bombs are reportedly pretty amazing at this location, but you can also bring whatever aid to the experience you would like, whether for cultural or aesthetic purposes.
Planet 13 Cannabis Dispensary
If you and your betrothed are the type of couple that likes to partake in a little herb on the regular, having a wedding at a dispensary might not be a bad idea. Nevada is one of the states that has legalized the recreational use of marijuana, and Planet 13 Cannabis Dispensary is the largest dispensary in the world.
Planet 13 offers two locations where couples can get married, the dispensary itself or the grow house. For those who opt for the grow house option, they can expect a more intimate and private ceremony surrounded by a variety of growing cannabis plants. The dispensary is more spacious and decorated with fun art installations – including a retro bus with a huge joint resting on its roof — that are perfect photo opportunities.
Being such a large facility, Planet 13 isn't just a grow house and dispensary, though. Within the building are also a restaurant and bar that newlyweds and wedding parties can take advantage of. All wedding packages come with a credit for the restaurant, discount for the dispensary, and cannabis themed cake.
A Little White Chapel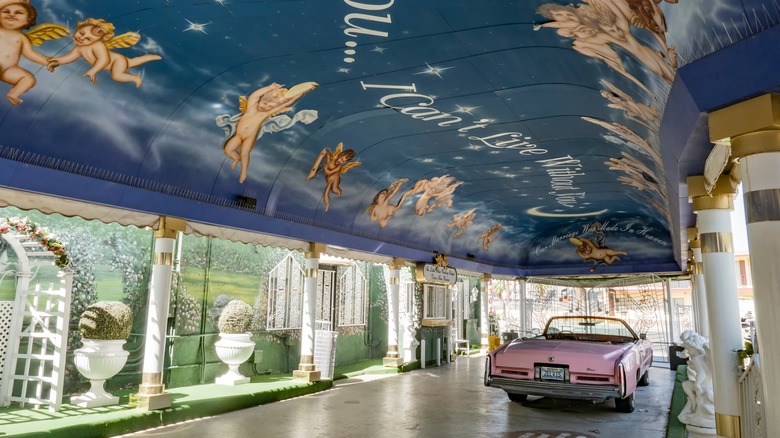 travelview/Shutterstock
We're ending our list with one of the most iconic wedding chapels in Las Vegas. A Little White Chapel on the Vegas strip originated the drive-thru wedding, but that doesn't mean you can't make use of the venue's various chapel options.
With two indoor chapels, an outdoor gazebo, and their Tunnel of Love, the wedding venue offers couples a wide range of experience to make their big day special. As a well known and classic wedding chapel in the heart of Vegas, A Little White Chapel of course offers an Elvis wedding for couples who want it, but they also have a retro pink Cadillac that can be incorporated into a Tunnel of Love ceremony.
Even if you've never stepped foot in Vegas, you may recognize A Little White Chapel as the chapel Ross and Rachel from "Friends" were married in. Plenty of celebrities have been married here as well, like Brittney Spears, Bruce Willis and Demi Moore, and Ben Affleck and Jennifer Lopez. The venue is a very affordable option for those who want a shared experience with select members of the rich and famous.