Port Vs Starboard: Which Side Is Right For Your Cruise Room?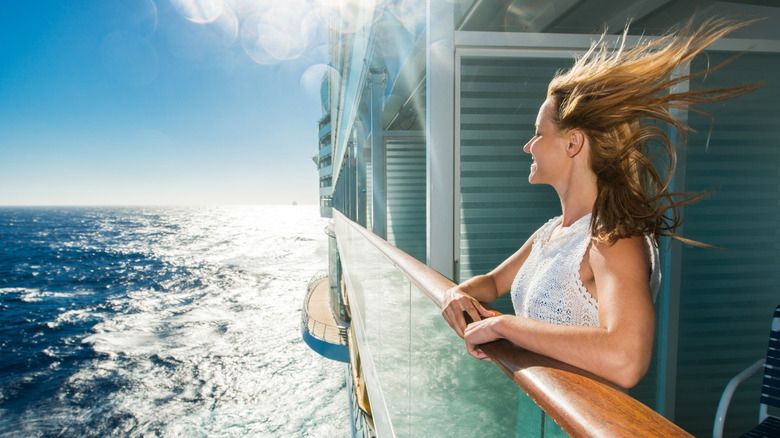 Brauns/Getty Images
When planning a cruise vacation, you're presented with plenty of options to customize your cruising experience. Of course, you'll choose a cruise with a preferred route, duration, and ports of call, but you'll also choose your accommodations. Typically, cruise lines offer a wide range of room types, from budget-friendly interior staterooms to high-end suites with private balconies.
Passengers usually consider square footage, deck level, interior versus exterior, and their budget when choosing accommodations. Picking a side of the ship? Not so much. And while choosing between the port side and starboard side of a cruise ship may not matter in most cases, there could be instances a preference makes sense.
First, we should mention that the port side is the left side of the ship when facing the bow (front of the ship), while the starboard side is the cruise ship's right side when facing the bow. In many cases, the specific side won't affect your experience, but sometimes "choosing sides" may be worth exploring.
Choosing a side on one-way cruises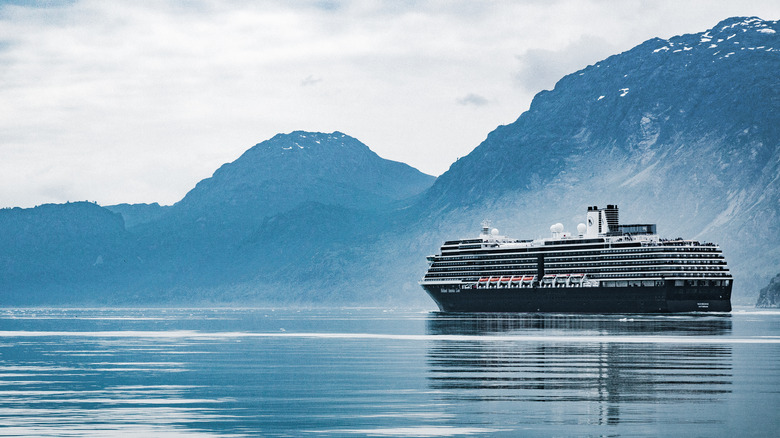 Bloomberg/Getty Images
If you're planning to take a closed-loop, or round-trip cruise, then preference for a side may be a moot point. On round-trip cruises, which are more common than one-way cruises, all passengers will experience the scenery from both sides at some point on the route. Also, if you choose an interior room, then choosing between the port or starboard side shouldn't matter too much, either.
However, a specific side may matter when on a one-way cruise, especially if that route tends to hug the coast. Popular one-way cruises include southbound or northbound Alaskan cruises, as well as west or eastbound voyages on Mediterranean cruises. On these types of cruises, you're view will depend on your cabin placement for the majority of your trip.
With that said, we should mention that on many "scenery-conscious" cruises, such as routes through Glacier Bay in Alaska or a fjord cruise through Norway, the captain will typically loop around particularly scenic areas, ensuring passengers on both sides of the ship enjoy the view.
Choosing between sunrises and sunsets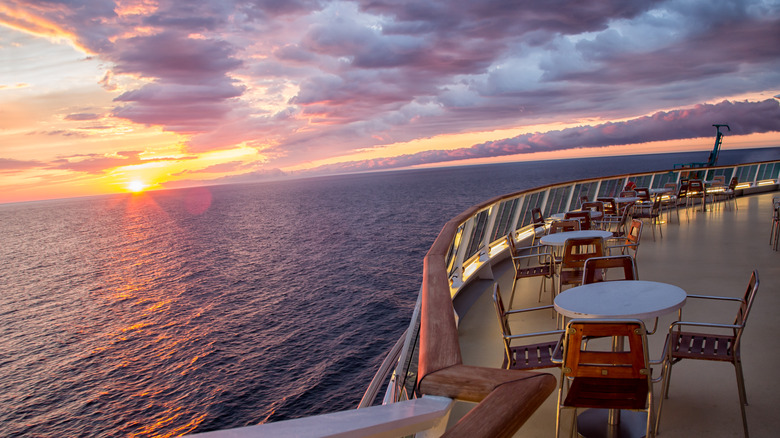 Grandriver/Getty Images
Along with different views, sunrises and sunsets are also considerations on one-way cruises. As a quick reminder, the sun rises in the east and sets in the west, so if you're northbound and prefer to see the sunrise every night, then you'll want to choose accommodations on the port side. If traveling southbound, you'll want to choose lodging on the starboard side of the ship. If you're an early riser, then switch up these sides to enjoy the sunrise every day.
Again, if you're taking a round-trip cruise, then you'll probably get a combination of sunrises and sunsets throughout the trip, so choosing a "better" side may not be necessary. On roundtrip cruises, most cruisers consider deck level as more important. In general, passengers on higher deck levels enjoy more expansive views.
It may also be wise for passengers prone to seasickness to book an exterior cabin in the middle of the ship, which typically experiences less movement when sailing. So while choosing a particular side of the ship may matter in a few cases, it's only one of many considerations when thoughtfully selecting your cruise cabin.