Guide To Mickey's Not-So-Scary Halloween Party At Magic Kingdom
The neighborhood cul-de-sac is so last Halloween. Mickey Mouse himself invites you to a frightfully fantastic night of Halloween fun in the world's most magical trick-or-treating venue: Magic Kingdom. Mickey's Not-So-Scary Halloween Party (MNSSHP, also sometimes shortened to "Not-So-Scary") is an after-hours, separate-ticket event that takes place at Walt Disney World's Magic Kingdom near Orlando, Florida.
Guests of all ages can enjoy the party's festive lineup of activities, from taking in fireworks and shows to snapping photos with Disney characters in their Halloween costumes. It's all in the name, but if you're looking for a family-friendly activity that's more spooky than scary, you've come to the right place. There are no haunted mazes or performers who will jump out and scare you here (for that, head a few miles north to Universal Orlando's Halloween Horror Nights).
Mickey's Not-So-Scary Halloween Party is one of Walt Disney World's signature autumn events. As such, the mouse goes all out. There's a lot to see and do, and we don't want you to miss a moment of it. Here's your primer for making the most of your evening. Boo to you!
When does Mickey's Not-So-Scary Halloween party start?
These days, Disney kicks off the Halloween season early. We're talking e-a-r-l-y early. The first night of Mickey's Not-So-Scary Halloween Party usually happens mid-August, when most kids are still on summer vacation. No kidding — the party is in full-swing Halloween mode well before Labor Day. No matter what the calendar says, whenever you attend Not-So-Scary, that night is Halloween. Even on the early dates, many guests attend in costume, trick-or-treating is available, and the same programming happens, — it's the whole shebang. The Not-So-Scary season ends on or near Halloween itself, October 31.
As for operational hours, the party takes place from 7 p.m. to midnight. Magic Kingdom concludes its regular daytime hours at 6 p.m. Guests without daytime admission to Magic Kingdom can enter the park with their party ticket beginning at 4 p.m., even though most Halloween festivities won't start for a few hours. This window is a great time to eat dinner (get it out of the way so you don't waste party time on meal time!), familiarize yourself with the event map you'll be handed on your way in the park, or perhaps line up for a character to arrive at their greeting location if there's someone on your list you'd really love to meet once the party begins.
Tickets and discounts for the party
Ticket prices for Mickey's Not-So-Scary Halloween Party can change from year to year, but at the time of this writing, they start at $99 for children ages 3-9 and $109 for guests ages 10 and up. (Kids under 3 get in free, just like daytime admission to Disney theme parks.) Prices increase as the event dates get closer to Halloween. Disney offers a $10 discount for Annual Passholders and Disney Vacation Club members.
As a reminder, Not-So-Scary is an after-hours event. If you plan on being in Magic Kingdom earlier than 4 p.m. on the day of your party, you'll need separate admission to Magic Kingdom and a ticket to Not-So-Scary.
In 2019, Disney experimented with a season-long Halloween pass, valid only for Magic Kingdom on party nights and nothing else at Walt Disney World. It was a bargain for guests attending multiple party nights, but Disney didn't offer the pass again. Fingers crossed it rises from the grave in the future.
Trick-or-treating in Magic Kingdom
What's Halloween without trick-or-treating? This time-honored tradition starts from the moment you arrive at Mickey's Not-So-Scary Halloween Party. Upon entry into Magic Kingdom, Cast Members hand all guests a sturdy trick-or-treat bag — and immediately stuff it with fistfuls of candy! The rest of the night, look for illuminated, inflatable columns designating trick-or-treat stations throughout the park. Disney also offers allergy-friendly trick-or-treat options upon request. Did we mention all this candy is free?! Well, kinda... it's included in your party admission. But still! Trust us, even if you only hit up one or two trick-or-treat stations, your candy haul is going to be colossal at the end of the night.
During Not-So-Scary, kids and adults alike are welcome to dress in costume and trick-or-treat throughout the park. This is a policy change from regular daytime operating hours at Disney parks, when adults are not permitted to wear costumes. Not-So-Scary is the one exception, barring that wardrobe remains appropriate and doesn't include costume masks.
A costume tip that's easy to overlook? Remember this is Florida. While you might be used to trick-or-treating on a crisp October evening in your hometown, Orlando is hot and humid, even after the sun goes down — and especially for the parties taking place earlier in the season. It's also wise to prepare for rain, as Not-So-Scary happens during the peak of hurricane season. Plan your costume accordingly to ensure you'll be comfortable during the party.
Hocus Pocus Villain Spelltacular
The only production at Walt Disney World to ever feature the Sanderson sisters, Hocus Pocus Villain Spelltacular is performed on the stage in front of Cinderella Castle during Mickey's Not-So-Scary Halloween Party. The show has live vocalists, breathtaking projections, and a gaggle of Disney villains. As Winnifred, Mary, and Sarah Sanderson — all of whom appear to be dead ringers of Bette Midler, Kathy Najimy, and Sarah Jessica Parker — return from the dead yet again, they aim to throw a memorable and villain-filled Halloween party. 
The sisters welcome Dr. Facilier from "The Princess and the Frog," Oogie Boogie from "The Nightmare Before Christmas," Maleficent from "Sleeping Beauty," and many more, with each villain garnering uproarious applause from the enthusiastic crowd. There is no formal seating area. Guests watch the show standing up in the plaza in front of the castle. For a spot closer to the front of the stage, plan on arriving at least 20 minutes before showtime.
Hocus Pocus Villain Spelltacular takes place several times each evening. If you can stay up late, attend the final show of the night, which usually begins at midnight (the park's official "closing time" during the party, meaning there's nothing else to do anyway). You can spend the party's earlier hours accomplishing other priorities, and you won't have to grab a spot for the show as early as you'd need to for the earlier performances because many guests have already gone home.
Mickey's Boo-To-You Halloween Parade
When it comes to Disney entertainment, there aren't many productions that top this. For a lot of guests, Mickey's Boo-To-You Halloween Parade is the reason to attend Mickey's Not-So-Scary Halloween Party. The parade bops through Magic Kingdom with a catchy theme song and Disney pals galore. Highlights include rarely-seen Disney villains, the Sugar Rush racers from "Wreck-It Ralph," and, of course, Mickey dressed in his Halloween best.
The parade's showstopper is the unit inspired by Haunted Mansion, a classic Magic Kingdom attraction since opening day in 1971. Boo-To-You pays tribute to the Mansion with a troupe of gravediggers whose shovels create sparks on the street as they perform their chilling choreography. Onboard the accompanying float, live actors impressively emulate the stiff movement of the ride's "hitchhiking ghosts" Audio-Animatronics figures.
Boo-To-You makes its way through the park twice during the party. It steps off in Frontierland, travels through Liberty Square and Main Street, U.S.A., and concludes at the front of the park. Spots on the curb, especially for the first parade, are often occupied by guests well over an hour before showtime. For a shorter wait, see the second parade and grab a spot in Liberty Square or Frontierland. As a bonus, a few minutes before the parade steps off, the Headless Horseman gallops his (real!) horse along the parade route.
Disney's Not-So-Spooky Spectacular
Jack Skellington from "The Nightmare Before Christmas" hosts this tech-savvy combo of fireworks and projection mapping. Disney's Not-So-Spooky Spectacular is a dazzling display of modern pyrotechnics and a centerpiece of Mickey's Not-So-Scary Halloween Party. Jack himself appears as an amazing, larger-than-life puppet, the only live "performer" in the proceedings.
Disney's Not-So-Spooky Spectacular only happens once each night during the party. For the full experience, get a spot about 20-30 minutes early in front of Cinderella Castle. Stand closer to the castle if you want an up-close view of the impressive Jack Skellington puppet, but be mindful that if you're really close, the castle will block your view of some of the fireworks.
Our favorite spot is near the "Partners" statue of Walt Disney and Mickey Mouse. It's the best of both worlds — close enough to see Jack, but far enough at a distance to take in the projections on the castle and the fireworks behind it. You'll also be right in the middle of the action for a few surprises. (If you time things right, you may be able to double up by viewing the fireworks and Hocus Pocus Villain Spelltacular from the same spot.) For less stress (but no projections and no Jack), view the fireworks from anywhere in Fantasyland or Tomorrowland at your leisure. Disney blasts the show's music park-wide.
Meeting Disney characters at Not-So-Scary
Many Disney characters are available for photos, hugs, and autographs throughout Magic Kingdom during Mickey's Not-So-Scary Halloween Party. Some of them only meet guests exclusively at this event and can't be found anywhere else in Walt Disney World the rest of the year. Other Disney pals might be commonplace elsewhere but are decked out in their trick-or-treating attire for Not-So-Scary.
The exact lineup of characters might change slightly from year to year, but some of our favorites from past years' parties include the Hundred Acre Woods gang dressed in their Halloween costumes (adorable) and Stitch dressed as Elvis (iconic). The most popular characters are always Jack Skellington and Sally from "The Nightmare Before Christmas." They usually meet in Town Square Theater at the front of the park, and their line can be hours long.
If any particular character is important to you, prioritize meeting them as your first activity of the night. Know where they'll be, and line up before they arrive. Some of the more popular characters (like Jack and Sally) begin meeting before the party technically even starts. After each party season begins, fan sites and forums are great places to find specific information about that year's character lineup. For a low-stress character option, check out the dance parties with Disney Junior friends in Storybook Circus or characters from "Monsters, Inc." in Tomorrowland. At the dance parties, instead of posing for formal photo-ops, characters get their groove on right alongside guests on the dance floor.
Spooky treats
A handful of specialty food and drink items are only sold during Mickey's Not-So-Scary Halloween Party. Menu offerings change year to year, but past events have touted treats like a candy corn milkshake, candy corn waffles, a Haunted Mansion cake pop, and a "Sleepy Hollow" mousse, to name a few. The culinary team's creativity seems to get more impressive every year! These for-purchase treats are separate from the aforementioned complimentary trick-or-treat candy available at stations throughout the park.
Disney releases a comprehensive foodie guide on the official Disney Parks Blog at the start of each season, detailing most party-exclusive treats and where to find them. In the name of making the most of your time, we'd recommend grabbing an easy-to-carry treat to go and enjoying it while you wait for Mickey's Boo-To-You Parade.
If you'd rather stick with your familiar go-to sweet order rather than partake in event-exclusive items, Main Street Bakery features a fully functioning Starbucks, which, yes, rest assured, has pumpkin spice lattes on the menu during the autumn months.
Enjoy Magic Kingdom's best rides
Most major Magic Kingdom attractions are open during Mickey's Not-So-Scary Halloween Party, often with little or no wait. Did you skip a ride during the daytime because it had a huge line? Did an attraction run out of Lightning Lanes by the time you tried to nab one with Genie+? (We've got you covered with Genie+ tips too, by the way.) Not-So-Scary is a great opportunity to take advantage of shorter lines for rides, as long as you don't mind making room for them among your full itinerary of Halloween goodness. Finding the balance between rides and all the Halloween activities during the party can lead to some tough decisions. So much to do, so little time!
A few attractions even receive spooky enhancements just for the party. Outside of Haunted Mansion, live performers portraying a few of the ride's 999 happy haunts converse with guests on the lawn. Meanwhile, riders can experience Space Mountain with unique effects and soundtracks. In fact, the indoor roller coaster doesn't even turn on its minimal space-themed lighting. Inadvertently, the rides with Halloween glow-ups tend to attract longer lines than the others.
Merch for Mickey's Not-So-Scary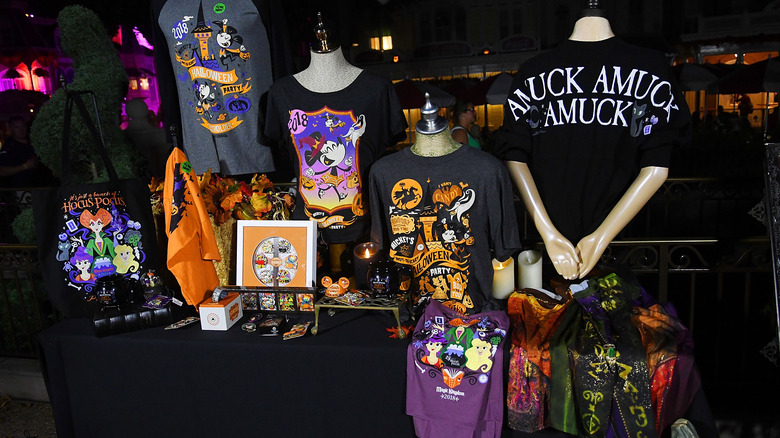 Gerardo Mora/Getty Images
Don't want to walk around in a full costume but still want to wear something on-brand for your night at Mickey's Not-So-Scary Halloween Party? Disney debuts a special new merchandise collection every year that's available exclusively at the event. T-shirts? Spirit Jerseys? Mugs? Pins? Yes to all of the above, and then some. You can typically find the Not-So-Scary souvenirs in the Emporium on Main Street U.S.A., but only during the party.
If you're not attending the party, there's other merchandise beyond party-specific items. Disney keeps generic Halloween merch well in stock at all four theme parks and Disney Springs throughout August, September, and October. Looking for something that's spooky but doesn't necessarily scream "Halloween"? Disney sells plenty of merch spotlighting the ever-popular Disney villains year-round. You'll also find a ton of Haunted Mansion items at Memento Mori, the store in the cottage adjacent to the classic attraction.
For planners who prefer to have theiur fit ready to go before their trip, Disney sells many of the same items from the parks online via shopDisney. There's also typically a ton of Disney-licensed Halloween apparel at retail locations out in the "real world" during autumn. If all else fails, Spirit Halloween has never let us down!
PhotoPass during Mickey's Not-So-Scary Halloween Party
You're more than welcome to use your own phone or camera to snap pics of your fam all night long. Cast Members are allowed to handle guests' personal phones and cameras too, if you want to get everybody in the shot. If you'd rather leave the photography to the pros, Disney PhotoPass photographers are onhand at special photo-op stations and at most character greetings throughout Mickey's Not-So-Scary Halloween Party. Our favorite non-character photo-op is with Cinderella's pumpkin carriage — talk about picture-perfect. Additionally, you'll find a few "magic shots" exclusive to the event. In these, you'll pose for the camera and then the photographer will enhance the scenery, perhaps by adding in an animated Disney friend or by making it seem like you're brewing a witch's cauldron, for example.
The Memory Maker photo package includes pictures taken during Not-So-Scary. For a flat rate of $169, you'll receive unlimited photo downloads your entire vacation from anywhere with a Disney PhotoPass photographer plus any on-ride photos. Alternatively, a one-day Memory Maker is available for $69. If there's only one or a handful of photos you want, Disney sells pictures a la carte, too.
Planning the rest of your Disney vacation around the party
Mickey's Not-So-Scary Halloween Party is family-friendly, but it takes place long past most little tykes' bedtimes. If you stay for the whole event, you'll get back to your hotel room around 1 a.m. You can, of course, leave at any time. Many guests party for a few hours and then peace out. Others prefer to get the most bang for their buck and stay the entire night. Neither approach is right or wrong. It all depends on what you're hoping to get out of the event.
Consider what might be the best way to position your Not-So-Scary evening in your vacation. Will you be in the parks earlier in the day? Where will you change into your costume? (Remember, adults can't wear costumes outside of the event.) How late will you stay out? What are your plans for the morning after?
We typically schedule Not-So-Scary as our only activity for that day. That way, we can sleep in and lounge at our resort, and we have plenty of time to prep our costumes from the comfort of our hotel room. If you go this route, you're well-rested and ready to experience as much of the night for as long as you'd like. The next day, don't feel the pressure to hold yourself to an early-morning schedule. Conversely, if you're not attending Not-So-Scary, visit Magic Kingdom on a day when the party's not happening. The park closes early on party nights.
Is Mickey's Not-So-Scary different every year?
Mostly, Mickey's Not-So-Scary Halloween Party is the same as time goes on (save for each year's new merch). There might be occasional differences in character meet and greets, or a new parade float every now and then, but as of 2023, the party has been hosting the same fireworks for five years, the same stage show for eight years, and the same parade for 19 years. While these productions are all stellar, some may find them stale. This is in stark contrast to Halloween Horror Nights at Universal Orlando, which debuts 10 completely new haunted houses and five new scare zones each and every year.
If you've attended Not-So-Scary within the past few years and a return visit hinges upon how much of the experience will be different or new, you won't find anything drastically unique until the next time Disney replaces one of the event's tentpole live productions.
Halloween at Disney World beyond Mickey's party
Can you get your Halloween fix at Walt Disney World without attending Mickey's Not-So-Scary Halloween Party? The answer is.... yes and no. Not-So-Scary is by far the "big show" that Disney pulls out all the stops for. Some resorts may host low-key Halloween parties on October 31. They're known to have trick-or-treating, pool activities, games, a character appearance or two, and perhaps a spooky movie night. For many families, this provides more than enough Halloween fun if you happen to be visiting on the holiday itself — and you won't have to pay anything extra.
As for other official Halloween events Disney puts on, there's not much. Main Street, U.S.A. is filled with oodles of creative jack-o-lanterns, but it's the only area of any theme park decorated. At the Hollywood & Vine restaurant at Disney's Hollywood Studios, guests can dine with Minnie Mouse and friends during a Halloween-themed lunch or dinner all season long. Haunted Mansion at Magic Kingdom is plenty spooky, and The Twilight Zone Tower of Terror at Hollywood Studios takes place on Halloween 1939. There's nothing in either attraction, though, that's different during the Halloween season, and both rides are open year-round.
RV guests of Disney's Fort Wilderness Resort & Campground go all-out adorning their vehicles and lawns with Halloween décor. If you're staying in the nearby cabins or visiting the resort for the Hoop-Dee-Doo Revue, it's worth taking some time to check out the impressive displays.