What To Know About Disney World Transportation Before Your Next Trip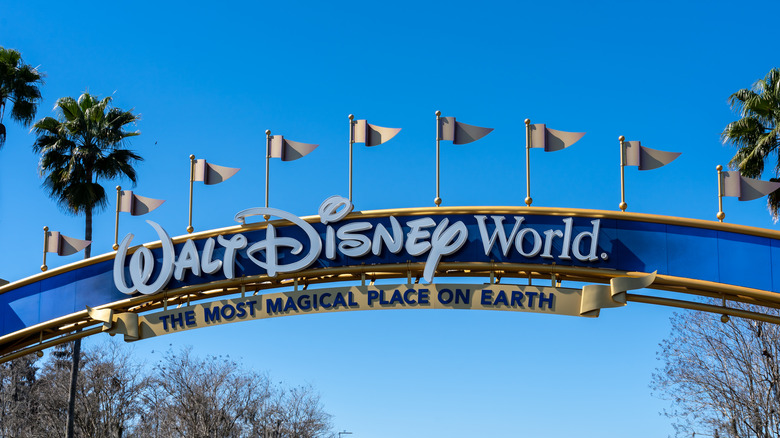 Jhvephoto/Getty Images
You're going to Disney World!! But how are you going to get there? And how will you get around once you arrive?
Walt Disney World is huge. It's 43 square miles! Even for repeat travelers, navigating the ins and outs of Disney's transportation can be a lot to take in — and with good reason. The destination is collectively home to four theme parks, two water parks, an entertainment district, over two dozen resort hotels, multiple golf courses, and more. That being said, it takes nothing short of a transportation armada to move guests from point A to point B.
Not to worry — we've got you covered. Whetmagher you're flying to Orlando or taking a road trip, whether you're driving yourself around when you get there or utilizing Disney transportation — buses, boats, Skyliners, monorails, and the like — we're here to guide you through what to know about Disney World transportation before your next trip. Ready? Everyone seated? Then please stand clear of the doors, because we're about to get moving.
Getting to Walt Disney World from the Orlando airport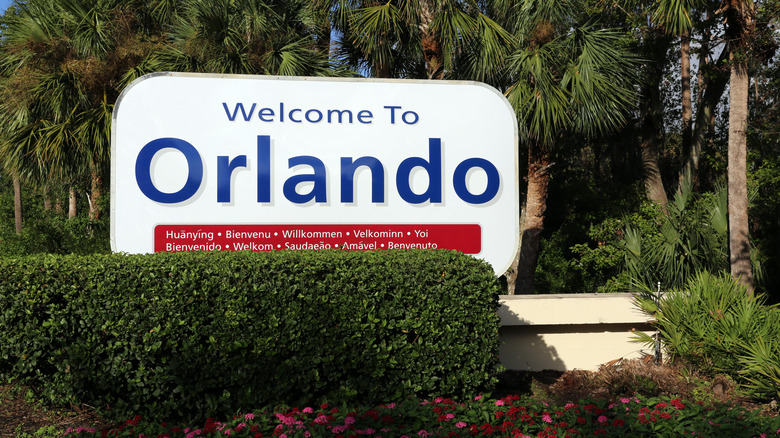 Wellesenterprises/Getty Images
If you've flown to Orlando for a Disney vacation in the past, throw out what you know. For nearly two decades, Disney provided complimentary bus transportation from Orlando International Airport to Walt Disney World for guests staying overnight at a Disney resort. This service was called the "Magical Express." Disney discontinued the Magical Express in 2021, so now you're on your own to get from MCO to Mickey's place.
Orlando International Airport is about 20 miles from Walt Disney World (give or take, depending on your route). If you're renting a car, you can either take 528 and then hop on I4, or take the less-congested tollroad 417.
Rideshare options like Uber, Lyft, and Wingz pick up passengers in all three MCO terminals: Level 2 of Terminals A and B (and additionally Level 3 of Terminals A and B between 9 p.m. and 2 a.m.) and Level 6 of Terminal C. When returning to the airport, rideshares will drop you off at Level 3 of Terminals A or B, or Level 2 of Terminal C. As an alternative to ridesharing, you can book direct bus transportation to your Disney resort via the "Sunshine Flyer" ($19 for adults and $12 for kids each direction) or Mears Connect ($40 for adults and $28 for kids round trip).
Road tripping
If you're driving to Orlando from your hometown, there are plenty of fun landmarks to spot on your way into the City Beautiful. Billboards advertising the latest and greatest Disney attractions tease you with images of your imminent vacation. If you're traveling from north of Orlando, a few miles before Disney, you'll be greeted into the city by a huge volcano practically rubbing shoulders with the highway. That's Volcano Bay, Universal Orlando's water park, and it makes quite the statement as a first impression of the town where fantasy is made real. If you're traveling from south of Orlando, a power tower shaped like Mickey Mouse will let you know you're only minutes away from arriving at your destination.
For those staying at a Disney resort, know which "resort area" your hotel is located in. Remember when we said the property was huge? As you get closer to Disney, road signs will direct you to exits based on your resort area. Of course, Google Maps does the trick just as well. Once you arrive, parking at your Disney resort hotel is complimentary.
Riding the monorail around Disney World
The most distinctly Disney transportation method on Walt Disney World property is the monorail — a sleek, futuristic-looking elevated train that's been here since opening day in 1971. While monorails exist elsewhere, there are so few of them in the United States that Disney World might be the only place you've ridden one.
Like most Disney transportation — including all buses and boats, plus the Skyliner — the monorail is free. If you'd like to ride the monorail but your itinerary doesn't necessarily require it as part of your travels, you're perfectly allowed to hop aboard for an excursion, no ticket required.
The vernacular typically refers to "the" monorail, implying there's only one, but there's actually a whole fleet of monorails traveling three different lines continuously all day. Two of those tracks circle the Seven Seas Lagoon. The first, the express line, directly connects Magic Kingdom and the Transportation and Ticket Center, or TTC (where Magic Kingdom day guests park) without stopping. Another, the resort line, similarly connects the Magic Kingdom with the TTC but also makes stops at Disney's Grand Floridian Resort, Disney's Polynesian Village Resort, and Disney's Contemporary Resort. (If having monorail service at your place of overnight accommodations is important to you, those three resorts are your choices.) Lastly, a third monorail line connects the TTC with Epcot. When staying at one of the three monorail-connected resorts and traveling to Epcot, you'll need to ride the 'rail to the TTC and then transfer monorails to Epcot.
Riding the Disney Skyliner
The Disney Skyliner, a system of aerial gondola lifts similar to ski buckets, opened in 2019. It travels to and from Disney's Hollywood Studios, Disney's Pop Century Resort, Disney's Art of Animation Resort, Disney's Caribbean Beach Resort, Disney's Riviera Resort, and Epcot. Notably, the Epcot Skyliner station is located at the park's back entrance, in World Showcase. This makes the Skyliner walkable to guests staying at Disney's BoardWalk Inn, Disney's Yacht Club Resort, Disney's Beach Club Resort, and the Walt Disney World Swan and Dolphin — even though the Skyliner doesn't technically have a station at those hotels.
The Skyliner is free, runs continuously, and is available to any rider regardless of park admission or overnight accommodations. It's a great way to park hop between Epcot and Hollywood Studios, and catching a ride can also serve as a respite from the bustle of the parks. We love escaping the chaos of World Showcase in the early evening and riding the Skyliner to a nearby resort for dinner.
The Skyliner voyage is gentle, but might be scary to those afraid of heights. The routes pass over active roadways and open water, which some riders may find unsettling. Depending on where you're going, you might need to transfer Skyliner routes at the system's main hub at Disney's Caribbean Beach Resort. Not to worry, though, as finding the way to your final destination is clearly explained through onboard announcements and signage. The Disney Skyliner usually closes for a one-week refurbishment in late January.
Using boat transportation
There's nothing quite like your hair blowing in the wind while onboard a boat as it glistens across the water. Small vessels (with capacity to carry a few dozen guests) connect a handful of resorts with some of Walt Disney World's prime destinations, providing a great perk for their respective accommodations.
Guests can travel to Disney Springs via boat from Disney's Port Orleans Resort — Riverside, Disney's Port Orleans Resort — French Quarter, Disney's Old Key West Resort, and Disney's Saratoga Springs Resort. Travelers can make passage to and from Epcot or Disney's Hollywood Studios by boat from the properties surrounding Crescent Lake: Disney's BoardWalk Inn, Disney's Yacht Club Resort, Disney's Beach Club Resort, and the Walt Disney World Swan and Dolphin. Visitors can access Magic Kingdom through boat transportation from hotels along Bay Lake and Seven Seas Lagoon: Disney's Fort Wilderness Resort & Campground, Disney's Wilderness Lodge, Disney's Contemporary Resort, Disney's Polynesian Village Resort, and Disney's Grand Floridian Resort. Additionally, large ferries (carrying several hundred guests) travel between Magic Kingdom and the Transportation and Ticket Center (home to Magic Kingdom's parking lot).
Boat transportation is free and in many cases an alternative to other transportation provided, if so desired. For example, guests can choose to take the monorail from the TTC to Magic Kingdom instead of a ferry, or decide to walk to Epcot from the BoardWalk rather than waiting for a water taxi. Based on where you're trying to go, ask any Cast Member for your options in getting there.
Riding buses
Buses are the most common method of free public transportation at Walt Disney World. If not specifically stated in the sections of this article about the monorail, Skyliner, or boats, the way to get from point A to point B is via bus.
Buses operate approximately every 20 minutes between resorts and the theme parks, starting from 45 minutes before each park opens until one hour after each respective park closes (there's no strict timetable for departures). To travel from your resort to the water parks via bus, transfer at Disney Springs for Typhoon Lagoon or Animal Kingdom for Blizzard Beach. Buses run among all four theme parks all day, convenient for park hopping. However, buses do not run between Disney Springs and the theme parks (transfer at a resort).
Patience is often required with Disney buses. Firstly, how long you'll wait at the bus stop is something of a game of chance, depending on how close you arrived to its last pick-up. En route to your destination, the bus might make other stops either throughout your resort grounds or even at other resorts. If your itinerary is time-sensitive, consider driving yourself or taking a rideshare. If you're claustrophobic, avoid the buses. It's not uncommon for bus seating to be full, with as many additional guests as possible standing, especially at the beginning and end of the day. If navigating the buses gets confusing, open the My Disney Experience app and select "Get Directions" or call 407-WDW-RIDE.
Rideshare options at Disney World
If you don't have a car with you and you don't want to rely on Disney's free public transportation, you can purchase a rideshare. This might especially come in handy when trying to be at the front of the pack for rope drop when the parks open, or for arriving at a dining reservation on time.
Disney allows Uber, Lyft, etc. to pick up and drop off guests throughout the property, and each park entrance has a designated rideshare pick-up/drop-off area. The exception is Magic Kingdom — the rideshare drop-off is at the Transportation and Ticket Center, and the park is only accessible by a monorail or boat ride.
Disney also has its own branded rideshare, "Minnie Vans." These vehicles look the part — they're painted red with white polka dots, emulating Minnie Mouse's signature dress. Guests can schedule Minnie Van pick-ups through the Lyft app. However, Disney Cast Members drive Minnie Vans rather than Lyft employees. Each day, Minnie Vans run 6:30 a.m. through 12:30 a.m. They can carry up to six guests and offer two car seats for children, if needed. Accessible Minnie Vans are also available. Notably for Magic Kingdom travelers, Minnie Vans are allowed to drop off guests directly at the front gate, not across the lake at the TTC like other rideshares do.
Is anything within walking distance?
While getting to most destinations around Walt Disney World inevitably requires some sort of transport, a few areas are walkable. Guests staying at Disney's Contemporary Resort can walk to Magic Kingdom in about 10 minutes. Though the journey is a bit longer, the same goes for guests at Disney's Grand Floridian Resort and Disney's Polynesian Village Resort (about a 15- and 25-minute walk, respectively).
The resorts surrounding Crescent Lake are all nestled together — from Disney's BoardWalk Inn, Disney's Yacht Club Resort, Disney's Beach Club Resort, and the Walt Disney World Swan and Dolphin, guests can walk to the nightlife at the BoardWalk (practically in your front yard), Epcot's back entrance (in 10 minutes or less), and Disney's Hollywood Studios (with about 20 minutes of dedication).
If Disney's Saratoga Springs Resort is your home-away-from-home during your vacation, you can take advantage of the convenient proximity to Disney Springs, as pedestrian walkways connect the two locations on both sides of a lake. One end of Saratoga Springs is about a 10-minute walk to Disney Springs West Side, while the other end of the resort is a mere 4-minute walk to Disney Springs Marketplace. One last note about walkable areas — while the name might imply otherwise, Disney's Animal Kingdom Lodge isn't connected to Disney's Animal Kingdom theme park. You'll need to catch a ride via bus, car, or rideshare if traveling between them.
Disney transportation for travelers with mobility disabilities
For guests who use wheelchairs or electric conveyance vehicles (ECVs, otherwise known as scooters), Walt Disney World has accessible options for all primary modes of transportation modes. 
The guest boards buses via a pull-out ramp, and the inside of every one has a designated area where a Cast Member can assist in attaching safety restraints to a wheelchair or ECV while the guest remains in the chair. When scheduling a Minnie Van pick-up, you can designate that you'd like an accessible vehicle within the Lyft app. Both the monorail and the Skyliner are wheelchair-accessible in all cabins and require no further arrangements.
Boats are the only transportation mode that can be a toss-up in terms of accessibility. It all depends on the size of the watercraft. Some boats — namely a few that dock at various resort hotels — are small and have narrow walkways. Other boats — like the ferries that travel between Magic Kingdom and its parking lot — are huge and more than capable of accommodating travelers with mobility disabilities.
Driving around Disney World property yourself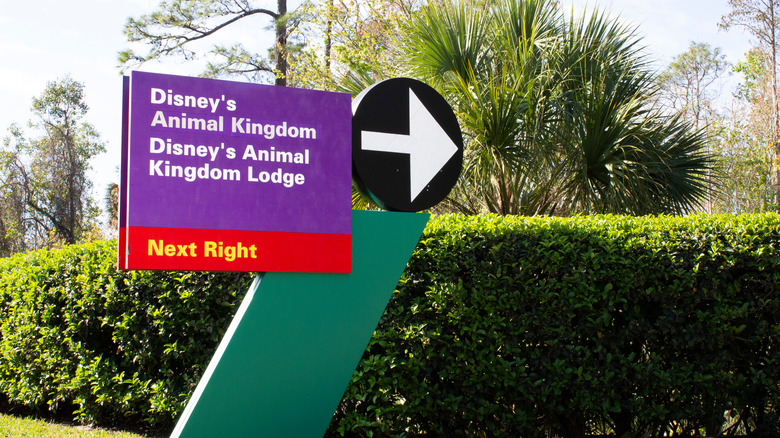 rustycanuck/Shutterstock
You might find yourself needing to traverse Walt Disney World in your own car (or a rental car you're driving). This especially goes for travelers not staying overnight at a Disney resort hotel. (Even if you're staying at a Disney resort, though, you're more than welcome to drive yourself around. That's a great idea when time is of the essence, such as en route to a dining reservation or a park's rope-drop.) Though Disney World is huge, there's signage everywhere that makes it easy to get around — it's even branded in special Disney colors different from regular road signs.
Each Walt Disney World theme park has its own parking lot. Parking at all theme parks costs $25 per day for cars and motorcycles, or $30 for oversized vehicles like campers or RVs. Disney offers "preferred" parking closer to the front of the lots for $45-$50 per day. Trams are available in some parking lots to alleviate the walk from your car to the park entrance. (Parks currently without trams will eventually have them again — they've been slow to return post-pandemic.)
Guests staying at a Disney resort can park overnight at their resort for free. Disney resort guests can also park at the theme parks for free (just not overnight). Notably, you cannot park at any resort without an overnight reservation or dining reservation. This includes Disney resort guests visiting other Disney resorts. You are, though, allowed to visit any resort via publicly provided Disney transportation.
Transportation from offsite hotels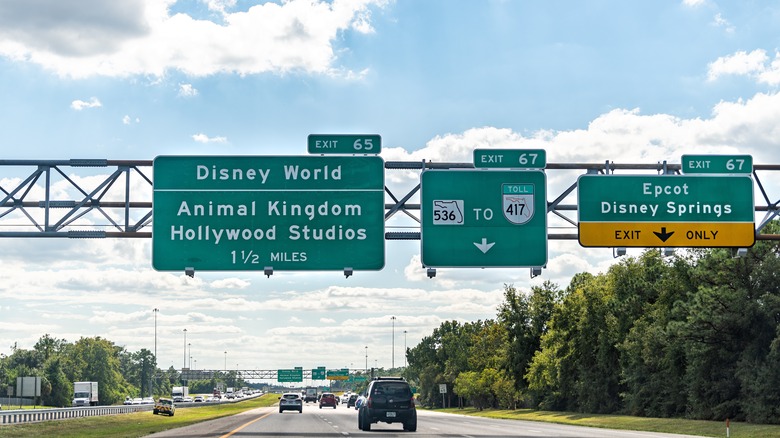 Kristi Blokhin/Shutterstock
Just because your hotel is located outside of Walt Disney World doesn't necessarily mean you're on your own for transportation. Some offsite hotels offer shuttle service (through a third party, not through Disney), and the separate bus terminals outside each theme park are catch-alls for any buses not operated by Disney. These bus stops are removed from the other stops, so pay attention to signage when exiting the park or ask a Cast Member to find where you're supposed to go. In comparison to the Disney buses (which pick up from any eligible location every 20 minutes), shuttles to and from offsite hotels are usually on a stricter timetable, with scheduled drop-off and pick-up times.
Once you're anywhere on Walt Disney World property, you're welcome to use Disney's free transportation to get somewhere, even if you're not staying at a Disney resort hotel. Buses, boats, the Skyliner, and the monorail are all complimentary and perfect for park-hopping. Just make sure you know how to get to where you're going, and you can navigate your way back to your car or hotel!
Allow for extra time when driving to Magic Kingdom
If you're driving or ridesharing, getting to Magic Kingdom is ... a whole thing. Its parking lot is at the Transportation and Ticket Center, located on the opposite side of a lake away from the park. After parking at the TTC, you'll need to ride the monorail or a boat to get to Magic Kingdom. Both options are relatively comparable in their travel time, with the monorail usually being slightly shorter, especially if there's no line. Even if you're ridesharing, your driver will drop you off at the TTC, not Magic Kingdom's main entrance. The only exception is Minnie Vans. Since they're official Disney vehicles, they're allowed to take you directly to the front gate.
The idea behind this is part practical, part theatrical. Logistically, constructing the parking lot separately from the park helped provide a transportation hub back when Magic Kingdom was the only park. From a creative standpoint, designers attribute the separation between the parking lot and the park as a way to build anticipation for arriving guests. Visitors can barely see the top of Cinderella Castle peaking out from across the lake, and it's not until they step foot underneath Magic Kingdom's train station that they get the full view of the castle in a grand reveal.
Disney didn't repeat the idea with other parks. The parking lots for Epcot, Disney's Hollywood Studios, and Disney's Animal Kingdom are all right outside the front gates of their respective areas.
Getting gas or charging your electric vehicle at Disney World
If you need to fill up on fuel for your car in the middle of your Walt Disney World vacation, there are three Speedway gas stations on Disney property. Surprisingly, their gas prices are pretty comparable to whatever the average price is regionally. (In contrast, a few gas stations just outside of Disney property are notoriously overpriced.)
One Speedway station is near the Transportation and Ticket Center. It's easy to pull into as you leave Magic Kingdom's parking lot, but otherwise can be tricky to access. If you happen to require mechanical services during your trip, this station is also adjacent to the Walt Disney World Car Care Center. The two other Speedway locations are both along the lengthy Buena Vista Drive — one is near the Epcot-area resort hotels that surround Crescent Lake, while another is near Disney Springs.
Alternatively, if you drive an electric vehicle and need to charge up, Disney offers a number of designated ChargePoint spots throughout the property. You can find charging stations in the parking lots for all four theme parks and in every garage at Disney Springs. As for resort hotels, as of May 2023 electric charging spots are only offered at Disney's Wilderness Lodge and Disney's Coronado Springs Resort. Charging costs $0.35 per kilowatt hour, and Disney requires a minimum of $1.50. You can pay with a credit card or a ChargePoint card.
Visiting during a runDisney event? Plan on road closures
runDisney hosts 12 different races throughout the year, and they're huge events. Every race day shuts down multiple roadways. If you're visiting during a race and not running, pack your patience and plan for transportation to take longer until the race concludes (usually around lunchtime for the longest races). On the other side of the coin, if you're participating in a runDisney race and wondering how you'll get to the starting line, Disney provides bus transportation from resorts early in the morning, well before the buses usually start operating.
If you have no interest in the races, you might want to schedule your trip for a time when they're not happening, or plan your itinerary in such a way that avoids the courses completely. You can do this by either staying at your resort until the afternoon or by traveling with a mode of transportation unaffected by the road closures (like boats, monorail, or Skyliner, if applicable to your overnight accommodations).
If you need to know which roads will be closed, visit the official runDisney website and consult the course maps. If you plan on driving through Disney property yourself during the events, Google Maps should be able to help you out. On a recent drive in the thick of a full marathon, Google Maps was aware of the road closures and routed us around them accordingly.