Unique Motels To Hit On Your Route 66 Road Trip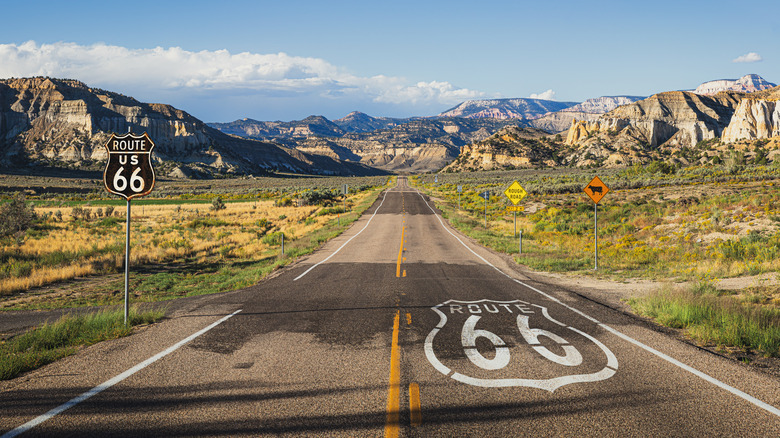 Nyokki/Shutterstock
The United States is a huge country, and there are so many different and fun ways to explore it. Road trips are an affordable and exciting option to see the country, and the paths travelers may take include some truly beautiful areas of the U.S. Route 66 is one of the most historic road trip paths and although you can no longer traverse the entire highway the way it once was, there are some preserved areas that make the trip bucket list worthy.
In fact, Route 66 is kind of like a destination all on its own, so don't feel like you need to have your heart set on a cross-country road trip in order to visit it. The highway runs from Chicago to Los Angeles and covers just under 2,500 miles of road, but you can certainly tackle smaller sections and even just visit certain attractions along the iconic route.
So what's so special about an old beat-up road that doesn't even serve its original purpose anymore? It's a classic slice of Americana and the retro motels, whether abandoned, renewed, or frozen in time, are one of the few things left that are truly an encapsulation of the American experience as it was at one time. We've picked some of the most unique motels you can visit while traversing Route 66, so buckle up! 
Wigwam Motel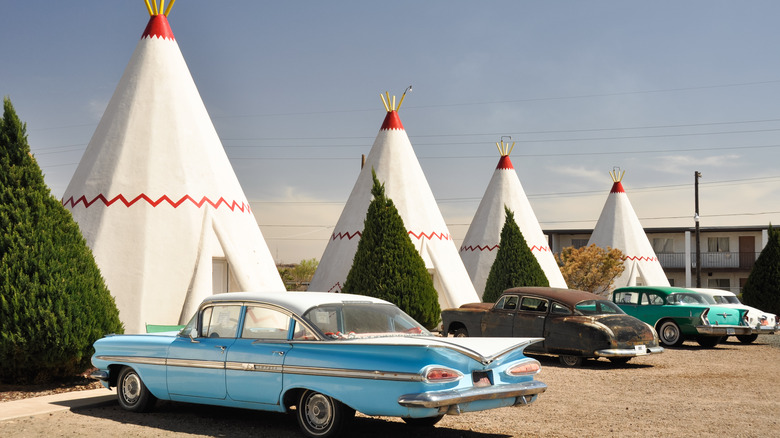 Alberto Loyo/Shutterstock
We're starting the list off strong with one of the most visually striking motels on Route 66, the Wigwam Motel. Appropriately named, the hotel is made up of a collection of large wigwams that contain the rooms patrons stay in. While the outside is obviously elaborate in theme, the interiors of the rooms themselves are quite simplistic – they will do well for just a quick shut-eye while on the road to see more attractions.
The Wigwam Motel and the clustered towns surrounding it on Route 66 were the inspiration for the town in Pixar's "Cars," with the Wigwam Motel reflected in the movie as the Cozy Cone Motel. This makes both Route 66 and the interestingly themed motel a great vacation for families with small children, as you can find all the little resemblances and references from the popular animated franchise in real life and even book a room in the motel that inspired the one that Lightning McQueen himself stayed in.
There are actually two Wigwam Motel locations relative to Route 66, one right on the highway in Holbrook, Arizona, and one near the end of the stretch of road in San Bernardino, California. Whether you want a place to stop while traversing the iconic highway or as you finish it, the huge tipi-shaped rooms will be waiting for you.
Boots Court Motel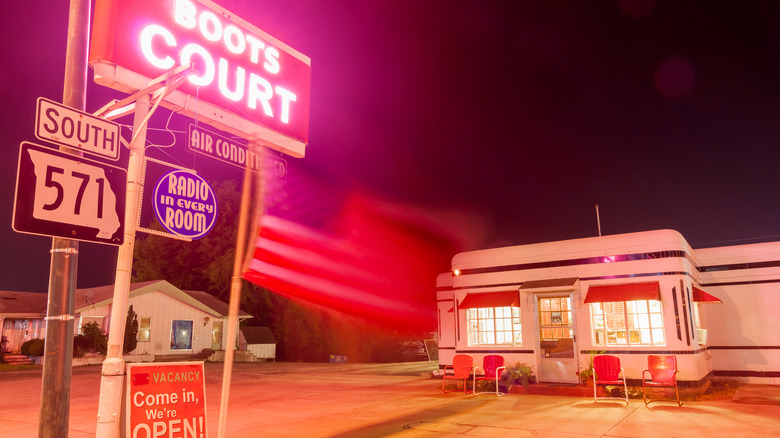 Photos BrianScantlebury/Shutterstock
Don't worry, we're not going to shower you with motels shaped like their namesakes — the Boots Court Motel is not actually a huge boot. Instead, the motel was named after its creator and is actually pretty iconic in its simplistic, art deco-style architecture. The outside of the motel is done in the streamlined moderne style that gained popularity in the 1930s, with flat white walls and rounded corners. The clean, somewhat plain exterior is offset by the addition of vibrant neon lights around the windows and running parallel to the flat roof. This decor gives the motel an inviting glow and invites guests to take a break from traveling in order to hang their hats in their own room, safely tucked away in a friendly reminder of a time gone by.
Boots Court Motel is located in the charming town of Carthage, Missouri, and is one of the oldest motels on Route 66. It is currently undergoing a complete restoration, but don't fret, you can still book some of the rooms and the entire building will soon show off all its former glory.
Big Texan Motel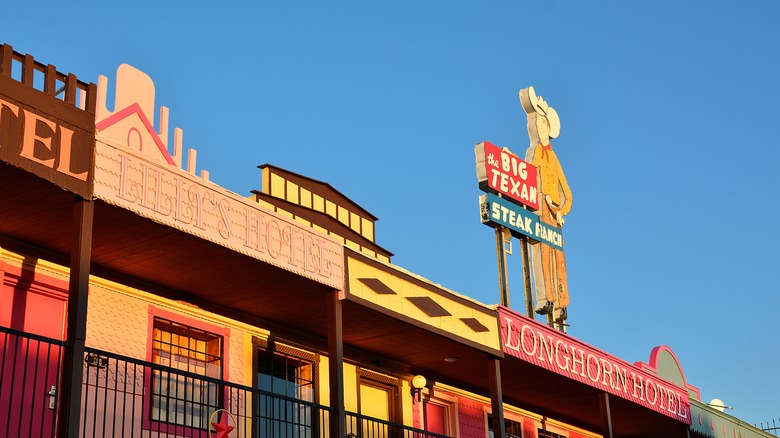 StockPhotoAstur/Shutterstock
The Big Texan Motel combines eclectic tastes with the wild west in its interesting design. Its long facade has been made to look like the buildings of an old Western town – you know, like the old saloons and jailhouses that make Western movies so fun. The building is split up into sections by vibrant color combinations, giving the appearance of different buildings connected by shared walls. It's a sight to behold.
The rooms are of a similar likeness in the way that they give off a simplistic Southwestern vibe with a touch of bold color and design. The floors and walls are plain and almost bare, but the beds are adorned with gorgeous and vibrant quilts and pillows that not only reflect the colorful exterior of the motel but also give the rooms a homey atmosphere that will put travelers at ease.
Located in Amarillo, Texas, the Big Texan Motel offers a safe place for travelers on Route 66 and some pretty impressive nearby, walkable attractions that may warrant a stay. In fact, right next door is the Big Texan Steak Ranch and Brewery, where patrons can take on the massive 72oz steak challenge – after all, everything is bigger in Texas, especially when it comes to steaks.
Blue Swallow Motel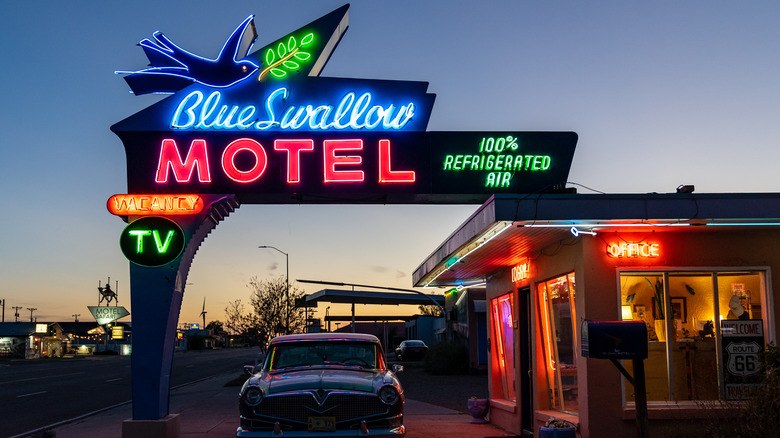 melissamn/Shutterstock
The Blue Swallow Motel is one of the most classic and iconic Route 66 stops and makes travelers feel like they are sucked back in time to when the highway was heavily in use. Its rooms are vintage themed and the neon lights of the motel's sign are cozy and make you nostalgic for a time you may not have even lived in.
It's worth visiting or even staying in the Blue Swallow Motel just for its historic value and the night glow of the neon swallow on its sign, but the motel really goes out of its way to make guests comfortable as well. Even though the rooms look dated, it's totally on purpose, and quality is not sacrificed for the authentically vintage appearance. Thread counts are high, bath towels are fluffy, and a fresh bouquet of flowers is waiting for guests in their rooms upon request.
The Blue Swallow Motel can be found in Tucumcari, New Mexico where the sunsets are something truly beautiful to see, especially when it's peaking over the motel's iconic neon sign. If you don't reach the motel in time to see the sunset, booking a room and waking up to see the sunrise is a great way to make sure you get the view before taking off to continue your journey along Route 66.
Motel Safari
Located right across the street from the Blue Swallow Motel in Tucumcari, New Mexico is another vital Route 66 motel, Motel Safari. Don't worry, the popular overnight pit stop doesn't actually have any exotic animals — unless you count the camel on the sign out front. Instead, the name comes from the meaning of the word "safari," which in Swahili can mean "a lengthy journey," which makes this name very fitting for a destination along Route 66.
This motel has been fully renovated and the rooms are beautiful and comfortable. The current owner and operator remodeled the classic motel into a fab midcentury modern stay with modern amenities like free Wi-Fi and Bluetooth radio. While you won't find a balcony or a private outdoor area attached to any rooms, each room does have seating right outside their doors that face the motor court, which makes socializing with fellow travelers easy and fun.
Owner Larry Smith himself is an avid fan of Route 66 and a collector of Americana memorabilia, which you will clearly see from the front booking room. He is a great resource for travelers who want to learn about the iconic highway and the history of the Motel Safari itself. If you're someone who wants to immerse themselves in what Route 66 once was and what it has turned into today, Motel Safari is a comfortable stay that comes with a whole lot of history.
Wagon Wheel Motel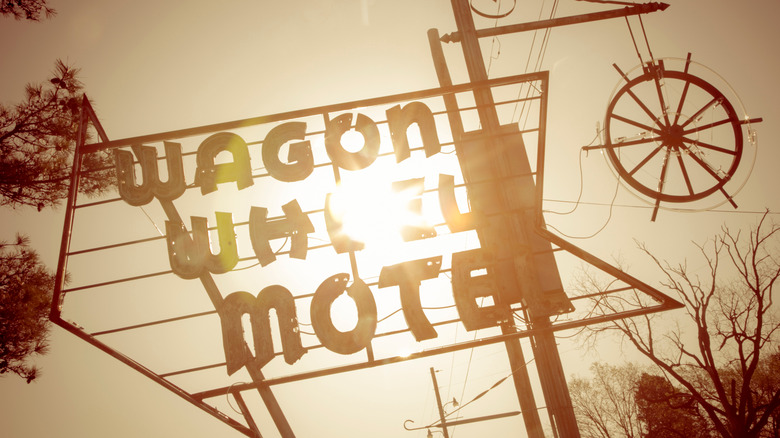 Danita Delimont/Shutterstock
Wagon Wheel Motel claims to be the longest-running motel on Route 66 that has continuously been in operation, and at over 85 years old, that's probably true. The motel is a collection of stone buildings that not only make up all the rooms available to book but also a cafe that doubles as the motel office. Updates and improvements have been ongoing for almost the entire time the motel has existed, and things haven't slowed down in recent years either.
While there are plenty of modern touches found in the Wagon Wheel Motel like flat-screen TVs and jacuzzi tubs, the owners over the years have kept a good amount of original aspects of the historic motel. The hardwood floors and doors are original, as well as the main neon sign that was designed in the '40s.
If you're staying at the Wagon Wheel Motel, there are plenty of things to see in its town. Cuba, Missouri is home to 14 murals that depict a time gone by, which makes them the perfect detour for travelers on Route 66. The town is also near the Meramec River, where travelers for the love of the outdoors can visit caverns and spots on the water.
Roadrunner Lodge Motel
If you're looking for a motel with that vintage feel but also has incredibly cozy rooms that don't appear dated, the Roadrunner Lodge Motel is a perfect place to lay your head for a good night's rest. It's heavily inspired by the '50s and '60s and once you're handed that retro motel key, you'll practically be transported decades into the past, as every detail of the motel seemingly has that intention.
Not only will lovers of the '60s be thrilled with a stay at Roadrunner Lodge Motel, but explorers who are traveling with their furry friends will find the motel to be a safe haven as well. While a good portion of the motels along Route 66 do not allow dogs, the Roadrunner Lodge Motel is actually pretty dog-friendly, with some of their rooms allowing up to three dogs.
The Roadrunner Lodge Motel is located in Tucumcari, New Mexico, right down the street from Blue Swallow Motel and Motel Safari. Roadrunner is the only of the three to allow dogs and gives a slightly different retro vibe than either other historic motels. While you'll likely only choose one of these three to stay overnight, keeping an eye out for all of them as you go through Tucumcari is wise, as they all deserve some attention.
Roy's Motel and Cafe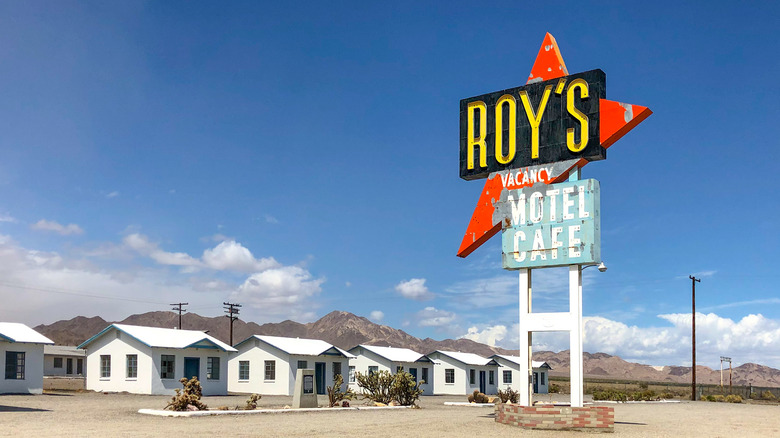 Unwind/Shutterstock
Like a lot of places time has left behind on Route 66, Roy's Motel and Cafe is no longer in operation. That doesn't stop it from being a popular destination, though, especially for photographers and travelers looking to get the perfect Route 66 picture and keepsake.
Located in the town of Amboy in California, Roy's used to be the traveler's one-stop-shop when it came to driving down Route 66, as it started as just a gas station and quickly expanded to include a motel, auto shop, and cafe. Even though it is no longer the giant it once was, there are plans to restore Roy's and the surrounding town of Amboy. The ghost town was purchased by Albert Okura in 2003 with the hopes of reinvigorating the area and returning it to its former glory. In 2009, Roy's neon sign was restored and lit up for all to enjoy, with the restoration of the motel itself hopefully coming in the future.
Roy's sign can be seen from quite some distance away when coming into the town, and by following its guiding neon lights it will lead you to an operating 24-hour gas station and a gift shop where you can purchase keepsakes from your travels there. If you're beginning your Route 66 journey in California, Roy's is a great place to fill up and start the road trip out on a high note.
Munger Moss Motel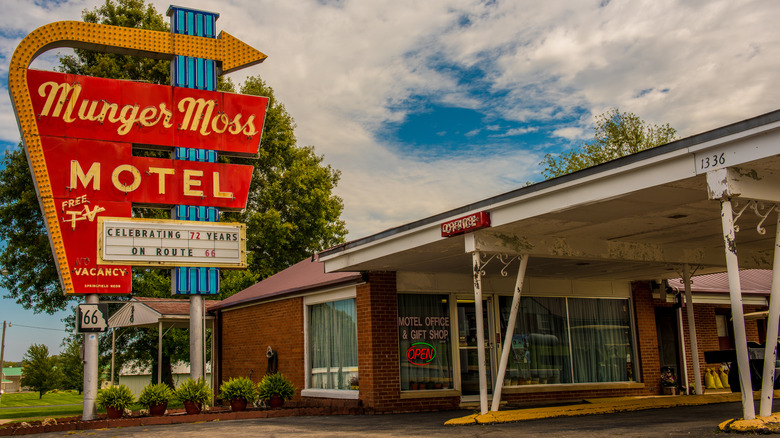 thomas carr/Shutterstock
What started as a small sandwich shop's barbecue recipe turned into one of the longest up-and-running motels on Route 66, as Munger Moss Motel is named after the recipe the original owners used in the restaurant that came before the motel. The barbecue apparently saw a thriving business, as the Munger Moss Motel was built as an expansion. It is still locally owned and a classic mom-and-pop motel today, but you won't find that the barbecue recipe survived the decades that have passed.
Still, Munger Moss Motel has plenty to offer travelers, especially those that like their stays to have a personal touch. The Lehmans bought the motel after visiting it just once and they raised a family while running Munger Moss. Though their children are now grown, they still run operations to this day and greet guests with stories of the motel's history.
The neon sign tempting travelers who are driving through Lebanon, Missouri to walk in the doors of the motel is impressive and if you don't stay at the motel, you should still stop and snap a picture. It was restored in 2010 and is so bright you truly can't miss it.
El Rey Court
There are plenty of old-school accommodations on historic Route 66, but El Rey Court is not one of them. Although built in the '30s, El Rey Court is not just restored to reflect what it has been in the past but has been updated, renovated, and modernized into what is now a southwestern paradise for those that stay there.
Exposed wooden beams, elegant and earthy furniture, and sleek design all give the rooms and communal spaces a relaxing and luxurious vibe. The motel has a heated outdoor pool, a hot tub, and a full bar with a wood-fired pizza oven. El Rey Court also welcomes dogs for the explorer who brings Fido along in all their adventures. This motel is a little more pricey than most others on this list, but your money certainly goes a long way here.
Located in Santa Fe, New Mexico, there is so much to do while staying at El Rey Court that you just might give up your road trip dreams and spend the rest of your trip there. Sure, you're in the middle of the desert, but the city is rich in history and art. The eclectic Meow Wolf museum is nearby and offers a unique and artful experience. Travelers can also see where Georgia O'Keeffe lived and harvested inspiration for her famous paintings. The view of the desert sun right outside your motel door is worth the trip alone.
El Vado Motel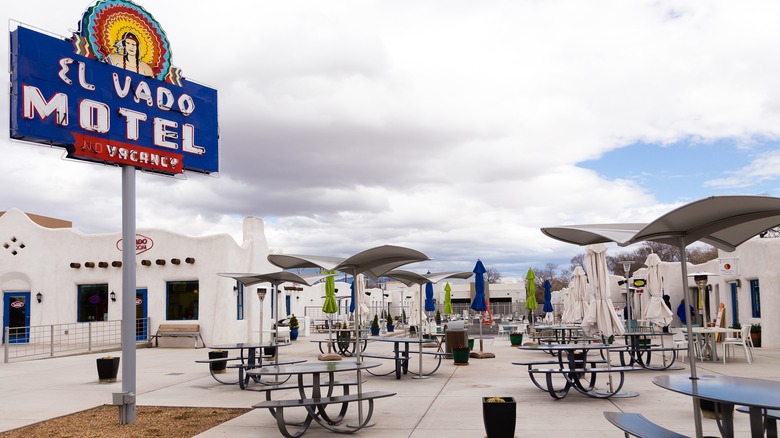 Anne Richard/Shutterstock
One of the very first motels to welcome Route 66 travelers into its open arms back in the '30s, El Vado Motel is still very much around. The motel has been renovated, yet it still has a timeless atmosphere with a comfortable and more modern space within the rooms. The motel not only offers King and Queen rooms but also suites that have separate living and sleeping spaces that add an at-home feel to your stay.
El Vado Motel is more than just a place for an easy overnight stay, it's also a thriving place for up-and-coming restaurants. The motel hosts space for a rotation of featured restaurants in what they call "food pods." More permanent is the El Vado Taproom, where visitors can enjoy fresh beer from the Ponderosa Brewing Company. The taproom features a kiva fireplace that is original to the motel's early days.
Travelers as well as locals patronize El Vado Motel, as the plaza is also an entertainment venue. Staying at the motel will not only offer a restful night away from the road but also a peak into the local Albuquerque culture.
Hotel El Rancho
A perfect mix of old Hollywood and southwestern, the Hotel El Rancho prides itself on having been visited by big names in Hollywood. It was built by R.E. Griffith, the brother of D.W. Griffith, who was an early film director and who is largely considered as having influenced the course of the art of filmography. With such connections, the Hotel El Rancho became a popular place for those in movie productions to stay and relax – the fresh New Mexican air wasn't too bad of a draw, either.
With the rooms renovated in a classy but seemingly natural design, travelers who want to stay somewhere historic but have the comforts of newness will find El Rancho checks their boxes pretty perfectly. Located right on the border of New Mexico in a small city named Gallup, the neon lights coating the front of the building make it very clear where to find the historic and gorgeous hotel. With dogs allowed and a whole slew of outdoor adventures to be had in the surrounding area, a stay at Hotel El Rancho just makes sense.