Tips For Avoiding Memorial Day Weekend Traffic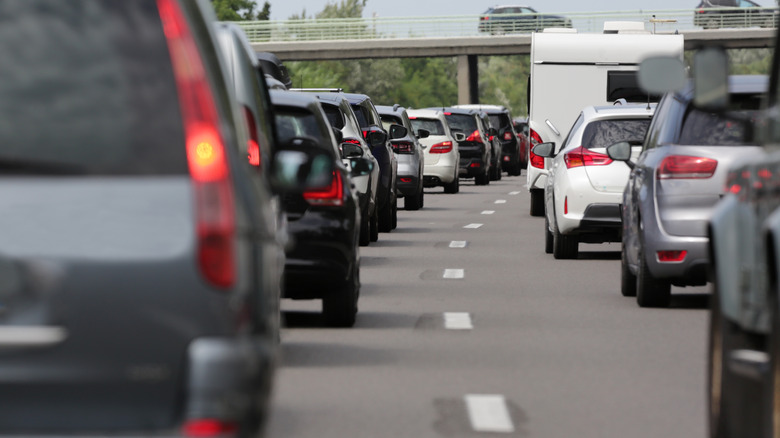 witaker/Shutterstock
Memorial Day weekend is an incredibly popular time for vacations in America. From beach barbecues to small-town parades, the festivities of Memorial Day attract millions of travelers each year. Memorial Day weekend is also the unofficial start of summer. Warm May weather and the end of the school year encourage families to take much-anticipated minivacations, making Memorial Day weekend one of the year's busiest times to travel.
While Memorial Day weekend is a time for reflection, celebration, fun, and rest, the national holiday is also a time for traffic, as a majority of Americans hit the road for Memorial Day vacations. According to USA Today, eight times the number of vacationers drive to their Memorial Day destination than take other modes of travel. This can translate to time-consuming traffic delays around major cities and bottlenecked roadways.
On a minivacation, traffic can seriously impact your overall experience. When you only have a few days to vacation, a half-day spent in traffic is particularly unenjoyable. Fortunately, there are a few tips for avoiding the worst of Memorial Day weekend traffic.
Traffic timing is everything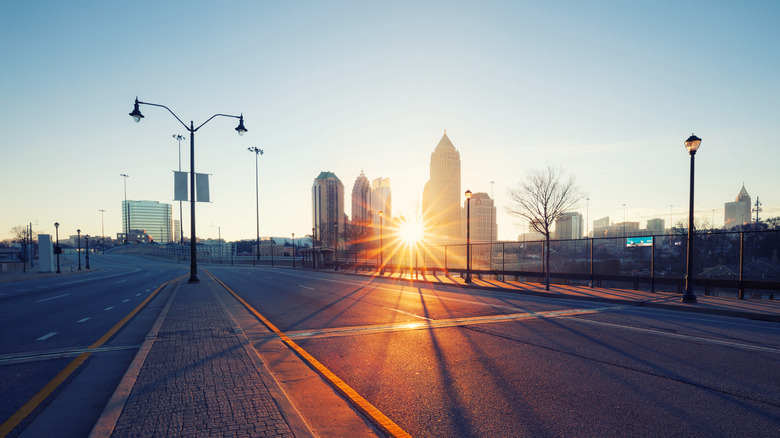 Khoroshkov/Getty Images
According to INRIX, a leader in traffic analytics and data, the worst times to travel for Memorial Day weekend occur on the Thursday and Friday before the holiday weekend. Specifically, the time periods between 1 and 8 p.m. on Thursday and 12 and 7 p.m. on Friday typically experience the worst traffic delays. This can be especially true around metro areas, as holiday traffic mixes with commuter traffic. Travelers may spend three times longer than normalwhen encountering this evening commute congestion.
The first tip to avoid traffic is to time your travel as carefully as possible. While different destinations may dictate your decision-making, hitting the road as early as possible is usually a good idea. Travelers on Thursday or Friday should miss the brunt of traffic in the mornings. Conversely, if you need to wait to leave the office, consider hitting the road after 9 p.m. According to INRIX, the best times to start traveling on Thursday or Friday is either around sunrise or after 9 p.m.
Although Thursday and Friday are popular travel days to kick off a Memorial Day weekend, there's no hard and fast rule for vacationing. For instance, if you typically use your limited PTO for that Thursday and Friday, consider swapping for Tuesday and Wednesday after Memorial Day instead. You'll still enjoy the same amount of vacation time (and the weekend) while avoiding peak Memorial Day traffic altogether.
Get creative and flexible with routes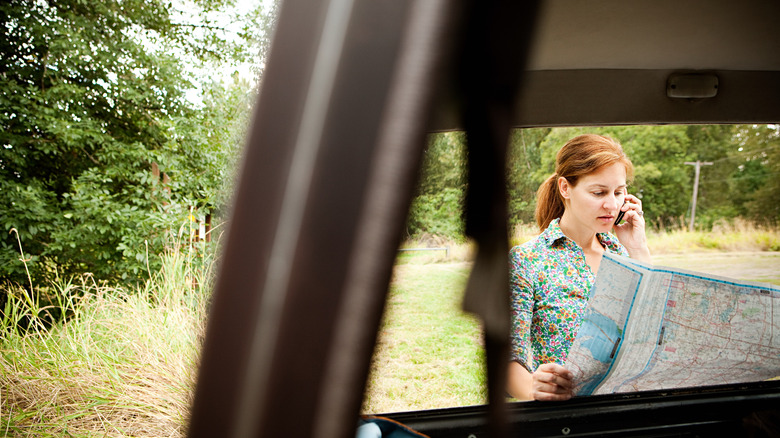 Image Source/Getty Images
Strategic timing can help you avoid the worse of traffic congestion, but it's not the only way to mitigate long delays. Before hitting the road, explore alternative route options. When traveling to popular destinations and metro areas, it may be impossible to avoid traffic delays completely. However, there may be a route that avoids the worse areas for bottlenecks.
Both Apple Maps and Google Maps offer a function that predicts future traffic relative to your departure timeand you can view sections of the route that often experience traffic congestion. If you explore alternative routes for these sections, you may be able to circumvent the traffic by exiting the highway.
For example, on Google Maps, your chosen route will be indicated in blue. Around your chosen blue route, you'll also typically see greyed-out roads. By tapping these sections, you'll receive directions for taking the alternative route. This usually isn't the shortest or fastest way to go, but neither is sitting in standstill traffic. Overall, by planning both your routes and departure times wisely, you can spend more time celebrating Memorial Day weekend and less time getting there.