Limited PTO? Here Are 5 Travel Strategies To Max Out The Fun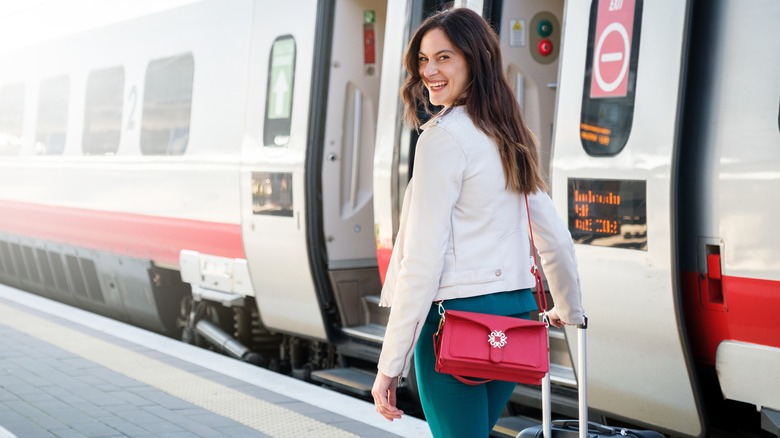 Damiano Buffo/Shutterstock
America isn't great at taking vacations, especially compared to other economies. According to The Center for Economic and Policy Research (CERP), America is the only advanced nation without any guaranteed paid vacations or holidays. To compare, the European Union offers its workers at least 20 annual paid vacation days. This disparity is so stark that, in its report, CERP actually refers to the U.S. as "no-vacation nation."
Although Americans aren't promised paid time off (PTO), most companies and organizations do provide some PTO to their workers. On average, American workers receive 11 days of PTO, which tends to increase after benchmark years of employment. In addition, on average, Americans receive around seven days of paid holidays.
So, while Americans aren't guaranteed to receive any PTO, most do. However, since these days are limited, you may need to be creative when it comes to using your PTO. Whether you prefer to take weeks-long annual trips or plan long weekends to recharge, below are five travel strategies that can maximize your vacation time.
Plan your vacation length according to science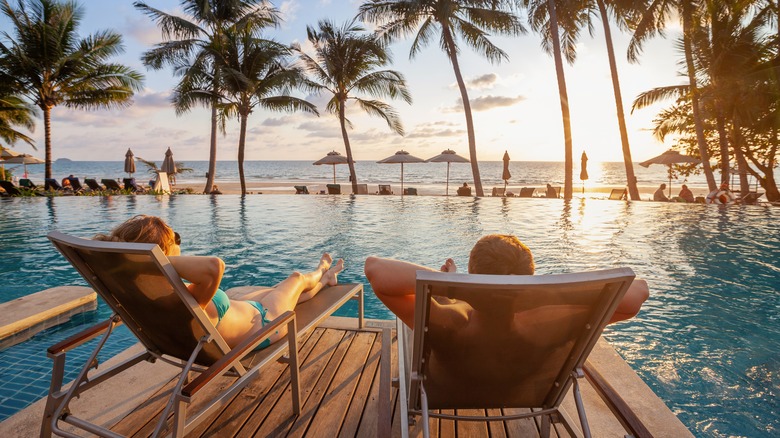 Song_about_summer/Shutterstock
To begin our list of vacation-planning strategies, we'll first follow the science concerning the optimal length of a vacation. According to the Journal of Happiness Studies, vacations should last at least eight days in order for vacationers to fully unwind and feel refreshed.
By following and polling individuals on long vacations (over 14 days), the report found that vacationer happiness tended to peak around the eighth day. Before eight days, the person still tried to acclimate to time off. And, maybe a bit surprising, the happiness of vacationers started to wane after 11 days. By this time, vacationers tended to grow increasingly bored, homesick, and miss normal routines.
Although a limited study, the report is an interesting insight into the psyche of a vacationer. That said, everyone is different, and some people are simply better at vacationing than others. But if you like evidence-based strategies, then consider combining a week off with a long weekend using your PTO. This combo creates a science-backed, eight-day vacation for achieving optimal happiness.
Use two weekends to create a long vacation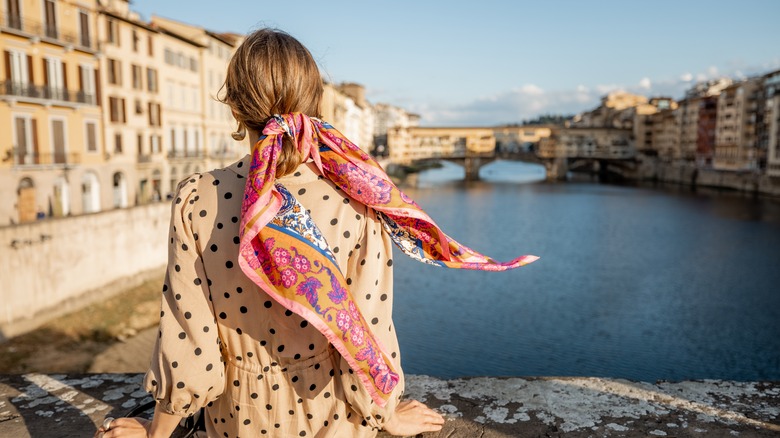 RossHelen/Shutterstock
While science may suggest long vacations aren't the best option, you may find plenty of reasons to disagree. For starters, a long vacation allows you to explore more places within a specific region and timeframe. Often, you can minimize costs and actual travel time by planning a long vacation versus two or three shorter vacations.
For example, let's say you want to explore both Italy and France. If you used 10 PTO days sandwiched between two weekends, you can plan a two-week itinerary that may work. By flying into France and flying out of Rome, you can explore Paris, the French Riviera, Tuscany, and Rome. While, yes, you may use a lot of PTO, this long vacation to explore an entire region could make more sense than planning two separate, week-long trips abroad within the same year.
By choosing one two-week vacation, you can maximize your time exploring an entire region and spend less time planning, packing, and traveling to visit two separate areas at two separate times.
Take vacations around holidays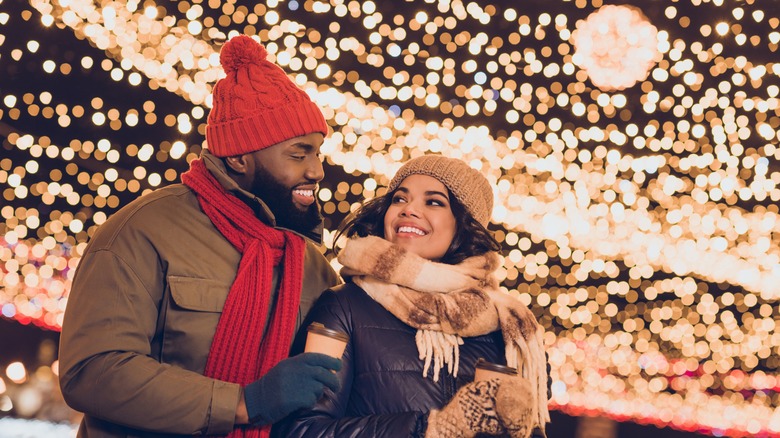 Roman Samborskyi/Shutterstock
In America, most federal holidays that don't land on specific dates, such as Christmas Day on December 25 or July 4, fall on either a Friday or Monday. To maximize your PTO, consider taking vacations around these federal holidays. For example, if you took only four days off during a holiday week, you'd enjoy a full week off. Since you're already enjoying a long weekend, you can use minimal PTO to plan a week-long vacation.
While it's a good idea on paper, some may not consider vacationing around a holiday, as it may seem silly to take advantage of days off around a holiday-created vacation already marked on the calendar. However, as far as maximizing PTO, these "holidates" provide opportunities for longer vacations while spending less PTO. This can be particularly true when receiving multiple days off, such as around Thanksgiving, Christmas, and New Year's.
The prices and crowds of holiday travel are two not-so-ideal caveats of this strategy. However, you can avoid high prices and large crowds by traveling on the actual day of the holiday.
Maximizing PTO with effective vacation planning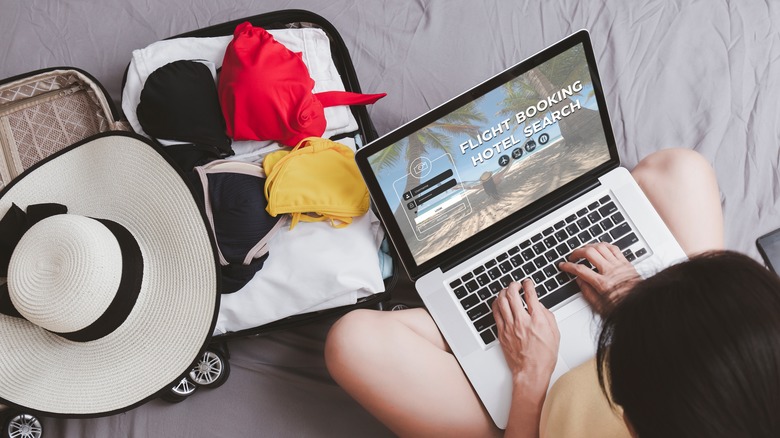 The Sense Production/Shutterstock
When PTO is limited, you may want to approach your vacation planning around minimizing the actual time and effort of traveling. While a non-stop flight may be more expensive, travel routes that involve long or multiple layovers may result in spending full days traveling that sacrifice precious vacation time. Taking red-eye flights or planning trips during off-peak times could help you to offset the costs of non-stop flights.
Similarly, consider paying a little more on centrally-located accommodations to avoid spending time commuting. Again, you can typically pay less for accommodation by visiting popular destinations during shoulder seasons or outside of peak travel times.
And while we don't suggest planning every detail to create an hour-by-hour itinerary, as this can lead to a stressful experience, it's probably a good idea to prioritize bucket-list items and plan wisely for scheduled activities. With a limited amount of time to experience a destination, some pre-planning, such as making dinner reservations or scheduling a time-specific tour, can help a vacation go a bit smoother.
Get creative with long weekends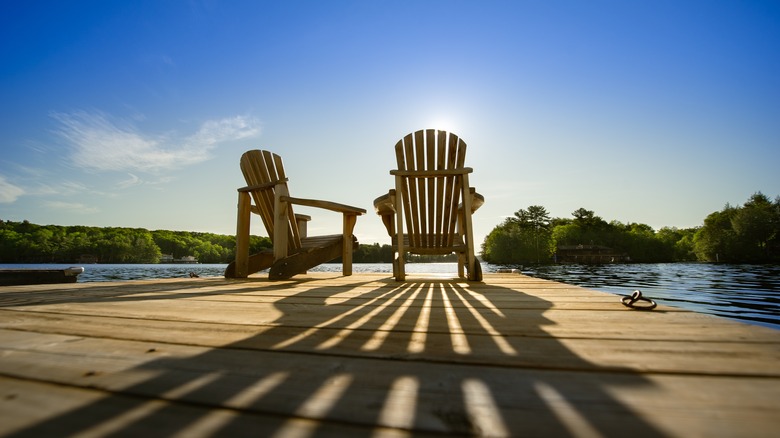 Alessandro Cancian/Shutterstock
While some people may prefer one or two longer vacations each year, others may opt to plan shorter vacations throughout the year. Whether it's due to personality, the nature of the job, or a mix of both, using PTO to create shorter vacations throughout the year has its advantages.
For one, you should spend less time traveling. Creative staycations, puddle-jump flights, and short road trips can all maximize the time you vacation (versus spending your PTO traveling). Also, by spacing out your PTO throughout the year, you'll continually have something to look forward to. Lastly, if you have a particularly stressful job, these mini-vacations may help you avoid burnout.
Regardless of the type of vacation you prefer, the most important strategy for maximizing your PTO is to actually use it. A recent survey by Sorbet indicated that 55% of available PTO currently goes unused in the U.S. Not only is this unfortunate; it's a bit dangerous. Science shows that taking vacations can greatly improve your physical and mental health, so we highly recommend using all of your allotted PTO and then maximizing your time to rejuvenate, refresh, and recharge.