Track Your Flight Status With A Simple iPhone Messages Hack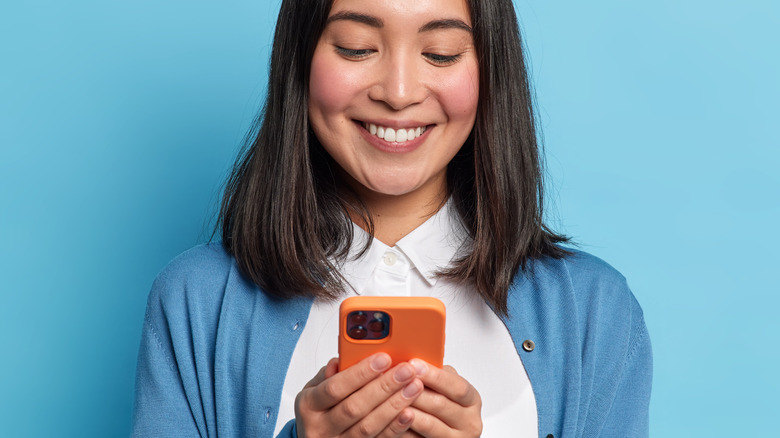 Cast Of Thousands/Shutterstock
Technology is just getting cooler and cooler these days, especially for travelers. Between the many travel apps we can use to track our flights, check security wait times, and scan for potential delays and new programs like Clear and Mobile Passport Control, it seems we really have no excuse not to be fully prepared for our upcoming trips. Well, for iPhone users, you're about to get a whole new tool to add to your arsenal!
Did you know that you can get information about your flight sent directly to your text messages? If you didn't, don't worry, you're not technologically out of date. iPhones have tons of hidden features that users often only hear about by word-of-mouth or find by accident. Luckily, we're your source for this ingenious feature that's going to make staying updated about your flight just a little easier.
Unfortunately for now, the feature is only available to iPhone users as it only works with iMessage. If you have an iPhone and want to check out this cool trick, you're going to want to make sure iMessage is turned on and have your flight number on hand. Here's how it works.
How to access this neat iPhone feature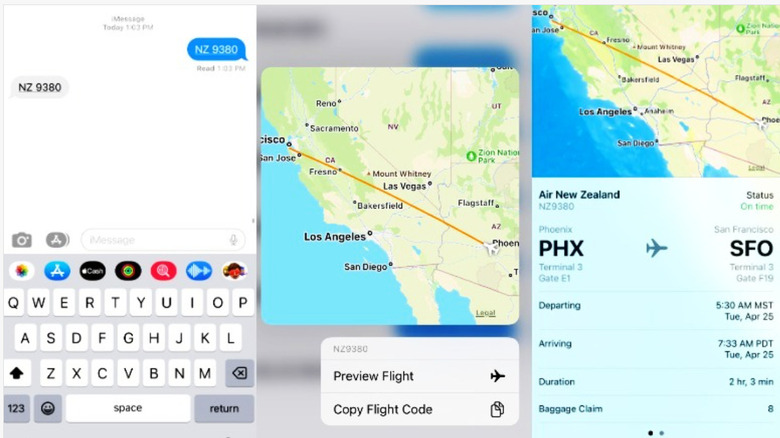 Lexi Kassler
First, you'll want to launch the green text messaging app on your iPhone. While you can have the flight number sent to you by your airline if you signed up for SMS updates, you can also enter it manually by texting yourself the number. Just start a new chat, enter your name, and your contact should pop up. Type your flight number in the message field. You can enter this as the full name of the airline plus the flight number or the airline's abbreviation plus the flight number with or without a space. So that could look like Air New Zealand 9380, NZ 9380, or NZ9380. Once you send the text, the number should appear with a line underneath it.
Hold your thumb on either the sent or received text message bubble, and you'll see a new window appear with a map and a drop-down menu with Preview Flight and Copy Flight Code. Click on Preview Flight. Another window will open with an interactive map. Below the map is a list of information, including flight status, terminal information, your departure and arrival gates, departure and arrival times, flight duration, and even your baggage claim carousel. You can also tap the departure or arrival airport codes to zoom in on either airport on the map. Finally, with some flights, you can also swipe left to check out where else your flight is headed that day on its route.
A few caveats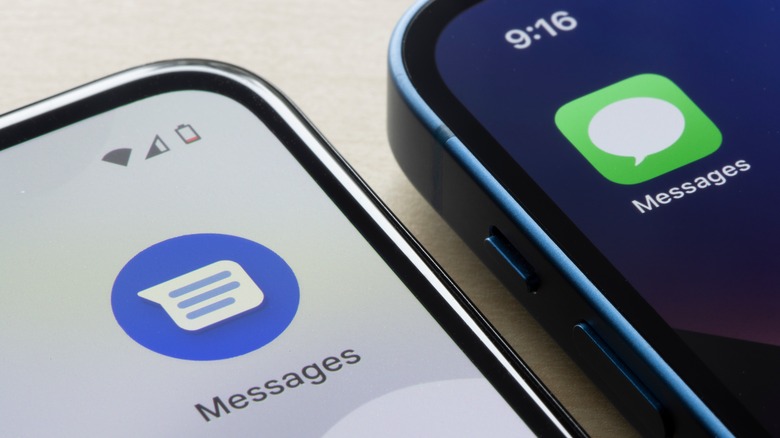 Tada Images/Shutterstock
First of all, it kind of sucks that this is only available to iPhone users. We wish this information were available at least in a plain text format via SMS or maybe a similar format for WhatsApp users, but alas, it's only on iPhones for now.
Secondly, the ease of use and availability of this hack seems to work best for major airlines. We tested out this feature with both major airlines like American Airlines, KLM, Delta, and British Airways as well as smaller budget airlines like Ryanair, JetBlue, and Wizz Air. We found that flight numbers needed to be entered differently for smaller airlines and that, even then, some information was missing or unavailable. We found that for smaller airlines — if it doesn't seem to be working — you should  try entering the full name of the airline and a space between the name and the flight number. Although for some airlines, like Wizz Air, we couldn't find a combination that worked at all.
Finally, you can't check your flight information too far in advance from your departure date. The information just won't appear. However, this is understandable since iPhones can't predict the future (yet). You can play around with it, though, and check out upcoming flights departing from any airport anywhere in the world.