Tracking Your Next Flight Can Help You Avoid Getting Blindsided By Delays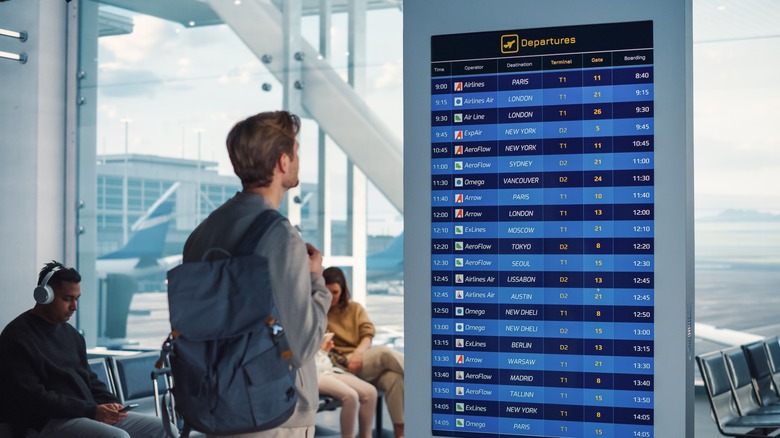 Gorodenkoff/Shutterstock
The day of travel can bring up a variety of emotions and feelings. From the excitement for your upcoming trip to making sure you have all your necessary documents and getting to the airport on time, it can be a mix of anxiety and thrills. Sometimes the last thing on your mind is wondering if your flight will be delayed or canceled. After all, isn't it the job of the airline to notify you? Well, yes and no. What makes sense in theory isn't always applied in practice.
But there's plenty you can do to take things into your own hands and make sure you're fully prepared for any upcoming problems with your flight. By keeping an eye on your flight and seeing if it's remaining on track to arrive at your departure airport, you can avoid being blindsided by delays. Besides downloading the app for the airline you'll be flying with, there are many different apps these days that can also help you stay apprised of your flight's status.
Best apps to track your flight status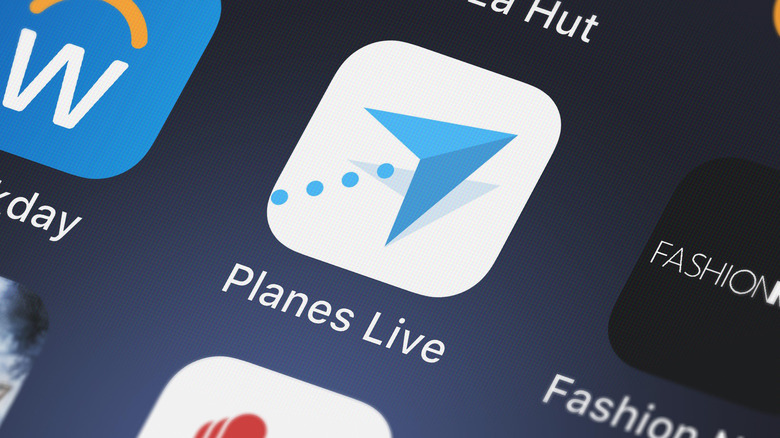 OpturaDesign/Shutterstock
If you're looking for an app with all the bells and whistles and the best supply of data, look no further than FlightAware. You can be sure you're receiving the most up-to-date and accurate information regarding your or your loved one's flight status and its progress toward a departure or arrival destination. With FlightAware, you can not only track flights but also get real-time updates on airport delays, too.
If you're interested in more detailed airport statistics, this next app will be up your alley. Planes Live has a pretty straightforward and appealing user experience that perfectly presents loads of rich data about airports worldwide. In addition to the usual flight information, Planes Live also includes average security wait times, airport maps, and can tell you the likelihood that your flight will get delayed.
Finally, if you just want a straightforward app that lists all departures and arrivals (and delays and cancelations) for any given airport, Flight Board is for you. This app updates frequently and gives users access to information for over 16,000 airports worldwide.
How to prepare for and deal with flight delays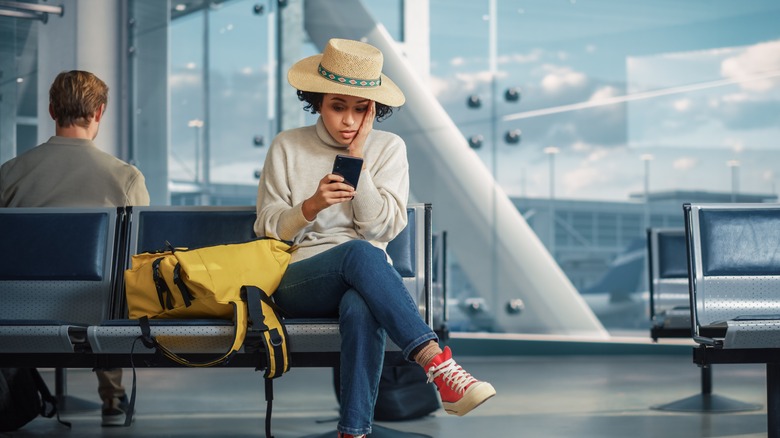 Gorodenkoff/Shutterstock
If your flight gets delayed there is very little you can do about it. Most of the time, it's a sit-around-and-wait situation where you continuously check your email for updates on what's happening and whether or not you're going to make it to your next flight. But if you're worried about a delay ruining your plans (like missing embarkation day for your cruise) there are some things you can do to avoid paying out of pocket. You may want to consider getting single-trip travel insurance. This insurance covers a variety of travel disasters but also, most commonly, flight delays.
While travel insurance can be a good way to cover all your bases, you'll also want to check the airline's policies for flight delays and how or if you can be reimbursed. If you're flying within the EU and experience a delay, you can receive compensation under EU regulation, regardless if you're a citizen or not. You'll need to file your claim ASAP, and the airline may push back, but you're entitled to compensation if your flight's delay seriously impeded your travel plans.