The 13 Best Places To Stargaze In New York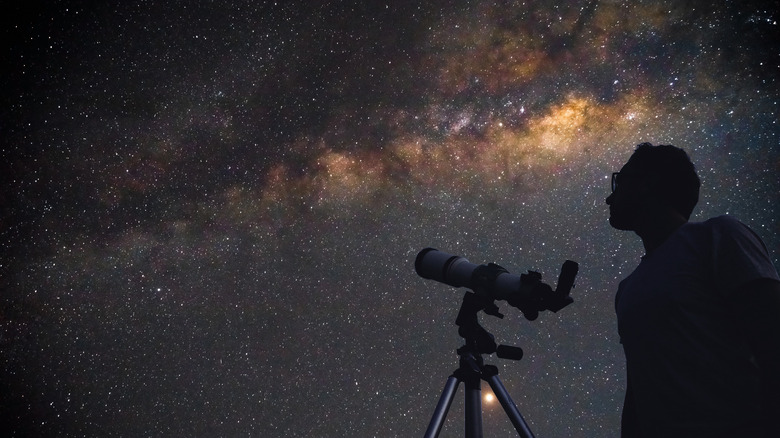 AstroStar/Shutterstock
New York is known for its wide range of outdoor activities during the day, but the fun doesn't have to end when night falls. There's at least one simple and free thing to do once the sun goes down in New York — go stargazing. However, getting an eyeful of stars isn't as easy as walking outside and looking up when you're in a place with tons of light pollution. In New York State, there are only a few places where you can get a clear view of the sparkling stars in the night sky. If you know where to look, though, you can see the stars even when you're in a busy, light-heavy part of the state like Manhattan. Just visit these 13 stargazing spots in New York to spot your fair share of constellations. 
Allegany State Park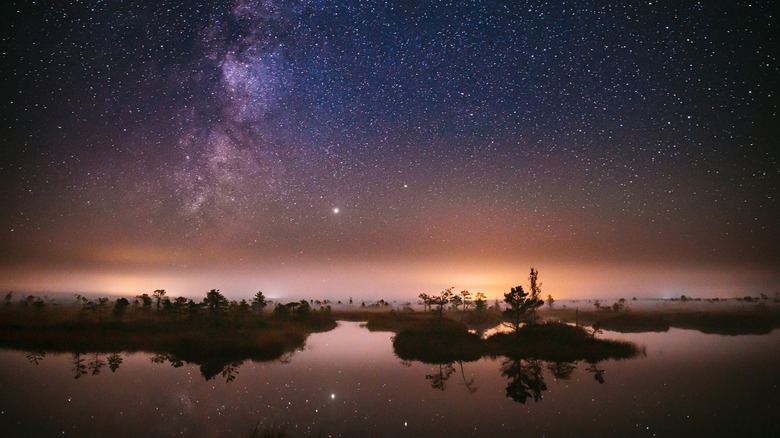 Grisha Bruev/Shutterstock
Located in western New York, Allegany State Park provides visitors with wide-open spaces that are absolutely perfect for spending an evening under the stars. The park is open all year round and offers tons of activities during the day before you get ready for the stars in the evening, including hiking, kayaking, and fishing. When the sun goes down, though, that's when the real star show starts. You can even opt to spend the night at one of Allegany's two campgrounds or in one of its 230 more luxurious cabins if you want an entire night soaking in the starry views.
Letchworth State Park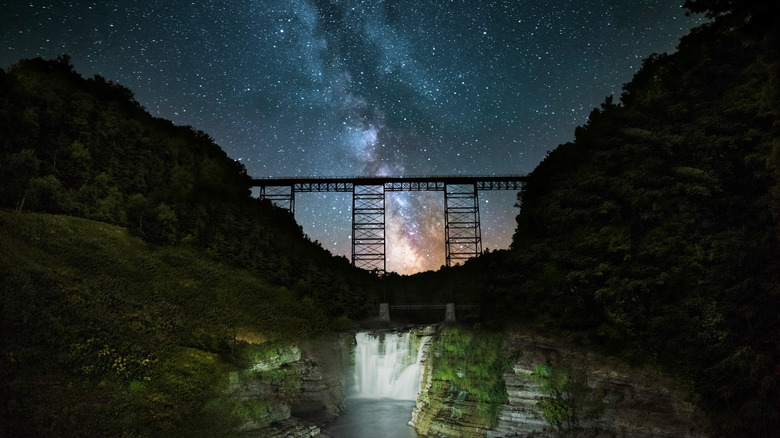 Jim Vallee/Shutterstock
About 10 minutes outside of Geneseo, you'll find the stunning 17-mile expanse of Letchworth State Park. The park is so beautiful in the daylight hours that it's often referred to as the "Grand Canyon of the East" for its abundance of cliffs and raging waterfalls. Letchworth is a natural escape that's devoid of the light pollution that makes seeing the stars in big cities nearly impossible. 
Understandably, it's one of the best places to go stargazing in New York, especially if you go camping. From May until October, campsites and cabins are available to rent out for the night and get the full experience of New York's night sky. Alternatively, Letchworth State Park stays open until 11 p.m., so you can catch a few hours of stars and just return home afterward, too.
The High Line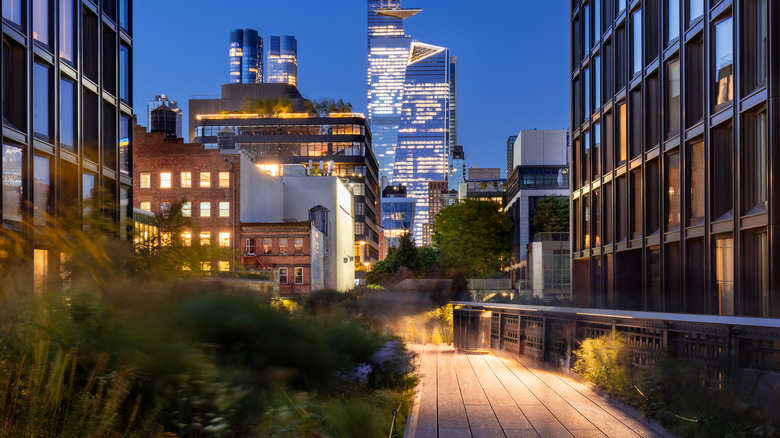 Francois-roux/Getty Images
When you imagine visiting New York City, going stargazing probably isn't the first thing on your to-do list. Most people think there isn't any way possible to see the stars shining when they have to compete with NYC's lights. However, if you take a stroll on the High Line in Manhattan, you actually have a good shot of seeing stars on clear nights. To increase your chances of basking under a starry sky, check out the High Line on their stargazing nights, every Tuesday from sunset to 30 minutes before closing. Stargazing nights at the High Line are available from April to October. On these nights, high-powered telescopes are provided to walkers for a better peak at the constellations. It's totally free, open to everyone, and doesn't even require an RSVP! 
Harriman State Park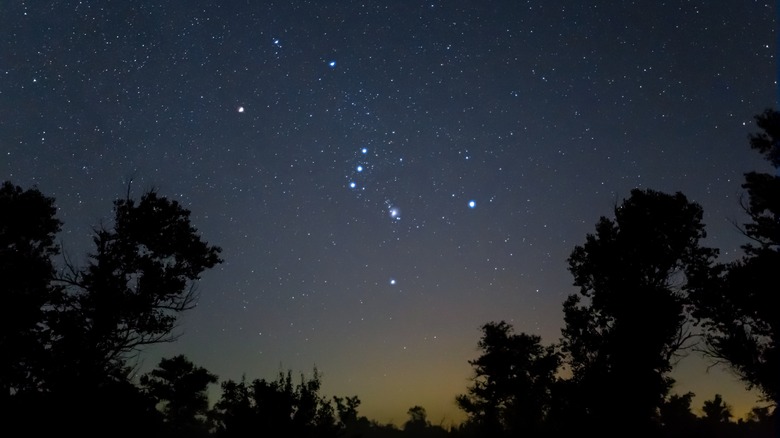 Yuriy Kulik/Shutterstock
If you want to get out of the chaos of New York City for a night under the stars, Harriman State Park is an excellent option. Harriman State Park is a little over an hour north of New York City and a fantastic location for stargazing just outside the hustle and bustle of Manhattan. The park is open throughout the year and has a bunch of places to hike and fish, plus expansive views of the night sky. If you prefer, there are also camping options inside Harriman State Park to extend the experience. 
Montauk Point State Park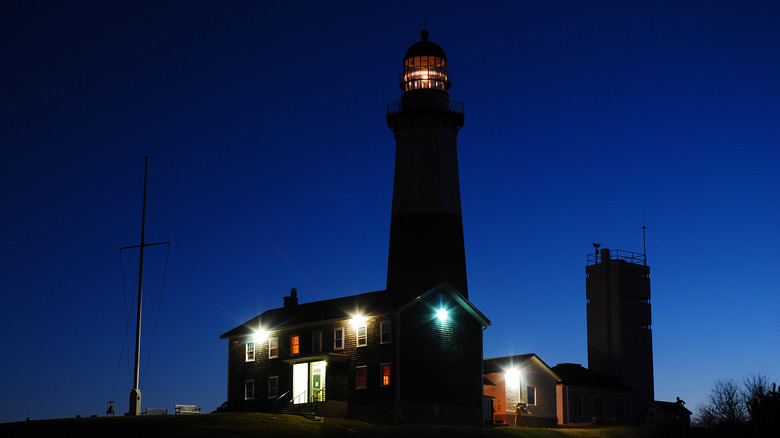 James Kirkikis/Shutterstock
If you're looking for a stargazing spot in Long Island, try your luck at Montauk Point State Park. This is a popular place to ogle the stars around southern New York. The thing that makes this stargazing location stand out is its lighthouse, which was actually commissioned by President George Washington himself. The lighthouse is an extra sight to see when you're stargazing at Montauk Point. This park is one of the top places to see stars in New York because you can plan your trip instead of going in blind. There is a website called Clear Sky Chart where you can find out exactly how optimal the conditions will be each night for seeing stars at Montauk Point State Park. There are instructions for how to read the star charts and everything on the website, so it's perfect for newbies to the hobby.
Kopernik Observatory & Science Center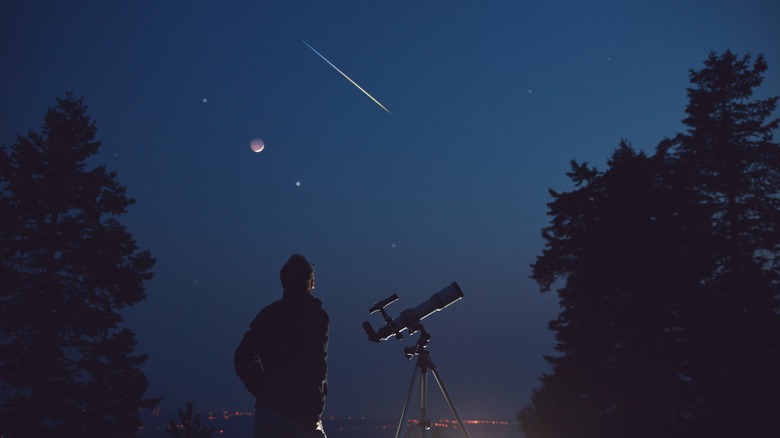 AstroStar/Shutterstock
For almost 50 years, Kopernik Observatory & Science Center has been helping people become more familiar with space and the sparkling stars in it. The observatory has an incredible location right on top of a 1,740-foothill, which provides a prime perspective of the night sky and everything it has to offer viewers. The Kopernik Observatory & Science Center also has a bunch of equipment on-site to give visitors a closer look, including three observatory telescopes and 12 portable telescopes. It's an awesome place to go stargazing with children who want to learn more about the stars they're seeing, as opposed to simply appreciating the view. 
Adirondack Sky Center & Observatory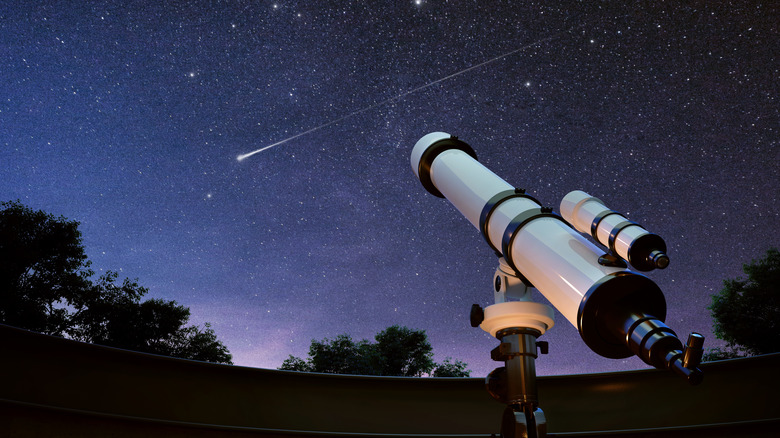 Ninoon/Getty Images
The Adirondack Sky Center & Observatory is right in the Adirondack Mountains near Tupper Lake. This gem features some of the best conditions for stargazing in New York. There is very little light out there in the Adirondack Mountains, there's low humidity and it's at a high altitude, so you have a very high chance of seeing a smattering of stars at the Adirondack Sky Center & Observatory. Plus, the Sky Center has fancy telescopes to help you get a better glimpse of the stars. If you need a little guidance, attend one of their roll-off roof observatory events that are periodically announced on their Facebook page. 
Gateway National Recreation Area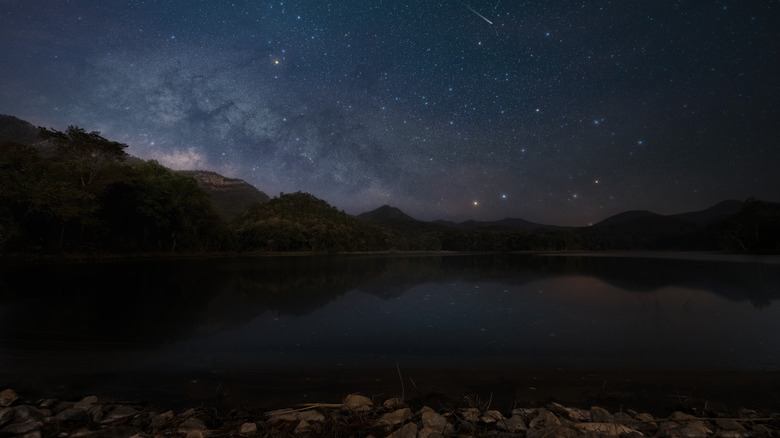 Thirawatana Phaisalratana/Getty Images
Gateway National Recreation Area is so huge that it actually stretches 27,000 acres from New Jersey to New York. That's a lot of free space to go out and have a private, romantic stargazing session underneath the moon. Millions of people head over to this huge park every year to explore its beaches and nature in the daylight. However, if you happen to visit in the evening, don't forget to look up because it's also a fantastic spot to stargaze. The only thing to consider with the Gateway National Recreation Area is that most areas of the park close at 9 p.m., so it will need to be an early evening stargazing spot. 
Brooklyn Bridge Park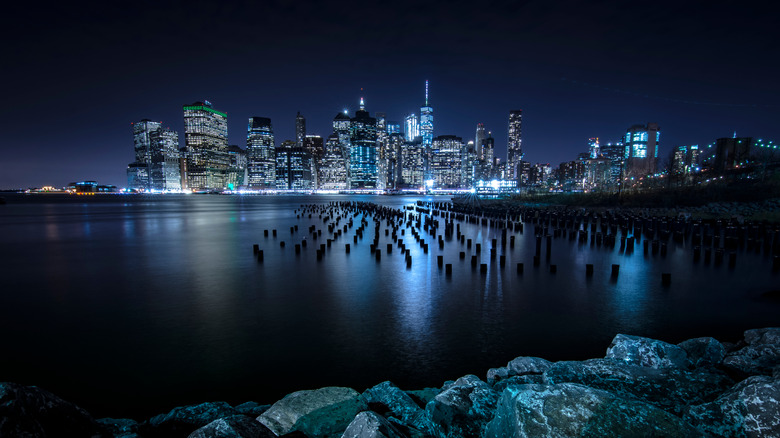 Giacomo Sergi/Shutterstock
New York City is known as the city that never sleeps — that may be due to the fact that there are constantly lights on all night long. There are a few tucked-away spots to potentially see the stars in New York City away from their bright glow, but one of the coolest is Brooklyn Bridge Park. 
While you can visit this park anytime to hang out under the stars, the best time to visit Brooklyn Bridge Park for stargazing is from summer to fall, when the Amateur Astronomers Association of New York holds their viewing events with telescopes from Pier 1 promenade. All summer in 2022, the association brought out super strong telescopes to the park, allowing viewers to see the stars, moon, and even faraway planets. The 2023 public stargazing events at Brooklyn Bridge Park have yet to be announced, but they'll likely run from July to late September. 
Vanderbilt Museum & Planetarium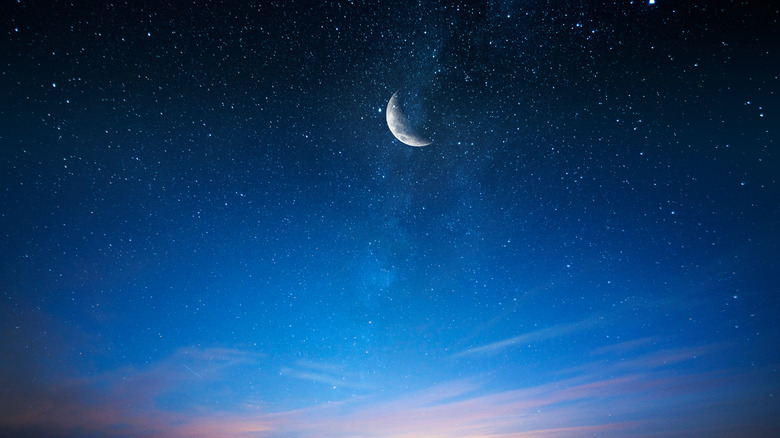 Efasein/Shutterstock
Get a dose of New York history and a bit of stargazing in at the Vanderbilt Museum & Planetarium in Long Island. This is a family-friendly stargazing location that's complete with a captivating planetarium and an observatory. For a chance to stare up at the stars with awe, Vanderbilt Museum & Planetarium is open to the public every Friday evening between 9 p.m. and 10 p.m. as long as the weather is nice enough. An astronomy guide will be present and a powerful reflecting telescope will be provided. If you're looking for a little more activity than just stargazing, there are a bunch of other things to do here. There is an intense 1-mile-long solar system hiking trail, a huge 60-foot dome planetarium with a surround sound system, and mansion tours available. 
Beebe Hill State Forest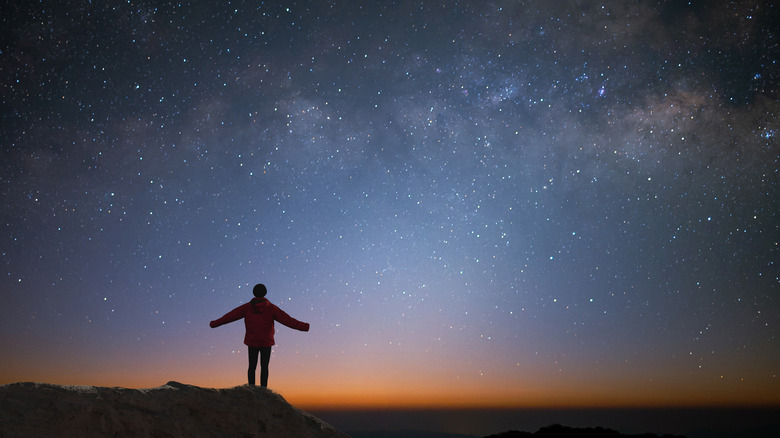 Chonlatee42/Shutterstock
One of the best ways to get a good view of the stars is by getting up as high as possible, above all the lights of normal life. In New York, you can achieve this goal at Beebe Hill State Forest. The park has a variety of hikes that will take you up to the mountain peaks for an incredibly clean view of the starry night sky. 
The easiest trek requires a little over a mile of hiking to reach the 1,726-foot peak of Beeble Hill. There is even a fire tower at the top to get up even higher for an all-expansive view of New York's nature. Climb up to the top of the fire tower right before sunset, watch nightfall, and then take in a few hours of stargazing. Just make sure you bring along a reliable flashlight because you'll have to make the journey back down in the dark. 
Hemlock Ridge Multiple-Use Area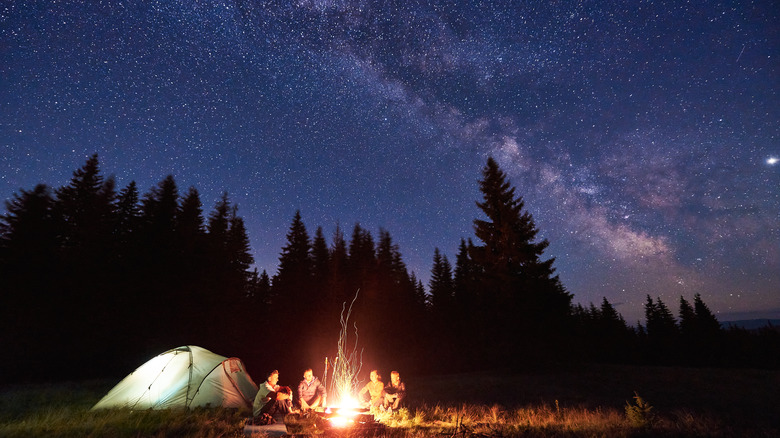 anatoliy_gleb/Shutterstock
One of New York's more isolated areas to camp under the stars is Hemlock Ridge Multiple Use Area. Remember, the more isolated, the higher your chances of seeing a dark sky light up with millions of stars. Located on Marlboro Mountain, there are 83 whole acres to discover in this open wilderness area. This is definitely more of a rough-and-tumble outdoor experience as there aren't any designated camping spots. However, visitors are welcome to spend the night and set up a makeshift camping situation at Hemlock Ridge. Its remote nature just means that you'll be privy to some fantastically starry evenings.
Walkway Over the Hudson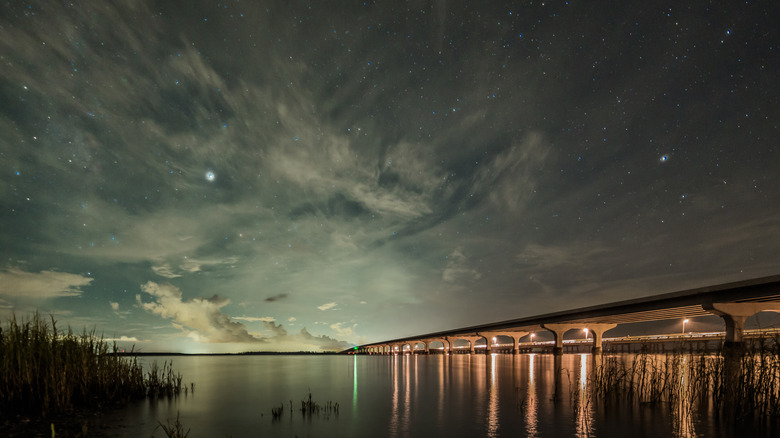 Nate Rosso/Shutterstock
New York's Hudson Valley is home to a ton of outdoor activities, even when it's dark outside! One of the best is seeing the moon and stars while taking a nighttime stroll across the Walkway Over the Hudson. The Walkway crosses over the Hudson River, towering over 200 feet in the air. It's become an infamous place for stargazing in the region thanks to its height and open skies above. The Walkway Over the Hudson even hosts events after dark in the summer to get a sense of the area in the nighttime and casually saunter under the stars.