Take The Stress Out Of Planning Your Bachelorette Party By Booking A Cruise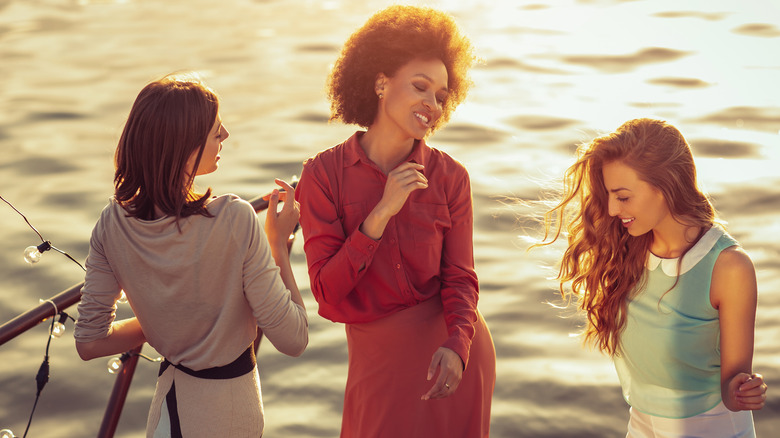 bbernard/Shutterstock
Calling all maids-of-honor and brides-to-be. If you're planning a destination bachelorette party, consider booking a cruise instead. You'll get to visit several destinations during one trip, and all of the logistics will be taken care of, so you can concentrate on enjoying yourself.
Throwing a bachelorette party on a cruise is an unforgettable way to send your friend off into marital bliss. There's no better way to make memories with your closest friends than by visiting a new place, and a cruise can take you to not one new destination but several. And you don't have to choose between a city break or a beach vacation.
On a three-night cruise from a Florida port, you can visit both the Bahamian capital of Nassau and the paradisical island of Bimini. If your group isn't into sea and sand, take a cruise up the Pacific Coast to visit historical cities like Astoria in Oregon and Victoria in British Columbia. There are also a ton of themed cruises to choose from, including Star Trek: The Cruise and a knitting cruise. Whatever floats your boat, there'll be a cruise for you.
Endless and easy entertainment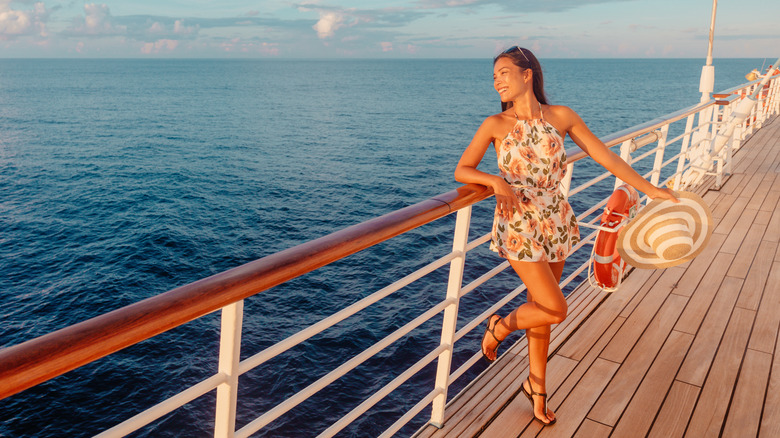 Maridav/Shutterstock
As well as taking you to some amazing destinations, most cruises offer 24/7 onboard entertainment. You can get three meals per day plus snacks in one of the many restaurants, and some cruise lines, like Norwegian, offer 24-hour dining for those late-night hunger pangs. Cruise ships also usually have specialty restaurants onboard if you want to have a truly memorable meal.
There are also bars and clubs on the ships, and there are tons of shows that are usually included in the price of your cruise. Ships often have casinos onboard too, and the hassle of sorting out transport for when you're partying is not an issue on a cruise. Your cabin will always be a quick stroll (or stumble) away, and the captain is your designated driver.
If you're on board during the day, there's plenty to keep you entertained. Lounge by one of the pools, visit the spa, or pick up some souvenirs at the stores. Go speed racing or rock climbing, or learn more about your destination from local experts. Every ship offers something different, so it's a matter of finding the one that gels with your crew.
Logistics and costs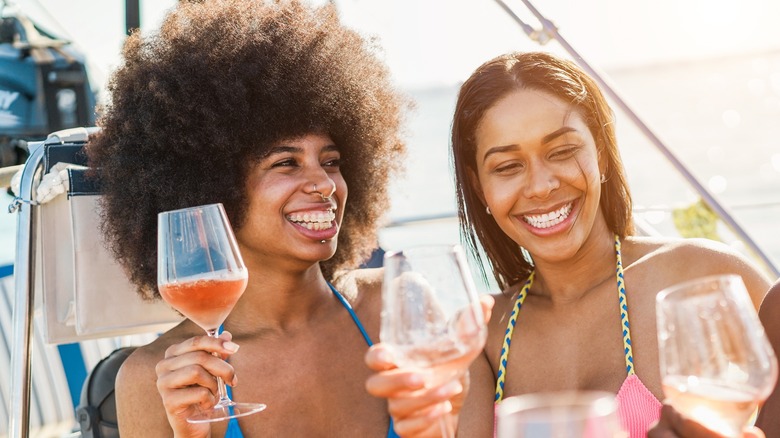 DisobeyArt/Shutterstock
You can take most of the stress out of planning a bachelorette party if you book a cruise. You don't need to think about coordinating transportation and hotels, finding places to eat or party, or where to spend the days. Many cruise lines help you book your flights to the port—if you need them—and from then on, the biggest choice you'll need to make is which of the ship's restaurants you want to eat at.
Now, the money. While a cruise might seem like an expensive vacation, this is far from true. A cruise can cost as little as $100 per day, with the average coming out at between $130 and $260 per day. Group discounts are often available, and you can even prepay for tips. Food is included in your fare in the main dining room and the buffet, and you can prepay for unlimited beverage packages on most ships, too. One of the best things about a cruise is that you pay in advance, so all of the post-bachelorette burden of dividing costs — who had the extra mai tai?! — is forgotten.