What You Need To Know About Staying In A Micro Hotel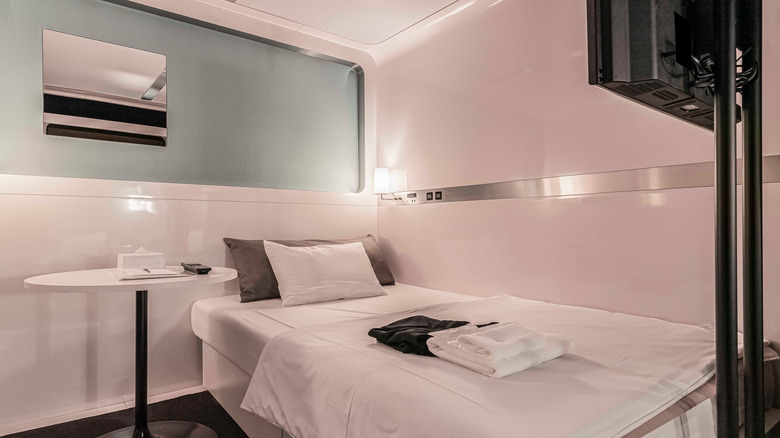 Sakarin Sawasdinaka/Shutterstock
Planning a vacation can involve a lot of thought. Will you be vacationing alone? Will it be a staycation or somewhere far-flung? How are you going to get there? Will it be for a weekend, a week, or a month? And the one vital question that potentially informs all of the other answers: How much money do you have to spend? When you're planning a trip, along with flights (including the best time to book an international flight), one of the biggest things that you'll have to budget for is your accommodation.
If you're focused on sticking to a small budget and spending most of your time out and about at your destination of choice, you may want to look into staying at a micro hotel. The average hotel room size in the U.S. is 300 square feet, per SiteMinder. However, micro hotels have rooms half the size or less than typical hotel rooms, according to Hospitality Net. So if the whole point of your trip is to explore a new city and you just need a place to crash at the end of the day and a safe place for your stuff, see if there are any micro hotels in your destination to get the most value for your accommodation budget.
Many micro hotels have communal living areas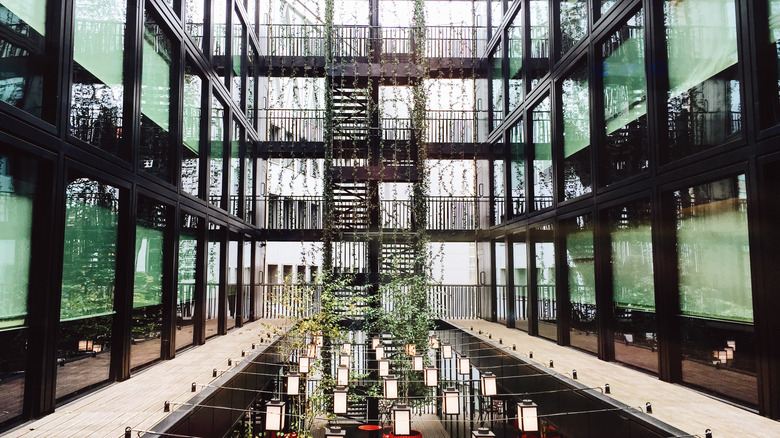 jenlo8/Shutterstock
Call them cozy or tiny, micro hotels have rooms designed to be maximally functional in a minimal space. If you've ever flown in first class on a long-haul flight, you'll be familiar with the details that help make a small space into one that's comfortable enough to work and sleep in with things like integrated storage, lighting, and other amenities. Micro hotels are similar to that setup since they have everything that you need without any excess, per The New York Times. They're becoming increasingly popular, with hotel brands like the London-based YOTEL and Citizen M expanding in the U.S. and Europe.
Like micro hotels, hostels are accommodations that allow for more people per square foot, but there's a significant difference between a micro hotel and a hostel, and that's privacy, according to Travel Awaits. With a micro hotel, the room may be tiny, but it will be your own. What may be shared, depending on the hotel setup, are living spaces. You're almost guaranteed not to have room for lounge chairs, much less a couch or a place to cook in a micro hotel room, so many micro hotels provide shared lounge and/or dining areas. The Arlo Hotels in New York City all include common areas with books and games and places to work. This can give you the benefits of meeting fellow travelers, like at a hostel or a hotel bar, but still having your own private place to sleep.
Capsule or pod hotels give you a bargain price for a place to sleep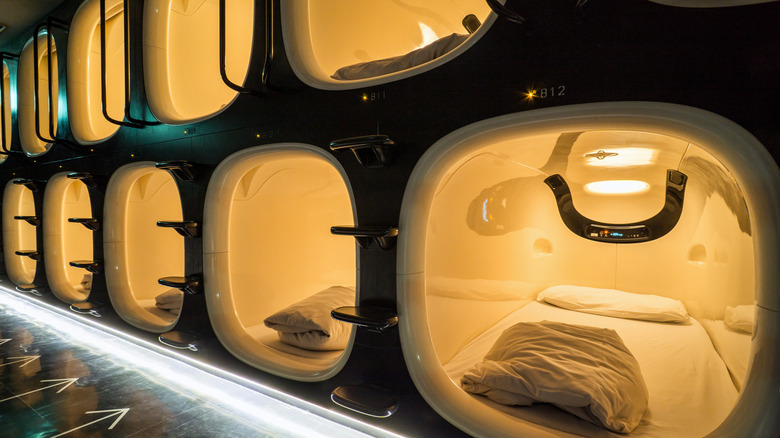 Mr. James Kelley/Shutterstock
One specific type of micro hotel is the capsule or pod hotel. Capsule hotels became popular in Japan in the 1980s as a bargain place for businessmen to sleep if they can't get home, per Nikkei Asia. But now pod hotels have expanded around the world and are popular in Europe and gaining some (slow) traction in North America. In 2018, the first Canadian capsule hotel was Pangea Pod, which opened in Whistler and gives visitors a bargain price in an expensive ski resort town, per Western Living Magazine. A capsule or pod hotel is great for solo travelers, considering the size of the pods, there's often only room for one person per pod. Pod hotels may be divided by gender, and you may be sharing a bathroom and shower space with other guests, via Travel Outlandish.
You may also find micro hotels and sleeping pods in airports. If you've got a long layover or a canceled flight that you're having to wait around for, you can book somewhere private to sleep, sometimes by the hour. Amsterdam Schiphol, Atlanta International Airport, Dubai International Airport, London Heathrow, and Toronto Pearson International Airport all have options for weary travelers to get away from the bustle of the terminal and get some shut-eye, according to Grrrltraveler.